This list brings you TOP 10 apps which will make your job search much easier. This list is divided into 3 categories: Job Search, Networking and Interview.
Job Search:
Simply Hired (FREE):
Available at simplyhired.com and App Store.
Simply Hired is a great tool for you to find a job. It is actually one of the biggest job search engines. Just select the the job category and enter a zip code where you want your job to take place. This tool is available in 24 countries around the world and 12 different languages.
Real-Time Jobs (FREE)
Available at Twitter.com or App Store
App by TwitterJobSearch allows you to find your new job quickly, accurately and apply for it right away. You can upload your resume, video or any interesting website to the employer via this app a well. More than 1,000 jobs are posted here every hour! Your chances are huge with this one…
Available at HiddenJobsApp.com, App Store and Google Play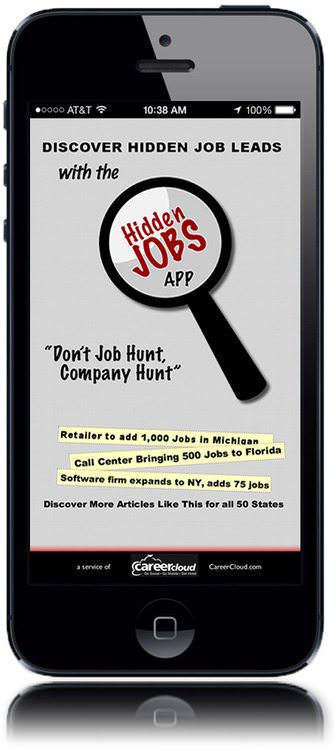 The fact is, that the majority of job offers are for job seakers really hard to find. Luckily there is the Hidden Jobs App. This app tracks milions of jobs from different sources such as newspapers, magazines, press releases and online media.
"Described as 'radar for jobs' our site and mobile app tracks company hiring announcements from newspapers, online media and company press releases."
Networking:
LinkedIn (FREE)
Available at Linkedin.com, App Store and Google Play
Linked in is considered a "business facebook". In other words it is a business-oriented social networking service. With 380,000,000+ worldwide members and its 24 languages it is a massive networking opportunity for every job seeker.
Business Card Reader ($6.99)
Available on App Store, Google Play or find out more here.
If you are tired of preserving hundreds of important business cards, this solution is the fit for you. Take a picture of a business card and it will be imported in seconds to your phone contacts. Worry about paper business cards never again.
SnapDat Digital Business Cards (FREE)
Available on App Store
"Take your business cards "digital" with SnapDat™ – the only mobile contact sharing application with the familiar look and form of a traditional business card. You're more than a number, so why settle for just giving out your digits. Convey what you want in the style you want."
SnapDat is world widely beloved business card designing and sharing app. Use templates or custom pictures to create beautiful business card directly from your phone.
BeKnown (FREE)
Available at Monster.com
BeKnown is an app by Monster.com.
"Search for jobs the way you always do on Monster. But now when you get your job search results you'll also see who you know at each company."
: BeKnown, by Monster.com, is the professional networking app on Facebook. BeKnown for iPhone makes it easy to tap into new professional opportunities anywhere, anytime while carefully leveraging the power of your current social network.
Interview:
Interview Prep Questions (FREE)
Available on App Store.
Train to have the right answers on your job interview. This app will ask you random, most common interview questions. If the question is too hard for you, you can use suggestions.
Monster (FREE)
Available on App Store and Google Play
Monster.com is a great help for every job-seeker. This website can help you with the whole process of finding a new job. Monster app will help you with preparation for a job interview too. This app will advice you on the interview questions and can even tell you what to wear and much more.
How to Tie a Tie
Available on App Store and Google Play
This one may sound ridiculous, but think about it again. You are in a hurry for a job interview and suddenly you find out, that you have no idea how to tie a tie. Choose from several types of knots and be fully prepared for your job interview…
Share Your Feedback or Ideas in the Comments!