Your first resume can be quite the calling card if composed right, which can really pack on the pressure when writing your first one. A good and useful one contains just the right information without overselling, and it's easy to read. Writing your first resume doesn't have to be difficult, but you need to follow a few simple guidelines.
Research Job Postings
The first step to writing an effective resume is to understand what the employer wants. So, do your research. In doing so, you gain valuable insight into what they are looking for and what you have to offer.
Practice your craft and familiarize yourself with your chosen field as much as possible by reading websites and trade publications. In addition, don't be afraid to ask professionals in the same niche what they're looking for while hiring an employee.

When searching job listings, look for ones that inspire you, then skim the requirements. Once you know what employers need, you can modify your resume to fit them. That doesn't mean making things up, but creating it around them. In other words, it will help you decide what information to include on your resume and what you can leave out.
Take a Moment to Reflect
Before embarking on writing your first resume, take the time to study the job posting and reflect on how you can show that you are the perfect applicant. For example, think about awards you have won, skills you have acquired, past employment, and leadership roles you have held.
Make a list of the skills and experience you have that apply to the position you are seeking, and then refer to it to compose your resume. Don't just create one resume then send it off to various organizations. Instead, take the time to review each job posting and then compile a list of your skills and qualifications depending on how they apply.
Select a Design of  Your First Resume
Your resume has only a few seconds to capture the attention of the hiring manager. Therefore, it should be captivating and easy to skim. Apply a clean, simple, professional format that is easy to gather information from. Search the web for brilliant administrative assistant resume samples you can use for inspiration. It doesn't have to be the standard, but it needs to be clear and succinct with its information.
What to Include on Your First Resume
Begin with a summary statement. This is the section where you expand upon your personal strengths and career goals. You want to compose the statement as if it is the only section the hiring manager is going to read and nothing else. Explain exactly what you have done in your career, thus far, as well as your goals for moving forward. Remember, the focus is to relate your experience to the position you are applying for. If you have no experience, just mention school activities or extracurricular activities.
Your first resume should also contain a section that describes your education. If you have not attended college yet, simply list your high school. Otherwise, list all educational institutions you have attended. Include your type of degree, as well as your graduation date. Do not include your GPA unless it was 3.5 or higher.
The experience section is where you highlight all past internships and jobs. Be as specific as possible. Include accurate details about your duties in a way that shows you accomplished the desired goal, and include numerical data where possible. This section should usually be in a bullet-pointed list format.
Lastly, your resume may contain a personal section. Include any information you think applies to the position, such as relevant coursework, professional certification, volunteer work, language skills, computer skills, and extracurricular activities, etc.
What if You Have no Work Experience?
If you have no work experience to list on your first resume, it is still possible to prove yourself with your education and skills in order to get your dream job. Begin with a summary statement that clearly states your objectives and understanding of the position. Next, focus on the education section. List all talents, volunteer experience, and school projects you have participated in, as it relates to the position you are seeking.
Lastly, highlight your skills. If you have no work history, include a list of qualifications that showcase your most significant talents and strengths. Remember, only include criteria that pertain to the job. This type of resume puts the focus on your experience rather than your work history, which enables you to stand out.
Proofread!
If your resume contains typos, it may not appear professional, which means it may not be taken seriously. Before submitting your resume proofread it, and have others proofread it to be sure it is free of errors.
Writing your first resume is a series of trials and errors. With time, you will see the mistakes yourself, and you will be able to edit or add. However, by following these simple rules, you will have a strong foundation to build it on.
Perfect resume and cover letter are just a click away! Try Kickresume today and get hired faster!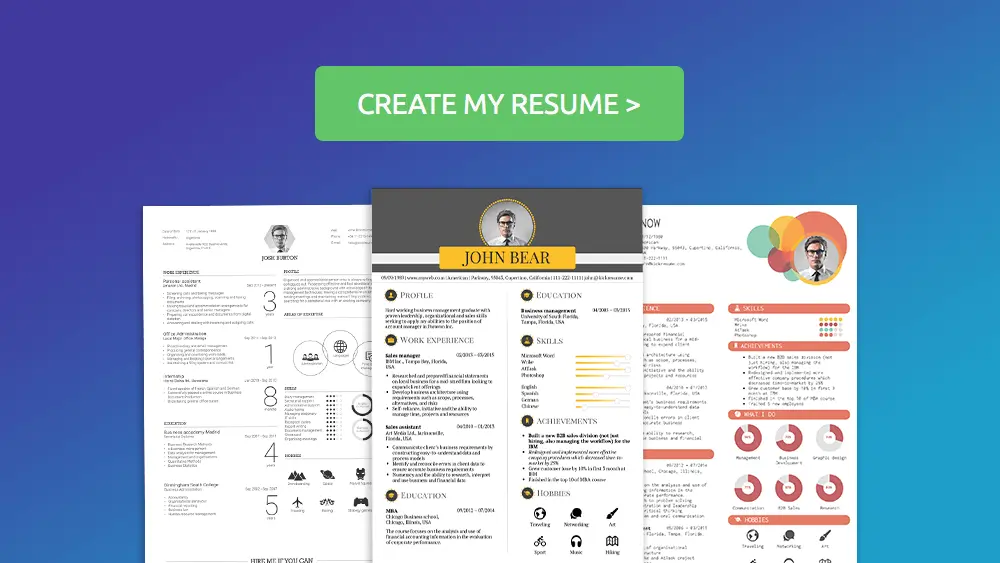 Share Your Feedback or Ideas in the Comments!