Your career in management requires your resume to stand out from all the rest.
It needs to look fresh. Sound cool. Feel confident.
And, last but not least, leave a lasting impression.
Erm… bunch of things that seem a bit out of your reach, right?
It's not really that difficult, though — especially when someone's already done the homework for you.
And there's not just one example we're about to show you. The following 10 real management resume samples will teach you how to read recruiters' minds, bring your resume to perfection and get your career moving in no time.
Here we go!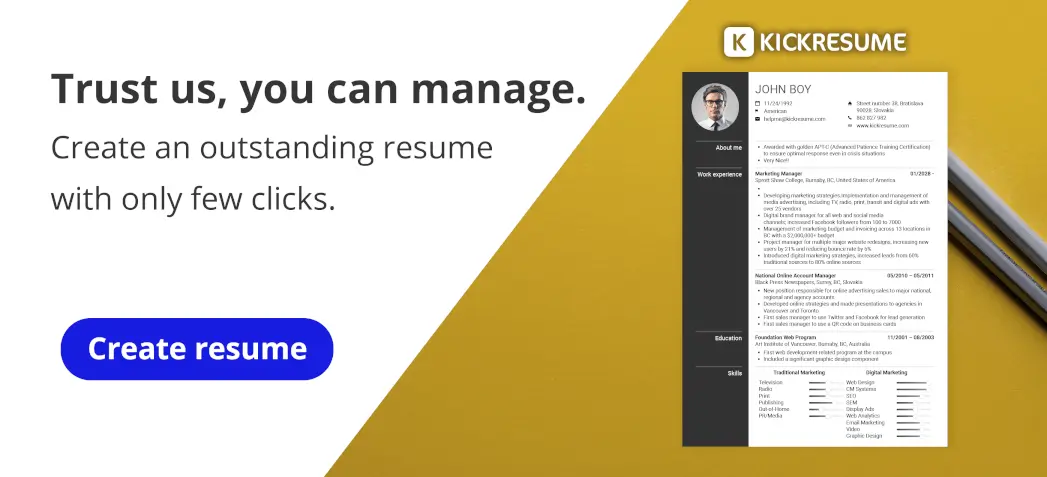 1. Dell Junior Product Line Manager Resume Sample
This is a fine example of a resume that's worth following for college students and recent graduates.
It's no secret that top companies are treading college campuses and university buildings to hunt for individuals with extraordinary skills and dedication to their work.
If you want these guys to take notice, describe successful school projects and other remarkable achievements that you're proud of.
This may lead you to flooding recruiters with facts, but remember that the length is not everything. Unless you're a seasoned professional with 10+ years of experience, there's no need for a multi-page resume. In fact, it's more of a nuisance rather than an asset.
So if you can't seem to squeeze everything you want to a single page, opt for a two-column layout for a better distribution of space on your resume.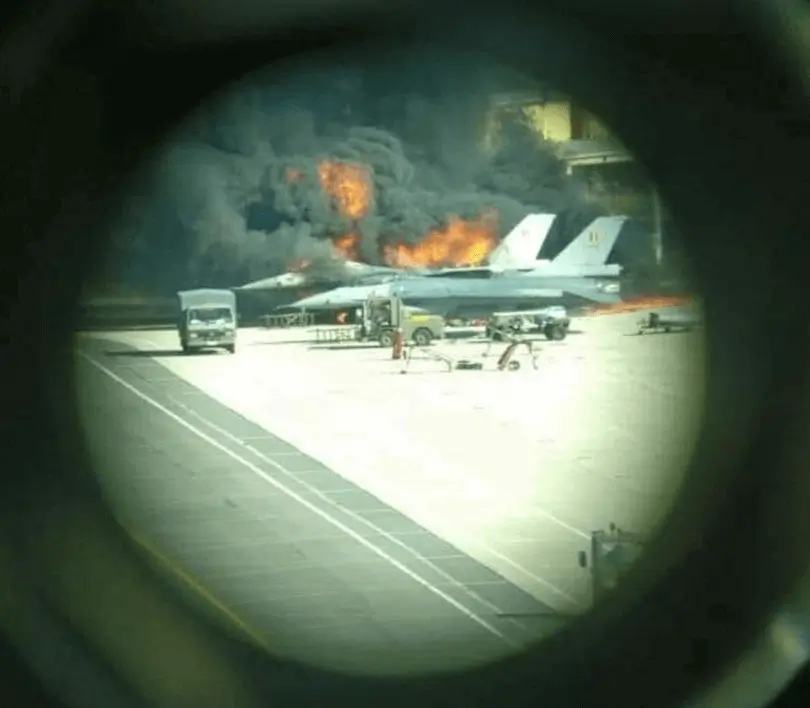 2. Vodafone Release Manager Resume Sample
There are several handy tools that can help you present information in your resume in a neat and structured manner. Numbered lists, bullet points, indentation, graphs, charts have the power to boost the readability of your resume.
But using full sentences is tricky and the benefits of this system can hardly outweigh its drawbacks.
Retaining the recruiter's attention is the key to your success. A block of text, compared to a bulleted list, doesn't give action verbs the opportunity to stand out. The resume genre asks for brevity and language connectors — albeit making the sentences more fluent and natural — are simply redundant.
---
At HT Micron I started accumulating several functions on sales and product marketing, being responsible to represent both HT Micron and Teikon companies commercially, qualifying both companies to supply to their clients, controlling new product introduction and life cycle management during the first year of HT Micron´s operation. After this first year new salesmen were hired and I switched my focus mainly to product marketing and the companies and products qualifications, where I was needed to analyze customer needs and develop solutions along with the R&D team and our technology partners in Korea and creating reports for product viability and return of investment to present for the companies management. Currently, my role is Customer Quality Specialist, focusing on translating the clients needs to our processes and products, following up on product RMA, overall quality levels, fail analysis and product qualifications.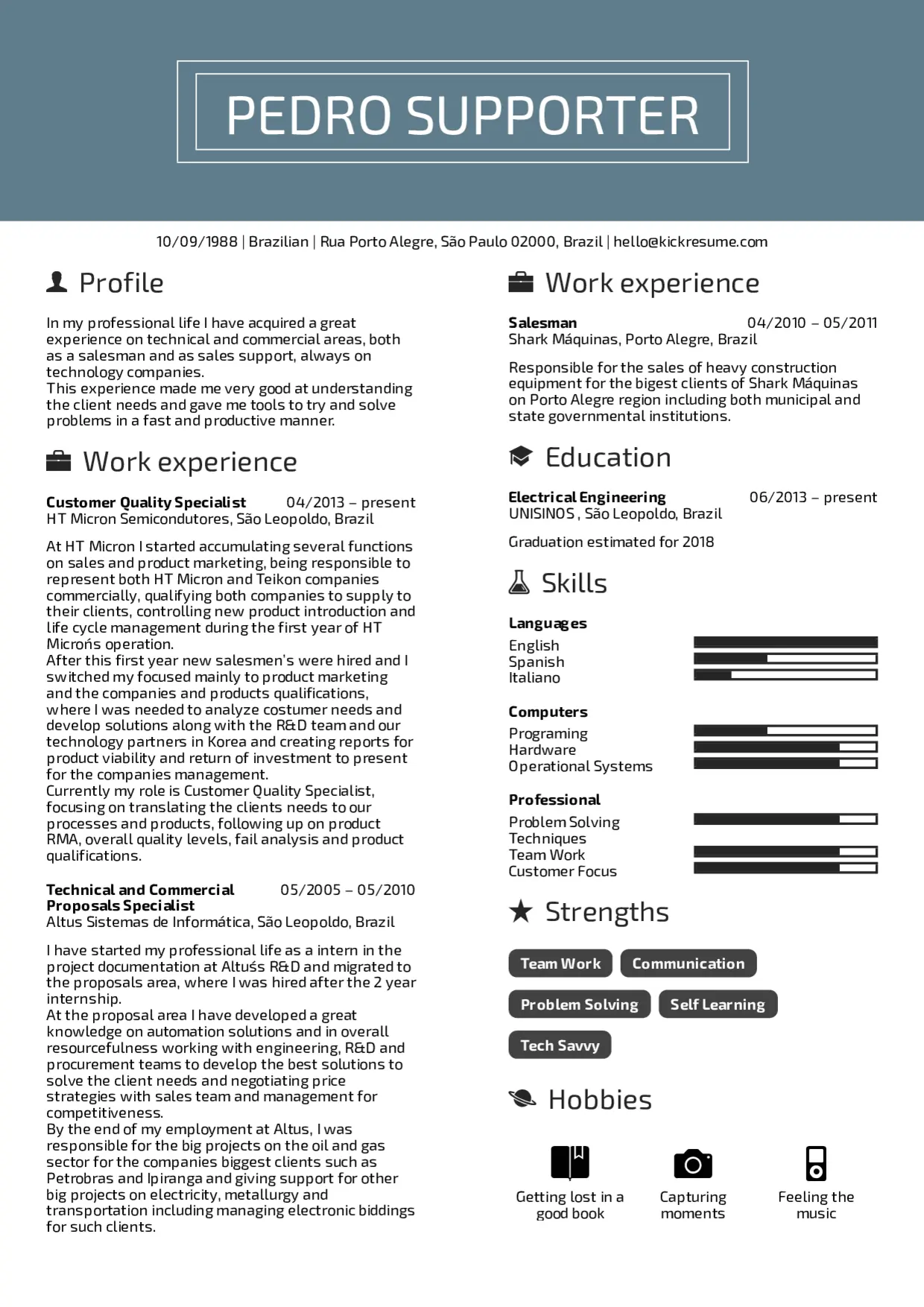 3. Samsung Leader of Production Resume Sample
No resume is ever complete without job seeker's personal and contact information.
The best approach is to put it down in a single line — there will be other sections that will want to eat up a lot of space on your resume.
Include your date of birth, nationality, email address, postal address, phone number, personal website and links to your social media profiles like Facebook, LinkedIn, Twitter, Behance or Instagram — but only if that's the place recruiters should head to convince themselves that you're a good fit.
Action verbs are a great way to introduce your bullet points but don't also hesitate to use industry-specific lingo and specific keywords that will resonate with the potential employer.
Don't be afraid to use technical terms, insider abbreviations and acronyms, mention the software you work with, companies you've worked for and specific projects you've worked on (unless you're still under NDA, of course).
---
Checks documentation and invoices (NF-e / CT and / NF-d) for all the FTL, LTL, FCL, LCL issued cargos.
Ensures… all documentation is prepared to meet the requirements of SEFAZ / SUFRAMA.
Audit security and S.O.P warehouses of all HUB's company and partners.
Operates SAP/ R3 systems in logistics related modules.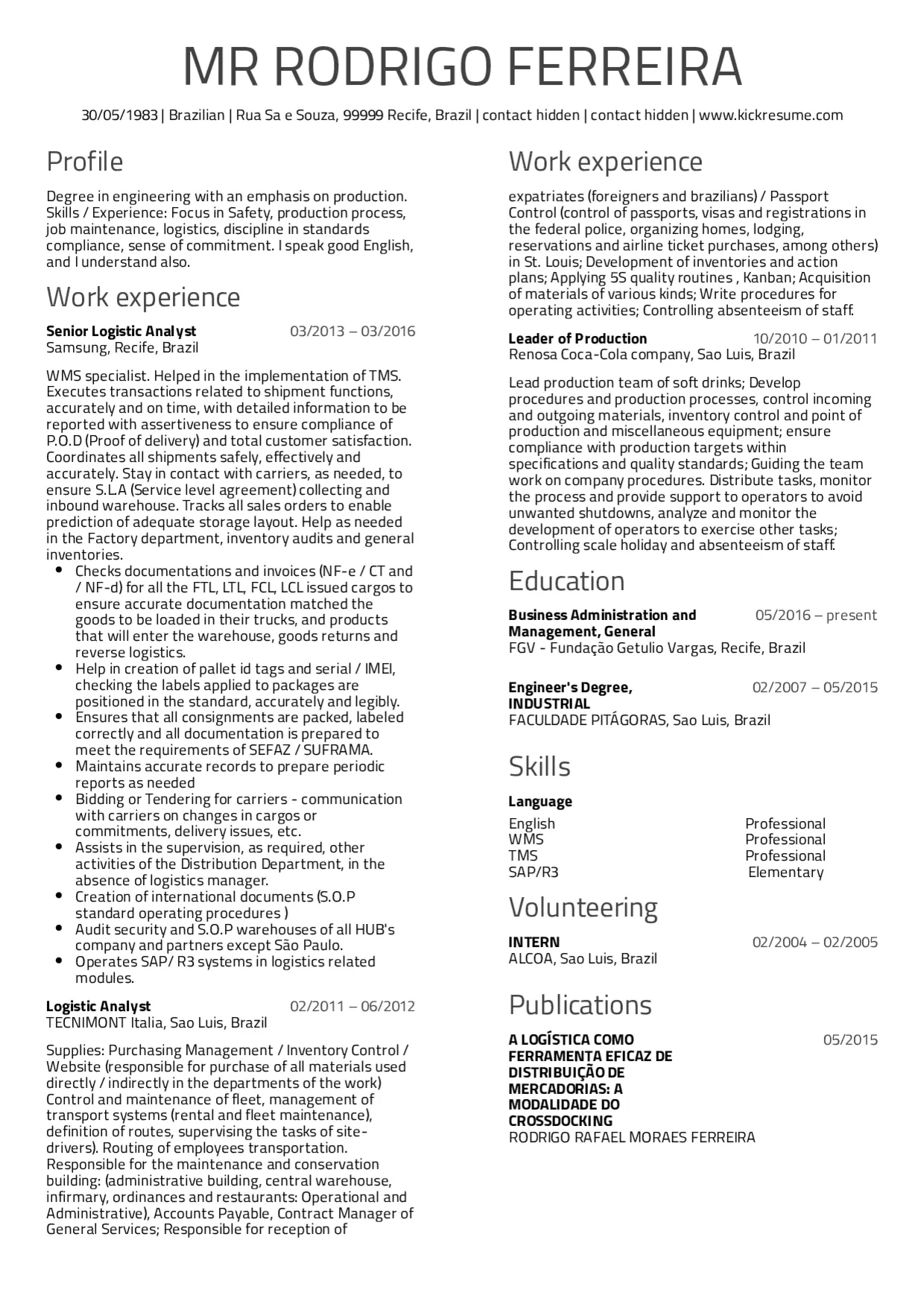 4. Amazon Business Development Manager Resume Sample
Being young is not an obstacle. It's just in the way you look at your experience.
If you haven't yet amassed any relevant work experience at a regular full-time job, you should definitely turn to describing the courses you took while at college.
Think about your time at college and focus on the courses that are related to the given job opening. Think of any grades, projects, internships, volunteering opportunities, academic awards, certifications that would highlight your skills.
Create numbered or bulleted lists wherever you find appropriate. If you can put down anything in a structured manner, do so.
These visual aids facilitate reading and support the internal logic of the text.
---
I discovered this passion was:
Standardising final checklist tests and drafting market approaches…

Following the success of a proof of concept exhibiting the possibilities of free communication between SAP applications and selective Social Media…
My tasks and responsibilities in this team were:
Developing an OData S

ervice for Sales Document.

Configuring the OData Services on various system landscapes in SAP.

Testing the OData Services developed within the team by other developers.
5. Walmart Store Manager Resume Sample
This resume was probably designed with a vision that bullet points will pierce the recruiter's heart. Which is not that far from the truth, actually.
First, it boasts a wide array of action verbs at its finest. Just read them top to bottom and you get instant gist of the bakery manager's job responsibilities:
---
Ensure…

Communicate…

Compile, copy, sort, file…

Enter…

Maintain and update…

Manage…

Operate…

Verify…

Resolve…

Use… enter, access, retrieve… compute…
Second, this resume is visually compact, colors are bright but not too striking, the neat two-column layout helps keep everything on one page and everything falls into place very easily.
Pure zen.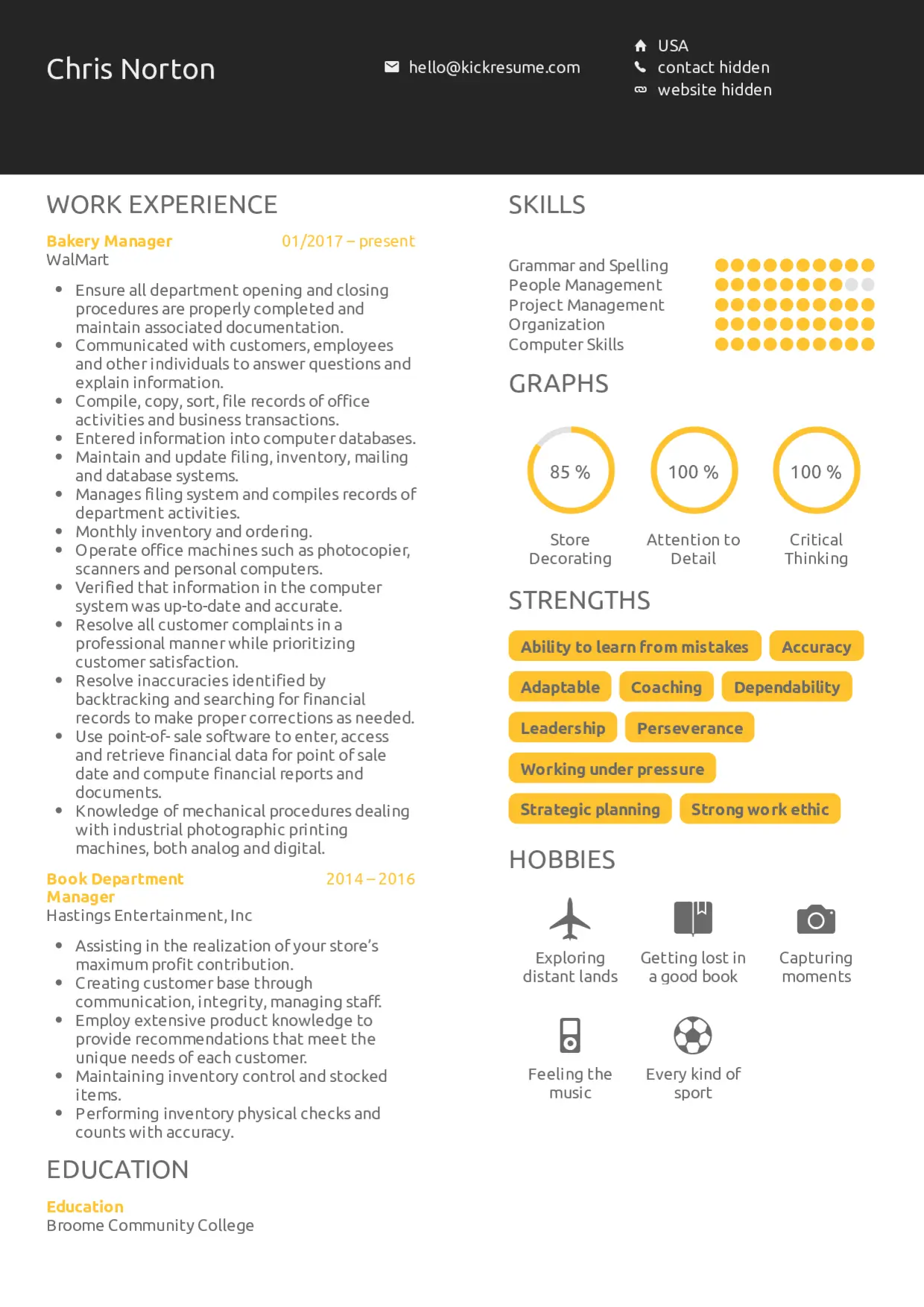 6. Clarity Software Sales Manager Resume Sample
Infuse the profile section of your resume with powerful adjectives.
---
Dedicated, hardworking, and charismatic solutions engineer with over 10 years of sales experience. With attention to detail and a knack for demonstrating software, I am looking to further my career.
Reflecting the specifics of your industry, feel free break down your skills into categories such as pre-sales, demonstrations, scoping and languages.
Whether you're using bar graphs or pie charts, remember to acknowledge the fact that there's still some space for learning. Base the rating of your skills on reality and differentiate those that you've already mastered from those you're still developing.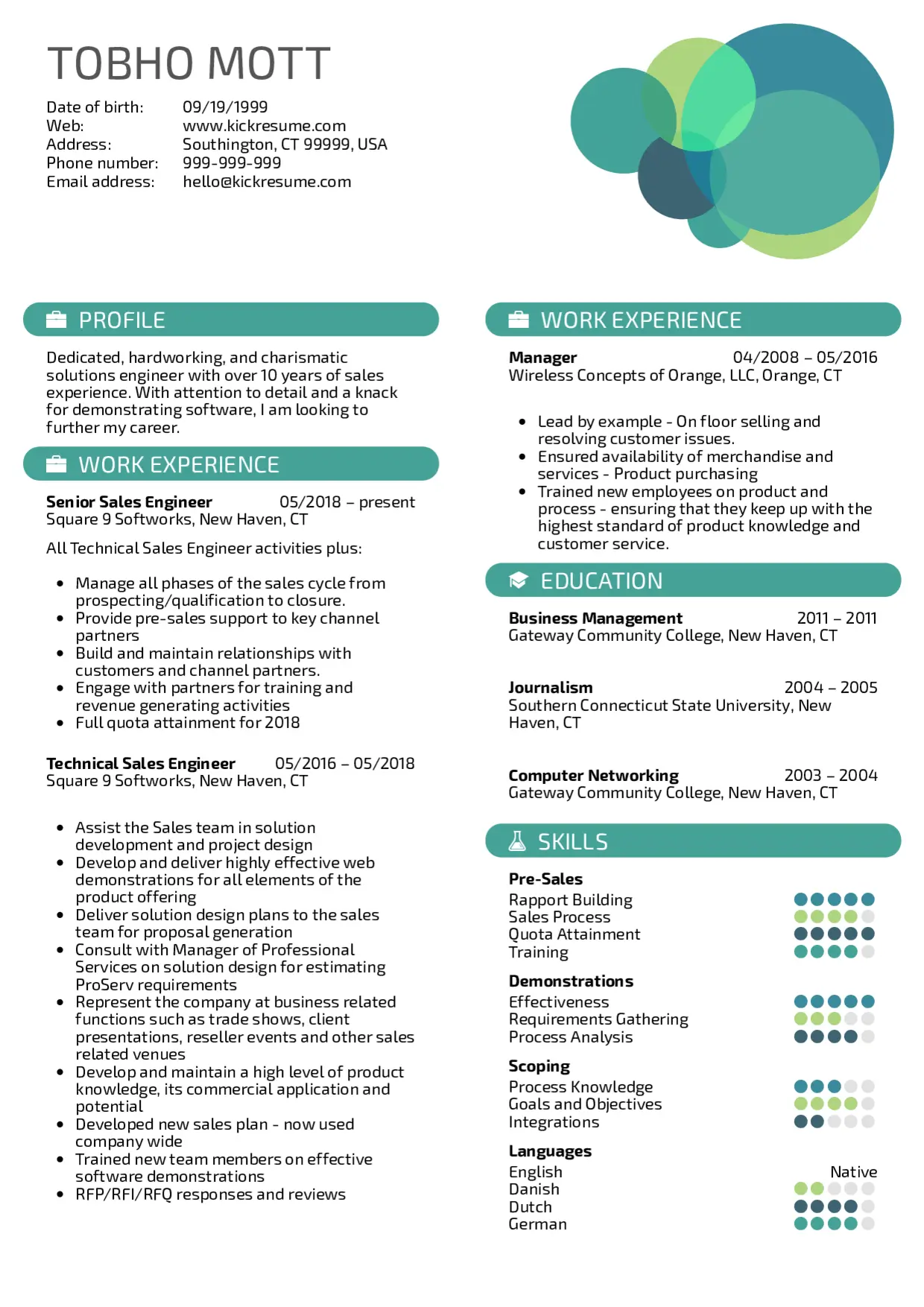 7. Microsoft Cloud Program Manager Resume Sample
Seeing is believing.
Numbers will attract everyone's attention and add accuracy to your otherwise pretty mundane resume. Go ahead and make your achievements more palpable by introducing numerical expressions wherever possible.
---
I have managed a team of 20+ consultants with CSAT targets and had successfully lead responses of large RFPs.
2. Successfully lead responses of multi-million-dollar RFP responses and winning business.
Responsible for heading Cloud migration factory which migrated more than 1 million mailboxes to the cloud.
Successful in delivering more than 30 projects with 100% CSAT.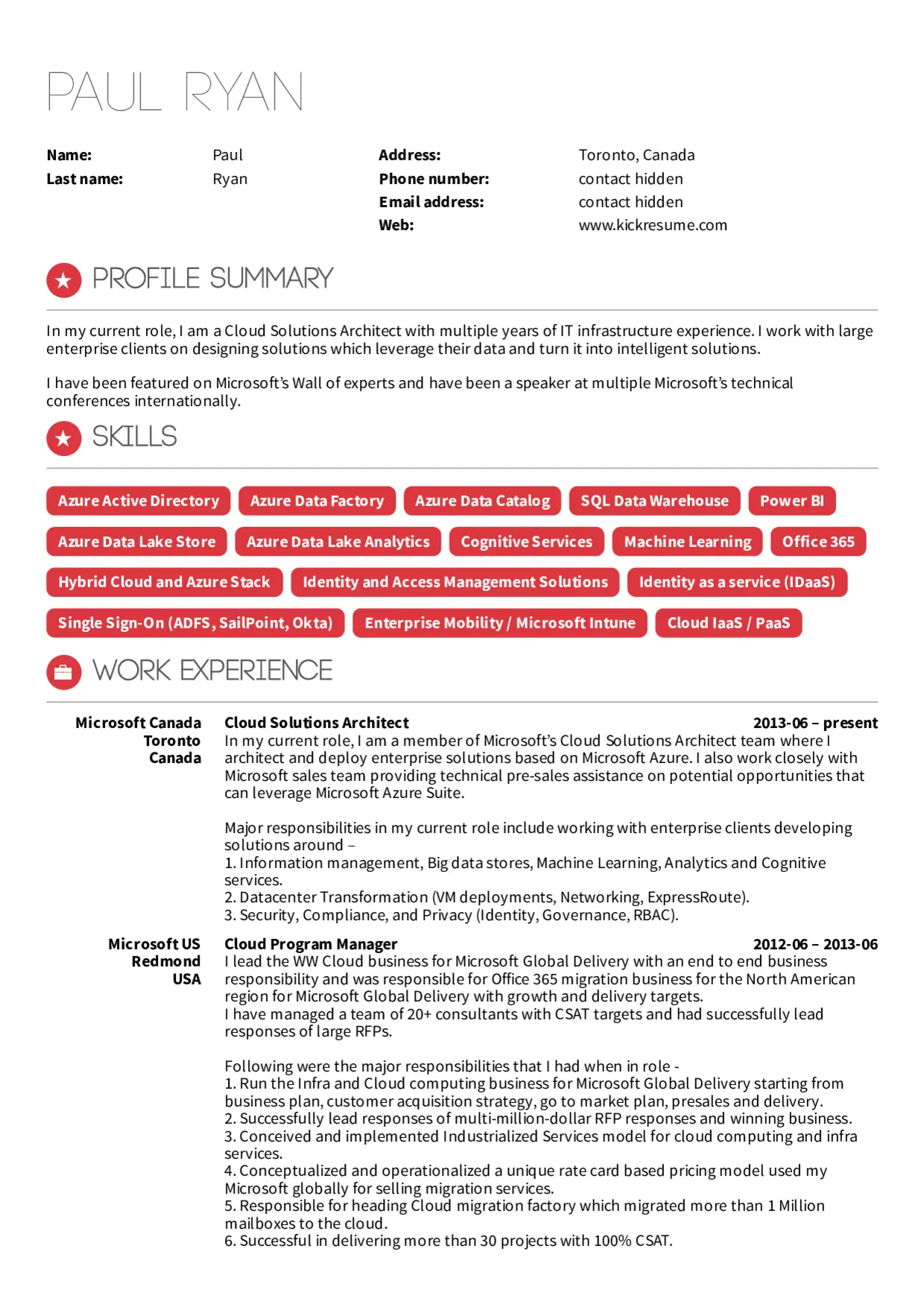 8. Unicef Freelance Trainer Resume Sample
This resume proves that, at the end of the day, the formatting of a resume is up to your own choosing.
Whether you go with one of the conventional resume formats or prefer to have your own way when it comes to designing your resume, always think about the top sections as those that will get the most attention.
The three simple pie charts in the WHAT I DO? section and the STRENGTHS section packed with relevant keywords — accommodating the widespread use of ATS — are great tools to describe the job seeker's main occupations and illustrate her value to the potential employer.
The inclusion of Facebook and LinkedIn social profiles follows a purpose, too. It's a sign of openness and willingness to network one's way to the new job.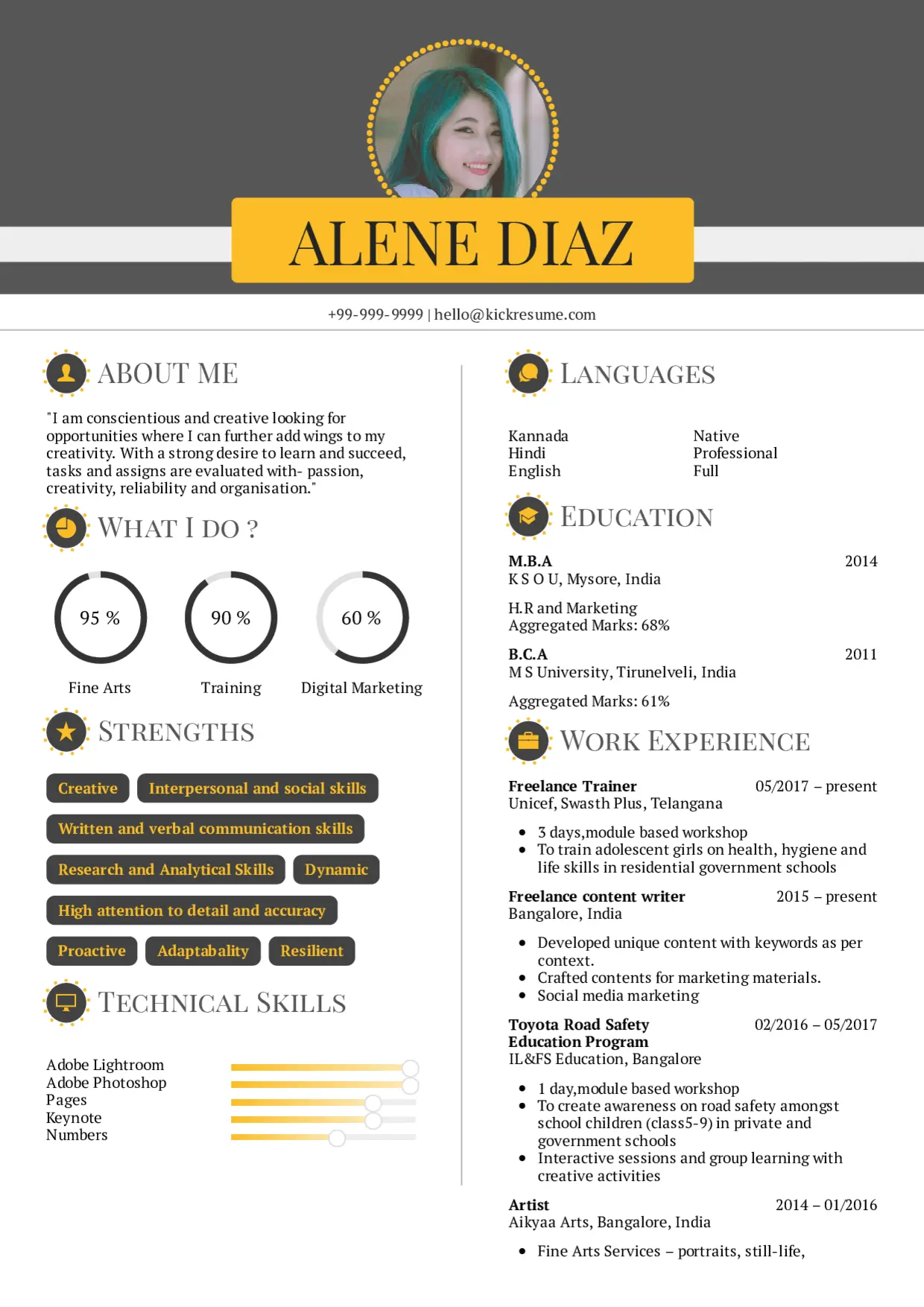 9. DHL Sales Support Resume Sample
Remember, having substantial work experience may be the first step towards landing a cool job, but that's not the only way to do so.
Show that you volunteered for a cause to demonstrate your responsibility for the community and the environment you live in.
And if you're still lacking some professional competencies, think about investing some time into getting an online certificate. It's a very convenient way to work on your skills and increase your market value as an employee.
Google's Digital Garage, Coursera, Udacity, Khan Academy, Udemy, Shaw Academy or Hubspot provide quality education for just a fraction of the fees you'd pay for a traditional college course.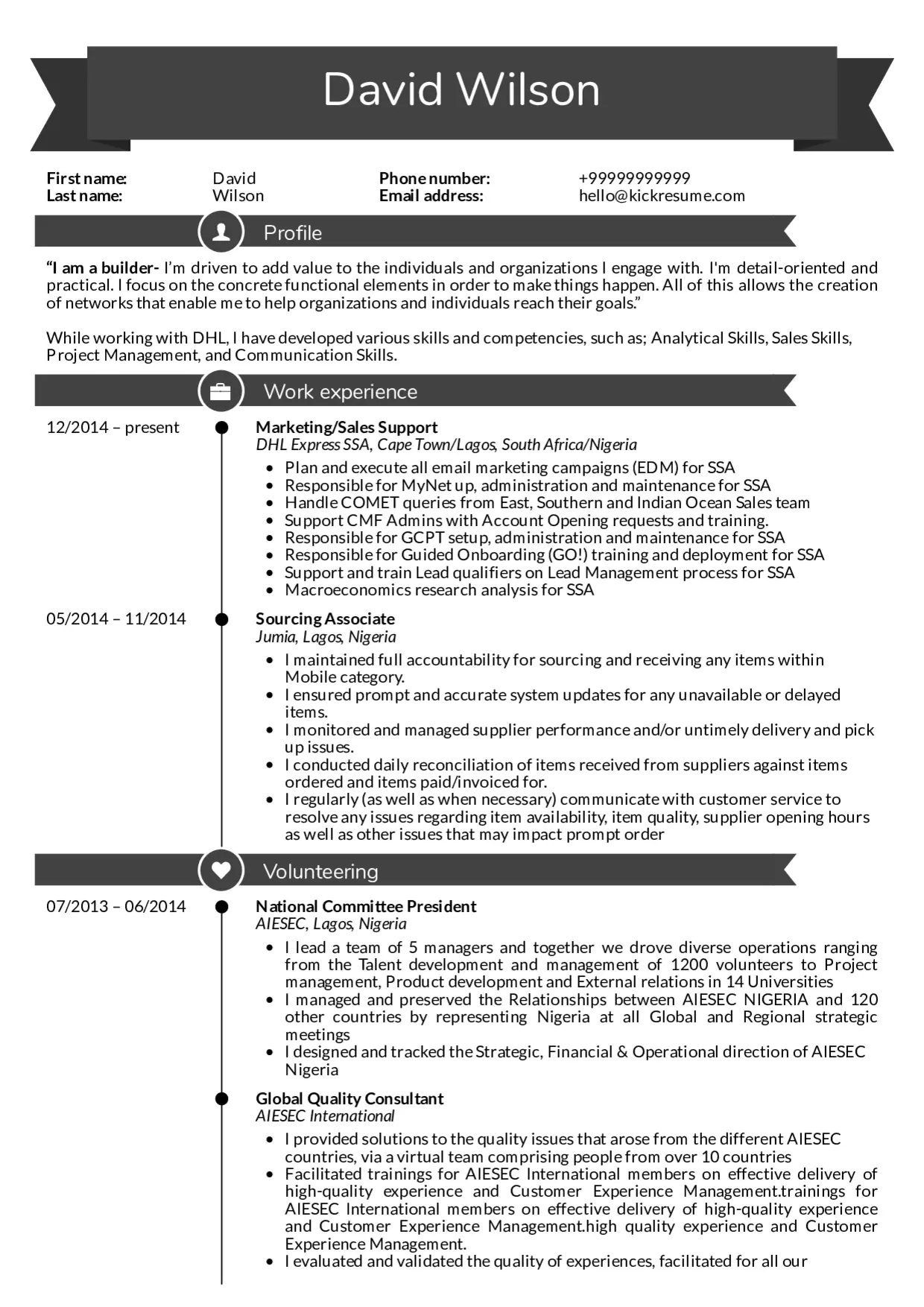 10. Sheraton Hotel Marketing Manager Resume Sample
To give your resume some extra depth and eye-catching abilities, add something that sets you apart from the average candidate.
You want to present yourself as being the best choice for the firm, so any awards or certificates that can nudge recruiters to think just that is a must on your resume.
---
Regional Award / Best Tactical Marketing Campaign / Hilton Hotels & Resorts MEA (03/2016)
Hotel Award / Best Hotel Support / Hilton Alexandria Green Plaza (01/2014)
Regional Award / Best Social Media Engagement / Hilton Hotels & Resorts MEA (03/2013)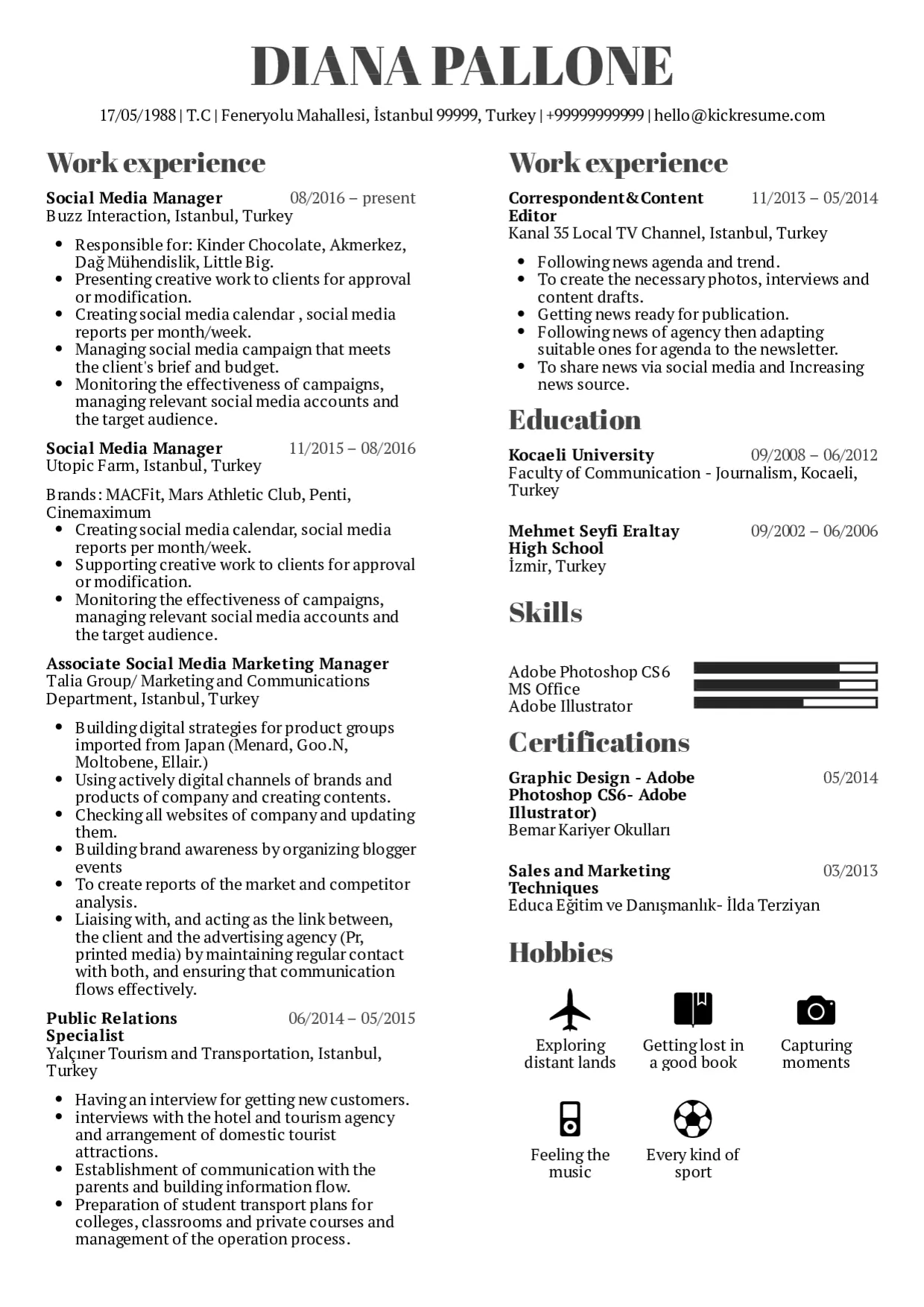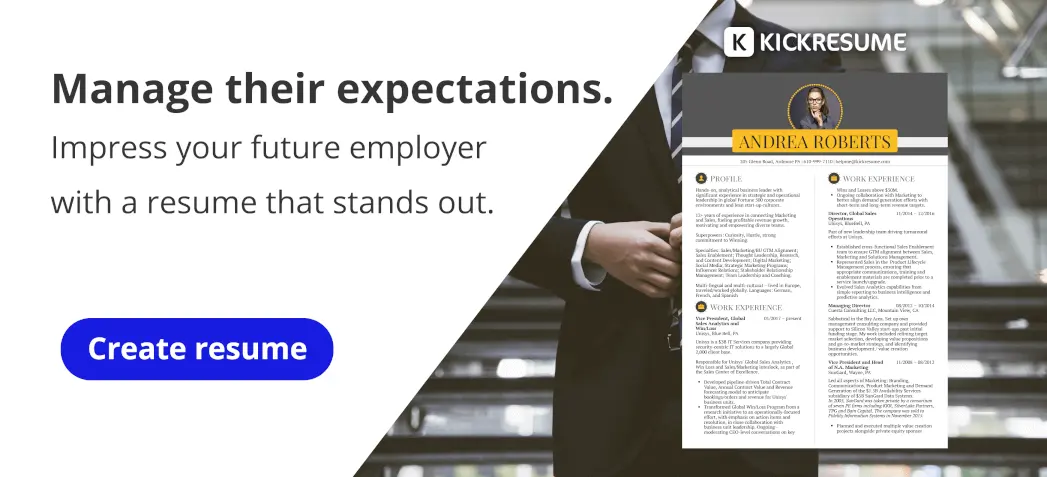 Want to see more resume examples from people who got hired by the world's top companies? Check out our resume examples library!