Pursuing a career in banking is not for the lazy. It's a fast-paced, demanding and ever-evolving industry that requires you to have the ability to embrace change, accept risks and never cease to work on your skills.
On the other hand, the banking industry is a reliable source of well-paid jobs, which makes it a hot-spot for aspiring young professionals interested in hatching a top career. It's also pretty generous when it comes to opportunities for solid long term career growth.
Last but not least, the career in banking will ready you with a wide range of transferable skills from dealing with people to crunching numbers and solving problems with ease. That means you can also think of it as your gateway to other types of jobs that you may want to land in the future.
Ready? Let's look at how to write a winning banking resume and score a highly-coveted job that will cover your bills — and perhaps your partner's, too.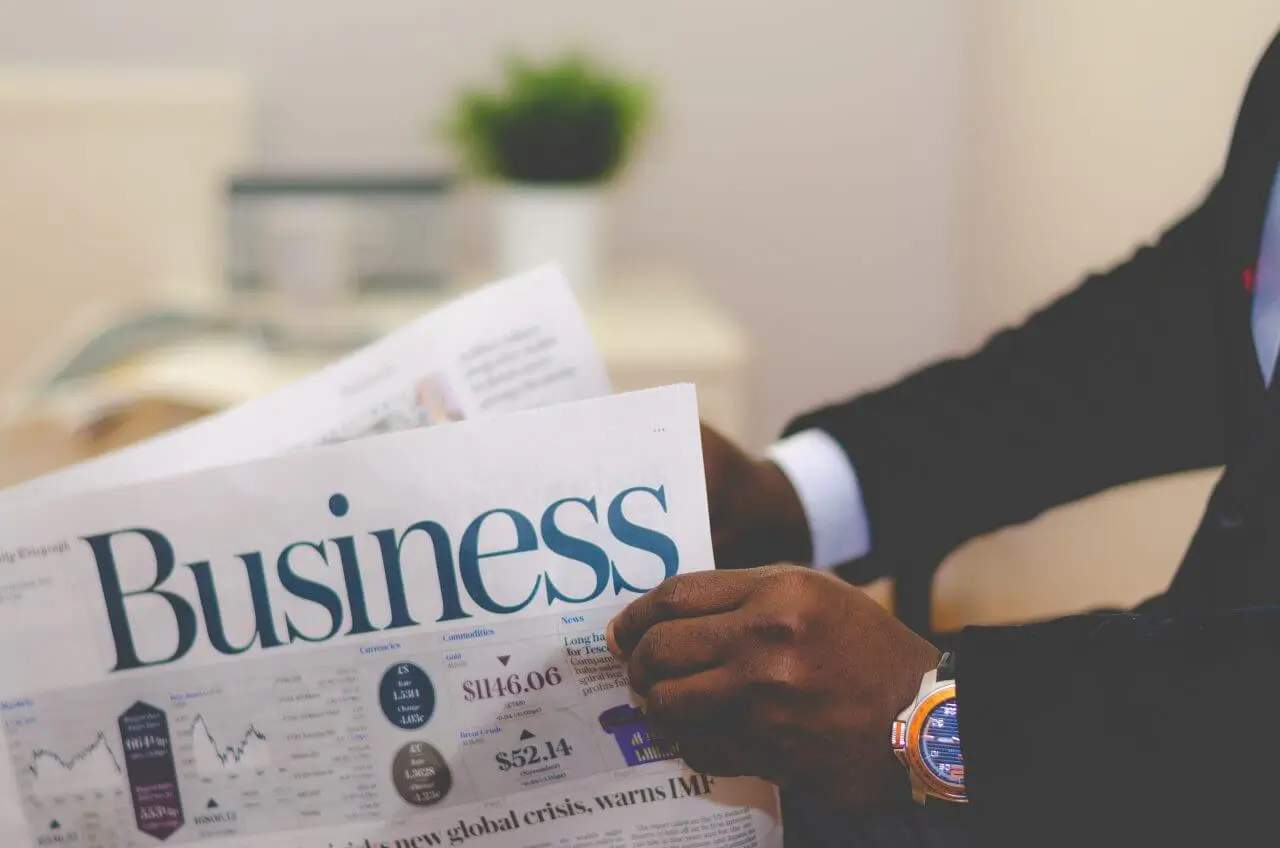 Before job search: Have a clear objective in mind
First, it's important to think about the type of work you'd like to do, weighing the pros and cons of each and try to envision what your career's long-term development could look like.
Would you like to become a commercial, investment or mortgage banker? Bank teller, loan officer, financial analyst, internal auditor or branch manager?
Be sure to take your personality traits into account, too. Do you want to interact with customers and their money? Or would you prefer having a more analytical back-office role that allows you to dive deep into numbers and raw data?
The banking sector offers something for everyone. Salaries and formal job requirements differ, though.
According to the US Bureau of Labor Statistics, bank tellers earn less than $30k per year on average but the job doesn't require a university level of education. On the other hand, the job of a loan officer and financial analyst requires a bachelor's degree and offers a median annual pay of $63k and $85k, respectively.
The highly competitive world of banking also enables you to earn promotions and work your way up through various positions. Remember — it's all up for grabs. So even if you start out as a bank teller, there's no reason to despair. Just gain enough experience and knowledge and the role of a loan officer or even a financial manager can be yours.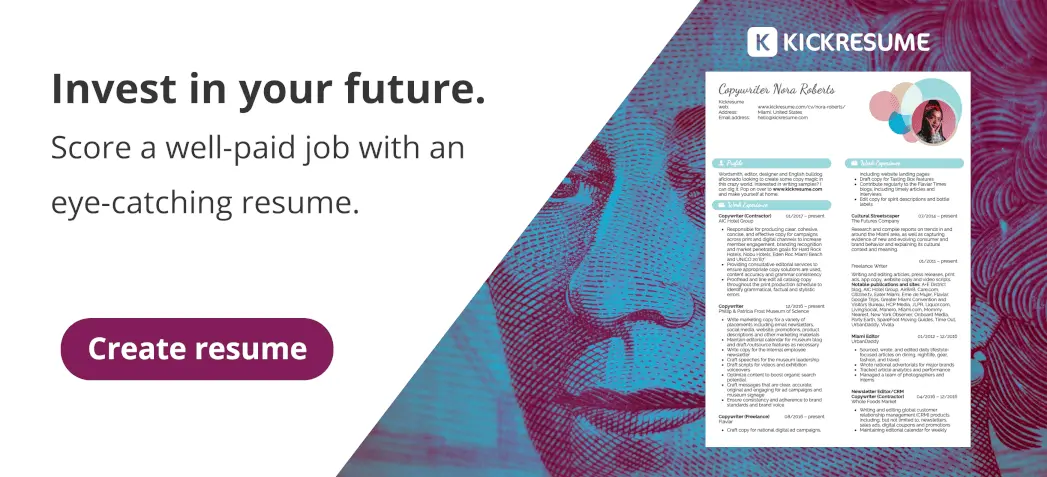 Resume format: Determine your competitive advantage
There are no restrictions when it comes to resume composition. But with a suitable resume format, you can make the reader's attention rivet on the aspects of your career that deserve to be in the spotlight and make less attractive parts a bit more inconspicuous.
If you've got years of work experience to showcase, choose a chronological resume format. It's a true classic that records your career progression and makes each of your steps count.
But if you want to highlight a diverse range of technical, transferable and soft skills that you possess, choose a functional resume format. This one comes in handy especially when you need to downplay a gap in your employment history or a lack of relevant work experience.
There's naturally a third option, too: to come up with a hybrid resume that gives priority to literally anything that you deem important. This can include your education history, references or awards you've earned — just about anything that you think will convince them to hire you.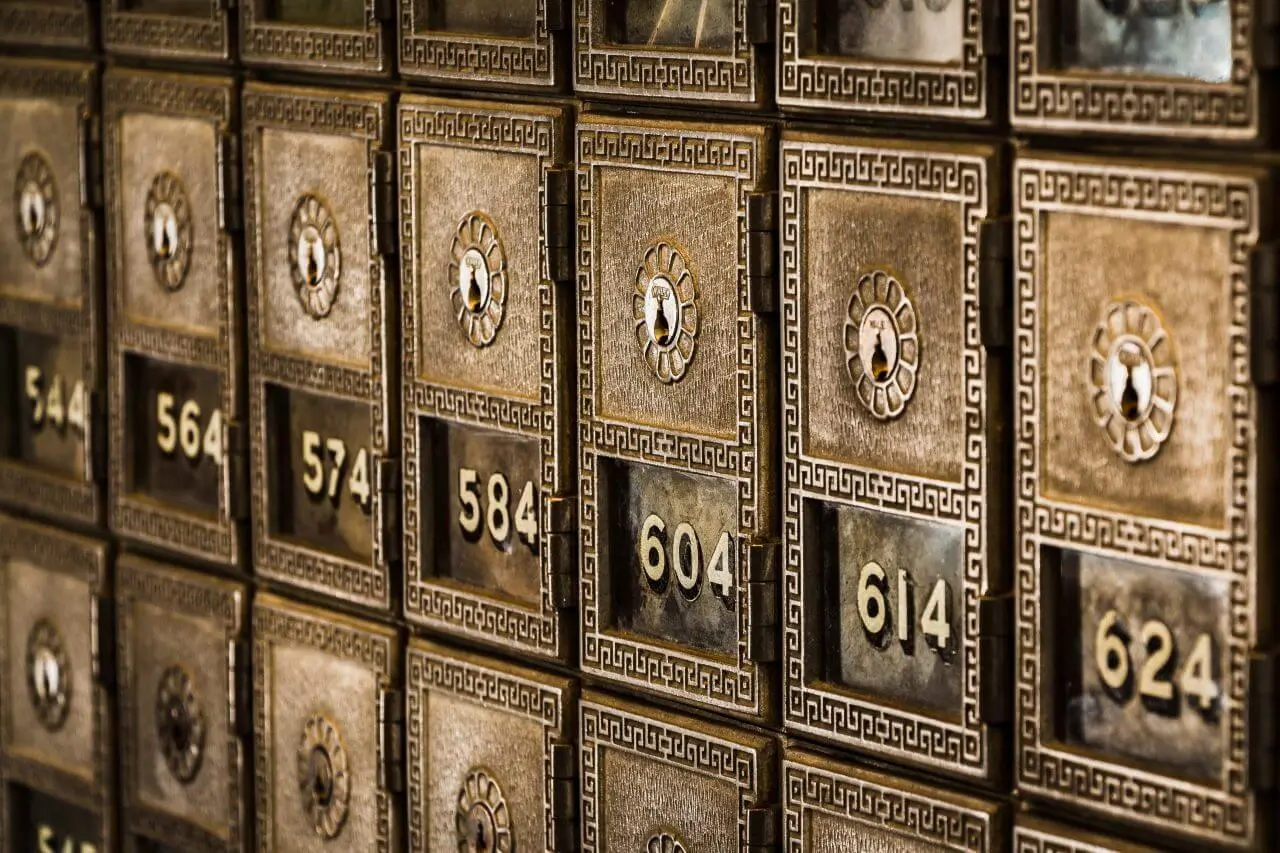 Resume sections: Leave nothing to chance
When it comes to resume writing, perfection lies in the details.
Mess the formatting up and you'll end up with low readability. Use cheesy words or worn-out phrases and nobody will listen. Include less relevant keywords and your resume might not beat the bots.
Let's now explore the potential of individual resume sections and address their specifics head-on:
1. Profile summary
Many people start their resumes with individual sections such as Work Experience or Skills. But when it comes to marketing yourself to the recruiter, nothing compares to a well-written resume summary sitting on the top of your resume.
Just to make it clear: profile summary is your resume — only extremely condensed. It's a tiny resume for those who don't yet know if they want to read the rest of it and get more details.
That's why you need to make it sound fresh and juicy. Remember that the reader's attention is a very elusive thing that needs to be pampered. Use your summary to say three basic things: who you are, what you do and what makes you stand out.
Here's an example of an excellent profile summary that's hard to beat:
---
Over 7 years of Business Analyst and IT Consultant experience with extensive international experience. Possess a Master's Degree in Information Systems from the University of Economics in Prague. Other qualifications include:
Working knowledge of banking and insurance products, marketing and business processes

Excellent communication (verbal and written) and interperson

al skills; able to communicate effectively to management, users, developers, and cross-functional team members.

Well-developed analytical and problem-solving skills.

Expertise in gathering, analyzing and documenting user stories, business and functional requirements and process flow.

Highly motivated self-starter, capable of a team and individual work.
2. Work experience
You surely have a lot to say about your former jobs. And that's when formatting comes in handy — to help the reader navigate the text with ease.
Make sure your work experience has a neat structure and follows a reverse chronological format. Include dates (months and years) to help recruiters see your career trajectory with the most recent — and the most relevant — items on the top.
Use bullet points together with action verbs to list your job responsibilities. Quantify your achievements. Include numbers to specify anything from revenue growth and number of clients to annual savings.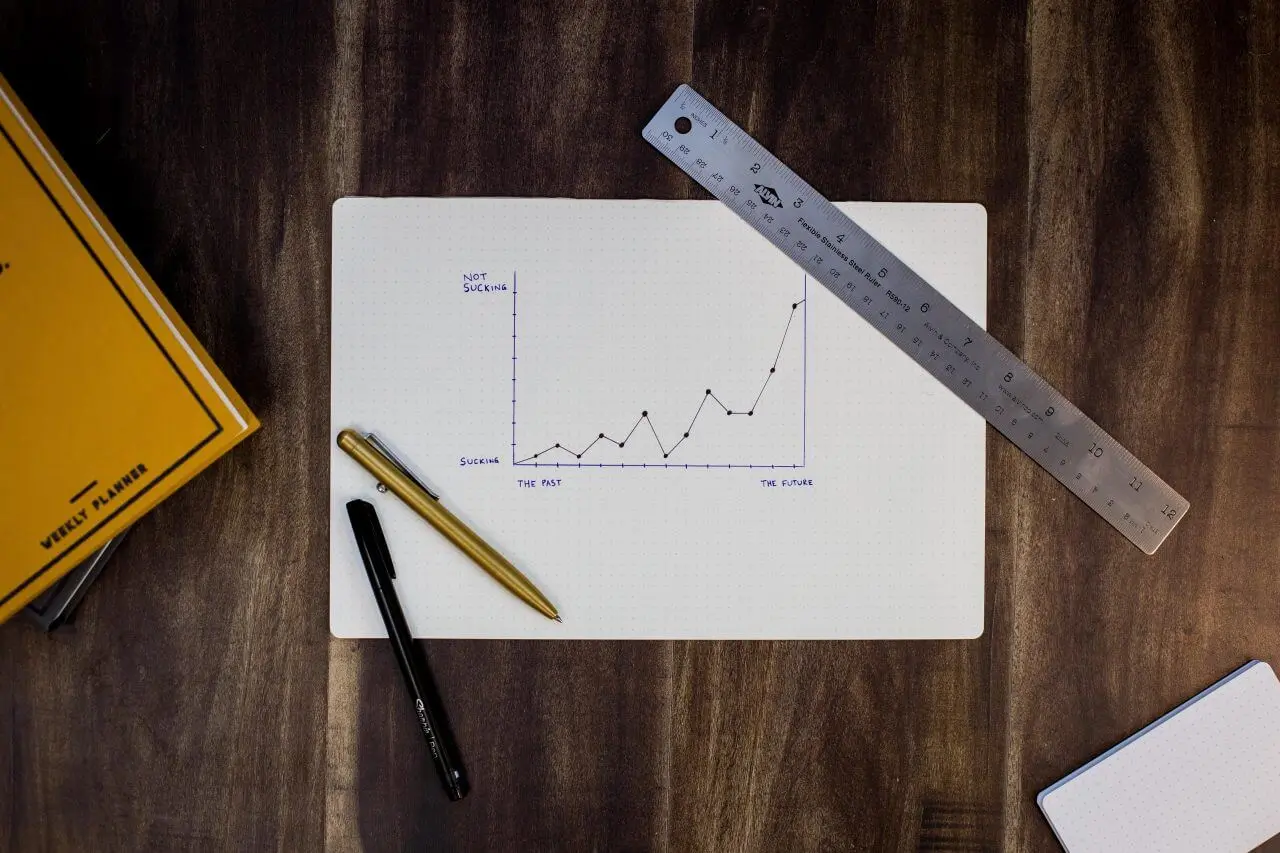 3. Education
Especially if you're fresh out of college or it wasn't so long ago when you graduated, you shouldn't just skim the surface but include specific details about your studies.
Make your academic achievements speak of your dedication and hard work and you're halfway there. What was your GPA? Did you get any notable award? Did you do any coursework that's relevant to the job you're now applying for?
These details will help you compensate for the scarcity of hands-on experience and let recruiters know you're perfectly equipped for a demanding banking job. Learn more about how to exactly put GPA on your resume.
---
Bachelor of Science in Business Administration (01/2008 – 10/2012), The University of Milan, Milan, Italy
Graduated with Honors

Cumulative GPA (4.00)
4. Skills
Banking jobs demand a pivotal combination of hard and soft skills. These should reflect specific keywords that are included in each job description.
Tailoring your resume to every position you're applying for is an essential part of your job search and failing to do so can result in very poor response — or none at all.
Here's a list of the top soft skills in banking:
Strong analytical skills

— identify trends, patterns and definitive conclusions from the reams of data you'll have access to.

Complex commercial awareness

— anticipate financial trends and future business developments

Excellent oral and written communication skills

— convey and receive instructions, describe and explain complex financial concepts or procedures, write in-depth reports and communicate in a professional manner

Problem-solving skills

— tackle complex problems as they arise, which may involve addressing financial implications or coming up with personalised solutions

Capacity for innovation

—

push the limits and come up with creative solutions

Attention to detail

— spot anomalies and simple mistakes that would have grave consequences

Determination and resilience

—

this includes having a relentless work ethic and willingness to make sacrifices in your personal life and work overtime to achieve goals and meet deadlines

Working under pressure

– meeting deadlines and delivering results
Here's a list of the top hard skills in banking:
Microsoft Office — Excel (VBA, formulas, functions), Word, PowerPoint, Outlook
SAP
Data query/data management tools — Access, SQL, Business Objects
Database management systems (DBMS) — Oracle
Accounts payable automation
Predictive analytics

5. Certifications
If you're a seasoned professional, include certifications that you've earned throughout your career:
---
Accredited Tax Preparer (ATP) Certification 02/2008, Accounting Institute of Milan

ArchiMate 3.0 L1 Foundation 08/2019, OpenGroup
If you feel there are still gaps in your knowledge, though, turn your attention to online certificates. With the arrival of quality online education, obtaining a solid finance degree can be a matter of just a few months and a bit of free time.
Make sure to choose one of the credible online education platforms acknowledged by hiring managers and industry professionals — Google's Digital Garage, Coursera, Udacity, Khan Academy, Udemy, Shaw Academy or Hubspot:
---
Machine Learning 12/2018, Stanford University on Coursera

Banking Credit Analysis Process

04/2019, Udemy
Completing an online degree a great way to fill any gaps in your knowledge or compensate for any voluntary or involuntary employment gaps or parental leaves on your resume. It's also the easiest way to get high-quality education for just a fraction of the fees you'd pay for an ordinary college course.
6. References
Being able to make it in the banking industry requires high levels of confidentiality and trust. That's why you need to provide trusted references to make the next step in your career.
Ask your former employers, ex-colleagues and other trusted industry professionals if they're willing to put in a good word for you with your prospective employer.
Include their names and contact information in a designated section of your resume or, if you can't do so for any reason, make it clear that you'll provide them upon request.
---
Mr. Bryan Simpson – Tax Supervisor, KPMG, Contact Number: 555-555-5555, Email: hello@kickresume.com
7. Hobbies
Include hobbies on your resume only if you consider them instrumental in supporting your job-related skills and qualifications. Regular chess players, for example, usually come out strong on logical thinking and reasoning skills. Similarly, you're likely to believe triathlon or marathon runners will show great perseverance in the face of difficulty.
On the other hand, watching movies or having a sweet tooth are hobbies that will hardly help you improve your job prospects.
If you want your hobbies to act as effective icebreakers and good conversation starters, make sure to be really specific. After all, "fervent golf player" or "contemporary American documentary novel lover" sounds much more engaging than vague statements "playing every kind of sport" or "getting lost in a good book."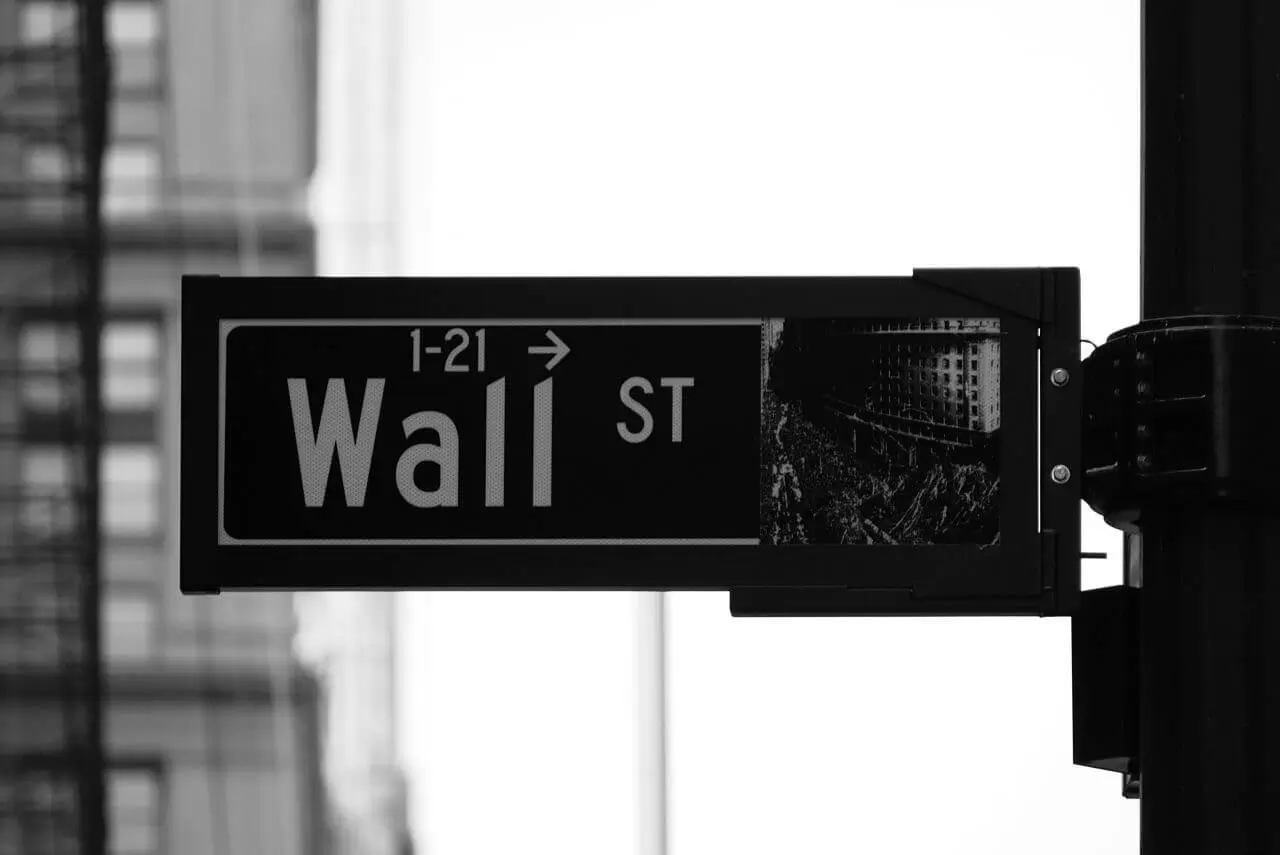 7 Excellent Banking Resume Examples To Get You Started
We all are visual beings. We need examples.
That's why we've put together 7 exceptionally well-written banking resume examples to help you get an idea of how other banking professionals landed their dream jobs and see how you can score yours, too.
1. The World Bank Technology Researcher Resume Example
Hey, recent graduates and young aspiring professionals. It's definitely not a bad idea to figure out your career objective right at the start — and make it the first thing recruiters will see on your resume.
This well-structured resume with the most important sections on top highlights promising academic achievements and job seeker's ambitions.
To convince the hiring managers that you'll be a great hire despite the absence of work experience, you need to use all your weapons. Include any projects, achievements, extracurricular activities or positions of responsibility that are relevant to the position you're applying for.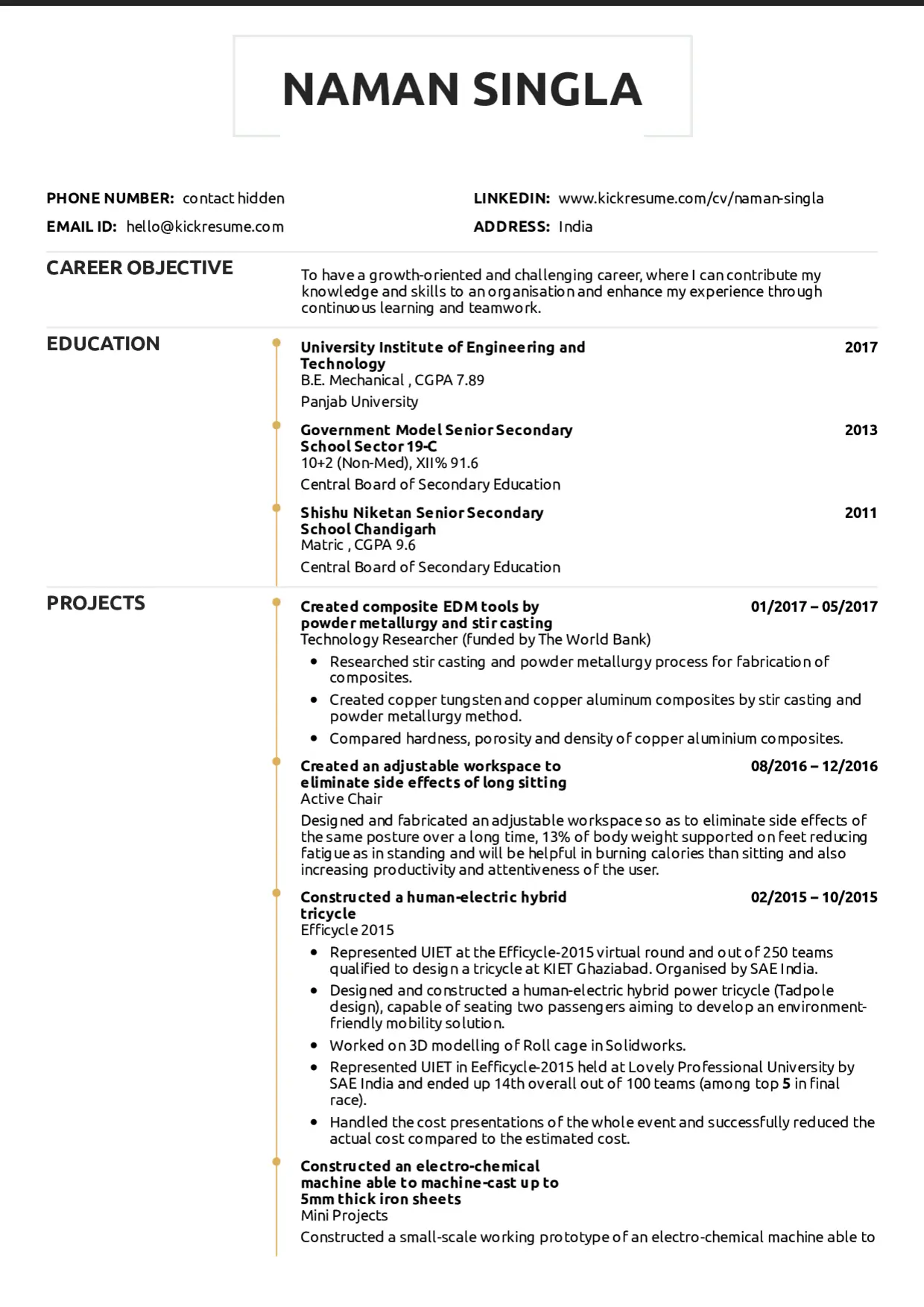 2. Prudential Financial Services Associate Resume Example
This one is a great example of a functional, skill-based resume written by a seasoned professional with 20+ years of experience in the field.
If you have a lot to say, do so. But always think about ways to make your resume easy to read.
Of course, bulky paragraphs may save some space and allow you to include even more details. But their readability — compared to bulleted lists — is very low and may even discourage some recruiters to read them in full.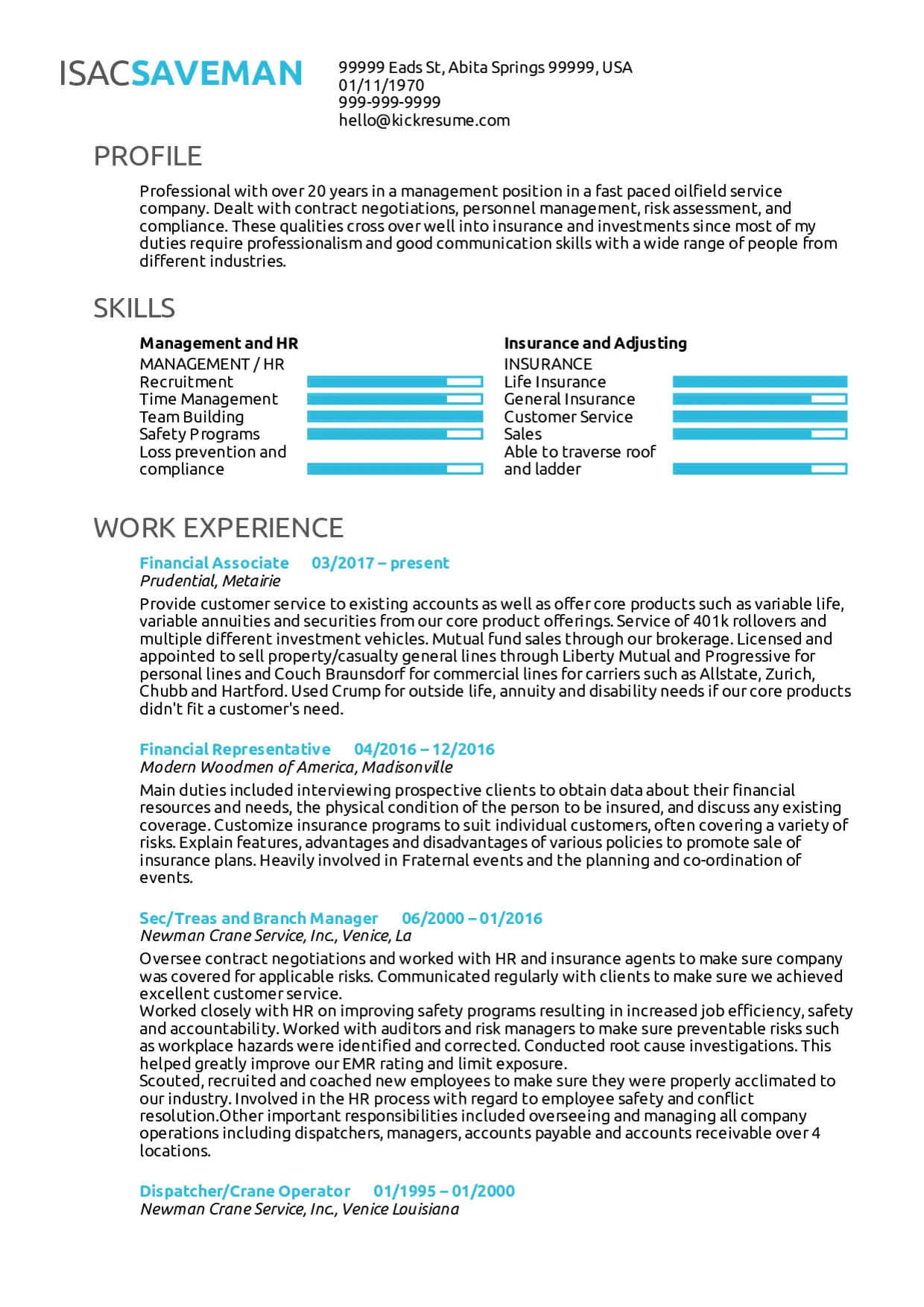 3. Software Asset Manager Resume Sample
Pack your profile summary with powerful adjectives. Phrases like stellar results, agile global strategic leader, particularly adept will help you promote your personal brand and enable you to hint at your soft skills while talking about your work experience.
Volunteering activities are also a great addition to your resume, especially when they shaped your personality and personal ethics. Job seeker's involvement in Scouts, voluntary work for RAF or British Armed Forces represents strong evidence for the recruiters that they've just come across a reliable and high-performing employee.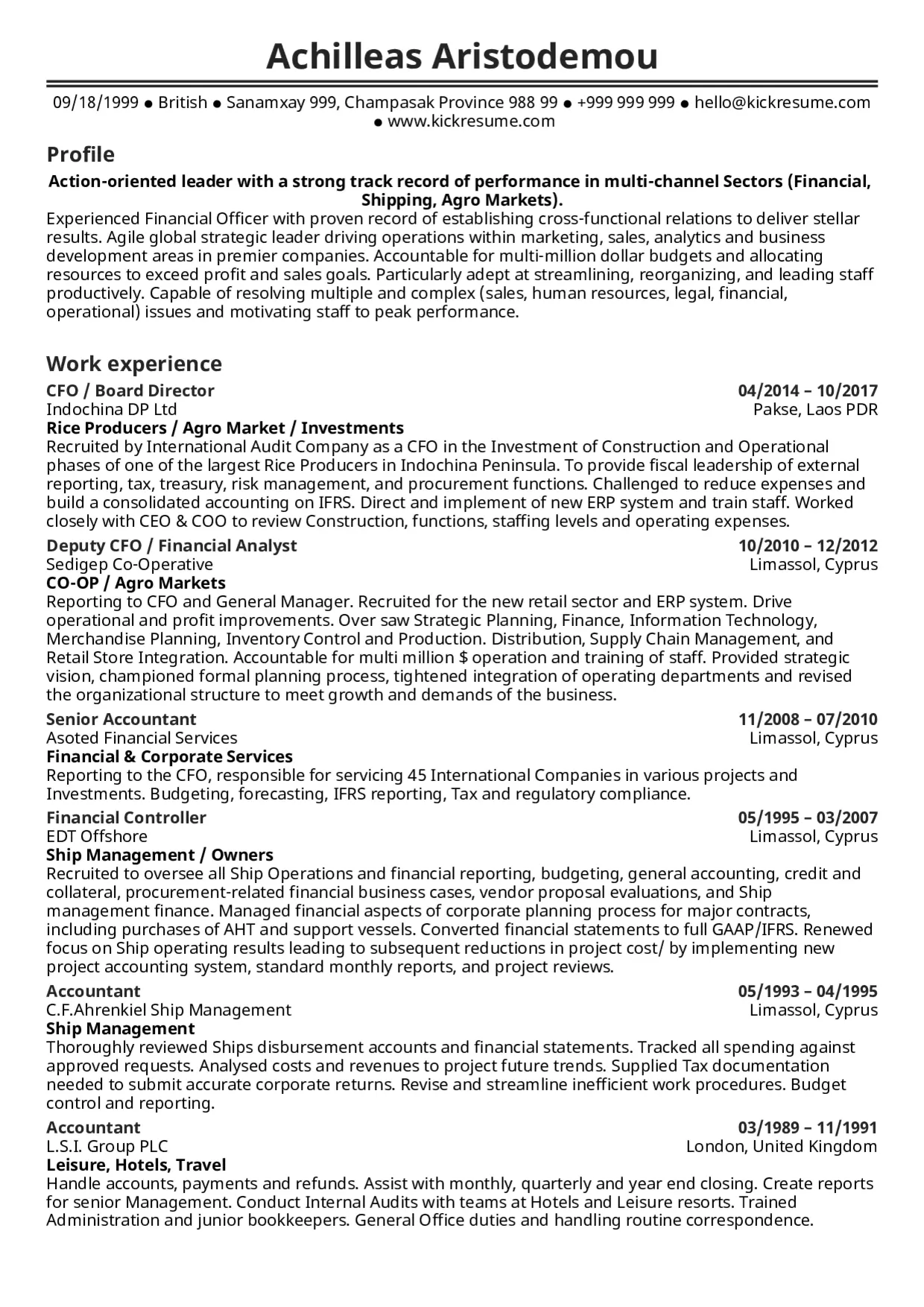 4. Commercial Director Resume Example
If you want to stay ahead of the game, you need to be always learning and expanding your skillset for the next opportunity that comes your way.
And one of the most convenient ways to do so is to sign up for an online course. This will enable you to obtain a certificate from renowned online platforms (Shaw Academy, Coursera, Udemy, Code Academy) that offer quality education at a reasonable price.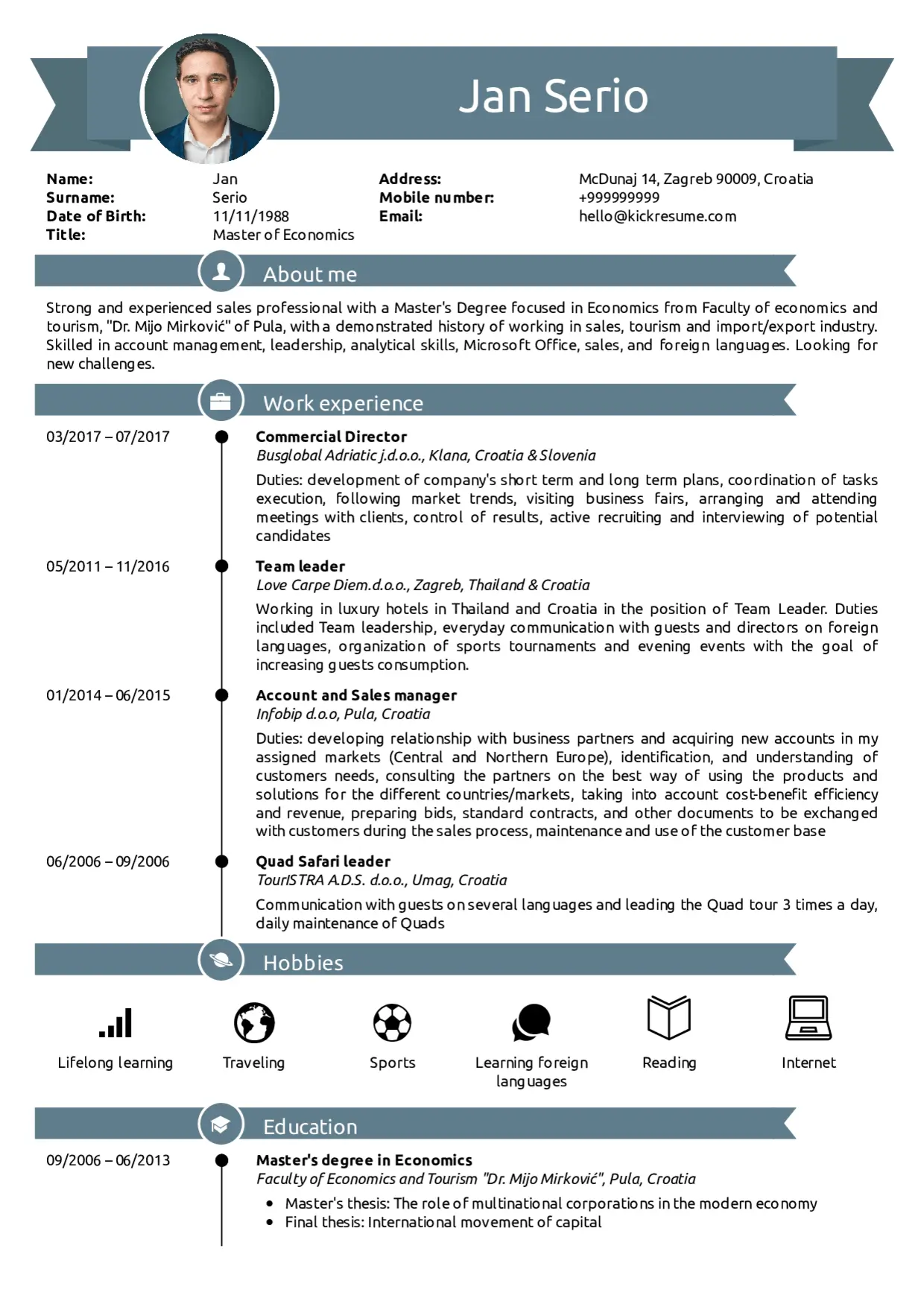 5. Senior Trader Resume Example
What you see is a slick one-pager that effectively uses two columns to save space and accommodate the F-shaped reading pattern.
Another great way to grab the reader's attention is to use numbers. Make your achievements palpable by quantifying everything that can be expressed numerically:
---
Ranked 1 out of over 50 traders within two years

Managed $4 million long portfolios with 70% focus on entertainment-related firms

GPA: 3.95

Graduated with Distinction (Grade 1 – A/excellent equivalent in all 4 subjects).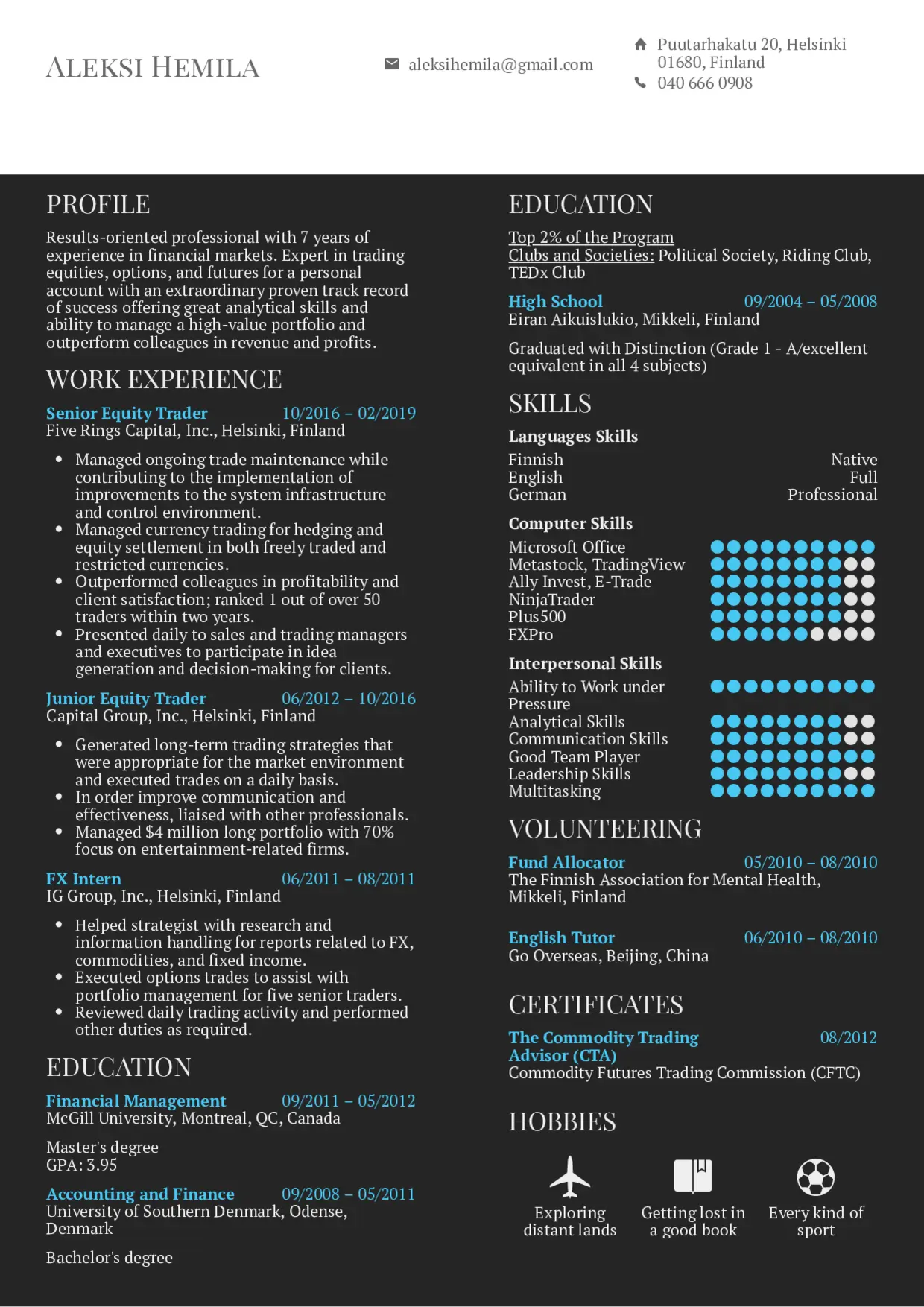 6. Scotiabank Business Analyst Resume Example
Multi-page resumes are particularly suitable for seasoned professionals with a prolific career. The neat structure of the work experience section is paired with excellent use of action verbs.
The resume stands out thanks to a substantial profile summary that highlights job seeker's soft skills and reflect the job requirements.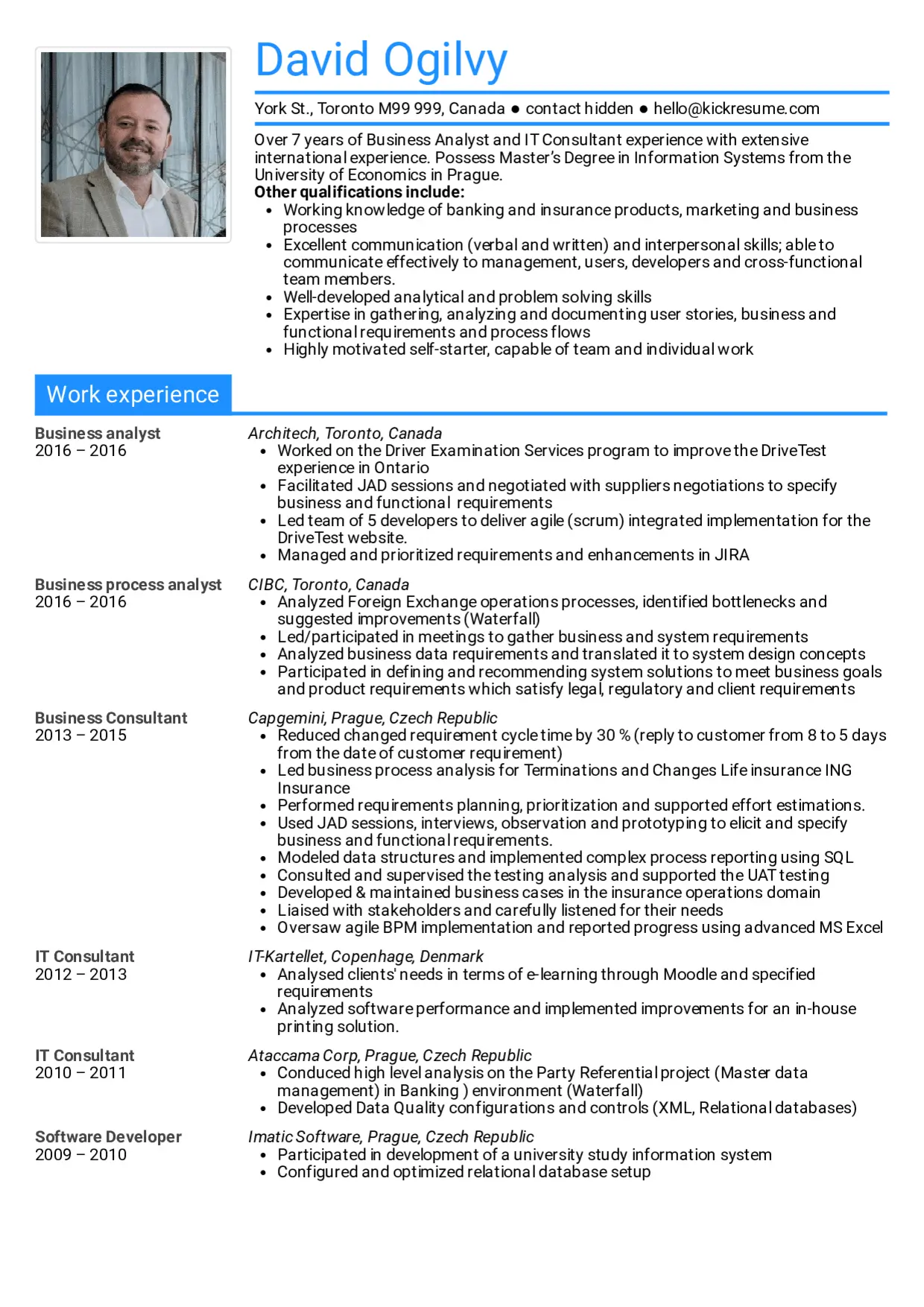 7. Tax Accountant Resume Example
If you're thinking about using a functional or hybrid resume, there's a number of ways how to play with the order of sections and list your skills in different places on your resume.
One of them is to relabel your skills as areas of excellence and place them on the top to your profile summary. This way you'll be able to say much more about your transferrable skills and situations where you typically use them.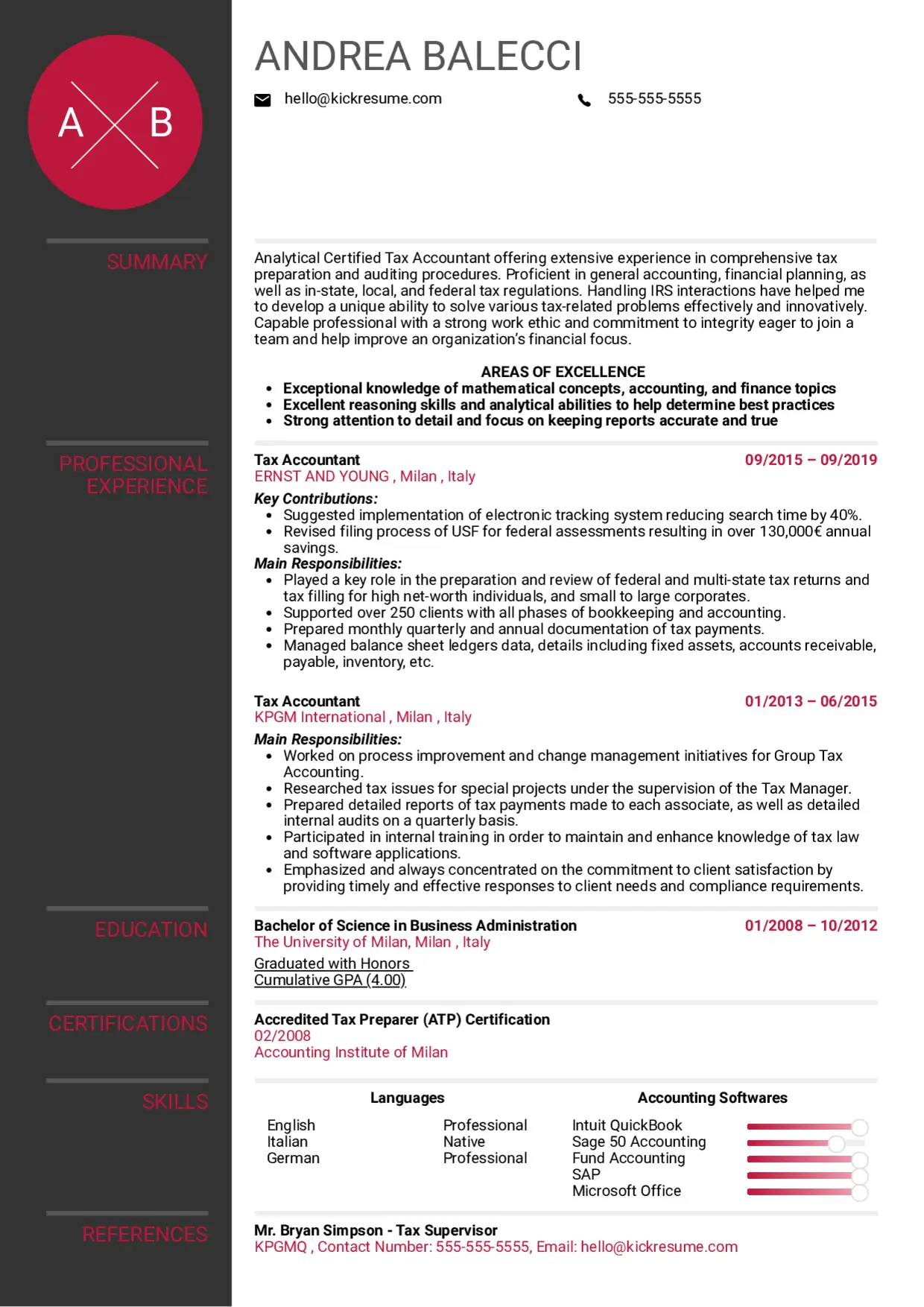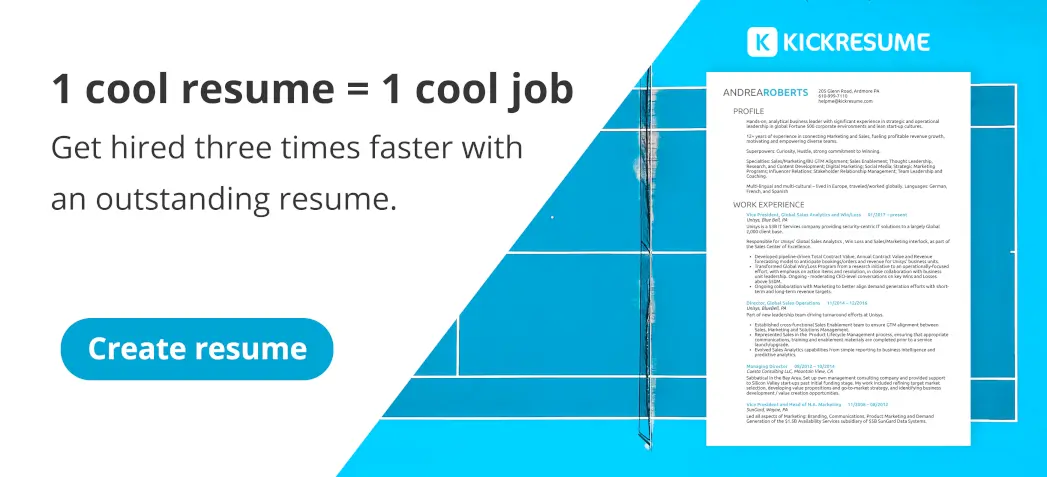 Still not enough? If you want to see more examples from real professionals, check out our resume examples library!