Are you a person who enjoys working closely with people? Someone who doesn't shy away from responsibility and decision-making? A career in human resources management might be perfect for you!
If you're wondering how to become a human resources manager, look no further. In this article, you will find information about the work responsibilities of an HR manager, how to get into the field of human resources and set yourself on a path to success.
In this article, you're going to learn:
What is a human resources manager;

What does an HR manager do;
How to become one;
What are the requirements;
Whether you need a degree;
Examples of successful HR manager resume and cover letter;
Human resources manager FAQ.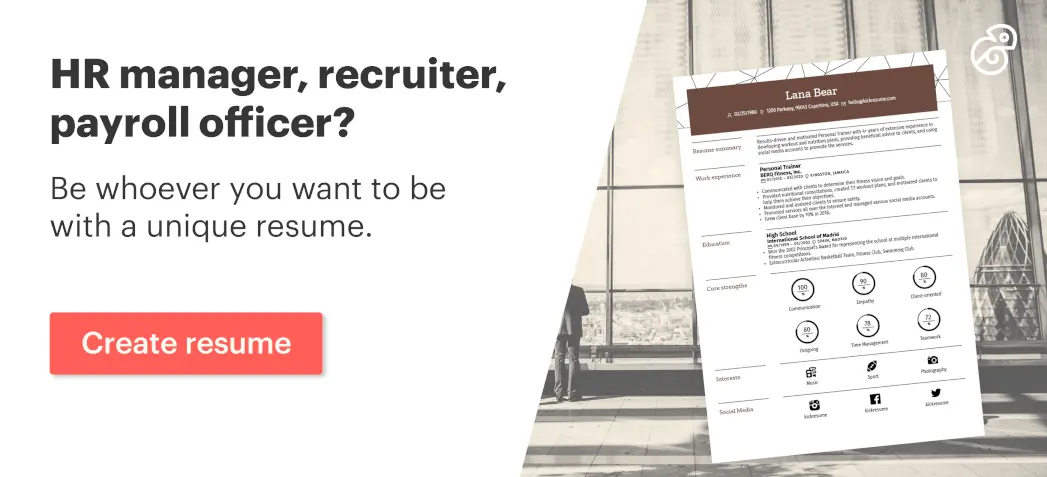 What is a human resources manager?
If "HR" makes you immediately think of Toby Flenderson from The Office, think again! The lethargic and disinterested stereotype of an HR manager is totally outdated. In reality, a human resources career can be really dynamic and fulfilling.
So what can you do with a human resources degree? As an HR manager, your role would include recruiting, hiring, and training new employees. You will represent and enhance a company's culture, and make sure the right people can access the right positions.
But a human resources manager's responsibilities don't end here. You are also responsible for employees' career growth and development. As a human resources manager, your core skill needs to be the ability to recognize people's potential.
Now, how does one become an HR manager?

How to become a human resources manager, a step-by-step guide
1. Get a human resource degree
Naturally, the best way to get into the field is through a human resource bachelors degree. Many universities and colleges offer excellent programs focused on giving you the best skill set for a career in human resources management.
Lots of companies will require you to have a degree. Because of that, completing an HR major will give you the upper hand in your job search! With courses such as organizational development, labour law or psychology, you will get a good idea of how to manage people in the workplace, solve conflict and handle any drama.
If you're aiming for a managerial position or even higher, you may also consider going for a Master's degree in human resources. You'll develop your skills and knowledge of the field even further. And you can ask for more responsibility — and a higher salary!
There's loads of different options — here's a list of some Master's programs in the US.
See what qualifications and experience you need to be accepted, and find out how closely the program matches your career goals. There's some options in HR Master's degrees as well. From the classic human resource management from Texas State, to conflict and mediation from the Roosevelt University.
2. Make an unrelated degree seem relevant for HR
If you already completed your studies and chose a different major, don't worry! Most companies look for people with a 4-year degree and not always specify whether it should be an HR-oriented one. You might have to work for a little bit longer to gain the experience you need for a managerial position, but you'll get there!
Either way, don't forget to highlight relevant skills you gained through your studies or work in your resume. A short FAQ at the end of this article will give you a hint of what those are.
3. Get an HR internship/experience
If you have the chance to take an internship as part of your degree jump on it (trust us, it will pay off so, so much)! Companies often look for interns during spring time to hire for the summer.
The ideal place to look is on your college's career website, established sites such as indeed, or LinkedIn.
After graduation look for a more junior position as an HR assistant or something similar. This will build your skills further and after a year or two, you'll learn the ropes of HR work.
If you have a non-HR bachelor's degree, expect to work in junior positions longer so you can catch up with your peers with human resources qualifications.
The average US salary for an HR assistant is around $39,836 according to Glassdoor. Not a bad starting point, but you want to become a manager quickly, right?

4. Consider HR courses, training and certifications
With companies looking for quality, getting additional certifications might give you a much needed boost. A certification or a membership in a professional organisation might be necessary for some HR managerial positions, with or without a previous human resources degree.
Human resources certifications vary depending on your state or country, and will require different levels of experience in the field. They also offer various specializations.
Check out organizations such as Society for Human Resource Management (SHRM).
Also, check out these HR online courses:
5. Craft a resume and cover letter
Now all you have to do is write the best resume and cover letter and nail the interview process.
When writing your resume or CV, try to focus on relevant experience. This may include internships, extracurricular activities or volunteering if you're a student or getting into the field without a degree. Or actual HR or leadership work experience if you're further in your career.
To help you get started, we've included HR manager resume and cover letter examples below.
HR Manager resume example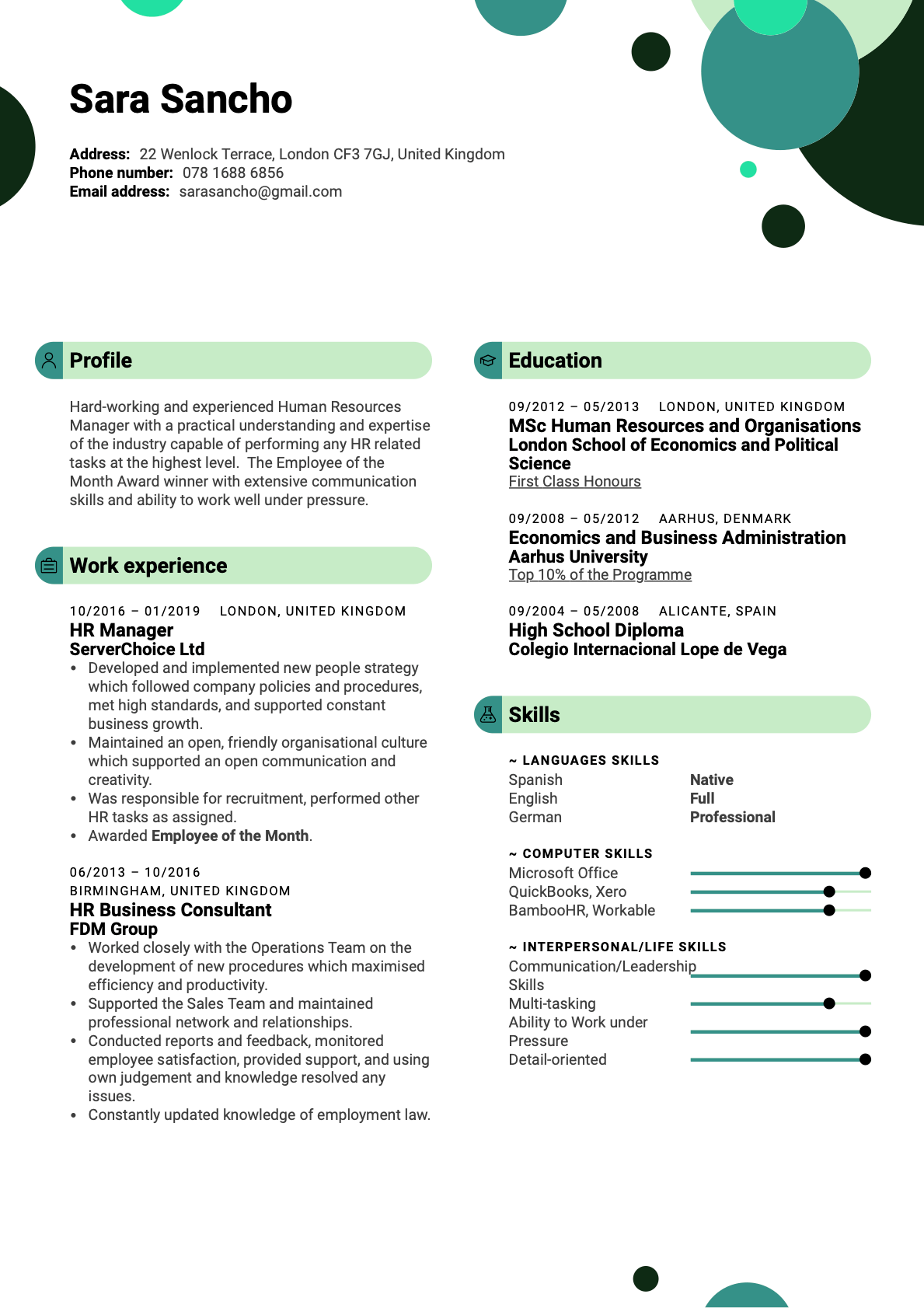 Want more inspiration? Check out our human resources resume examples.
HR Manager cover letter example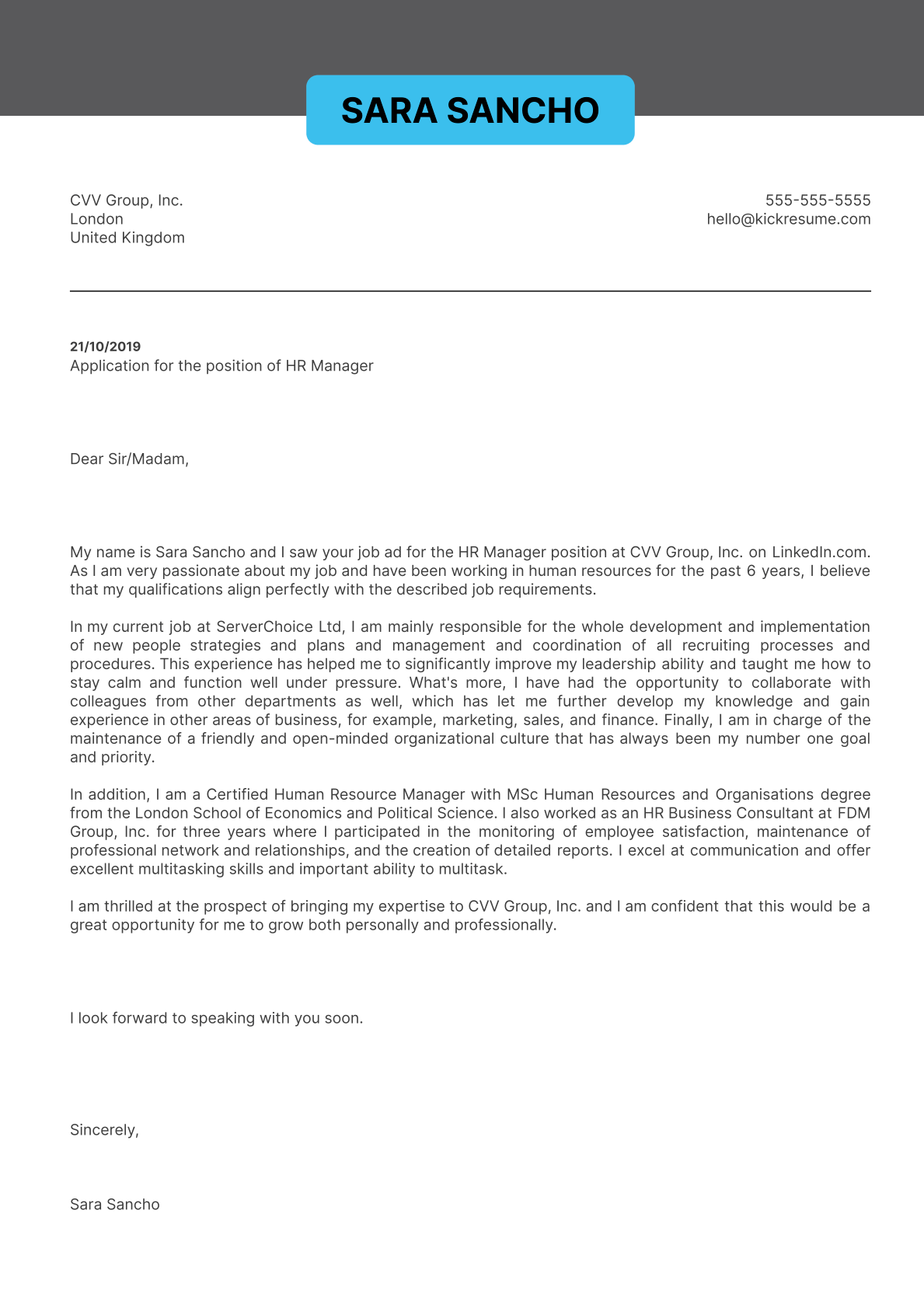 Want more inspiration? Check out our human resources cover letter examples.
6. Job interview
So you've written the perfect resume and even more amazing cover letter. Well done!
The interview part is really your chance to shine. You might go through different stages of interviews, from the classic one-on-one to a group exercise.
In order to succeed you will need to prepare well. This definitely includes:
Researching the company;
Knowing the job posting well;
Knowing how you make the best candidate;
Prepare your answers for likely questions;
Be aware of your shortcomings and be prepared to talk about them.
Have a deeper look into the interview process and how to prepare in this article on 8 Things You Have to Research Before Your Job Interview.
Finally, get on with the times. Today, many employers choose to conduct interviews online, here's a guide on how to nail a virtual job interview and wow charm your way into your dream position.
Human resources manager FAQ:
What skills does a good HR manager need?
Now, let's see what skills and qualities do you need to succeed as an HR manager.
First things first, you need to be comfortable with working with people and embrace workplace diversity with an open mind. A key skill to work on is, unsurprisingly, communication. As an HR manager you will need to feel comfortable with addressing various, sometimes unpleasant, issues.
In a managerial position, you need to be a strong leader who is not afraid to make decisions and take responsibility.
Some of these skills you will learn and practice while studying for a human resources degree. Some are personal qualities which you will gain through life experience.
To help you figure out what skills to highlight, here are some brilliant human resources resume examples created by our happy customers. Don't worry, we didn't forget about human resources cover letter examples either.
What are the salary expectations for HR management positions?
As an HR manager, you can expect a salary that fits your educational background and experience. In the US, the national average salary for a human resources manager is around $80,290 based on data from Glassdoor.
Can you get into the field without a human resources degree?
While an HR-focused degree is definitely a good choice, it might still be possible to get the position of an HR manager without it.
But heads up — it will likely be difficult.The industry standard is to have a bachelor's degree, whether an HR one or otherwise. But with the right company you might work your way up the ladder and after obtaining enough experience become a HR manager.
Focus on building your communication and analytical skills. It is always an option to get a degree later in your career in order to progress further. An online or part-time degree could be the right choice for you in this case.
Can I study online?
If 2020 has proven anything, it is that studying and working online is definitely an option. In the US (and abroad) many universities offer fully online human resources degrees. Online degree will prepare you for your career in a similar way an in-person program would.
Completing your degree online might also save you some money in the long run. For example, Florida International University offers an affordable "Bachelor of Business Administration in Human Resource Management" degree starting at $4721. What a bargain!
Should I get a PhD?
Pursuing a highly specialised, research-heavy doctorate might seem like a daunting task. But if you feel passionate about the field and have a specific topic in mind that you won't mind spending 3-6 years on, go for it.
A PhD in human resources will be an excellent way to deepen your knowledge of the field. If you'd like to give it a try, here's a list of the best US human resources PhDs.
Having a doctorate in HR will progress your career significantly and will come with a tasty bump up in salary. PhD in human resources will likely ensure you reach an even higher position.
However, if academia is not your thing, there is no pressure on getting a PhD. Think of it more as a passion project with added benefits. It's definitely not a requirement of a successful career in human resources.