Psychology is a fascinating field of study. And nowadays, the demand for psychologists and counselors is increasing by day.
If you want to know more about pursuing a career in psychology, this article can help.
This simple step-by-step guide will introduce you to several ways how to get into this field.
Let's see which path is the one for you!
In this article, you'll learn:
Who can call themselves a psychologist;
What does a psychologist do;
What degrees you need to become a psychologist;
If there are any other requirements;
What job opportunities you can find in the field;
Examples of a perfect psychology resume and cover letter.
Who is a psychologist?
People often confuse psychologists with psychiatrists, therapists, or counselors.
Generally speaking, a psychologist is a person who scientifically observes human behavior.
Based on this knowledge and observation, they can either help individuals resolve their issues or conduct corresponding academic research.
The lines between a psychologist, therapist, and counselor are often blurred. The only difference between these professions could be an extra course, a different country of residence, or they can even overlap. For instance, a counselor can be often considered a therapist.
On the other hand, there's a clear difference between a psychiatrist and a psychologist. A psychiatrist is a doctor with a medical degree and unlike a psychologist, they're allowed to prescribe medicine. Psychologists are limited to talk therapy as a method of treatment.
Also, don't confuse a psychologist with a life coach or a dating coach. While a psychologist needs to have a specific education, training, and a license, pretty much anyone can claim themselves a life coach.
Moreover, only clinical psychologists (and psychiatrists) are able to diagnose a person with a mental health illness.

How to become a psychologist, a step-by-step guide
To become a psychologist, you need to study a lot, and there's no way around it. For practicing psychologists, a bachelor's and a master's degree is a must.
However, each country in the world has a different system of mental health practitioners. While in some countries, a master's degree is enough to open your practice and you don't even have to be licensed, this isn't the case in the United States.
Here, in most states, you need a doctoral degree and a special license in order to be considered a psychologist.
In any case, always make sure you research specific requirements that are needed for the place where you want to practice in the future. Regulations differ not only from country to country, but also from state to state within the U.S.
In the following chapter, you can find a step-by-step guide with specific educational requirements for becoming a psychologist.
1. Get psychology degrees
Start with a bachelor degree. It doesn't necessarily have to be in psychology, but it helps. You can also have a bachelor's degree in a field that's closely related, such as social work, sociology, or neuroscience.
The next step is a master's degree.

If you're aiming to become a licensed psychologist, you'll need to study psychology. You can choose between a Master of Arts or a Master of Science degree track. At this point,

you can already specialize.

Do you wish to focus on couples therapy? Or do you want to become a child psychologist? Pick a master's degree that suits your end goal the best.

In some cases, you can skip the master's and start your doctorate.

If you're interested in academia and research, a Ph.D. track might be the right choice. On the other hand, if your goal is to be a practicing therapist who works directly with people, choose the PsyD type of doctorate.
2. Meet additional requirements to become a psychologist
After finishing your studies, now it's your turn to:
Do a specialized psychology internship, or obtain a postdoctoral degree.

Since being a psychologist is such a responsibility, the field is strictly regulated. Before you can start practicing psychology after your studies, you're required to work

1500-2000 hours

alongside already experienced professionals. That translates into one

to two years of supervised professional experience.
Obtain a valid psychology license.

The rules are different in each state and you need a state-specific license, based on the location of the practice. Indeed, getting a license is very crucial part of your journey of becoming a mental health practitioner. For that, you need to achieve a sufficient score on

Examination for Professional Practice in Psychology

.
There are 2 additional requirements which may apply:
Complete a continuing education. In most states, a practicing psychologist must complete a certain number of Continuing Education (CE) credits per year. Not all states have this requirement, but New York, for instance, does.
Pass other tests.

Some states also require candidates to pass an oral exam that may be a competency-based test or a test of laws and ethics.
If you want to research what applies to your case, take a look at the Association of State and Provincial Psychology Boards (ASPPB) site, to see if you have all the education and experience that's required.
3. Get a specialized job as a psychologist
If you've already done all the studying and have a degree in psychology, there is a wide range of career specializations from which you can choose.
For some, you need a specific degree, for others, only additional psychology qualifications are enough.
To begin with, decide if you want to work in

research

or with

clients.

For

academia, you don't need a license

, at least in some states.

If you decide to work with clients, you may have to decide between being a

counselor or

a

clinical psychologist

. In the case of the latter, you'll focus on the treatment of specific mental health illnesses. A counselor, on the other hand, deals with the overall well-being of a client. For both, you almost always need a doctoral degree, which can take up to eight years to complete.

You can also find your

specialization based on your clientele

. You can be a forensic, family, or child psychologist. There are plenty more options.

If you don't have a psychology doctorate or a therapist license,

don't worry! You can still find a great job in a related field. After obtaining proper training, you can start a career as

a social worker, or a substance abuse counselor. With the right master's degree and an internship, you can also become a marriage and family therapist.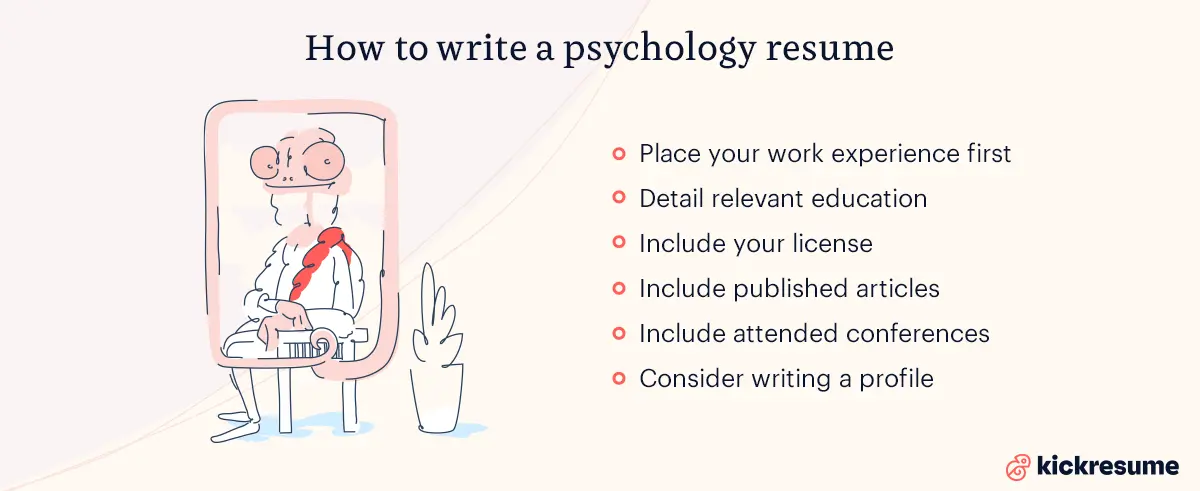 4. Craft a psychology resume and cover letter
"Do I even need a resume and cover letter as a psychologist?", you may ask.
The good news is that as a licensed psychologist, you can be your own boss and open your own practice. So, you don't have to go through the whole ordeal of applying and interviewing for a job position.
However, you still may want to work at a school, university, an existing practice, prison, government agencies, or in a hospital. In that case, you need to go through regular job application process (resume and cover letter included).
So, here are a few tips for writing your psychology resume:
Place your work experience

first. B

e it only an internship or supervised training. Even though you have sacrificed many years to studies, just like with other jobs, the more actual working experience you have, the better.

Include a detailed job description. Make it clear how extensive your experience is, how you practiced psychology in that role, mention your main achievements and what skills you acquired.
Detail relevant education. Your future employers will expect you to have the necessary educational background.
Include your license. Make it clear what your specialization is and in which state you're permitted to have a practice.
Include published articles, attended conferences and special training courses. All of these prove you can dig into your work.
Consider writing a profile

. Having an empathetic personality or specific psychological training are some of the important aspects of a job of a psychologist. Because of that, you may want to make that clear to your potential employer. Include a little bit of text where you write about yourself, your approach towards clients, and the method of therapy which you practice and in which you believe.
Psychology resume example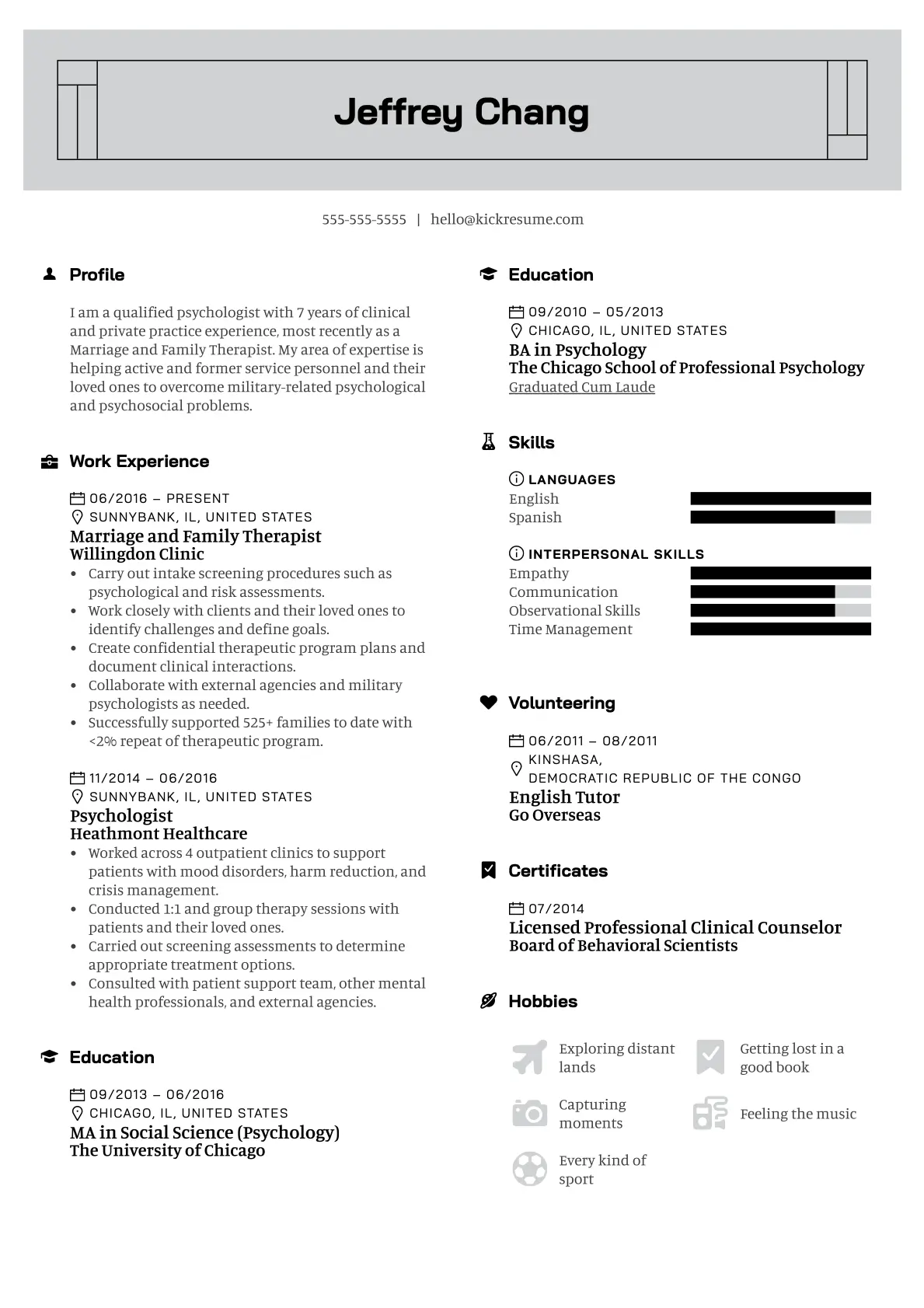 Want more inspiration? Take a look at our psychology resume examples.
And what about a psychology cover letter?
Cover letters aren't always required. Thus, make sure you submit one only when they ask for it.
If possible, address it to the person who's responsible for the hiring.
Write a catchy opening line. First impressions matter.
Prepare a clear structure. Make the text dense and easy to read by creating logically organized paragraphs.
Include a list of requirements that you meet that were also included in the job position posting.
If you need more general tips, there's a full article that will guide you through the process of writing a cover letter for your psychology job. Or just check out the cover letter example below.
Psychology cover letter example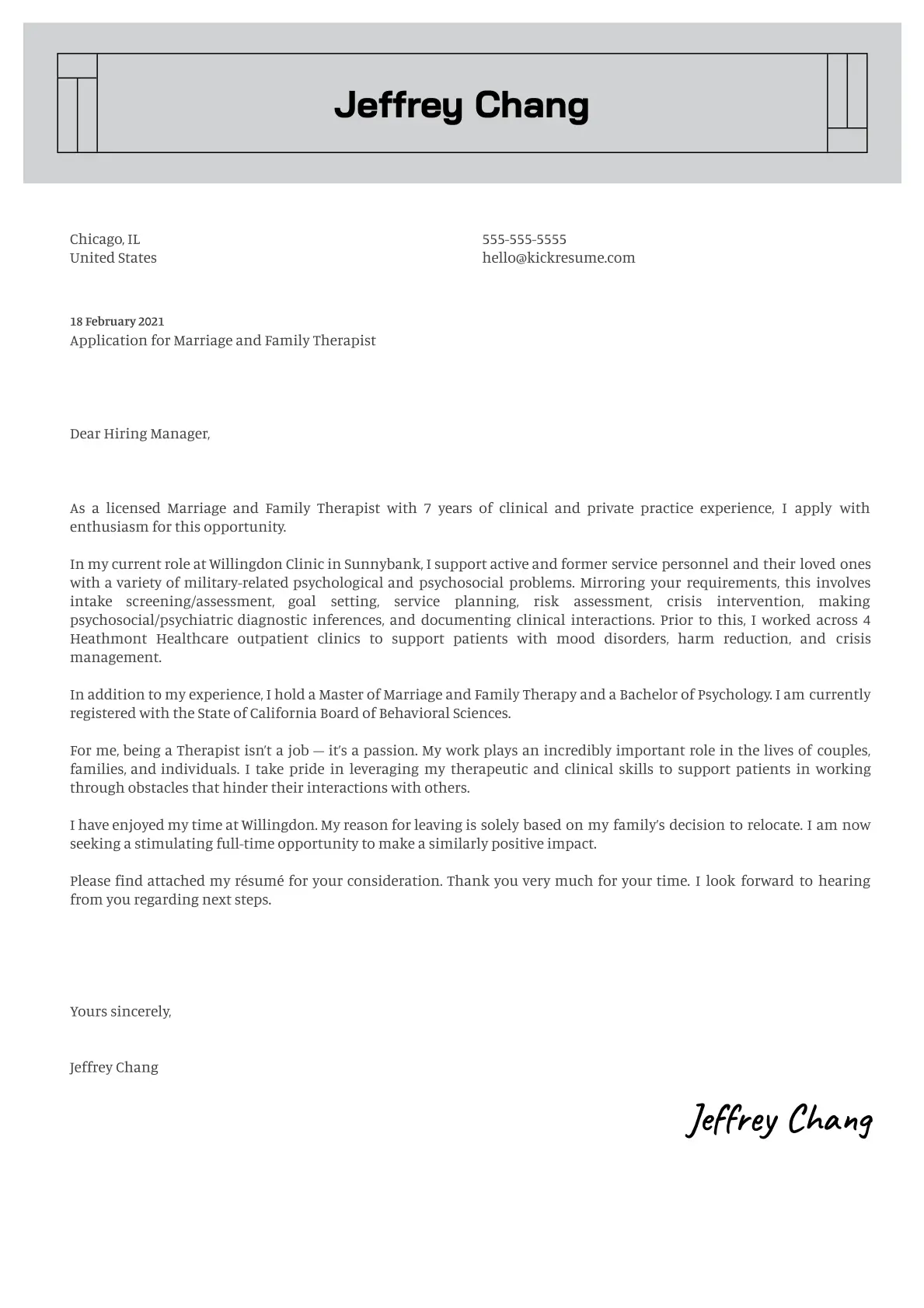 Want more inspiration? Check out our psychology cover letter examples.
5. Psychology job interview
Before your job interview, make sure that:
You're ready for the most common job interview questions. S

uch as where do you see yourself in five years, or why you did you decide to become a psychologist. Additionally, a special focus will be placed on your personality and character traits — after all, these are some of your main tools.

You research the company properly

. Know the place where you want to work.

Your specialization fits the work description

. Too many people apply for jobs that are only remotely related to their area of expertise. Then they're surprised and disappointed if they don't get it.
Download our free ebook for more clever shortcuts to "hack" your job search journey.
Psychologist FAQ
What makes a good psychologist?
The desired qualities in a good psychologist (but especially a therapist) are most often described as having an analytical mind, empathetic personality, good social skills, and plenty of patience. You also should have a solid sense of ethical values, be trustworthy and non-judgemental.
What is the average salary in psychology?
The statistics show, that in the U.S. in 2020, the median salary of a psychologist per year was $82,180. That makes the median salary per hour $39.51.
On average, how long does it take before you can start practicing psychology?
With all the studying, it does take a while. So, before actually embarking on this journey, make sure that becoming a psychologist is really what you want. Just the higher education itself can take more than 10 years. Then you have to add to it one or two more years of supervised practice as well as preparation for the therapist license exam. This means that in order to become a psychologist, you may easily spend 15 years preparing for this role. But, in the end, it's really worth it, isn't it?
Are psychology jobs in demand?
During the pandemic, the rise in demand for therapists and counselors was well-documented. At the same time, mental health issues are being normalized, too. This leads to the fact that in the U.S., the demand for psychology practitioners is expected to rise by 14% before 2028.
Can you have an online practice as a psychologist?
Again, thanks to the pandemic, online practice via video calls became very common. However, note that even though technically you can call with clients from all around the world, regulations, when it comes to a state license, are still present. So you may not be able to offer sessions to people from different states or countries. Before setting up an online practice, make sure it is accredited for all the clients involved.