Learning how to tell if an interview went bad can be crucial. Especially if you want to salvage your chances of getting a job.
How you respond after a bad interview can make a company reassess their opinions on you and grant you a second chance.
Remember, nobody's perfect and a hiccup in the interview process might be just that — a hiccup. There might still be time for corrective action.
However in order to do this, you first need to be able to tell the signs you didn't get the job after an interview.
1. The job interview is cut short
If the company said it will take 1 hour for an interview and it ends in 15 minutes or abruptly, that's usually an indication that the recruiter doesn't see you as a suitable candidate and in an effort to respect your time and theirs they've decided to cut the interview short.
Now, a short interview is not always a sign that you won't get the job.
Especially if you're applying for an entry level position, as there are fewer real technical questions to ask. So it's good to keep in mind the context of the interview.
How long do interviews last? This question depends on a few factors, such as the position you're applying for and your seniority level. With highly skilled positions and high seniority interviews lasting longer.
Another big factor that plays into how long should an interview last is the medium in which the interview is conducted. Will it be an in-person interview, online interview, or phone interview?
Average in-person interview length: 45 to 90 minutes.

Average online interview length: 30 to 60 minutes.

Average phone interview length:

15 to 45 minutes.
With that said, the overall average interview time is between 45 minutes to 1 hour long.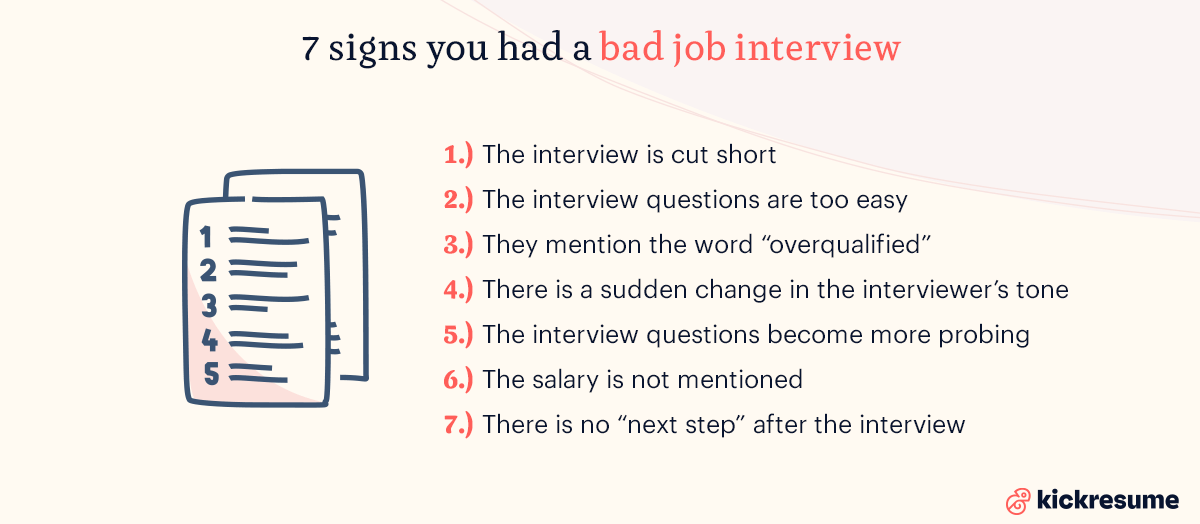 2. The job interview questions are too easy
At a first glance this might seem great. Who doesn't want an easy interview, right?
But there's a fine line. If the interview questions seem easy because you feel comfortable and you came prepared, then there's likely no issue. 
Let's say you want to work in food service; before you go to the interview, you can have a look at the interview questions for food service.
However, if the questions asked are ridiculously easy and general, chances are your recruiter isn't serious about the interview. In fact, they probably have another candidate already chosen before you.
A recruiter's questions should be about determining your skills, abilities, personality and career goals. If none of their questions reflect that, then it's likely your interview has taken a wrong turn.
3. The word "overqualified" gets mentioned in the job interview
This might seem like a compliment, "You're too damn good!". Unfortunately, when hiring managers use such a word it usually has a negative undertone.

Oftentimes this word gets used when you appear fickle to an interviewer, meaning they think that due to your experience or job activity (job hopping) you'll be using their job as a stepping stone until you find the "right job".
4. There is a sudden change in the interviewer's tone
An interview that begins with an upbeat tone but loses steam abruptly is a sure sign that you've failed to live up to your hiring manager's expectations.

Usually when a conversation is going well you can spot the usage of possessive pronouns more often.
For example, instead of "future projects" they'll say "our future projects", "duties" become "your tasks", and so on.

5. The interview questions become increasingly probing
The hiring manager keeps adding additional steps to the interview process and questions become increasingly probing.
Suddenly, he wants to know all your schooling history, from elementary to college, grades, etc.
Such a shift in the nature of the questions and the interview process usually means that they're unsure about your candidacy.
6. The interviewer never mentions the salary
An employer/employee relationship tethers on money. You provide your skills, time and effort and they provide the moolah.
If you didn't hear a peep about the salary throughout your job interview then the interviewer is likely not considering you as a potential future employee or maybe they can't afford you.
7. There is no "next step" during the job interview
The hiring process can be a lengthy and tedious undertaking. With back and forth emailing, phone interviews, assessment tests and in today's pandemic times, virtual job interviews.
So, unless you've gone through this long process, your recruiter should always end the interview with a set of "next steps" for you to take.
If that's not the case and they say something along these lines, "We will send you an email to let you know how it went" without mentioning by when you should hear from them. You're likely not going to be getting the job.

What to do after a really bad job interview?
Now, the lack of a "good interview sign" doesn't always translate as a bad interview sign.
However, in the absence of a good sign it's wise to prepare accordingly.
Here are 4 steps you can take after a bad job interview:
Reflect

. Try not to overanalyze your interview for things that went wrong. Instead, start by going over what you did well. You want to have a level head before you start reflecting on what you could have done to improve your interview. Are you sure you bombed the interview?

Express interest in a different position.

Let them know you're open to interview for another position if one becomes available. Just because you're not qualified or the right fit for a certain position doesn't mean you're out of the equation. Oftentimes, recruiters are looking to fill more than one position.

Send a thank you email

. You should be doing this regardless of whether your interview went good or bad. However, if it went bad this can be a great way of clarifying a botched answer (more on this in the chapter below).

Prepare for the next interview

. Sometimes, all you can do is learn from your blunder and prepare for the next interview.
In the end, although it sucks when an interview doesn't go as planned, know that we're usually our own worst enemies. Just because you think you failed the interview, it doesn't mean the interviewer will think the same.
Christy's word of advice

It's a simple courtesy to thank someone for their time. Unless the interviewer was obnoxious, it's a good idea to send a brief thank you message within 24 hours of any interview, good or bad. Besides, perhaps it went better than you think! And who knows, perhaps your grace will be remembered when future opportunities roll around.

Christy Morgan, Resident HR Expert
Sample thank you email after a bad job interview
Sending a thank you email after a job interview is always sound advice, regardless of how it went.
However, for those who bombed the interview process it can actually be a way to right a wrong.
Just make sure not to speak badly about yourself in the thank you email. Say thank you and remind them of your strengths.
Write the things you wanted to write up in the interview but couldn't remember or if you fumbled on a question, mention any research you did that strengthens your response.
Make it a bit personal, you don't want it to read like a hallmark card.
Here are 3 sample thank you emails you can send after a bad job interview:
Thank you email to express further interest in a different position (email example)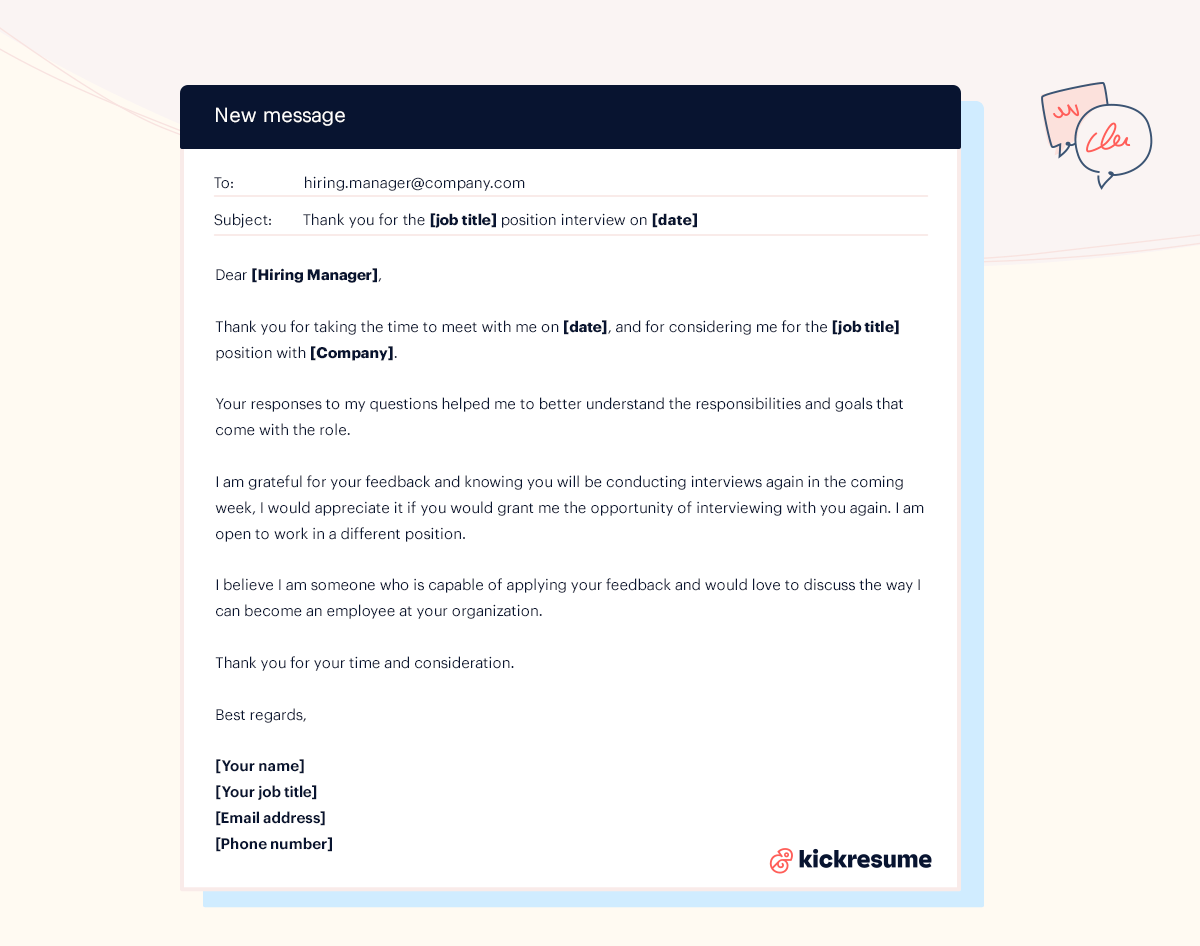 Thank you email to expand on bad interview question (example email)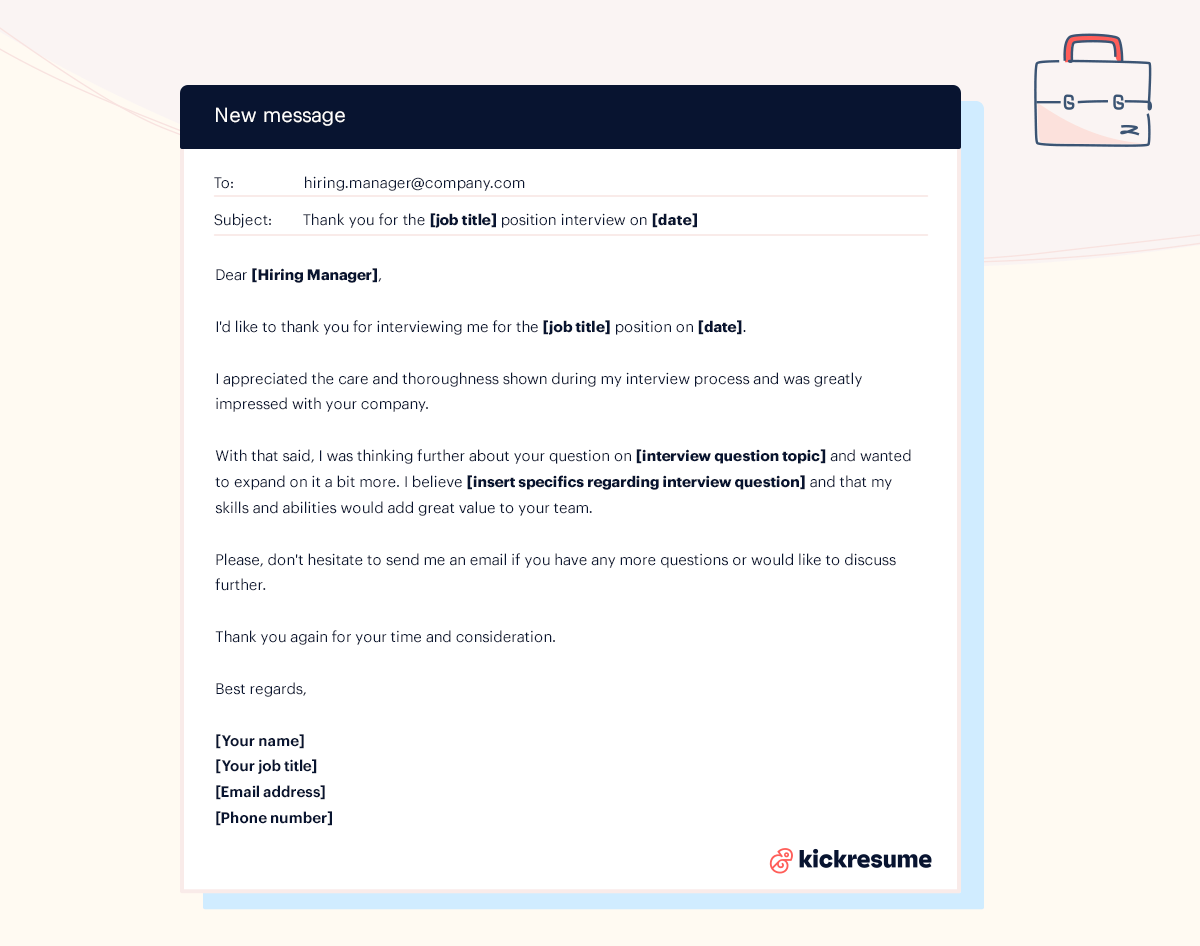 Thank you email to send when late to an interview (example email)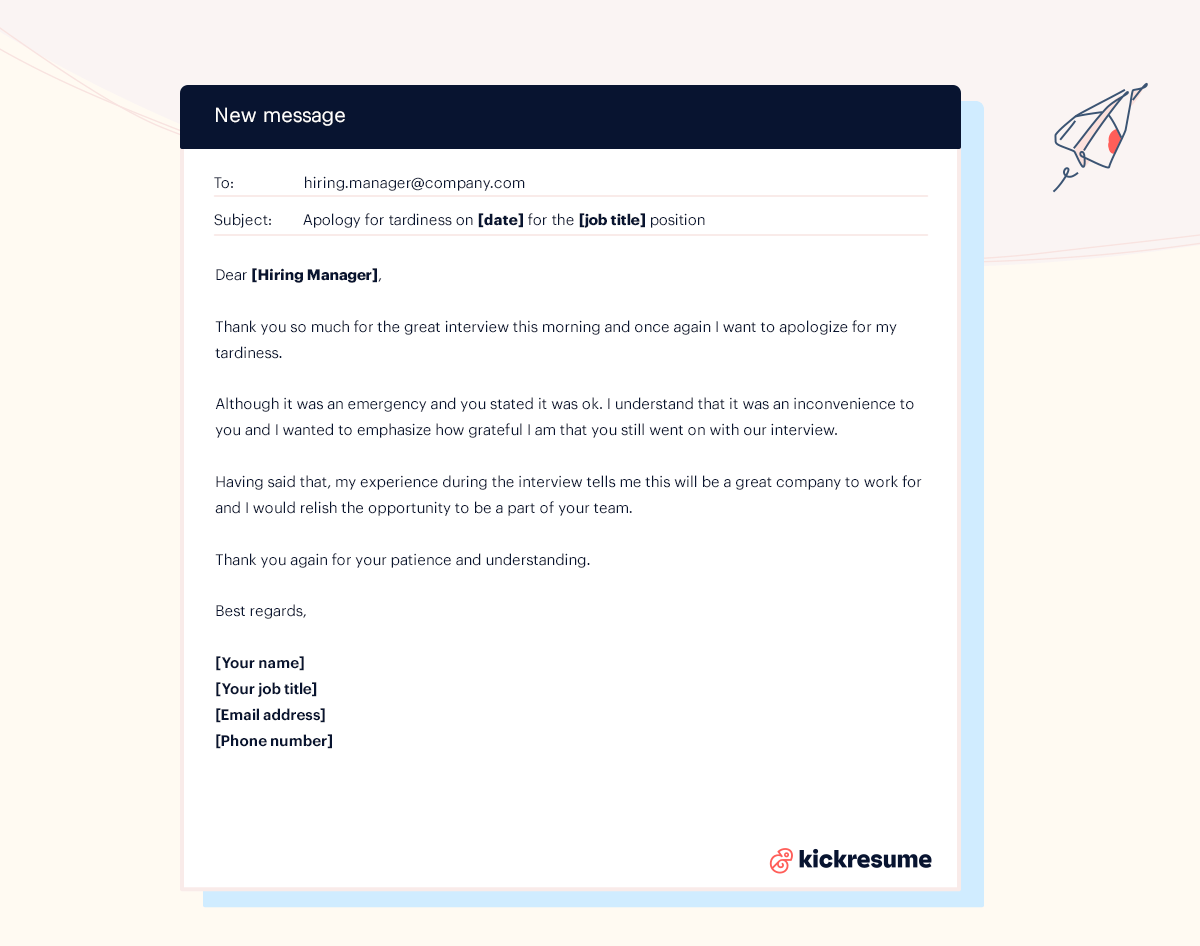 Long story short, always be gracious in defeat. The fact you botched the interview doesn't mean you're out of the equation.
Keep your head up, reflect, send a thank you email and if it fails, move on to the next interview. This time with a better understanding.
Resident Writer

A documentary photographer and writer. Noel has worked for International publications like Deutsche Welle in Germany to News Deeply in New York. He also co-founded the global multimedia project Women Who Stay and collaborated as a journalist fellow with the University of Southern California. He went from traveling around the world to sitting on a couch thanks to the pandemic, but he got a nice job working for Kickresume thanks to that, so he won't complain.