Having a baby and becoming a mother is a beautiful thing.
But returning back to work — or looking for a new job, even — may be a real challenge.
When you leave your job behind for a period of time to have a baby or raise a child, you'll be confronted with a gap in your resume. You haven't worked in a few months and prospective employers will be curious to know why.
There's nothing to fear, though.
Your skillset hasn't shrunk — in fact, it's expanded. Mothers are managers, doctors, marketing specialists, psychologists, therapists and storytellers. All at the same time.
To help you burnish your experience and get your career back on track, here's a short guide on how to update your resume after maternity leave and explain the gap in your resume during a job interview.
Resume example included, of course.
Maternity Leave Resume Example: Sales Manager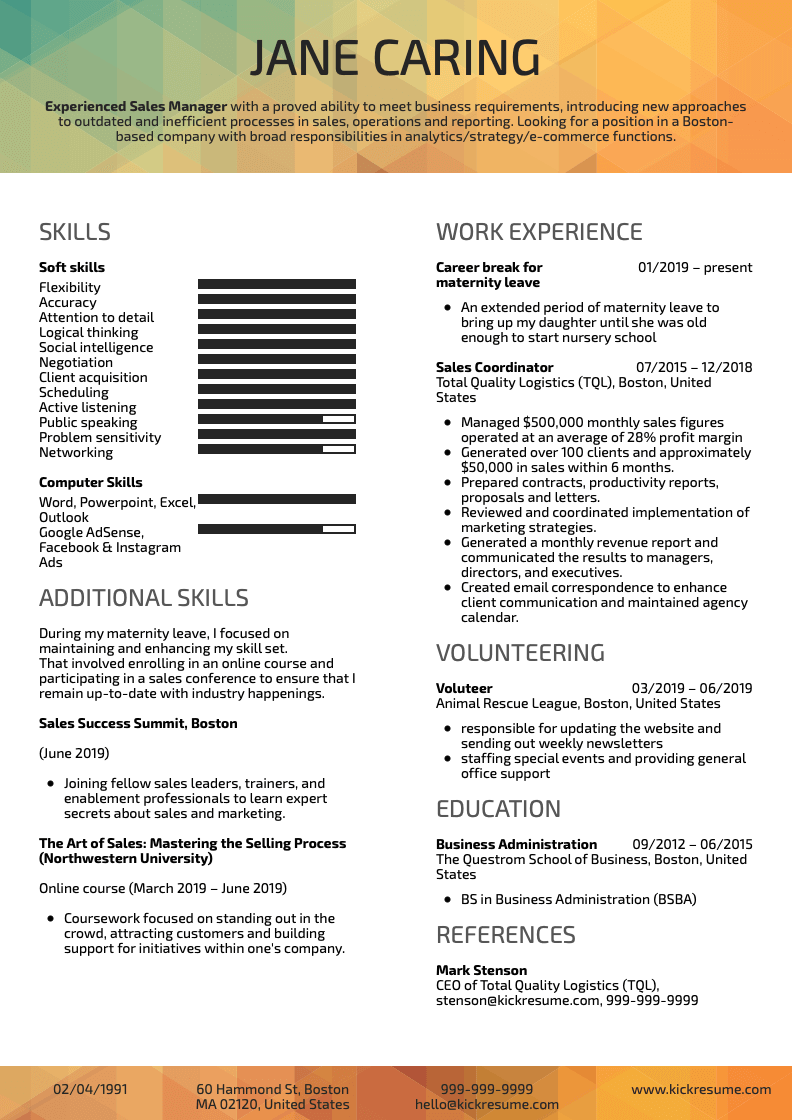 When expectations don't meet reality
It's illegal for potential employers to ask questions about your personal life. At the same time, though, leaving an unexplained career gap in your resume is definitely not a good idea.
Spotting a recent maternity leave, some HR managers looking at your resume will tend to assume that — while coping through colic and midnight feedings — you may not be able to deliver the best performance at work. On the other hand, they may also realise you won't be going on another maternity leave anytime soon.
Also, stop hoping that the employer won't notice the gap and you wouldn't have to include it in your resume. That's not going to happen.
The best approach is to address the maternity leave head-on in your Work Experience section.
Resist the temptation to use euphemisms, though. Pretending that your months or even years as a caretaker or "Domestic Executive" were an actual job is just too embarrassing and could lead to other problems down the road.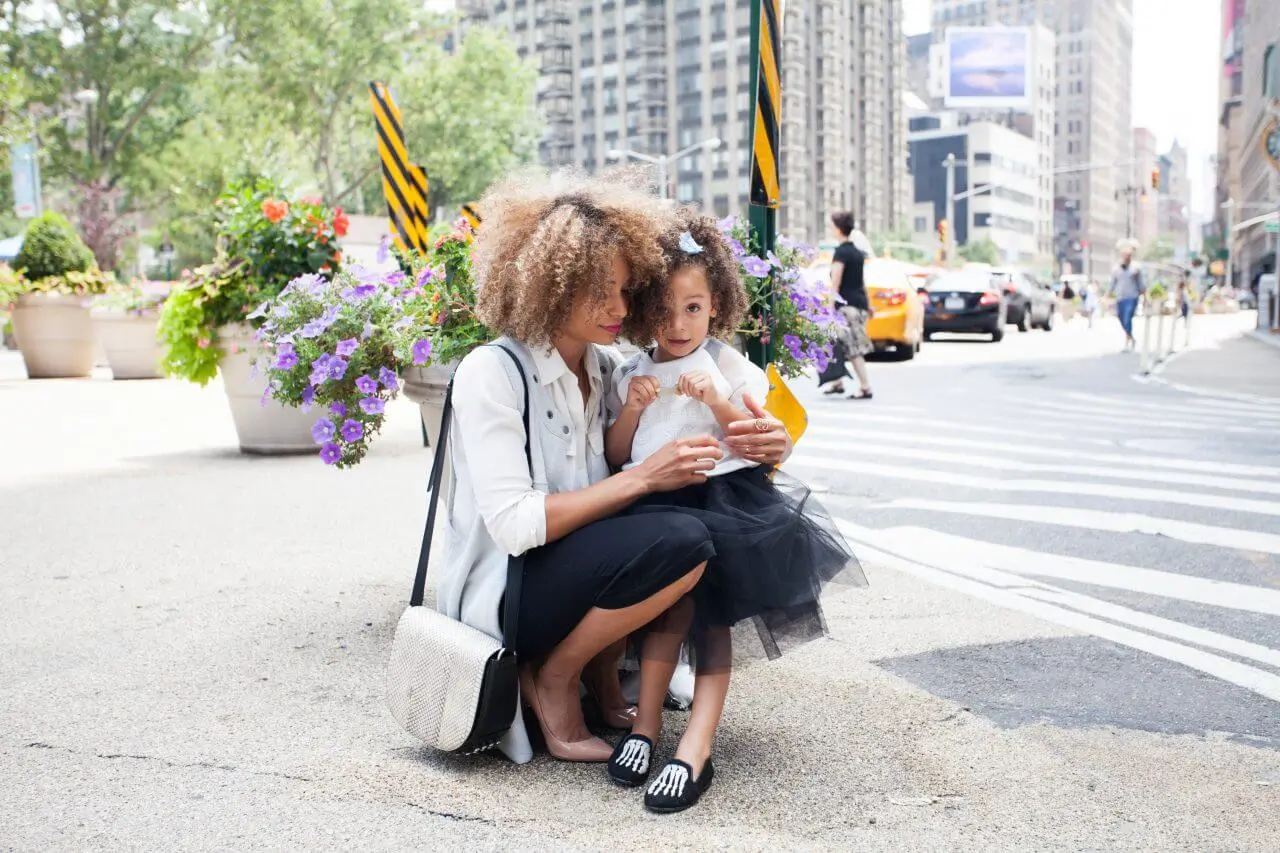 Honesty is the best policy
Be honest and explain the gap properly.
Recruiters will understand. After all, reading the resume of a mother applying for a full-time job is just not like seeing a unicorn ride a unicycle.
What you can do, though, is choose a resume format that will highlight the most important details about your professional qualities and your personality traits.
It's called a functional resume and it lets you introduce your skills first. So make a list of updated or newly learned skills and remember to include those that are relevant to the job you're hoping to score and that reflect your experience in your field.
Skills
After that, in the Work Experience section, you'll briefly mention that your career gap was due to the maternity leave:
Work Experience
Make sure to put emphasis on the work you did before you took time off. Talk about it — in your bullet points and hopefully in the ensuing interview, too — as if it were yesterday and you still remember the details about the projects you worked on.
Recall your accomplishments and the projects you are proud of from that period of your life. Time doesn't devalue those experiences and skills you learned working on them.
Show them you know the score
Employers often see large employment gaps as a red flag. You need to show you stayed on top of the most recent developments in your field.
Here's an example that can be used in Relevant Skills or Additional Skills section. Take it as a rough template to help you shape that narrative:
Additional Skills
This description will enable you to show that you used your time away to boost your potential value as an employee. And your potential employer will appreciate that you are still committed to your career and can contribute to the company's success.

Volunteer activities and the likes
Now's the time to focus on your non-professional activities and let them speak of your determination and a spirit of goodwill.
Make sure to mention any relevant community service or voluntary work that you engaged in during your time away. Any freelancing projects or short-term gigs work as great resume enhancers.
Also, try to draw a conclusion on what you gained in terms of professional insights and technical skills from the volunteer activities. Employers will like seeing you're an active person using their skills and free time in a useful way:
Volunteering
Use the power of networking
You don't have to stop networking during your parental leave.
Stay in touch with others working in your professional field. Think of anyone that could help you find a job and provide a better starting point in your job search.
Call up your former colleagues, send out emails asking for references and recommendations and use your LinkedIn to make new connections (by the way, your LinkedIn profile deserves a makeover, too).
Hiring managers will appreciate recommendations from trusted authorities — be it your former employers or seasoned field professionals:
References
The ability of people to vouch for your skills up will ease the potential employer's concerns and help them focus on your skills and qualifications rather than your career gap.
Off you go!
As you can see, maternity leave resume gaps shouldn't make you feel less skilled or less professional. There are very elegant ways to deal with it on your resume and turn it into an advantage.
All in all, you just need to make it clear that you've remained committed to your career goals and have the skills and expertise necessary to play a vital role in the company.
And if you get questions about your career gap during your interview, keep it brief and to the point by preparing an 'elevator pitch' type of an answer. This will help you get back in the game, worry-free and confident as ever.
Best of luck to you!
Career & Resume Writer

Jakub Kapral is a former professional linguist and a career writer at Kickresume. He has written almost 100 diligently researched resume advice articles and his texts are visited by thousands of people every month. Jakub is a natural teacher who looks to help those who want to enhance their career prospects. He's also an avid drummer and a proud father of two.