You've been freelancing for a while. At first, it was a great fun. You've made a couple of new friends and a fairly decent amount of money.
But then something happened. You got tired of your city and your lifestyle.
Or you started to feel miserable about your day job and realised you hate a 9-to-5 workday. Or you simply began to crave change and more freedom.
In many ways, employment is often like being in a relationship. Once you start looking for a way out, it's time to end it. Better things are usually waiting for you just behind the corner.
Or even beyond state borders. Because we've got great news for you – you can get away from it all. You can start fresh in a new environment that stimulates your body and mind.
And we happened to find a perfect place for you to do so. Let us introduce you to Bali, one of those places that just steal your heart the moment you see them.
The island of Gods
Bali is definitely one of the most beautiful places on this planet. It's lush and green, surrounded by oceans and covered in jungles. It will amaze you with ancient temples, spectacular rice terraces, mesmerizing beaches, waterfalls and volcanoes.
Furthermore, the tiny Indonesian island offers a wide range of exciting activities like surfing, diving, hiking, traditional massages, yoga and meditation classes and local cultural events.
It's a great place for creative minds and entrepreneurs that need to focus. And also people like you that just feel the urge to leave their home city and set out for an adventure.
Bali is also the perfect place to go if you're after a healthier lifestyle that you can't seem to achieve where you are now.
Life on the island of Gods is slow. It's a place for calm and self-development. The biggest cities and the main tourist spots are obviously immensely popular and crowded. You'll have to travel to the outskirts of the island to reach true solitude.
But first and foremost, remote work from Bali is your chance to improve your concentration and efficiency, providing you can handle the responsibility that comes with freedom.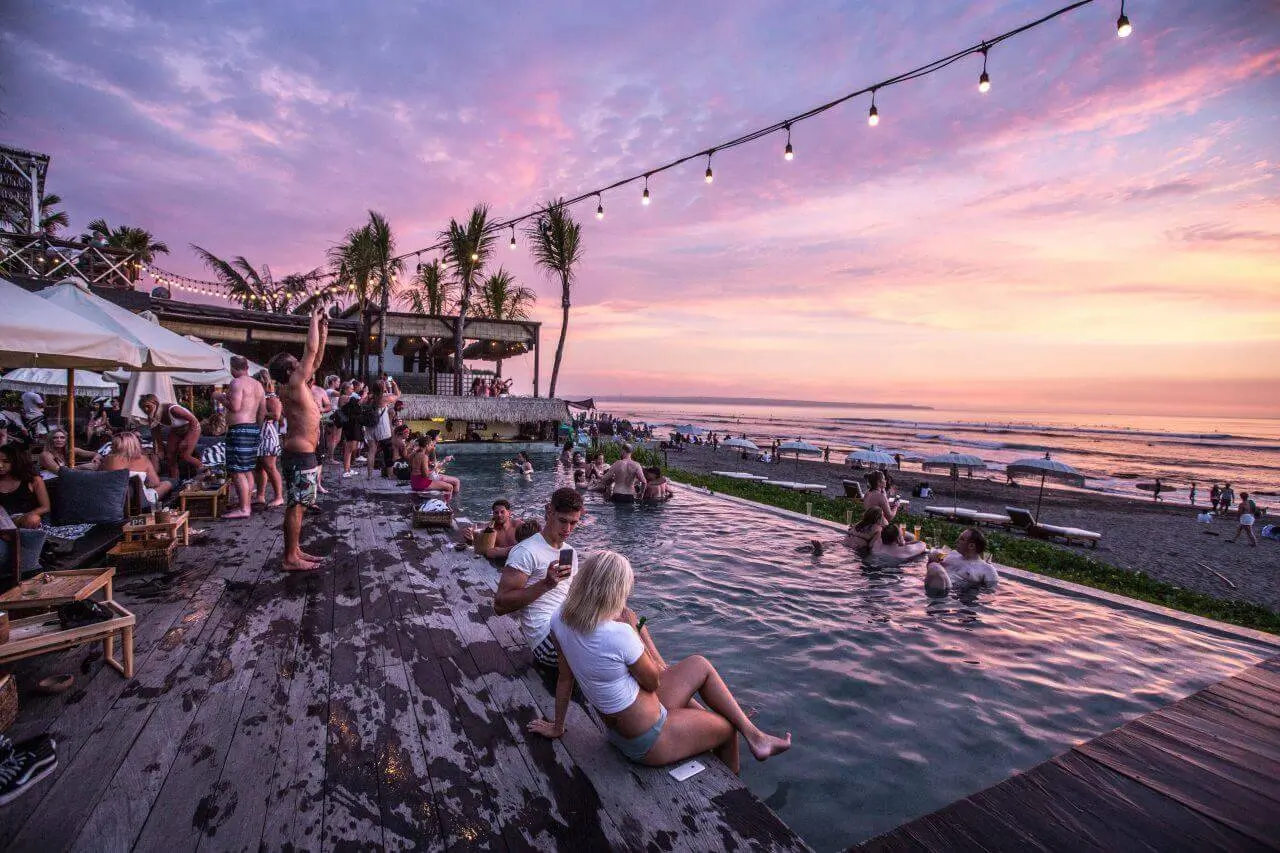 Climate
Bali is a paradise. Expect comfortable 26 – 30°C and exceptionally good weather all year round.
The island has a tropical monsoon climate. This means that the dry season, which lasts from May to October, is the most comfortable time of year when the humidity is at its lowest.
The rainy season that lasts from November to April, on the other hand, brings about rapid tropical storms and mosquitoes. It's the time of the year when temperatures at night can drop down to 21°C and force you to put on a light sweatshirt to keep warm. This is obviously the low season when prices are lower and the island is less crowded.
Internet connection
It's a well-known fact that the internet speed is directly proportional to the digital nomad's happiness.
In Bali, the internet connection is pretty reliable. Free Wi-Fi connection is readily available in most villas, hotels, cafes and restaurants.
The island also offers a wide network of coworking spaces. The stable internet connection will enable you to hold conference calls, run webinars and upload content to your website without any issues.
And if you want to add an extra layer of security when using public wifis, you may also consider using VPNs.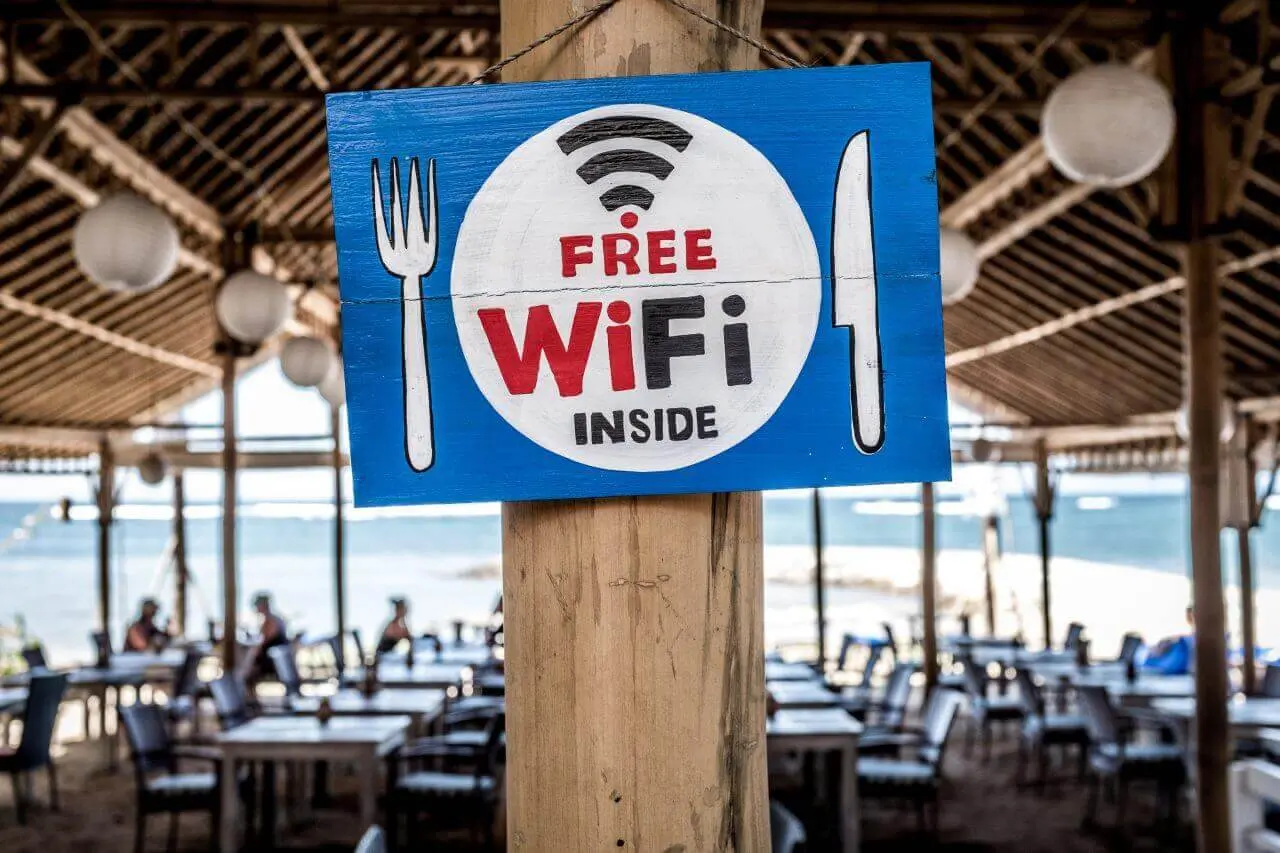 Visa
First, it's hard to get either a residency or a working visa in Indonesia. But you can get a free tourist visa on arrival that's valid for 30 days. As a freelancer, you'll have the same status as other vacationers.
However, a month is probably not enough time if you want to settle down and become a long-term digital nomad.
To get twice as much time, apply for a 60-day Visa on Arrival (VoA) at the Indonesian Embassy or just pick it up at the airport. For this one, you'll need to pay $35 for the initial visa for 30 days and also an extra $35 for another 30-day extension.
The most popular option for digital nomads is called Sosial Budaya Visa. Officially, this one belongs to those visiting their Indonesian relatives and friends. That's why the applicants also need to submit a proper sponsorship letter or hire a visa agent to do the job for them.
The papers let you stay in Bali for 60 days at first, but allows for up to four 30-day extensions, which results in a visa that's valid for 6 months.
If even this is not enough for you, think about getting a Limited Stay Permit Card (KITAS) that allows 12-months stays. For this one, you'll need to check out an agency like Visa4Bali that will help you find a local sponsor.
Finally, you can simply make a visa run. Just book a same-day return flight to one of the neighboring countries to renew your tourist visa. You can leave and come back as many times as you wish.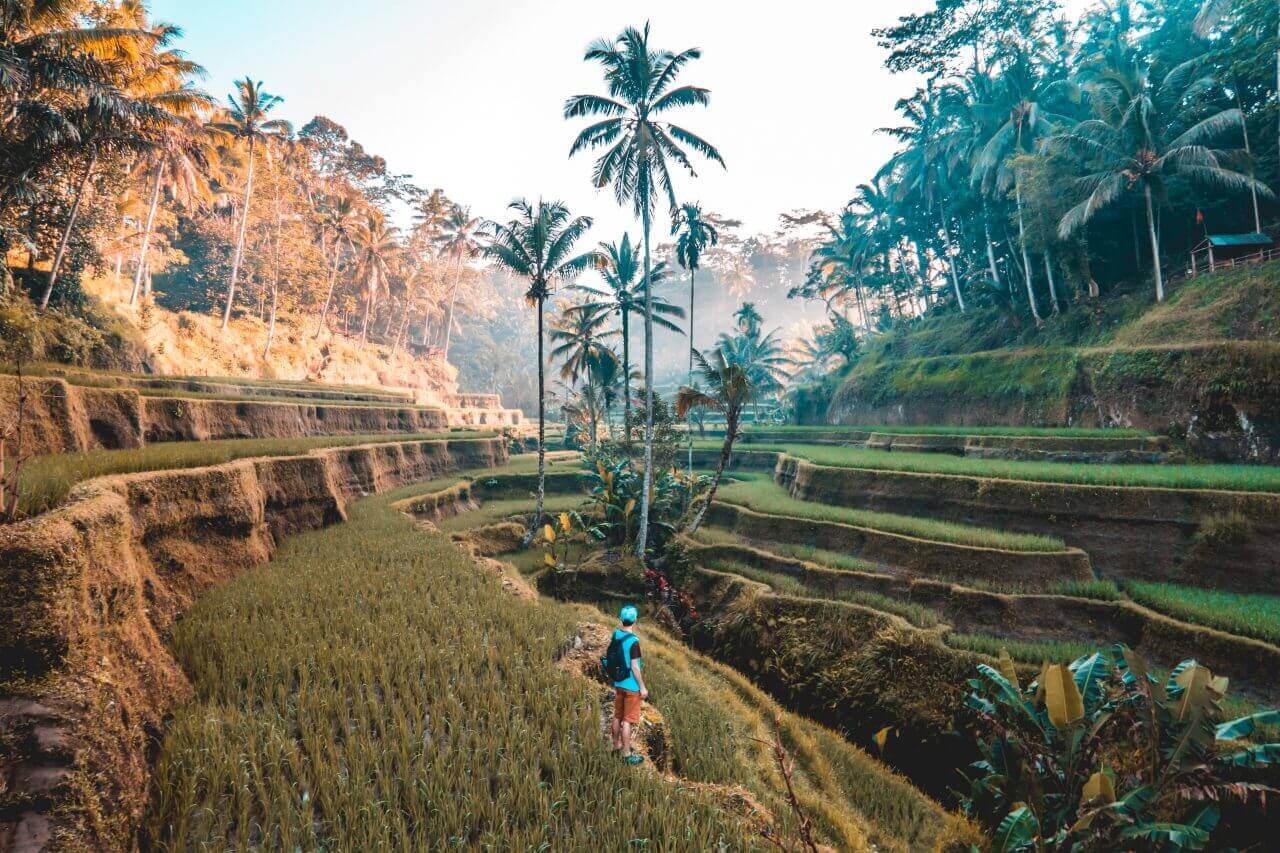 Living costs
Bali is not just incredibly beautiful, it's also incredibly cheap. The living costs are far below those of any country in Europe or North America.
The island is obviously full of tourist traps where the prices for foreigners and locals differ. But as long as you watch out for them, you're basically fine.
Renting a room in a villa with a pool costs around $400 per month (all expenses included). Check out Airbnb for places to rent or dedicated Facebook groups for special deals and discounts. If you're on a really low budget, you can also find a homestay with a private room and bathroom on Booking.com for as little as $250–300.
Balinese coworking spaces with ample networking opportunities and a reliable internet connection usually offer a free trial day. After that, these places charge something between $50–200 USD per month, depending on the package you choose.
Eating out is not going to ruin your budget, either. In warungs, local Indonesian restaurants, you'll pay around $5 for meals and something like $2 for a beer.
All in all, you can get by comfortably on about $1,000–1,500 USD per month.
Community life
First of all, Bali offers a warm welcome and a sense of community.
If you need support and assistance, don't hesitate to ask fellow freelancers. Digital nomads who work from Bali are also foreigners and went through the same troubles as you, which makes bridging the gap much easier.
You can also become a member of one of the Balinese startup hubs and attend their regular events to work on your skills and get valuable feedback on your work.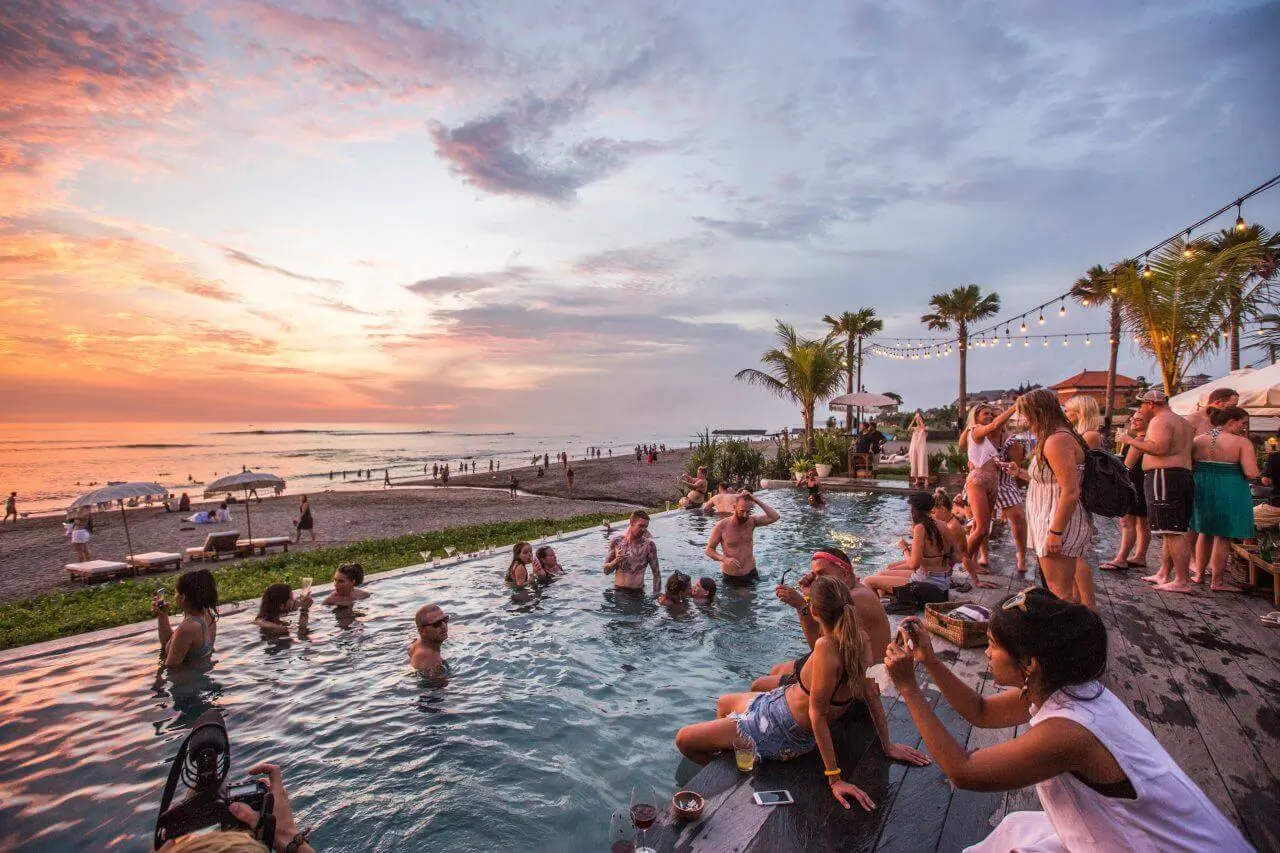 Places to stay
Over the years, Bali has become a paradise for freelancers. The island is a melting pot of both wannabe influencers and successful entrepreneurs that can afford to work remotely from Bali.
The most popular places to work from Bali are at a stone's throw from the local international airport. Digital nomads in Bali tend to reside in two main areas of the island:
1. Canggu
The ultimate digital nomad paradise. The main highlights of this beautiful beachfront town are healthy restaurants and delicious cafes, sweet surfing sports, cool skater bowls, romantic beachfront bars and roaring nightlife.
On the other hand, the city offers an abundance of co-working spaces and a vast amount of networking and skill-sharing events and personal development classes such as yoga, dance, sound healing, cacao ceremonies and others.
Here's a selection of popular coworking spaces in Canggu:
2. Ubud
Ubud is the spiritual and cultural center of Bali that will make you disconnect from the modern-day chaos. It's placed amongst infinite rice fields and jungle like a gem hidden in the midst of nowhere.
First of all, Ubud is the place to try Balinese spa treatments and massages. You can also have your chakras aligned at some of the world's best yoga schools.
Clearly, Canggu is perfect for wild parties and hanging out with friends. Ubud, on the other hand, will please those seeking a sunrise meditation class or take refuge in the nature.
Here's a selection of popular coworking spaces in Ubud:
Last but not least, other popular destinations suitable for remote work from Bali include Kutu, Denpasar, Sanur, Seminyak, Amed, Jimbaran, Uluwatu, Nusa Dua and Legian. Be sure to check them out before settling down.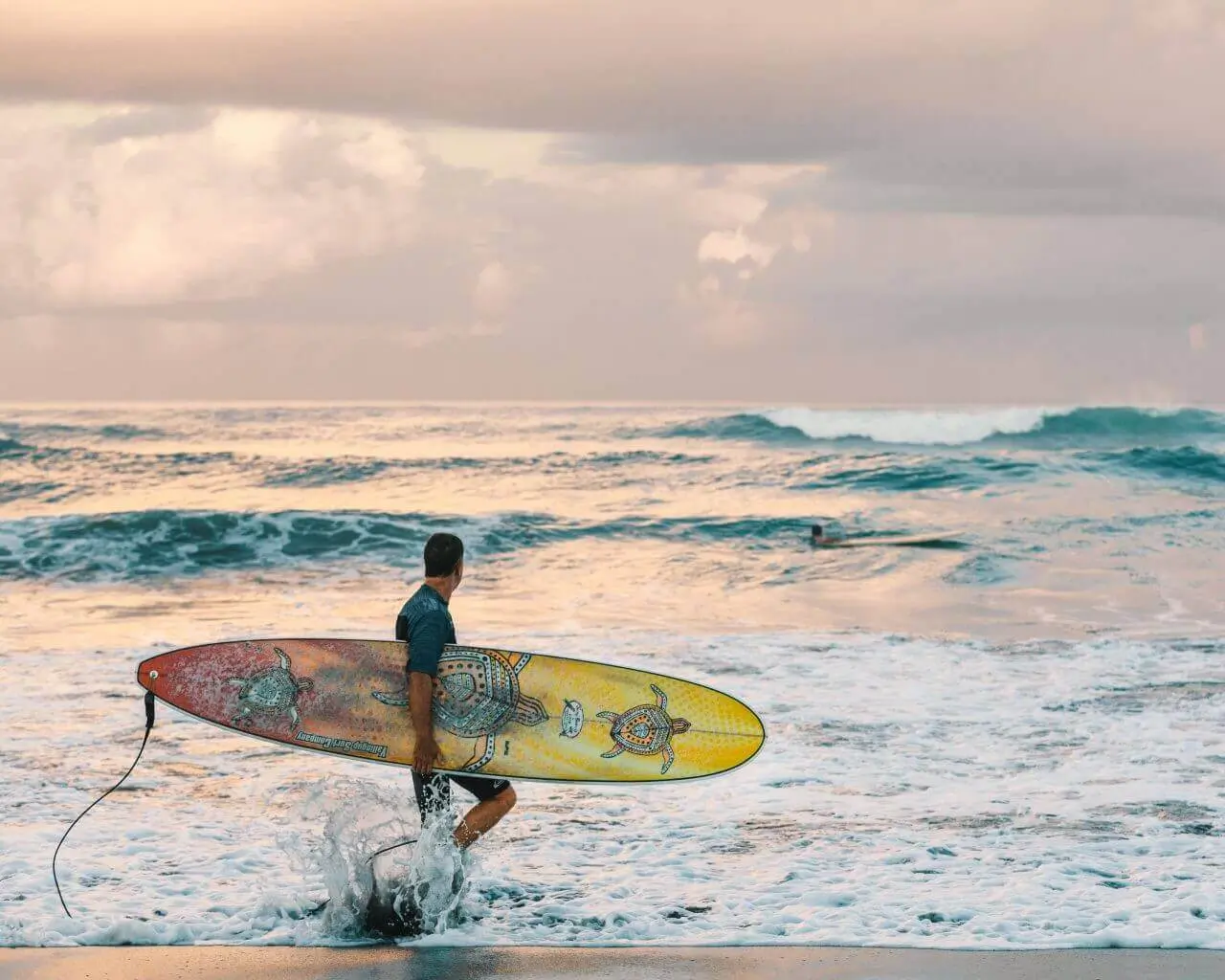 Live your dream
Bali is definitely one of the most idyllic places to live and to work. Its breathtaking beauty has attracted thousands of freelancers who left their home towns to maximize the benefits of remote work.
Obviously, making long-term decisions is never easy. But booking a flight to a destination that you've been dreaming of visiting can be worth it. And if it turns out this lifestyle does not meet your expectations – you can always come back.
Safe travels, nomad!
Inspired to kickstart your digital nomad lifestyle and work from exotic locations like Bali? Then it's time to get your resume in top shape with our AI resume builder! It's your ideal companion for building a remote-worthy resume and starting your digital nomad journey.
Career & Resume Writer

Jakub Kapral is a former professional linguist and a career writer at Kickresume. He has written almost 100 diligently researched resume advice articles and his texts are visited by thousands of people every month. Jakub is a natural teacher who looks to help those who want to enhance their career prospects. He's also an avid drummer and a proud father of two.