The beauty of being a remote worker is the freedom it gives you to move around and take your work with you wherever you go. That's why in this article we present the 12 best cities for remote workers worldwide.
Remote work lets you see the world and experience new things while still providing you with a stable source of income.
Sounds like a dream?
Well, if you're dreaming of becoming a digital nomad, there's lots of incredible remote work destinations to choose from.
In this guide, we'll give you an inside look at the world's best cities for remote workers.
6 best cities for remote workers in 2022 (worldwide)
Melbourne, Australia
Montreal, Canada
Lisbon, Portugal
Wellington, New Zealand
Zagreb, Croatia
Singapore, Singapore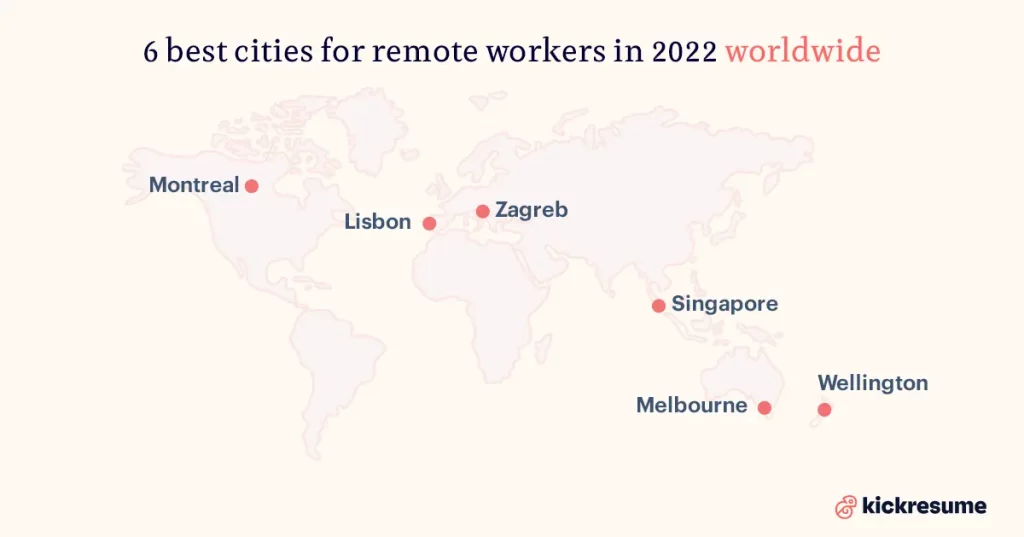 What we looked for in places to work remotely
A recent international study by HR platform WorkMotion looked at a variety of factors that make or break a city's attractiveness as a remote work location.
The November 2021 study indexed 80 cities from around the globe based on the following important factors:
Remote working compliance. How easy is it to legally work in this city as a digital nomad? Are there visas easily available?
Cost of living. How much does housing cost, and how affordable is the city as a whole?
Civic infrastructure. How safe is this city to live in? Is it politically stable there? Is healthcare easy to access?
Liveability. How happy are people who live in this city? Are there many cultural attractions? How easy is it to get around with public transportation?
Let's take a more detailed look at each city on our list of the best cities for remote workers in 2022.
1. Melbourne, Australia
This vibrant city in Australia is known for being a melting pot of cultures from around the world. It's no wonder Melbourne is consistently rated one of the world's best places to live and work remotely.
While it's the second most expensive city in Australia when it comes to living costs, the delights that come with living in Melbourne give you your money's worth.
Bustling artsy cafes, street art, live music and international street food give this gorgeous city its unique appeal.
Do you feel like Australia is the right fit for you, but aren't so sure about Melbourne? We've compiled a complete guide on how to get a job in Australia as a foreigner, which includes other cities, too.
2. Montreal, Canada
This bustling cosmopolitan city in Canada is rich with culture, art, and architecture.
Montreal is one of the most appealing remote work destinations for many different reasons. It offers all the conveniences and comforts of a big city, friendly people, and a speedy internet.
Montreal is easily walkable and bikeable, with many unique neighborhoods to visit via the city's excellent public transportation system.
The winters here are fairly long, with snowfall from November until April.
Thinking about moving to Canada? Have a look at our separate guide: How to Get a Job in Canada as a Foreigner?
3. Lisbon, Portugal
The capital city of Portugal, Lisbon attracts many digital nomads as one of the top places to work remotely in the world.
Located on a river bay, this picturesque city is built on steep hills with trams that take you up and down, and incredible historic architecture everywhere you look.
Lisbon has a friendly, welcoming culture and is quite affordable for a large city.
The weather gets windy and rainy in the winter, but the warm, sunny summers are perfect for relaxing at the beach.
4. Wellington, New Zealand
New Zealand is a country that's world famous for its stunning natural beauty. The country's capital, Wellington lives up to that reputation.
A small city that's home to artists and creatives, it's a super-friendly place filled with hip little cafes and live music spots.
It gets windy in Wellington – in fact, it's the windiest city in the world. Just outside the city you'll be able to explore breathtaking forests and beaches.
Safe, welcoming and easy to explore on foot, this is definitely one of the best cities for remote work.
Sounds good? Well, if you fell in love with this magnificent country, definitely read our separate guide: How to Find a Job in New Zealand as a Foreigner?
5. Zagreb, Croatia
The capital city of Croatia, Zagreb is quickly becoming a popular remote work destination due to its affordable cost of living and unique, quirky vibe.
Explore the winding cobblestone streets by foot and you'll find remote-worker-friendly cafes, authentic restaurants, and vibrant nightlife.
Zagreb is a safe city with friendly and polite locals, quite a few of whom speak English. It's a place where you can experience real Croatia, not the tourist view of it.
6. Singapore, Singapore
That's not a typo – Singapore is both a city and a country, located in South-East Asia.
This island state is known for its futuristic buildings and luxury hotels, as well as its diverse international culture.
English is one of the 4 official languages here, making it a popular remote working destination.
The tropical, humid weather of Singapore might be a little off-putting to some, but everywhere you go is air-conditioned.
Living costs are extraordinarily high in this city, but if you budget correctly you can enjoy a very high standard of living.
In fact, Singapore is so popular among remote workers that we even have a separate guide on how to find a job in Singapore as a foreigner.
6 best places to work remotely in the US
If you're based in the US and not quite ready to travel the world while remote working, take a look at our list of the top places to work remotely within the United States.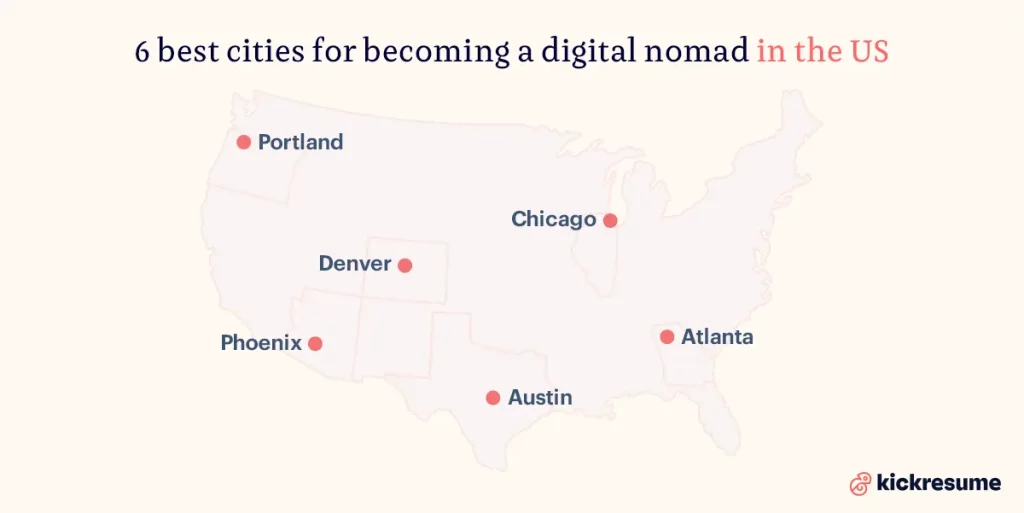 1. Chicago, Illinois
This magnificent sprawling city on the shores of Lake Michigan is one of the best cities for remote workers in the country.
Sure, the winters are intense, with sub-zero temperatures often lasting for 5 months of the year. But if you can brave the cold (i.e. stay inside) you'll fall in love with this city.
Living and housing costs in Chicago are quite reasonable for a major US city, and the efficient public transit system means you don't need to own a car at all.
Then there's the excellent food (a foodie's dream), the amazing architecture, and endless things to do.
2. Austin, Texas
The state capital and cultural heart of Texas, this city has a young, hip vibe that makes it a top choice for remote living.
Year-round awesome weather is a big selling point for Austin, as is its emphasis on authentic living, with a city motto of "Keep Austin Weird".
Getting around Austin is easy with its convenient bike-sharing system.
This is a city where you'll come across mouthwatering food, amazing live music, and pumping nightlife without even needing to try. Venture just outside the city and you'll find scenic hiking trails and natural pools.
3. Denver, Colorado
The Mile High City of Denver, Colorado is located in the foothills of the breathtaking Rocky Mountains, and sits 1 mile above sea level (hence the nickname).
The high altitude can be difficult at first, but it results in beautiful weather, with an average of 300 sunny days each year.
Remote workers flock to Denver because of the city's flourishing economy and its young, hip vibe (it's the number 1 city in the US where millennials are moving).
For those who love the outdoors, this remote working destination is heaven on earth. Denver is a little costly to live in, but has a whole lot to offer.
4. Atlanta, Georgia
If you don't know what to expect from this Southern city, Atlanta is bound to surprise and delight you.
A bustling cosmopolitan city with a very culturally diverse population, this city is considered one of the best remote work locations in the US.
Living is affordable in Atlanta, Georgia, from housing costs to grocery prices.
It's a city overflowing with things to do, delicious food options, and exciting nightlife. Plus, Atlanta's international airport gives you easy access to the world.
5. Phoenix, Arizona
This city in the desert gets an average of 299 sunny days every year.
Phoenix, Arizona is a large metropolitan city with a chill and cheerful vibe you wouldn't expect. It's no wonder the "Valley of the Sun" is number 5 on the list of best cities to work remotely from.
Phoenix has a growing population and a thriving local economy. Housing here is very affordable compared to other cities in the US, and the well-planned city grid system makes getting around a breeze.
Spectacular nature is waiting for you to explore in your time off work: think hiking, fishing, and horseback riding.
6. Portland, Oregon
Portland is a unique city with a young and quirky vibe, and it's also one of the best remote work locations in the country.
The city is famously filled with amazing coffee shops that make perfect spots for getting caffeinated and productive.
Remote workers who live in Portland, Oregon will have access to beautiful nature (from the desert to the ocean), an incredible food scene, and a vast array of craft breweries.
The city's international airport allows you to travel anywhere you need to go.
Take your work with you… anywhere in the world
When it comes to choosing the best cities to work remotely from, it all comes down to what you value in a remote work location.
This list of the best cities for remote workers (inside and outside of the US) is designed to give you the inspiration to get up and go.
Are you still in the process of daydreaming about getting a remote job?
Check out our ultimate guide on how to make your goal of working from anywhere in the world a reality!
Editor in Chief

Martin Poduska is a resume expert and career advice writer at Kickresume. He leads Kickresume's team of writers and is the main person responsible for upholding the standards of expertise and quality on the blog.In addition to having written nearly 100 in-depth, painstakingly researched resume advice articles, as chief editor he has also edited and revised every single article on this blog. Tens of thousands of job seekers read Martin's resume advice every month.Martin holds a degree in English from the University of St Andrews and a degree in Comparative Literature from the University of Amsterdam.