What to do when your chosen career path leads to a dead end? Start looking for a new one, of course!
At first, the prospect of starting from scratch all over again may seem daunting. But if it's any consolation to you, you're not alone in this. People change careers all the time for all kinds of reasons.
What's more, you won't really have to start from scratch, will you? After all, you can use many of the skills you've acquired in your previous career. You just need to articulate them in a way that shows you can use them in your new career too.
In the end, the more drastic a career change, the more difficult it will probably be. But you have to start somewhere. In this article we're going to show you how to write a resume that can help change careers and penetrate into an unfamiliar field or industry.
1. Introduce your resume with a BANG!
HR managers are busy people. Those who work for larger companies only have about six seconds to spend on each resume. What's more, most of these resumes come from people who, unlike you, have plenty of industry-related experience.
Because of that, you want to catch the hiring manager's attention from the get-go. This will allow you to take control of how they interpret your lack of experience.
You can do that by putting a well-written resume objective at the very beginning.
But ultimately, your resume objective should do much more than just make them pay attention to the rest of your resume. A good resume objective should help you:
Explain your lack of experience in the industry. Address the elephant in the room before they even notice it's there. As a career changer, you need to take control of your story as soon as possible. Otherwise they might see you simply as someone who lacks the necessary skills — and you know there's more to you than meets the eye. After all, you've gained success in your previous career. There's no reason why you should be less successful in the new one.
Communicate your motivations. Why would anyone want to change careers? In the end, employers are going to ask you about your motivations at some point. The sooner you explain your "why", the better. Just like everybody else, hiring managers, too, are more inclined to trust those candidates whose motivations they can understand and relate to. But remember, never say anything negative about your past employers. Articulate your reasons in a way that emphasizes future growth and opportunities.
Emphasize your transferrable skills. You need to look for intersections between your old and new career. Take a look at the job advertisement and emphasize any points where the two overlap. Even if you're transitioning into a completely unrelated field, you should be able to fall back upon your soft skills like leadership, communication, or even your language skills.
Show that you've already embarked on a new career. Chances are you've already came in contact with the field you want to transition into. Ideally, you've even acquired several related hard skills. Emphasize them in your resume objective to show you're serious about pursuing your new career.
Career Change Resume Example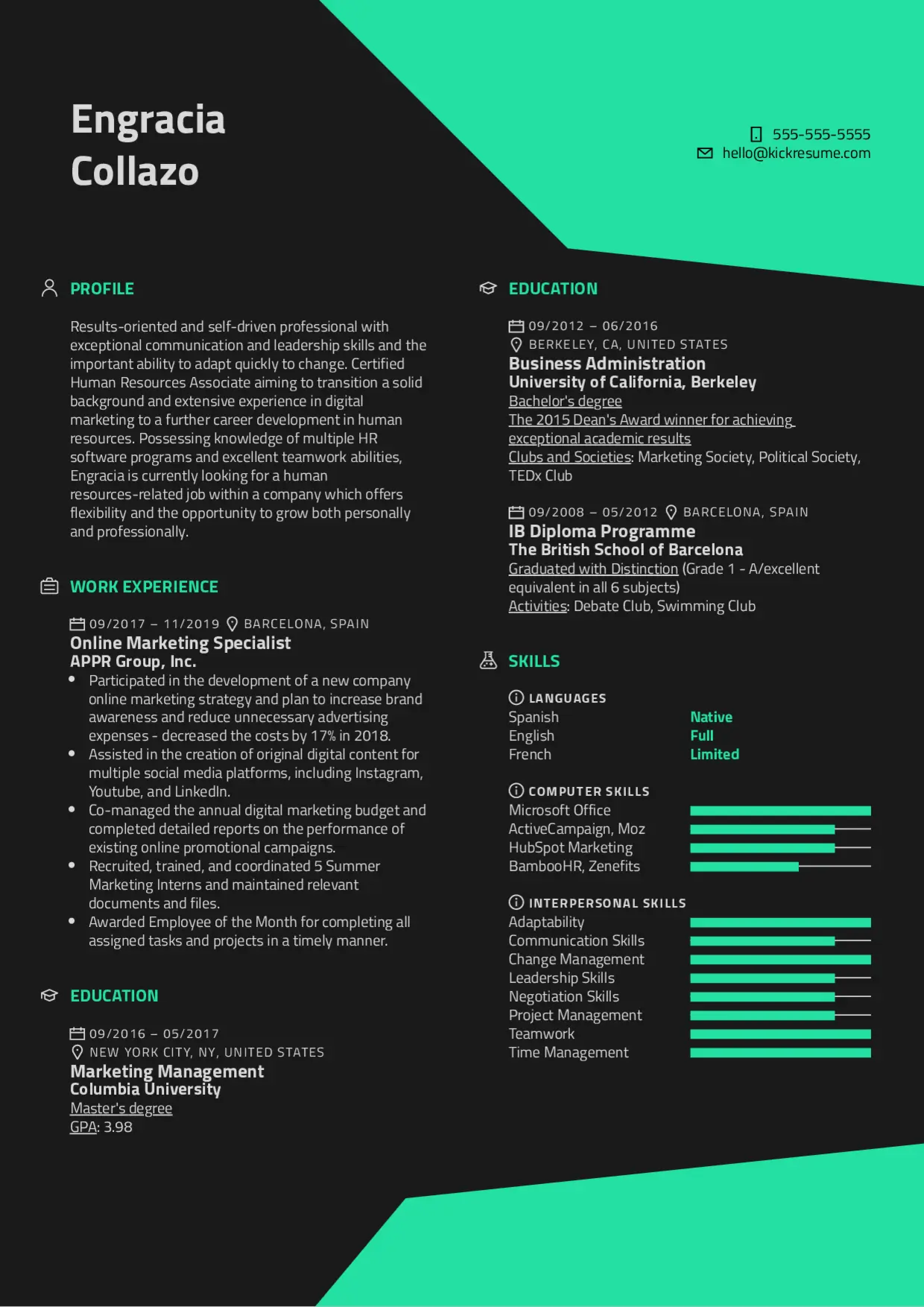 Let's now take a look at the most important points from the career change resume example above and see if it follows the guidelines we've just outlined.
Career Change Resume Objective Example
First of all, this resume objective explains the candidate's background in digital marketing and his goal to transition to HR. It also emphasizes hard skills and certifications, such as being a certified human resources associate and proficiency in Bamboo HR and Zenefits.
The third and fourth bullet point highlight his soft skills and motivations. Both are extremely important when trying to move into a different field.
2. Describe your work experience in the right way
Don't disregard your past accomplishments just because you've decided to transition into a different field. They reveal more about you than you might think.
Because at the end of the day, it doesn't matter if you lack a hard skill or two. Despite the name, hard skills are usually easier to learn than soft skills. In fact, most companies don't even run any couching programs to help employees develop their soft skills.
In fact, 67 percent of HR managers said they'd hire a candidate with strong soft skills even if his or her technical abilities were lacking.
Let's take a look at the career change resume example from before and see what it tells us about the candidate.
Career Change Work Experience Example
As you already know, this candidate sought to transition from digital marketing to HR. Because of that, he first mentioned how he recruited and on-boarded summer interns in his previous position. That let him show he already knew how to employ the skills necessary for the job he sought to transition into.
Now, he had obviously done some research. Thanks to that, he knew that HR involves plenty of administrative work and didn't hesitate to point out his experience with that: "maintained relevant documents and files" and "completed detailed reports".
All that remained was to convince potential employers that he's dependable and has a way with people. Being awarded an employee of the month for timeliness and team work helped him do just that.
Ultimately, he was able to use his past experience to show he's already familiar with the new industry, he's reliable and detail orientated, and will be an asset to any HR company that hires him.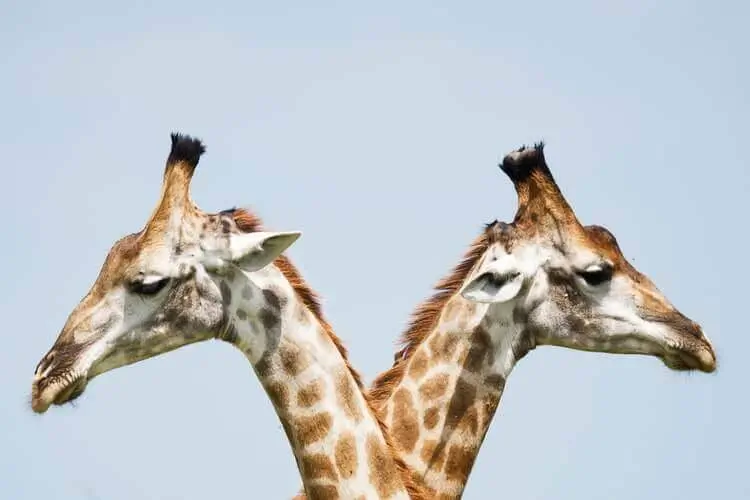 3. Emphasize transferrable skills
First, take a look at the job advertisement. Have you acquired any of the skills it mentions in your previous career? Include them in your resume. It's as simple as that.
But don't leave it there. Try to think of any soft skills that could be useful in your new career.
For instance, even the most technical jobs require dealing with people. Because of that, leadership, negotiation, and communication skills are in high demand in every industry.
But remember — every skills section works best in combination with a strong work experience section. Anyone can say they have leadership skills. But if you tell them about how you've already led a team in your previous job, they'll have one more reason to take you seriously.
This brings us to our next point: avoid buzzwords at any cost. Everybody is flexible. Everybody is hard-working. You'd be hard pressed nowadays to find a single person who's not an out-of-the-box thinker. Unless these words were used in the job advertisement you're responding to, don't use them. They mean nothing on their own.
Career Change Skills Section Example
4. Final tips
Every career change happens for different reasons. Every career changer has a different story. Including you.
Most people begin to gravitate to another career long before they decide to transition to it. They attend related courses, work part time, or even do volunteer work in their desired field.
If you did something similar, don't be afraid to include these experiences in your career change resume. After all, you want to show your future employer that you're proactive and determined to achieve your goals. And those are qualities that every employer likes to see in their employees.
Good luck!
Editor in Chief

Martin Poduska is a resume expert and career advice writer at Kickresume. He leads Kickresume's team of writers and is the main person responsible for upholding the standards of expertise and quality on the blog.In addition to having written nearly 100 in-depth, painstakingly researched resume advice articles, as chief editor he has also edited and revised every single article on this blog. Tens of thousands of job seekers read Martin's resume advice every month.Martin holds a degree in English from the University of St Andrews and a degree in Comparative Literature from the University of Amsterdam.