Changing careers is both scary and exciting. While you're happy about starting a new adventure, you may also wonder where to begin. Well, updating and tailoring your resume is always the best start for a career change.
At first, the prospect of starting from scratch all over again may seem daunting. But remember that you're not alone in this. People change careers all the time for all kinds of reasons, and they do so successfully.
What's more, you won't really have to start from scratch, will you? After all, now you have all the skills you've acquired during your career up until now. You just need to be able to demonstrate that you can also make use of them in your new professional path.
So if you're among those who are brave enough for a career change, we've got tips and advice for how to write about your skills and abilities in your resume so you can land a job in a new field.
Are you ready for a career change?
First of all, are you really sure that you're ready for a career change? Or are you just temporarily fed up and rather than a new professional calling, you need a nice long vacation (or a sabbatical)?
There are some "signs" that can help you determine it.
Take a look at these four common reasons why people decide to make a career change:
Low career satisfaction. There's nothing really wrong with your workplace, but you just know that the job you do now isn't your calling.
Low salary. Half of the respondents would be willing to change a job if they were offered a higher salary, according to a FlexJobs survey. And you may be among them. After all, a good salary can easily make you feel satisfied in a position that you otherwise wouldn't consider staying in long-term.
Bad work-life balance. Do you have enough time for family, friends, and hobbies? Or do you have to work constant overtime and long weekends? We should work to live and not the other way around, right?
Bad workplace relationships. There's a difference between not being friends with your colleagues, and dreading coming to the office every morning because of that one mean colleague, or a rude boss.
Are any of these reasons on your list as well? If yes, it truly may be the right time to move on.
Here's how to do that:
1. Choose the right resume format
Once you've truly made up your mind about changing careers, it's time to take concrete steps.
In this case, you should start by tailoring your existing resume to the needs of your newly chosen career path.
Most likely, you'll have to re-arrange your resume sections in such a manner that you'll be able to make your transferable skills shine through and push less important information towards the same end of the document.
What will help you do this is choosing the most appropriate resume format.
Generally, there are three common resume formats:
At the end of the day, the functional (or the combination) format is the best choice for your resume if you're switching careers. 
These two resume formats will let you highlight the skills you've developed over years of hard work, while putting less emphasis on the fact that they have been gained in a different industry. 
After you've successfully chosen the right resume format, let's see what else you can do to impress the recruiter at your new workplace.

2. Open strong with a resume objective
HR managers are busy people. They don't have much time to go through each resume in detail, as they receive dozens or hundreds of them.
What's more, many of these resumes may come from people who, unlike you, have plenty of industry-related experience.
Because of that, you want to catch the hiring manager's attention from the get-go. This will allow you to take control of how they interpret your lack of experience.
Do so by putting a well-written resume objective at the very beginning of your resume.
However, your resume objective should do much more than just make the recruiter pay attention to the rest of your resume.
A good resume objective can also help you to:
Explain your lack of experience in the industry
Address the elephant in the room before they even notice it's there. As a career changer, you need to take control of your story as soon as possible. Otherwise, they might see you simply as someone who lacks the necessary skills — and you know there's more to you than meets the eye. After all, you've gained success in your previous career. There's no reason why you should be less successful in the new one.
Communicate your motivations
Why would anyone want to change careers? In the end, employers are going to ask you about your motivations at some point. The sooner you explain your "why", the better. Just like everybody else, hiring managers are more inclined to trust those candidates whose motivations they can understand and relate to. However, never say anything negative about your past employers. Rather articulate your reasons in a way that emphasizes future growth and opportunities.
Emphasize your transferable skills
You need to look for intersections between your old and new career. Take a look at the job advertisement and emphasize any points where the two overlap. Even if you're transitioning into a completely unrelated field, you should be able to fall back upon your soft skills like leadership, communication, or even your language skills.
Show that you've already embarked on a new career
Chances are you've already come in contact with the field you want to transition into. Ideally, you've even acquired several related hard skills. Emphasize them in your resume objective to show you're serious about pursuing your new career.
How does this advice translate to reality? Take a look at this resume sample below:
Career Change Resume Example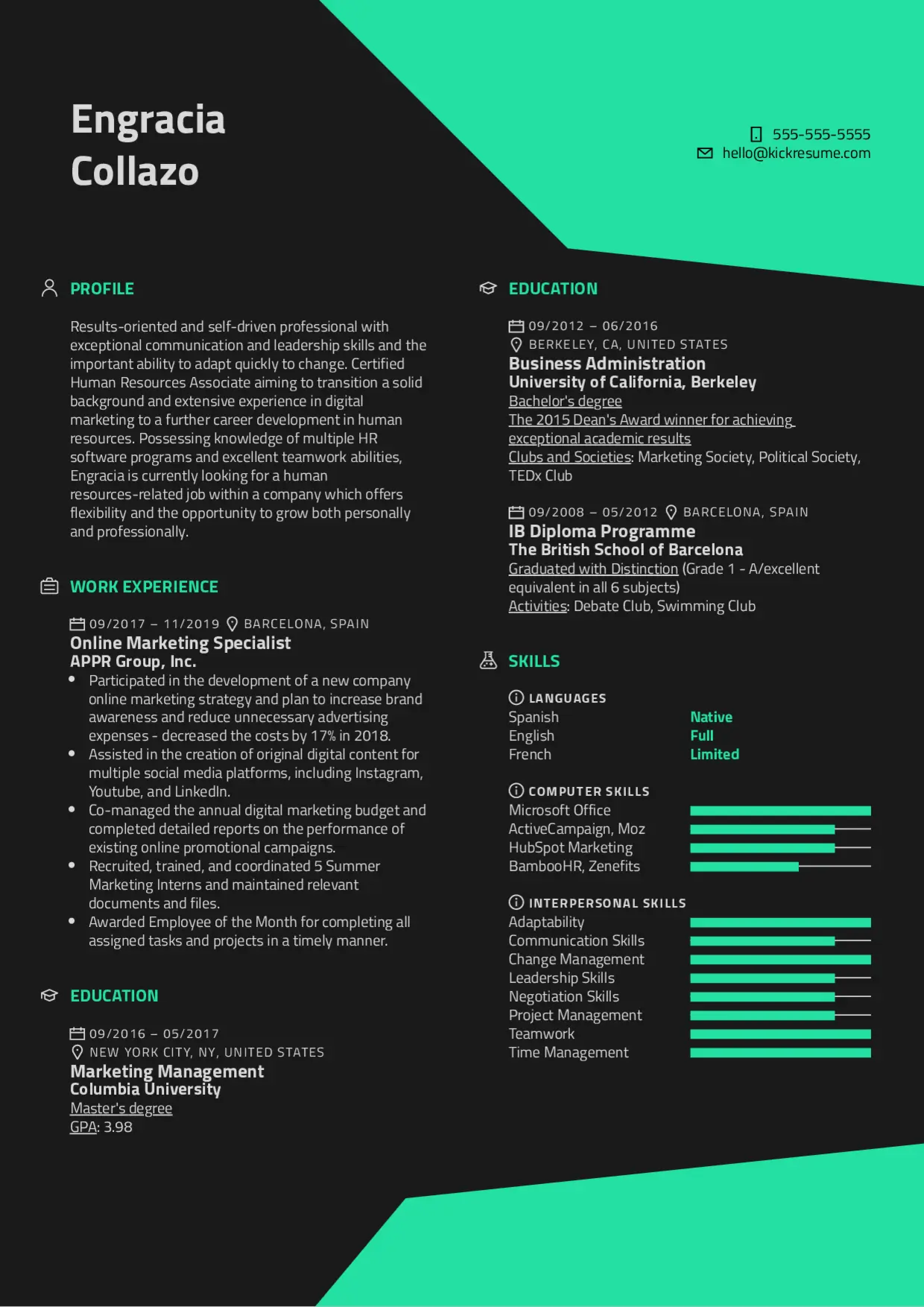 Now, let's take a closer look at the resume objective and see if it follows the guidelines we've just outlined:
Career Change Resume Objective Example
Here's a rundown of the strongest points made in the resume objective above:
Pros:
Engracia's background in digital marketing and her goal to transition to HR is clearly presented right at the beginning.
The focus is on relevant hard skills and certifications, such as being a certified human resources associate and proficiency in Bamboo HR and Zenefits.
The last two points highlight the soft skills and personal motivation for a career switch. Both of these bullet points are extremely important when trying to move into a different field, so if applicable, you should include them in your resume objective as well.
Cons:
The resume objective may be a little too long. If the text was divided using bullet points, it would have been easier to read.
Placing the "Skills" section right after the resume objective instead of "Work experience" may have worked better for a career change resume.
This brings us to the next point.

3. Emphasize transferable skills
As you probably know, there are two types of skills: hard skills and soft skills.
Hard skills can be: computer skills, writing skills, management skills, technical skills.
Soft skills can be: leadership, time management, listening, problem-solving.
In your previous career, you probably gained (or perfected) skills from both categories. But unlike hard skills, most soft skills are easily transferable.
This will come in handy once you're changing careers, as most of your earned hard skills may no longer be relevant.
However, there's no need to worry. Despite the name, hard skills are usually easier to learn than soft skills.
Also, 67 percent of HR managers said they'd hire a candidate with strong soft skills even if their technical abilities were lacking.
Career Coach Advice

"When re-positioning your work history for a role in a different industry, focus on describing how you used your soft skills and the results you achieved by applying them. Your soft skills will be the most transferable, and often transcend niche industry specific experience, making you attractive to hiring managers in other industries."

Naomi Rothwell-Boyd, Accredited Career Coach and Founder of Tribe and Seek
How should you include the transferable skills on your resume?
1. First, take a look at the job advertisement. Have you acquired any of the listed hard skills in your previous career? If your answer is yes, bingo! Make sure you include them in your resume.
2. Second, think of any soft skills that could be useful in your new career. Even in more technical jobs, dealing with people is a necessity. Because of that, leadership, negotiation, and communication skills are in high demand in every industry. If you have them, they for sure belong on your career change resume.
3. Third, avoid buzzwords at any cost. Everybody is flexible. Everybody is hard-working. Today, it's hard to find a single person who's not an out-of-the-box thinker. Unless these words were used in the job advertisement you're responding to, don't use them. Rather focus on skills that are listed in the job ad or skills that are highly relevant for the specific job position.
3. Finally, complement your "Skills" section with a strong work experience section. Anyone can say they have leadership skills. But if you tell them about how you've already led a team in your previous job, they'll have one more reason to take you seriously.
Here's an example of a career change skills section:
Career Change Skills Section Example
So — what did Engracia do right here?
First, she divided her many skills into various sub-sections. This always increases readability and can help you to draw attention to more important information that you want to highlight.
Second, the hard skills that she has included are relevant to the HR field. Therefore, she's demonstrating that although she's never worked in the field before, she already possesses the abilities necessary for succeeding in it.
4. Make your past work experience relevant
Don't disregard your past accomplishments just because you've decided to transition into a different field.
Your past work experience can say a lot about who you are and your work ethic.
Let's take a look at the career change resume example from before and see how Engracia included her work experience:
Career Change Work Experience Example
As you already know, Engracia sought to transition from digital marketing to HR.
Because of that, she first mentioned how she recruited and onboarded summer interns in her previous position. This way, they demonstrated that they already know how to employ the skills necessary for the job they sought to transition into.
Additionally, Engracia was well-aware that HR involves plenty of administrative work. So, she didn't forget to mention that in her past position, she "maintained relevant documents and files" and "completed detailed reports".
All that remained was to convince potential employers that she's dependable and has a way with people. She did that by including the fact that she was awarded an employee of the month for timeliness and teamwork. 
Pro tip: Ultimately, you want to make use of your past experience to show that you're already familiar with some aspects of the new industry and that you're a reliable and proactive employee who's eager to learn. 
Final tips
Now that we've covered the basics, let's see the final things that you can do to ensure that your career change resume will land you an interview:
It's a good idea to do some work related to your new career before actually transitioning into it. Attend related courses, take a part-time job, or try job shadowing and volunteering in the desired field. Then include it in your resume.
Tailor each resume to a specific job opening. Sending a generic resume rarely leads to success.
Double-check, proofread, and avoid typos.
Use bold text. Highlight any essential and the most impressive parts of your resume information that needs to get noticed by the recruiter. 
Be critical when deciding what's relevant. You don't have to include everything that you've ever done. Focus on the most relevant things and the biggest achievement of your past career.
And that's it! If you'd like more general tips on how to write a resume, refer to our complete guide. 
This article was recently updated. The original article was written by Martin Poduska in 2019.
Junior Writer

Kaja Jurcisinova is a junior copywriter at Kickresume. Kaja completed her undergraduate degree in Art History at the University of St Andrews in 2018 and graduated with a Master's in Arts and Culture from the University of Groningen in 2021. She was an intern at multiple cultural institutions across Europe, including the Dutch Museum Association in Amsterdam, the Matter of Art Biennale in Prague, and the European Cultural Centre in Venice. At the moment, she resides in Visby on the Swedish island of Gotland.