Switching careers sounds like a pain at any age. But a career change doesn't always have to be a daunting task.
Indeed, the thought of having to venture out to an unknown and having to start from a scratch is terrifying. Everyone can agree. But with the right guidance and tips, it doesn't have to be.
Remember, people change careers all the time, at any age, and for different reasons. You're not the first and certainly not the last to make a career shift.
In fact, 29% of Americans have completely changed fields since starting their first jobs, according to a EdX survey.
Therefore, if you ever wondered how to change careers or how to start a new career, you've come to the right place.
In this article we'll help you disentangle the difficult task of switching careers in 12 steps, introduce you to the best jobs for a career change, and provide helpful guidance and answers to some of the FAQs you might have.
Should you change a job? 4 common reasons to change a career
Firstly, why shouldn't you? Life is too short to keep working at a job you don't enjoy anymore or it doesn't fulfil you like it used to.
People change careers all the time, for various reasons. And you can too.
Some reasons for a career shift are more common than others, which is why below we list 4 common reasons to change a career:
Salary. A 2021 FlexJobs survey found that 50% of respondents would consider changing their careers for a higher salary. Indeed, if you want a higher salary sometimes the best way to go about that is to change careers. Why? Because for a lot of positions companies often offer standard mean hourly pay for the given position. So, there's a good chance you won't be offered much more for a similar job in a different company.
Work-life balance. A typical 9 to 5 isn't for everyone. Having more time for your personal life is definitely a very important factor in deciding. After all, no money in the world can buy you quality time with family, the people you love, or simply time for your personal growth.
Unsatisfactory workplace relationships. By no means are we saying you should be best friends with each of your colleagues and supervisors. But sometimes even one bad boss can make your life a living hell. In these situations, simply going to HR often won't solve the problem.
Career satisfaction. You may have started a job when you were younger simply because there wasn't many options for you to choose from. After a few years, you are now a lot more skilled and experienced to apply for a career that would suit your professional skill set better.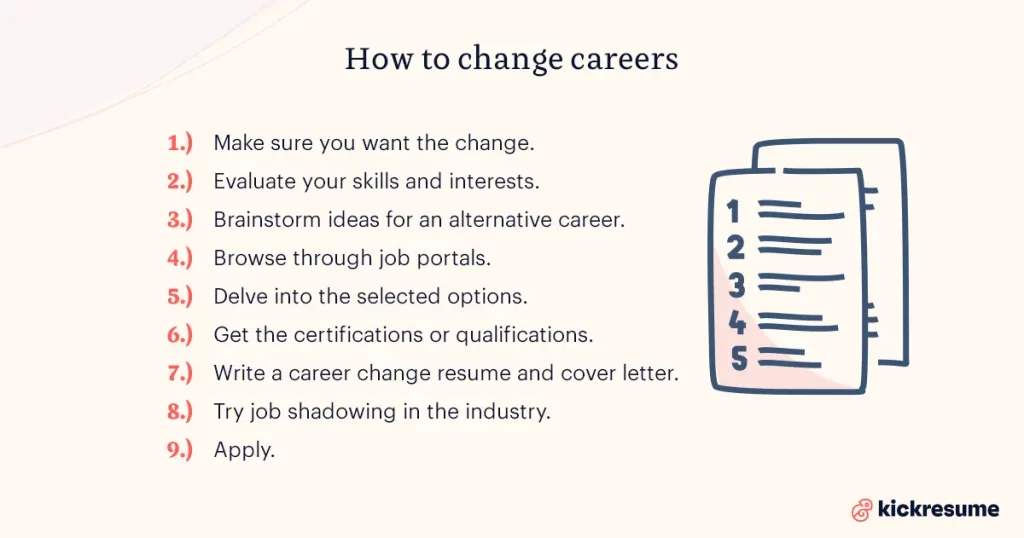 How to change careers in 12 steps
There are a bunch of things that you should first think about, such as whether a career shift is the right move, what alternatives there are, and find concrete steps for starting a new career.
Here's a list of 12 steps to help you towards a successful career change to make this process easier.
Ask yourself if you really want the change.

First, this initial step may seem very simple, yet it's the most crucial. You should really give a good think to whether you're ready for the change. Make a pros and cons list and be honest with yourself about whether you're satisfied or not, and why.

Evaluate your skills and interests.

When you want to change jobs, especially moving from a familiar industry into the unknown, you have to find an alternative path. The best way to start is to reflect on what your strong suits and interests are. It may be a foreign language you weren't able to use in your current job, or maybe you're proficient in a programming language, or you simply love dogs.

Brainstorm ideas for an alternative career.

Try to come up with alternative jobs you would enjoy doing. Maybe you will cross some out in the morning but that's okay. At least you have a start.

Confide in your friends about your plans.

Life works in mysterious ways and that one friend may just look for a person in their company or to start business with. It might help to tell a friend who works in an industry that's on your brainstorm list. If none of that happens, your friends still know you well and may even help you figure out what job would suit you.

Browse through job portals.

When you have a rough idea of what career you'd want, the logical next step is to have a look at what's available. In a section below we look in more depth at where you can look for jobs. It's good to have an idea of what the salaries are like, what the working hours are, and what skills are necessary.

Delve into the selected options.

By now you should have a clearer idea of what career would be a good alternative for you. Have a look at concrete job offers, what the job details are, what are the responsibilities, and what are the required qualifications and special requirements. There's a good chance you simply can't apply to some of them if you don't pass the requirements.

Get the certifications or qualifications.

Of course you won't go to a law school for 5 years, but some certifications may be easier to get. Maybe you need to complete a course, learn to work in Excel, or take an online class.

Update your resume.

There will need to be some changes to your resume. You need to include relevant transferrable skills and qualifications relevant for the new role. We'll talk about that in more detail in a separate section below.

Write a cover letter.

A cover letter is an extension of your resume. Here you can explain why you want to change careers and why you'd make a good fit for the desired role. Have a look at the section below dedicated to resume and cover letter tips for changing careers.

Have a test run.

Maybe you know someone who works at a similar role. Ask them to tell you their daily tasks and have a go at them yourself. For example, if you're an aspiring caretaker, you may want to experience the daily tasks by trying out job shadowing an experienced caretaker.

Get in touch.

You can get in touch with HR or connect on LinkedIn to acquire some more information about the job and application process.

Apply.

Finally, if you feel like you've found a good fit, don't hesitate and apply. After all, there's no harm in sending out and application.
Career search: How to find the right job for you
It's difficult realizing that the career you'd spent so long building and working towards isn't actually right for you.
But it's that much more satisfying to find your true path.
If you're feeling stuck, unsure, or confused, worry not.
Here are some very simple things you can do for a start that will point you in the right direction to finding your desired career:
Career assessment tests & quizzes
Sounds trivial, but a simple assessment or a quiz can make you think of strengths and skills you may have not been aware of before.
They can also make good suggestions for careers you haven't considered prior.
In short, you have to start somewhere.
Here's a few career assessment quizzes for you to try out. Just click the name.

Best jobs for a career change
Truthfully, there is no right or wrong job for changing your career. However, you may prefer jobs that are more suitable for your situation.
Whether that is your (lack of) experience or social skills.
Here are some of the best jobs for a career change. Just click the name and see resume example for usual job duties, responsibilities and needed skills.
1. Career change jobs with no experience needed. These are suitable for people looking for a quick and hassle-free shift. Such as:
2. Career change jobs where you don't have to talk to people. If you want to change careers because you're fed up with dealing with Karens, you may want to consider these jobs:
3. Best careers for the next ten years. Alternatively, if you're money-driven, no judgement by the way, you may want to consider easy career changes that pay well:
4. Career change jobs for people who don't know what to do. Being very lost at this point is normal. Looking for careers for people who are not sure what to do is normal, too. Consider:
Where to look for job offers
Nowadays, searching for a job isn't as challenging as it used to be. There's no need to look through newspapers and go knocking from door to door.
With a few simple clicks you have access to unlimited job postings and offers that will suit your needs. So, where to look for job offers?
Well, the quickest way is probably through job search engines. You can type in the desired position or industry, location, set filters for a salary and more.
Have a look at 5 of the most popular job search engines:

How to write a career change cover letter and resume (with examples)
Firstly, a resume is THE most standard document that job seekers use at every point in their career. When applying for a job, you'll be required to provide one. It's a concise summary of your education, work history, skills, credentials and achievements.
On the other hand, a cover letter is not always required. But in this case, it can help you communicate your reasons for changing careers. It serves as extension to your resume, providing additional information.
So, how do you write a career change cover letter and resume?
Career change cover letter with an example
We'd say that a cover letter may be even more important for people wanting to change up their career.
You can't really change your work experience and education on your resume.
However, a cover letter does give you the opportunity to explain your personal story, motivations, and ambitions.
Here's how to write a career change cover letter, with an example:
The head. Firstly, include the date and contact information, a headline such as "5 Ways I Can Help You Improve Your Company's Marketing", and a personalized greeting.
First paragraph. In the first paragraph you have the opportunity to tell the hiring manager about your personal story. You'll want to focus on explaining why you want to change careers and what your motivations for this change are.
Second paragraph. In the second paragraph there's space for you to convince the hiring managers why you're a great fit. Write a short summary of your skills and strengths, and tailor it to fit the company's needs. Emphasize your transferrable skills.
Third paragraph. In the third paragraph you should explain why the company is a great fit for you. Let them know why do they appeal to you, why their company's culture is a good fit, and applaud their recent success.
Closing. Finally, write an impressive closing paragraph by repeating why you're a great fit. Add a signature and your full name.
Career Change Cover Letter Example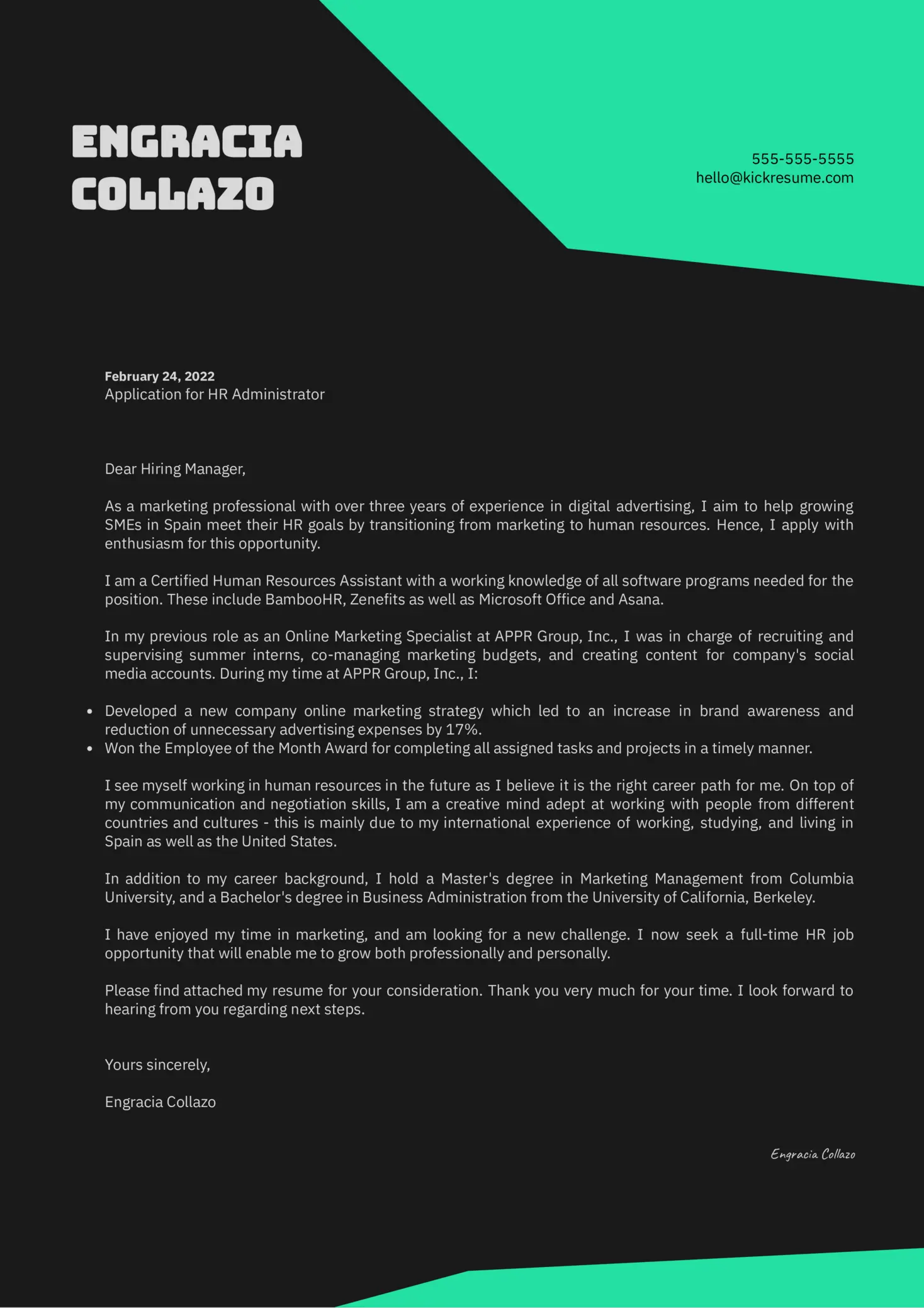 Career change resume with an example
A resume gives the hiring managers a rough idea about who you are as a professional, what's your work history, and your key achievements.
However, most importantly for someone changing their career, it includes a skills section.
Here's how to write a career change resume, with an example:
Career change resume objective. To take away attention from your lack of experience, you'll want to catch the hiring manager's attention from the get-go. A good way to do this is to write a resume objective at the very beginning. Hence, here you should explain your lack of experience in the industry, communicate your motivations, and emphasize your transferrable skills.
Carefully describe your work experience. Don't disregard your past accomplishments and work responsibilities that might in a way be relevant to your desired new job.
Emphasize transferrable skills. It's very likely that during your previous and current career path you've acquired skills that can be transferred to your new career and will be a contribution for the company. Whether they are hard or soft skills, like SQL or leadership, have a good think about what you can bring to the table.
Relevant activities. Maybe you have already taken a course or two, attended lectures, had a part-time job, or had a shadow job in the industry. Don't leave those out! You can include them in the education section, work experience section, or even in qualifications section.
For more tips, check out our guide: How to Write a Resume If You're Changing Careers in 2022 (+Example)
Career Change Resume Example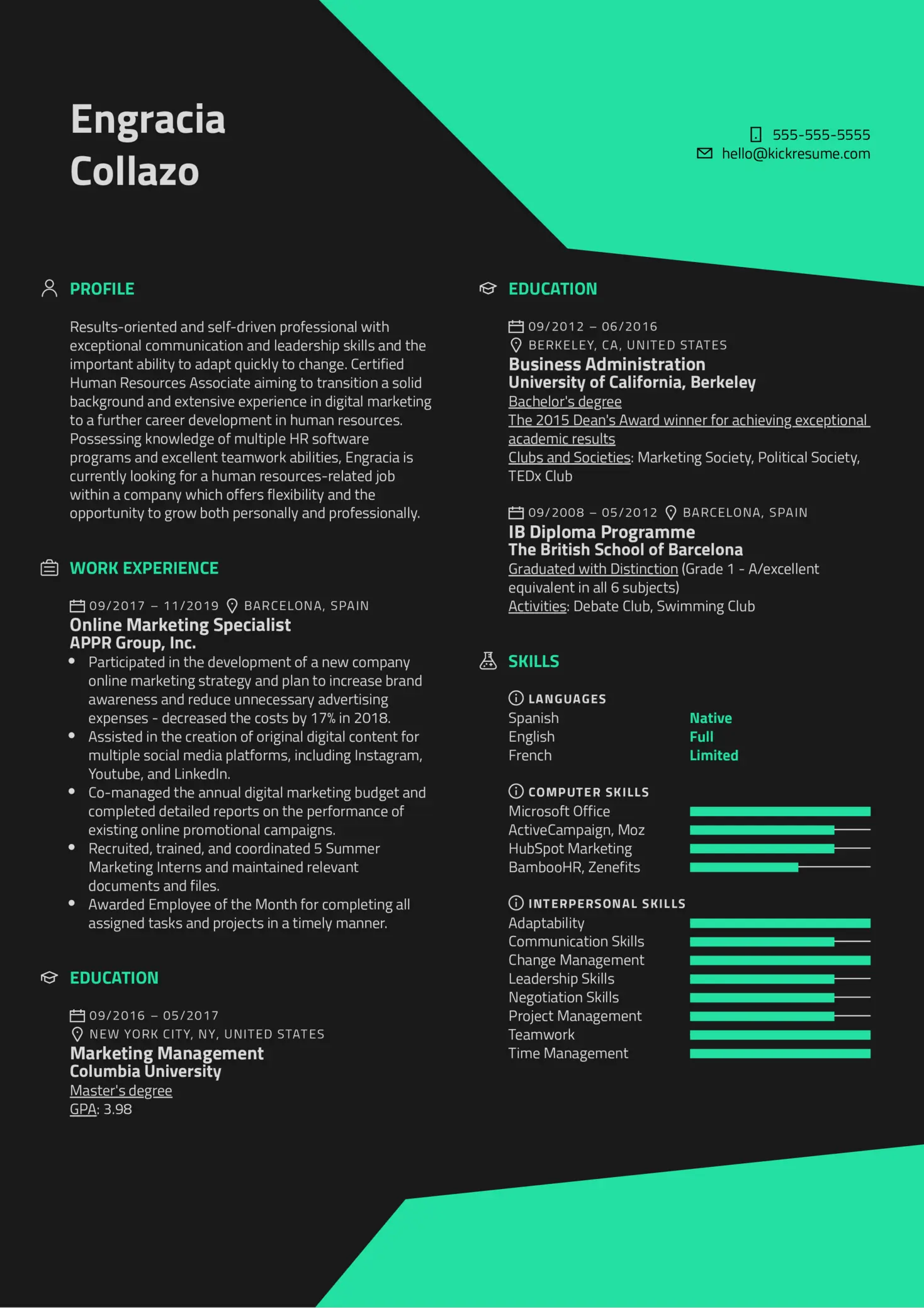 How to change career at 30
You may contemplate changing your career at various times throughout your life.
You've undoubtedly had several years of professional experience by the time you're 30, and you're still young and capable of learning and adjusting to new situations.
Plus, You're young enough that lack of experience won't reduce your chances too much.
That makes 30 the best possible age for a career change!
Hence, to change career at 30 you should learn new skills and educate yourself.
You still have time to go back to school and take courses, so make a use of that. And don't forget to add it to you education resume section!
Absorbing new knowledge becomes harder as you age, thus it's the best time for a complete change of your career path.
How to change career at 40
There are plenty of people who successfully made a career change at the age of 40 or above. So don't stress about it.
Yes, making a career change at 40 is probably the most stressful out of all. Why?
Well, at the age of 40 you're probably the busiest you will be. Your kids are at an age when you can't let them be home alone yet, you have to pick them up from school and extracurriculars, or you may have a lot on your plate professionally.
Therefore, to change career at 40 your primary concern should be how to achieve a healthy work-life balance.
Thus, look for job that offer partial remote work, adaptable working hours, and a satisfactory salary.
At 40 you already know what you want, so don't let a hiring manager fool you with cloudy phrases. Stand your ground to get the best possible conditions for yourself.
How to change career at 50
Truthfully, starting a new career at any age can be daunting. And as you get older, these concerns can grow even stronger.
However, changing careers after 50 isn't as daunting as you might believe.
When shifting jobs at 50, think about the sort of lifestyle you want to live and how your new employment will help you achieve it.
Job seekers over 50 should be able to show that they're comfortable with technology and are comfortable working for managers who may be significantly younger than them.
Similarly, you want to make the hiring manager believe that even though you have an extensive experience, it isn't going to stop you from getting into business.
How to change career at 60
Finally, changing careers at 60 is one of the best times when to do so. You're already established well enough and you made yourself a living.
Once you've spent the most of your life working in one industry, changing careers later in life lets you to pursue interests you previously didn't have enough time for.
It may well be rewarding and fulfilling to know that you were able to work in all of the professions in which you were interested throughout your life.
At the age of 60 you deserve a job that will minimize your stress-levels and will allow you to spend more time enjoying personal hobbies and interests.
Hence, don't be afraid and risk a little.
Inspirational career change quotes
The point of this article is not only to help you change your career in concrete steps, but also to inspire you to pursue your dreams and take a leap of faith.
It may sound corny, but you really only live once. So make it count.
You may not be a huge fan of inspirational quotes, but the truth is sometimes when you read a really good quote it sticks with you.
It gives you the additional push and courage you may have needed.
"Don't limit yourself. Many people limit themselves to what they think they can do. You can go as far as your mind lets you. What you believe you can achieve"

Mary Kay Ash
"Opportunities don't happen, you create them"

Chris Grosser
"Without leaps of imagination or dreaming, we lose the excitement of possibilities. Dreaming, after all, is a form of planning."

Gloria Steinem
Changing career path FAQ
And finally, in case the article didn't cover something you were looking for, this section will answer 4 of the most frequently asked questions you might have about career change.
Career Writer

Klara recently graduated from the University of St Andrews in Scotland. After having written resumes for many of her fellow students, she got an opportunity to write full-time for Kickresume. Klara is our go-to person for all things related to student or 'no experience resumes'. At the same time, she has written some of the most popular resume advice articles on this blog. When she's not writing, you'll probably find her chasing dogs or people-watching while sipping on a cup of coffee.