Did you know that the US government is the largest employer in the US? It hires about 100,000 new employees every year, which means that if you're looking for a new job, the federal sector may be the right place for you. That's when having top-notch federal resume examples comes in handy.
The thing is, unlike private-sector resumes, federal resumes are often more comprehensive, longer, and more detailed.
They should also include a detailed account of your work experience and education, as well as your citizenship, veteran status, or relevant skills and certifications.
In this article, we'll show you a resume example from a real person who got hired by the U.S. Department of Veterans Affairs. We'll also explain the federal resume format and how to apply for a federal job, be it in NASA, the FBI, or the Department of Education.
What federal jobs are out there?
The U.S. government currently employs over 2.5 million civilian workers. But not all federal employees work in Washington, D.C. In fact, more than 80% of federal employees work elsewhere, in locations across the States and even abroad.
That's because the federal cabinet consists of 15 department-level agencies, 20 large independent agencies, and 80 smaller agencies. Together, they employ thousands of people.
Apart from NASA, the FBI, and other well-known organizations, there are many federal agencies that offer job opportunities.
So, if you decide to work for the U.S. government, you can also work within:
the Department of Justice
the Department of Homeland Security
the Department of the Interior
the Department of Health and Human Services
the Environmental Protection Agency
the Department of Defense
the Department of Transportation
the Department of Education
the Federal Bureau of Investigation
These are the most common federal job positions in 2021:
Nurse
Miscellaneous Administration and Program
Compliance Inspector
Manager and Program Analyst
Information Technology Manager
Criminal Investigator
General Attorney
Any of these departments or job positions caught your attention and seem like a good fit? Then you'll need a proper federal resume.

Federal resume format
The federal resume is quite different from a private industry one, and so is the process of writing it.
Thus, before you start writing your federal resume, it's essential to understand how it differs from a private sector resume.
Federal vs private sector resume
Private sector resumes tend to:
rarely exceed two pages
include a description of work experience or other qualifications that are shorter
be more "flashy"
be more selective, as they serve as a way of attracting attention rather than a detailed account of all the work experiences
On the other hand, federal sector resumes are usually:
several pages long, usually 4 or 6
include a long and detailed description of past experience
focus on meeting all of the requirements for a specific vacancy
list all of your experience and education
So, if you're planning on writing a federal resume, follow the advice below.
How to write a resume for a federal job?
Now that you know that a federal resume differs from a private sector resume, let's take a look at how exactly you should compose it.
1. Choose a suitable federal resume format
There are three main resume formats. They have different functions and serve different purposes. But when it comes to federal jobs, the safest option is to go with a chronological resume.
This resume lists information in reverse chronological order, placing the most recent work experiences first. This means that you should start with writing your personal info first, then continue with a resume summary, work experience, education, and skills, and then close the resume with optional sections such as volunteering or hobbies.
This is the most common and standard type of CV that should rarely harm your chances as it's clear, straightforward, and recruiters are familiar with it.
2. Stick to minimalistic formatting and design
Less is more when it comes to a federal resume. These are the things that you can do that will ensure that your federal resume will be accepted well:
Minimize the use of color and graphics. A conservative color palette is the safest option for applying for a federal job. It's also best to avoid using any graphics since federal resumes are typically scanned by ATS systems.
The same applies when it comes to templates. For a federal job, a minimalistic resume template is ideal.
Choose a simple and conventional font. It'll be easy to read and appear professional. Arial or Roboto should do the job well.
Use bullet points to structure your text. This will make your resume easy to read and filter through. It allows for the resume to visually "breathe".
Pro tip: The government job search website USAJobs offers you an option to either upload a resume or use their resume template to create a new resume based on the information you provide in their resume builder.
3. Include all the necessary resume sections
Your resume should contain enough information that will let the recruiter know who you are, how to reach you, and what kind of work you've done.
Thus, every federal resume must include the following sections:
Personal information. You must include your full name, mailing address with zip code, area code, phone number, and email address.
Citizenship. State whether you are a U.S. citizen or have a valid work visa.
Resume summary. Here, you suggest what you bring to the position, highlight the biggest career achievements, and explain how you can help the agency accomplish its mission.
Work experience. In a federal resume, the work experience comes first (unless youre fresh out of school) and takes up around two pages. Here, you should write about all the related work experience from the last 10 years.
Education. Name what schools you've attended, what degrees you've obtained, the dates, and your GPAs. The federal resume offers you more space, so feel free to include more details regarding your education than you would in a conventional resume, such as names of related courses you've attended or awards that you've won.
Skills. Highlight any specific skills or qualifications related to the job, such as language abilities, computer skills, or specialized training.
In a federal work experience section, feel free to:

Provide a brief description of the organization you've worked for in the past if it's not widely known. This will help the reviewer understand the context and scope of your experience.

Highlight any relevant experience working with or for the federal government, including internships, volunteer work, or military service.

limit bullet points to 5-7 per position to ensure your resume remains easy to read and digest. In other words, keep the length of your work section reasonable. While federal resumes can be longer than private-sector resumes, aim for no more than.

Include the number of hours you worked per week in each of the positions. It'll be used to quantify the length of your experience.
If applicable, in your federal resume, include also:
Volunteering. Giving back to the community is one of the core values of U.S. society. Prove to your potential future employer — the government — that you're an active member of your community. Volunteering is especially advised in your career when you don't have a lot of paid experience on your resume to lean on.
Other qualifications. Courses, certificates, licenses, honors, awards, special accomplishments, memberships in professional societies and organizations, publications, leadership activities, public speaking, etc. — these are all important experiences that will elevate your federal resume and make you stand out.
4. Add federal resume-specific sections
While the sections described above are a conventional part of almost every resume, the federal resume, with its generous length, offers more space to include information that may help you to stand out from the competition.
So, if any of the sections below are relevant to you, include them in your federal resume:
Your highest General Schedule (GS) grade. If you're already presently employed within the federal government, mention your highest achieved GS grade and your current salary range. All positions within the U.S. federal government are classified under the General Schedule to determine pay rate and job responsibility.
Veterans' preference. If you're a veteran, you get extra points for being better qualified for a government job. So if this applies to you, make sure that you indicate your veterans' preference status. For some federal jobs, even family members of veterans have an advantage, so just read the advertisement properly to know if this may apply to you.
Existing security clearance. If you possess a security clearance from your current or previous employment within a government entity, provide it.
Preferred location. The federal job announcement may include multiple potential locations for the position. Indicate your top-choice location so it's clear right off the bat.
5. Quantify your accomplishments
When describing your work experiences, focus on your accomplishments rather than simply listing your duties. Whenever possible, quantify these accomplishments by providing specific numbers or percentages.
For example, instead of saying, "managed a team of employees," say "supervised a team of 10 employees and increased productivity by 20%."
It'll make you look super accomplished.
6. Tailor your resume for each position by using keywords
Once you have your resume ready for submission, it's extremely tempting to submit that same resume to apply for all other job vacancies. But that doing so would be a major mistake.
Even some jobs within the same series often require different skill sets or experience. No job vacancy is the same, and the same goes for resumes. And nothing can be more off-putting for a recruiter than a generic resume that was clearly meant for a different vacancy.
To ensure that your application fits the job opening, carefully read through the job announcement and identify keywords and phrases that describe the qualifications and skills the employer is looking for.
Then, incorporate these keywords into your resume naturally to demonstrate that you're a strong fit for the position.
7. Proofread and edit your resume
Make sure your federal resume is polished and free of errors.
Thoroughly proofread your resume for spelling and grammar mistakes. Ask a friend to review it as well. An error-free resume will show the employer that you're detail-oriented and serious about your application.
Pro tip: Since federal resumes tend to be very long, number the pages of your resume. This will make the recruiter's job much easier.
8. Avoid including this on your federal resume
Lastly, in your application and on your federal resume, make sure to exclude the following:
resume video
any sensitive information (such as age, date of birth, marital status, protected health information, religious affiliation, social security number, etc.)
links to web pages or online portfolios
The federal resume is a serious document that follows a strict structure. Don't try to stand out by adding sections that aren't the conventional part of the federal job application. Avoid also any information that could lead to discrimination.
Federal resume examples
1. Federal Resume Example: U.S. Department of Veterans Affairs Administrative Trainee
This federal resume example was provided by a real person who got hired by a governmental agency. As you can see, "Peter", a soon-to-be graduate, did everything right.
He kept the resume design minimalistic, used a chronological resume template, and placed his junior work experience first and education second. He also wrote about his experiences in enough detail and used bullet points to structure the text.
U.S. Department of Veterans Affairs Administrative Trainee Resume Example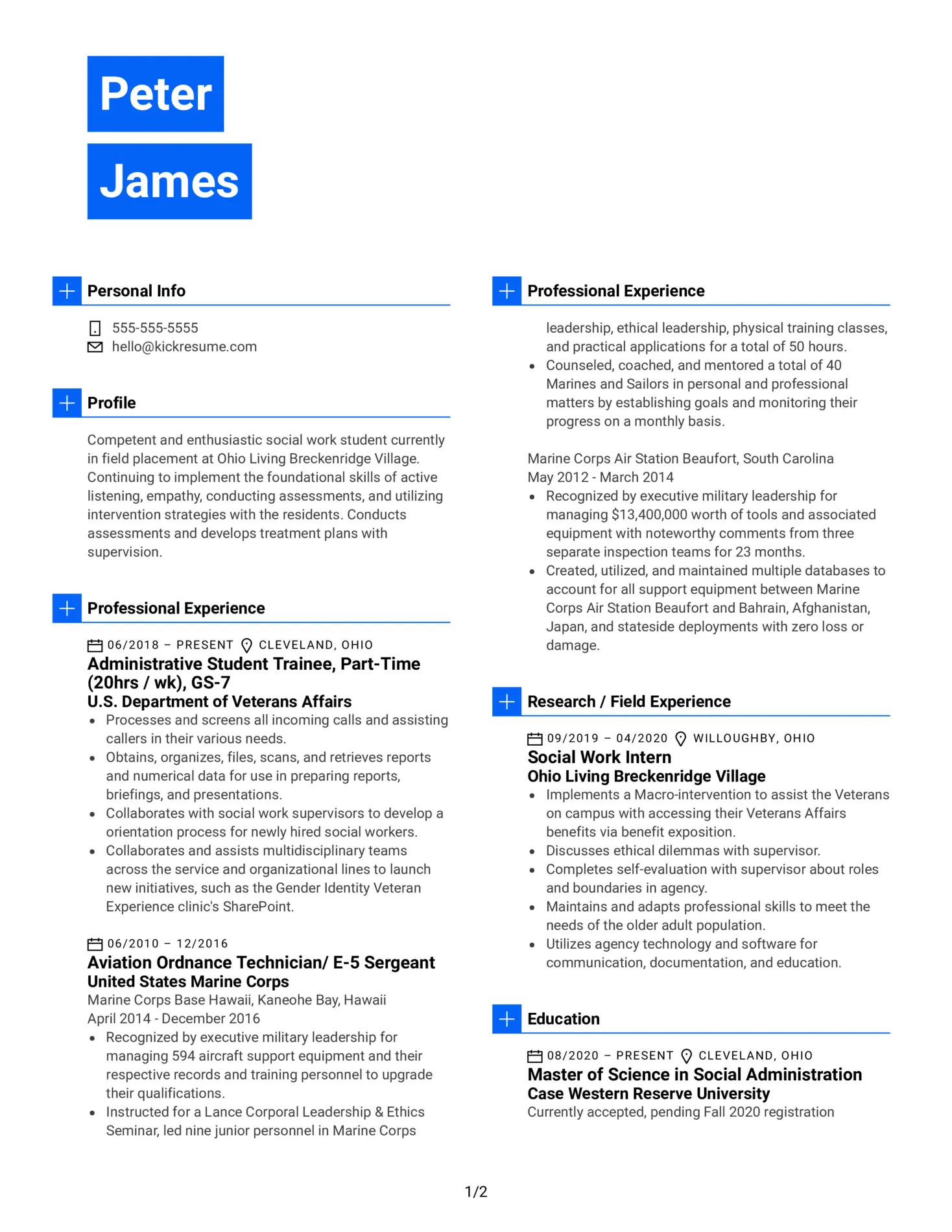 2. Federal Resume Example: IT Specialist
This example comes in handy once you decide not to upload an existing resume as a part of your application but rather decide to fill in the existing template on the governmental job portal page.
As you can see, this example is longer and provides more details (such as the managers' names) in comparison to a conventional resume.
IT Specialist Federal Resume Example
How to apply for a federal job?
Applying for a federal job can be quite a lengthy process, so be ready for what you can expect. Usually, it goes like this:
Visit the official job portal USAJobs. 

The website www.usajobs.gov is the official job portal for federal government positions in the US. It has thousands of government jobs since a federal agency is required to post vacancies online if the position lasts at least 120 days. 

Create an account. 

Then you'll be able to directly apply for jobs or receive automatic notifications of your saved job searches. This will help you to stay informed and prevent you from missing a good opportunity. 

Search for the right opportunity.

You can search for your desired position by keyword, location, job category, or agency. If you're interested in a specific agency, such as the FBI, make sure to check its website for job vacancies too.

Read the job announcement carefully.

Each job announcement includes important information about the position, such as the duties and responsibilities, the qualifications required, and the application process. 

Prepare your application package.

Your application package should include your federal resume, responses to any job-related questionnaires, and documentation supporting your eligibility or qualifications, such as transcripts, certifications, or veterans' preference documents.

Apply.

Once your application package is ready, follow the instructions in the "How to Apply" section of the job announcement.

Track your applications.

After submitting your application, you can track its status on the USAJobs website. You'll be notified if you're selected for an interview or if the position has been filled. 
Pro tip: For some positions, you may be asked to complete an additional application component — a self-assessment questionnaire. This psychological questionnaire lets you rate yourself on the abilities that you've listed in your federal resume. Don't try to be humble, the ratings of your skills that you provide should match your resume and demonstrate confidence.
However, keep in mind that the hiring process for federal jobs can take several weeks or even months, so be patient.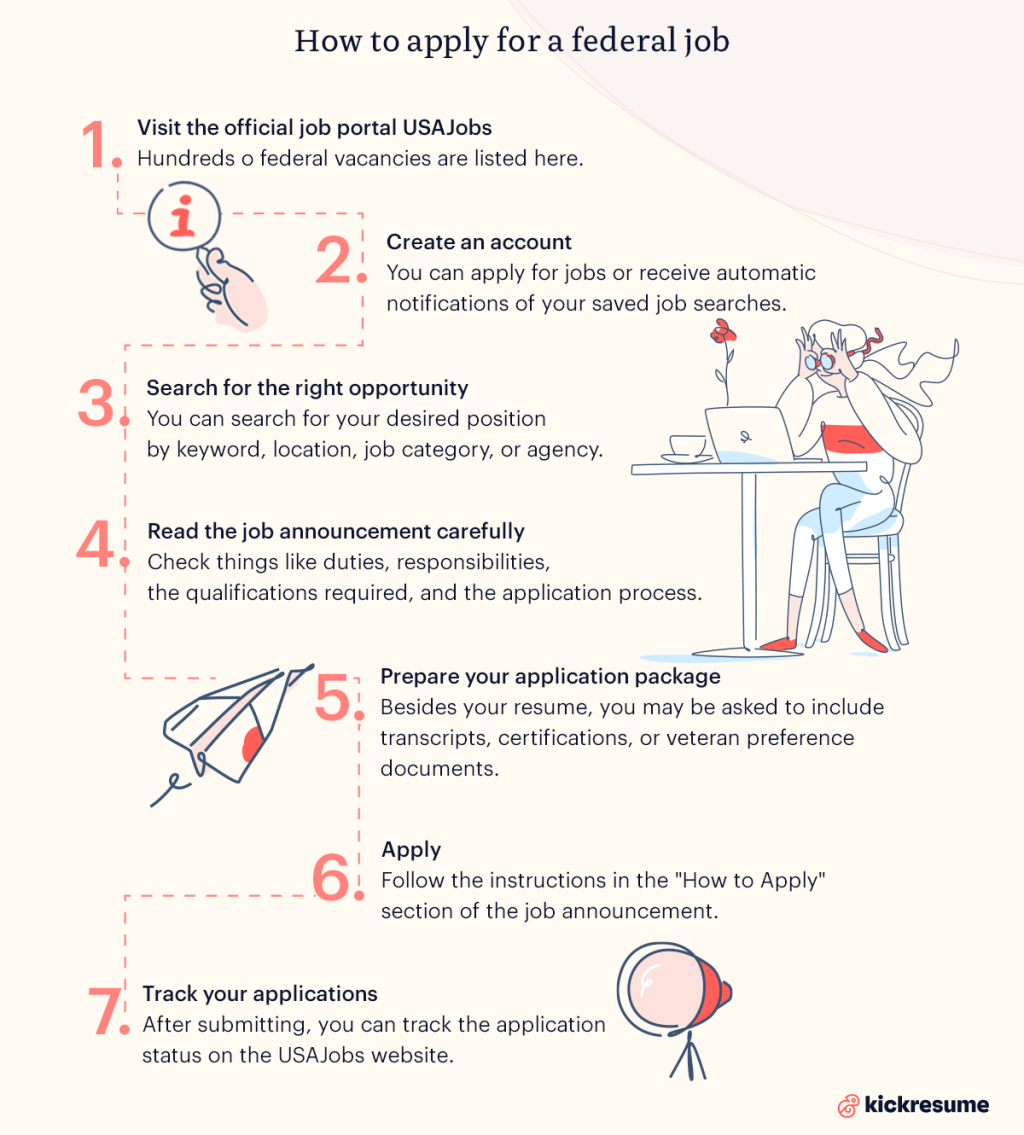 What does the federal evaluation process look like?
Now that you've completed your resume and submitted your federal resume, you're probably wondering what will happen next:
After the submission, an HR specialist will review your application for completion. According to the rating system for applications, the candidates can be classified as Minimally Qualified, Qualified, or Best Qualified. If you fail to fall into any of these three categories, your application doesn't even get processed.
If you meet the basic qualification requirements, your application is forwarded to the hiring manager for consideration.
The hiring manager will identify the most suitable applicants and invite them for an interview.
After the interview, send a thank-you note to the interviewer expressing your gratitude for the opportunity and reiterating your interest in the position. Be patient as you wait for a decision, and continue to monitor the status of your application on the USAJobs website.
Depending on the outcome of the interview, a job offer may or may not be made. But if you accept an offer for a federal job, you'll be required to undergo a background check. You may need to provide the hiring agency with certain personal information for them to start the background investigation. After you provide your information, the agency will run a check into your past work experiences, criminal records, education, and financial history.
And there you have it! Kickresume is rooting for your ultimate success in landing that government job you've been eyeing. If you're craving more insights on crafting the perfect resume, explore our all-encompassing resume guide. With a resume like this, your dream job awaits, be it in the government or somewhere else.
This article was recently updated. The original article was written by Jakub Kaprál in 2018.
Junior Writer

Kaja Jurcisinova is a junior copywriter at Kickresume. Kaja completed her undergraduate degree in Art History at the University of St Andrews in 2018 and graduated with a Master's in Arts and Culture from the University of Groningen in 2021. She was an intern at multiple cultural institutions across Europe, including the Dutch Museum Association in Amsterdam, the Matter of Art Biennale in Prague, and the European Cultural Centre in Venice. At the moment, she resides in Visby on the Swedish island of Gotland.