When applying for a PhD research position, you usually need to submit certain documents, including an academic CV and a cover letter for PhD application.
A PhD cover letter, also referred to as an academic cover letter, should be carefully crafted, well-formatted, and contain specific sections.
We'll show you how to do exactly that, along with a sample of an academic cover letter from a real person admitted to a PhD program at Lyon University in France.
And if you're not sure how to go about writing your PhD CV, check out this article: CV for PhD Application: How to Write One Like a True Scholar (+CV Example).
What is an academic cover letter?
An academic cover letter is a document that PhD candidates submit alongside their academic CV when applying for a PhD.
Essentially, it's a cover letter for a PhD application.
It's not exactly the same as your regular business cover letter. Nor is it the same as a personal statement or a motivation letter.
The purpose of a cover letter for PhD application is to explain to the reader, who's likely a researcher or a professor, what you can contribute to their institution and/or field.
Moreover, in a PhD application cover letter, you should explain why you're a good match for the research position on the program.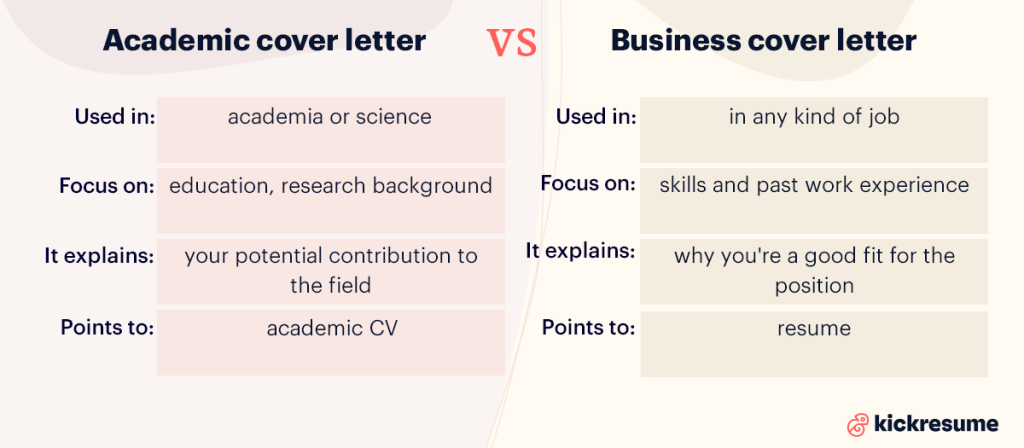 Differences between academic cover letter and business cover letter
Both these documents serve different purposes and people use them in different settings:
Academic cover letter is used when applying for positions in academia — most often for a PhD. More emphasis should be on education, research background and scholarly accomplishments. Moreover, it should explain what your contribution to the institution or field could be. It should also point the reader to your academic CV.
Regular (business) cover letter is normally used when applying for any kind of job. Hence, more emphasis should be on skills and past experience while being tailored to a specific job position. You should also explain why you're a good fit for the position at the given company. It should point the reader to your resume.
There are also other documents people often mistake for an academic cover letter. These include:
Motivation letter is especially relevant for fresh graduates when applying to a university, a non-profit organization, or voluntary work. A motivation letter focuses more on your interests and motives for applying.
Personal statement. Also used in an academic setting. It's always written by an applicant, often a prospective student, applying to college, university, or graduate school. You explain why you've chosen a particular course and why you'd be good at it. Other names include a statement of purpose or a letter of intent.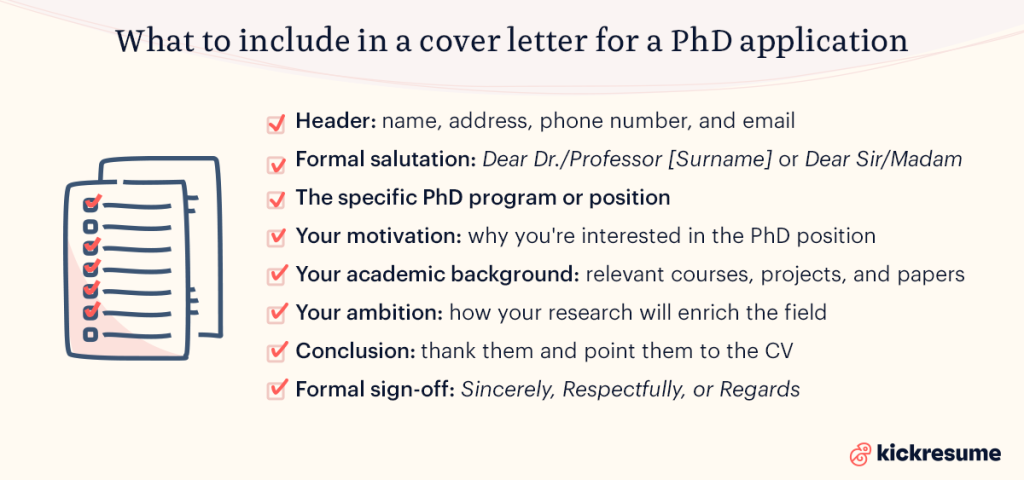 What to include in a cover letter for PhD application
Like every cover letter, an academic one also needs to include specific elements and content sections. These are:
Header. Here, provide your contact information, such as your name, address, phone number, and email in the header of the document.
Formal salutation. In an official letter like this one, you should address the reader in a professional and formal way. If you know who'll be reading your cover letter, go with Dear Dr. [Surname] or Dear Professor [Surname]. If you don't, go with Dear Sir/Madam.
The specific PhD program or position. Clearly state in your letter which research position you're applying for or the name of the PhD program. A cover letter is usually read before a CV, so you need to make sure everything is clear.
Your motivation. Explain why you're interested in the specific PhD position — it's one of the key elements you should include.
Your academic background. Now, we don't mean you should list in detail every single university course you ever took. Instead, focus on the most relevant course for the PhD and describe in detail what you learned, any projects you worked on, why it was interesting (and optionally, what knowledge gap you identified). In this way, you also show a certain level of understanding of the field.
Your ambition. Briefly mention what your ambitions, intentions, and plans are regarding your contribution to the field when securing your PhD position. How is your research going to enrich the field? How will the institution benefit from it?
Conclusion. Keep the conclusion short. Contrary to a regular cover letter ending, there's no place for reiterating everything here. Simply thank the reader for your consideration and prompt them to read your academic CV.
Formal sign-off. Just pick from the usual: Sincerely, Respectfully, Regards... Then throw in your full name in the following line.
And that's all you need to include!
Now, let's take a look at how to write your cover letter step-by-step.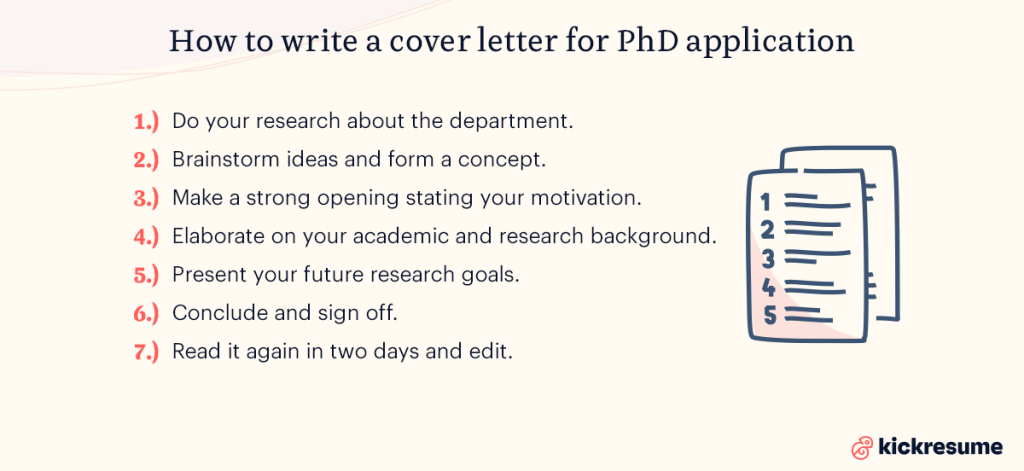 How to write a cover letter for PhD application
Applying for a PhD will be a lot less stressful if you follow these tips on how to write a cover letter for a research position:
Do your research about the department.

Consider researching the background of the organization, department, ongoing research projects, and their past and current projects. All that before you start writing your cover letter. Knowing these things will help you tailor your letter to the specific PhD opening.

Brainstorm ideas and formulate a concept.

Before you actually start writing, try to sit down and take a moment to think first. Assess how your past experiences helped you prepare for the PhD position and scribble down those that are most relevant and significant for the specific program. These include any research experiences, research projects, courses, or internships.

Write a strong opening stating your motivation.

In the first few sentences of your letter, you need to convey some basic information about yourself and what specific position you're applying for. The opening should also state firmly why you're a strong candidate for the position/program, by using a persuasive and convincing wording.

Here's an example:

"As an MChem Chemistry graduate with a narrow focus on the sustainable synthesis of biologically active molecules from the University of Dundee, I am excited to apply to a "Synthesis Of Small Molecule Inhibitors Using Enzymes" PhD programme at an institution with such a strong foundation and numerous research groups in this field."

Elaborate on your academic and research background.

This is the place where you may explore more extensively on the educational journey that brought you here. Set the foundation for demonstrating how your Master's degree and research experience seamlessly translate into the next phase — the PhD program.

Emphasize how your thesis contributes to the field's body of knowledge. Mention any other publications that support your thesis. And, if you can, identify any knowledge gaps or topics that can be explored further.

Present your future research goals.

This paragraph provides the opportunity to neatly tie in together everything the reader has learned about you so far. You can show how your previous experience, coupled with what you'll learn during the PhD program, will come together to produce something novel to enrich the field.

First, identify the courses or topics within the PhD program that interest you the most and how they relate to you developing your research further.

Second, introduce your future research aspirations and goals.

Third, point out how this future work will enrich the field and what will the intellectual merit be.

Conclude and sign off.

When ending your PhD cover letter, briefly refer your reader to your academic CV and encourage them to examine all of the remaining projects, courses, publications, or references.

Finally, thank the reader for their time and consideration and let them know you look forward to hearing from them. Sign off.

Read it again in a day or two, then edit it.

Put the letter in a drawer and don't think about it for a day or two. Then, when you read it again, you'll have a fresh pair of eyes to see the cover letter in a new light.

Maybe you decide some things are redundant, or you think of something that's more relevant. Or you know, find a typo here and there.

How to format an academic cover letter
Just like an academic cover letter needs to contain certain content components, the formatting should also align with the structural expectations for this type of document.
How long should a cover letter be? How to finish a cover letter? And what about the cover letter font and spacing?
Here's a recommended academic cover letter format:
Length. While STEM PhD candidates should aim for half a page to one page, humanities candidates can do 1–2 pages.
Font. Use one of the classics: Times New Roman, Calibri, or Arial. Just no Comic Sans, we beg you. Keep the size between 10–12 points. Also remember to keep the text clean — no underlining, no bolding, and no color. However, you can use italics if appropriate.
Spacing. Cover letter spacing isn't complicated. Just single-space your text, make sure there's a space between each paragraph, and leave a space between the concluding paragraph and your formal sign-off.
Margins. The only rule here is that the margins on your cover letter should match those on your CV.
Consistence with your CV. Your academic cover letter should match your academic CV in all formatting aspects — including the cover letter font and spacing. For example, Kickresume lets you choose a matching template for your CV and your cover letter, so no need to worry about this.
Pro tip:

If the institution provided any instructions for formatting your academic cover letter, don't get creative and follow their guidelines.
PhD cover letter sample
Finally, to help you tie everything we talked about together, here's a cover letter sample from a real person admitted to a PhD program at Lyon University in France.
These things ensured Herrera's cover letter was successful:
She clearly states her motivation in the opening. In the first two paragraphs, Herrera introduces herself and her motivation to apply for the given PhD program.
She describes educational and research background thoroughly. The main body of the letter is dedicated to describing Herrera's educational background, research projects, internships, and skills acquired throughout the way.
She presents research aspirations in the letter. Herrera writes: "I have a history of proven results and profound findings. Given opportunity, I'm confident in my abilities to earn similar ground-breaking results while being part of your team."
Even though this example lacks some of the key elements, such as mentioning the specific PhD program or identifying the topics within the PhD program that interest her the most, this PhD cover letter still managed to impress the University of Lyon.
Lyon University PhD Student Cover Letter Sample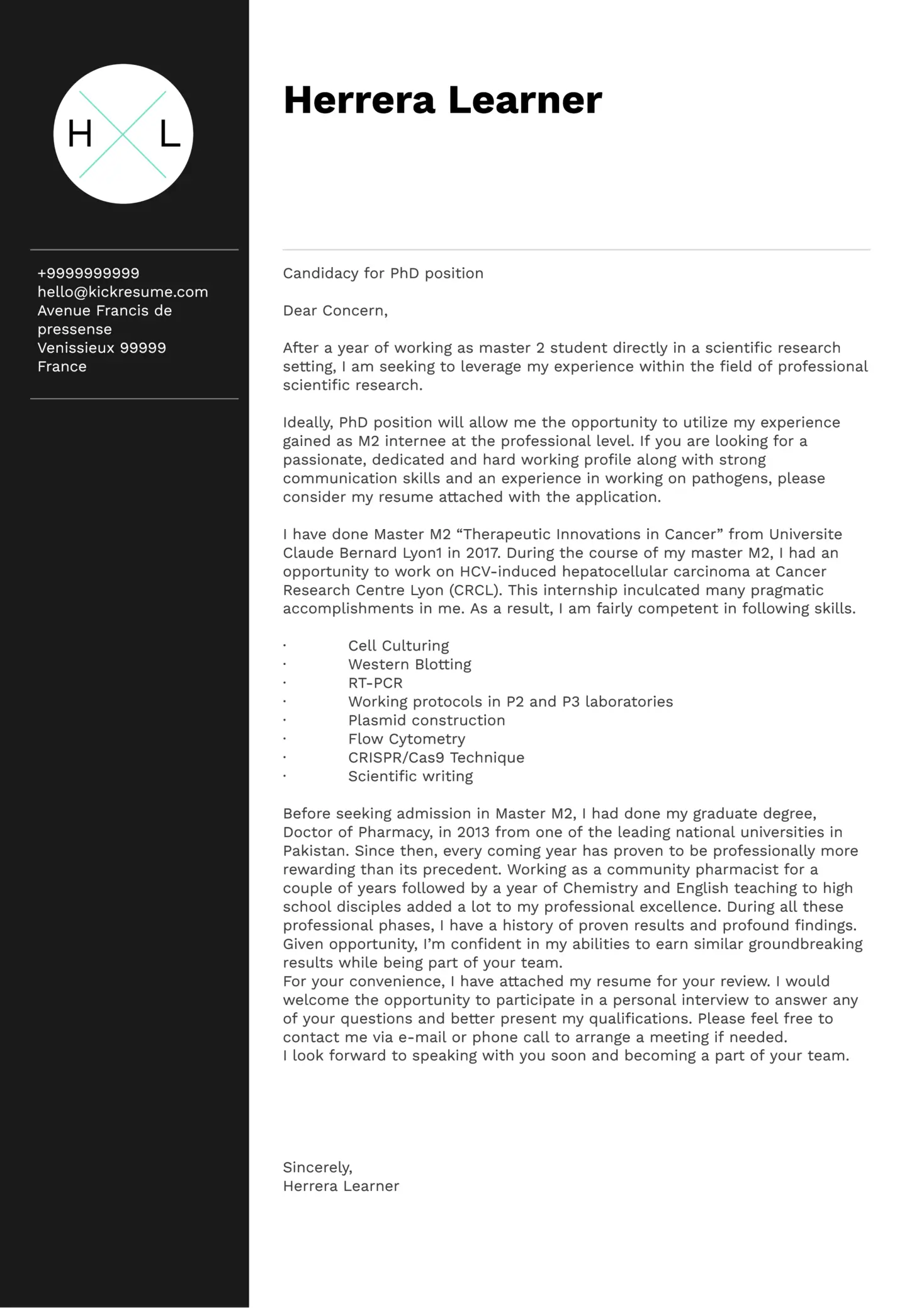 Career Writer

Klara recently graduated from the University of St Andrews in Scotland. After having written resumes for many of her fellow students, she got an opportunity to write full-time for Kickresume. Klara is our go-to person for all things related to student or 'no experience resumes'. At the same time, she has written some of the most popular resume advice articles on this blog. When she's not writing, you'll probably find her chasing dogs or people-watching while sipping on a cup of coffee.