Resumes are pretty straightforward. You know which sections to include, what type of power words to use and what kind of information to emphasize.
The cover letter is different. As opposed to the resume, in the world of the cover letter, everything is possible. There are many things that can help you shine — but just as many that can send your application straight to the proverbial bin.
That's why we've decided to go into more detail and show you what a good cover letter looks like.
Here's the first one in a series — a cover letter that helped someone score a job as Junior Product Manager Hired at IBM.
IBM Junior Product Manager Cover Letter Sample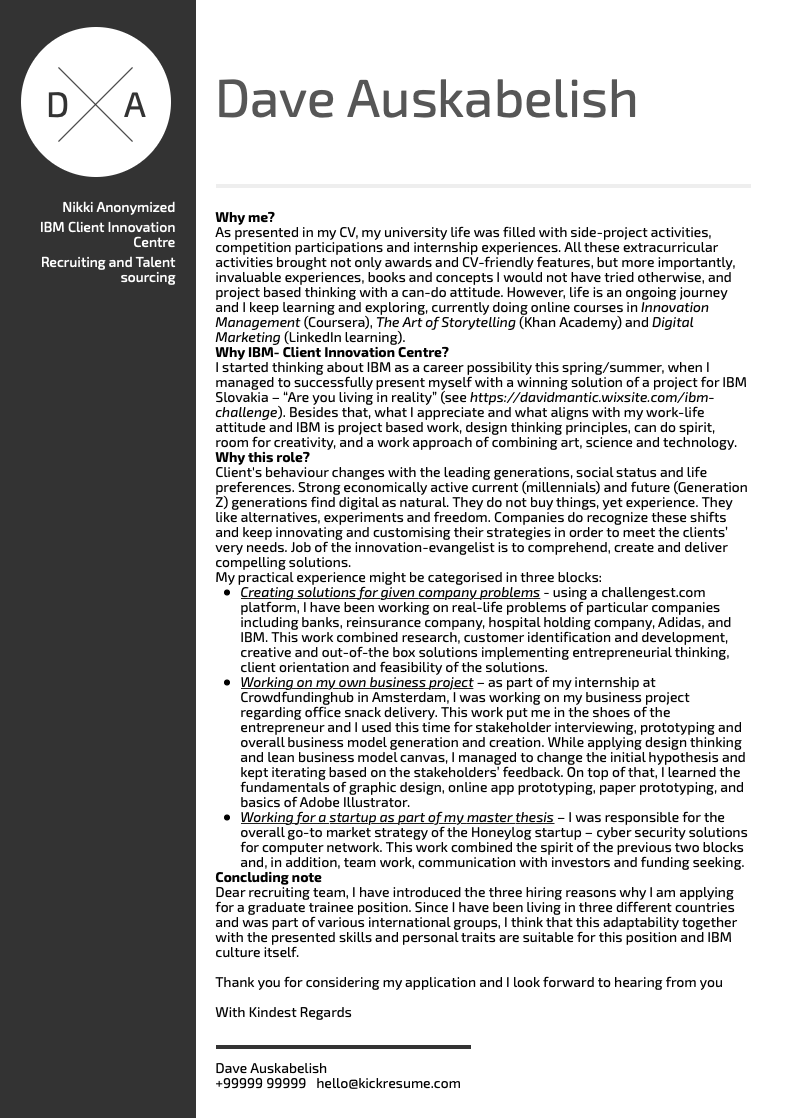 1. Answer their burning questions
"Why me?"

"Why IBM-Client Innovation Centre?"

"Why this role?"
Recruiters will typically want to ask you a few basic questions. It's a routine that needs to be done and you can take advantage of that.
So instead of waiting for the actual interview, use your cover letter to present your answers. It's a super effective method how to begin a cover letter. Not only will it help you get ahead of your competition, but you'll also clear out space for more interesting answers once you meet in person.
2. Stay humble
"However, life is an ongoing journey and I keep learning and exploring, currently doing online courses in Innovation Management (Coursera), The Art of Storytelling (Khan Academy) and Digital Marketing (LinkedIn learning)."
No one really wants to hire job seekers with a highly overrated opinion of themselves. So even if you do see yourself as an up-and-coming industry professional with valuable skills, remember to infuse your cover letter with some genuine modesty.
Junior positions — in particular — require you to stay humble and show you're flexible enough to work with those more experienced than you.
Present your life as one of continuous learning. Show that you've already set off on the journey you want to undertake to advance your career and be beneficial to the job you're applying for.
3. Present your portfolio
"I started thinking about IBM as a career possibility this spring/summer, when I managed to successfully present myself with a winning solution of a project for IBM Slovakia – "Are you living in reality" (see https://davidmantic.wixsite.com/ibm-challenge)."
Your cover letter is the place to talk about your accomplishments, products, prizes and awards. But talking might not be enough. If you have something to show, do so.
Regardless of the platform — be it Twitter, LinkedIn, Behance, your blog or personal website — include a link to demonstrate you've made an impact and achieved something you're proud of.
4. Appearance matters
"My practical experience might be categorised in three blocks:"
"Creating solutions for given company problems ..."

"Working on my own business project ..."

"Working for a startup as part of my master thesis …"
Watch out to maintain the neat design of your cover letter. Indentation, bullet points, paragraphing, the balance of white space and print — use everything to make it readable and pleasant to look at.
The content matters, but so does the formatting. If you succeed in taking care of both, you're halfway there.
For example, you may want to use bullet points to break down a larger chunk of text or just list things that look better in a column rather than in a row. This way you'll present information in a more structured way and retain the reader's attention for a much longer time.
5. Wrap up with style
"Dear recruiting team, I have introduced the three hiring reasons why I am applying for a graduate trainee position. Since I have been living in three different countries and was part of various international groups, I think that this adaptability together with the presented skills and personal traits are suitable for this position and IBM culture itself."
Your conclusion resembles your elevator pitch. It's the place to round off your presentation with the most important information. If you succeed, you'll convince the reader to take further action.
Chances are some recruiters will read this section first and only then decide if they want to read the rest. Sum up everything you've talked about so far. And don't forget to make your point in why you're the perfect fit for the job.
Being proactive pays off
Why invest in crafting a fancy resume? Why waste time by writing a cover letter?
These are questions that can take the wind off your sails. If you want to get a cool job, you will need to compete with dozens, if not hundreds, of other job seekers.
Seize the opportunity and make your job search more effective than ever. Update your career documents for each job you're applying to. Keep your job search communication professional and to the point.
In short, make yourself irresistible as a prospective employee.
The rest will take care of itself.
Want to see more cover letter examples from people who got hired by the world's top companies? Check out our cover letter library!
Career & Resume Writer

Jakub Kapral is a former professional linguist and a career writer at Kickresume. He has written almost 100 diligently researched resume advice articles and his texts are visited by thousands of people every month. Jakub is a natural teacher who looks to help those who want to enhance their career prospects. He's also an avid drummer and a proud father of two.