A PhD is the highest level of academic qualification you can achieve. To secure your position, however, you first need an impressive CV for your PhD application.
Earning a PhD degree requires you to produce extensive research in a narrowly defined subject within a certain discipline and to make a considerable original contribution to your field.
Hence why PhD programs are always very selective. The admission rates hover around 10% and only about half of the admitted candidates actually finish the degree, according to a recent psychology research.
As a result, less than 1% of the population attains a PhD.
So, how do you become a part of the 1%?
The process of attaining a PhD starts with a strong application which includes an impressive academic CV.
A CV for PhD application needs to be carefully crafted, well formatted, and contain specific sections.
We'll show you how to craft a stellar PhD application CV, and a sample academic CV from a real person admitted to a PhD program in France.
What is an academic CV?
First, there are two types of career documents job seekers widely use. A resume and a Curriculum Vitae (CV).
These two documents are similar but not identical.
So, let's have a look at the key differences between a CV vs a resume:
A resume is used when applying for a position in industry, non-profits, or the public sector. It should focus on skills and past experience while being tailored to a specific job position. The length of the document shouldn't be more than 1 or 2 pages.
A curriculum vitae (CV) is used when applying for positions in academia, science, or medicine. It focuses on education, research background and scholarly accomplishments. Finally, its length depends on the number of references, publications, etc.
There are even more types of CVs. A general CV, an industry (professional) CV, or an academic (research) CV — which is exactly the one you'll need.
In a nutshell, an academic CV is a career document that provides extensive information about your educational and research background. Scholars and researchers use this document when applying for jobs in academia — such as a PhD application.
Lastly, an academic resume is a term you can often come across, too. To avoid any confusion, it's the same as an academic CV. A more appropriate term is, however, the latter.

What to include in an academic CV for PhD application?
Rules are important in academia. That's why all academic CVs usually follow pretty strict structures regarding their content and formatting.
First, let's have a look at the resume sections you should include in a CV for PhD application:
Contact information. Include your full name, email, phone number, and location.
(Research) objective. A concise, brief paragraph outlining your research plans and strategies.
Education. It should form the bulk of your CV and detail you educational background.
(Research) experience. Your research experience can often set you apart from other candidates.
Publications. Include anything from journal articles, published reports, to your research dissertation.
Awards. Mention all awards and accomplishments you've received in reverse chronological order.
Skills. These should be relevant to the PhD project or show that you have what it takes to succeed as a researcher.
References. Finally, try to include at least two references, such as your dissertation supervisor and one other member of staff.
Let's have a closer look at each of the 8 CV sections in the next chapter.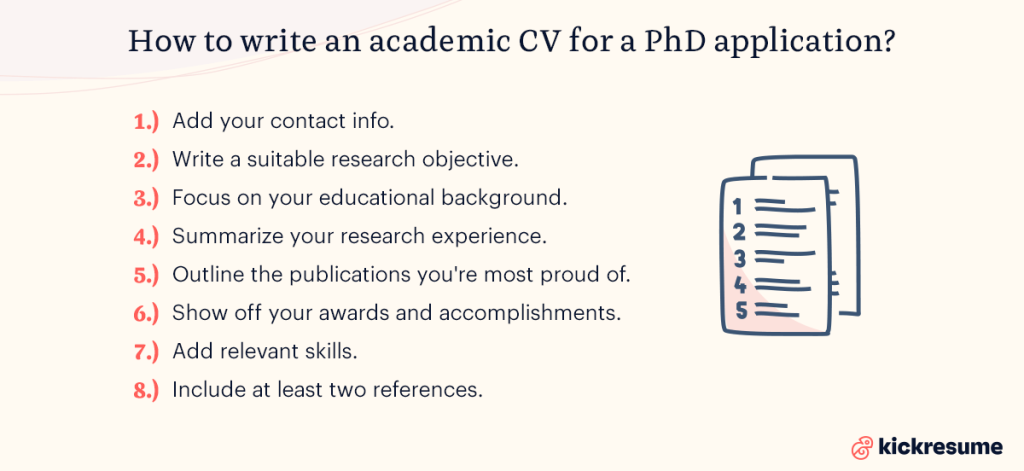 How to write an academic CV for a PhD application?
Applying for a PhD will be a lot less stressful if you follow this quick guide on how to write a CV for a PhD application:
Start by entering your contact information.

You should always start your CV or your resume by providing your contact details. Include your full name, your professional email address, and your mobile number.

Additionally, you can include your location. However, we don't advise including your full home address for privacy reasons. Entering the country and city you reside in is usually enough.

Since a CV is a bit different than a resume, we don't recommend including links to your social media.

Come up with a suitable research objective.

Research objective is basically a brief paragraph at the beginning of your CV outlining your research plans, interests, and strategies.

It paints a picture of you as a person and will guarantee that the admissions committee will be interested in reading and learning more about your professional background.

Your research plans and strategies should align with the PhD project you're applying for. Hence, read the project description carefully and make sure to tailor your objective accordingly. Ideally, without making stuff up.

Focus on your educational background.

The education section should form the bulk of an academic CV. No one expects a potential PhD candidate to have 10 years of experience in the field. But what's expected is an appropriate educational background.

A common practice is to list your education in a reverse chronological order. This means listing your Master's degree first and then a Bachelor's degree.

For each degree, provide the full name of the degree, the type, its duration, the relevant courses and modules, the corresponding (or expected) marks, GPA, and any relevant projects or presentations. Also, include the name and the description of your final year dissertation project.


Summarize your research experience.

In this section, introduce all of the research projects you worked on, whether they were a part of your undergraduate degree, your master's degree, or you have undertaken this project elsewhere.

You can include any voluntary, part-time, or full-time work experience you deem relevant for the PhD project of your choice.

For instance, skip the part-time bartending job and rather include a teaching experience or a voluntary project you undertook.

Outline the publications you're most proud of.

Of course, it's okay if you don't have any publications yet. If that's the case, simply skip this section. However, if you do have any work published at this stage, list it in this section.

The publications can include anything from journal articles, published reports, contributions to peer-reviewed journals, or an adaptation of your dissertation project.

Make sure to check the citation style your institution or field prefers and use it consistently in your publications section. The most common ones are APA, MLA, and Chicago.

Show off your awards and accomplishments.

In this CV section, list relevant honors, achievements, or awards you earned for going beyond average — again in reversed chronological order.

It includes scholarships, university fellowships, competitions, work-related awards, or academic awards.

For instance, you can mention a very high GPA, subject-specific awards, or any grants you received. However, keep in mind that mentioning how much money was involved is only common in scientific fields.

Skills, skills, skills.

The skills you mention in your academic CV should be relevant to the PhD project you're applying for or show that you have what it takes to succeed as a researcher.

Between the two types of skills, hard and soft, hard skills are more appropriate to include in your CV for PhD application. Examples of hard skills include Python, data analysis, SEO analysis, C++, SEM, Ahrefs, or languages.

However, completing a PhD degree usually also involves demonstrating your teaching abilities. For this reason, listing soft skills such as a good oral communication and presenting is also a good idea.

Conclude by listing a couple of references.

While a references section in a regular resume is pretty much redundant, in a CV for PhD application it's a must-have. Why? Well, having a person attest to your skills and achievements is a great way to leverage your professional experience.

The person you ask should be articulate and in a reputable position. Your best bet is to ask your dissertation supervisor, a professor you had a good relationship with, or one who taught the subject most relevant for the desired PhD program.

Finally, don't forget that your references have to agree with having their contact information shared, first. Read our quick guide on how do you ask someone to be your reference.

Tips on how to write a CV for PhD application
Apart from making sure the content of your CV is spot on, you should also follow some well-established formatting tips.
A clear layout and composition ensure your CV is professional and easy to read.
Here are a few tips to help you achieve that:
Keep the formatting consistent. If you choose a certain font type and size, stick to it. The same goes for margins, spacing, and capitalization.
Less is often more. It might be tempting to use bolding, italics, or underlining in order to make the document "easy" to read. However, an excessive use of these features actually has the exact opposite effect.
Avoid long paragraphs. A CV is all about providing objective facts regarding your professional background. Hence, no need to provide generic statements or go into too much detail. And if you happen to write more text, you can always divide it using bullet points.
Use professional language. It goes without saying, but don't use slang. Similarly, use professional jargon and abbreviations within reasonable limits.
Don't limit yourself to one or two pages. The length of your academic CV depends on the number of publications, awards, references, and experiences. Unlike a resume, a CV is a complete summary of your academic and professional background.
Convert your CV to PDF. Doing this considerably reduces the risk of compatibility and formatting issues. A PDF file keeps your formatting intact across various devices.
Too much to keep in mind? Kickresume's CV & resume builder can save you the headache and provides useful templates with appropriate formatting designed by career professionals.
PhD CV example
Finally, to help you tie everything we talked about together, we thought one picture is worth a thousand words.
Here's a CV sample from a person who managed to get accepted into a PhD program at the university of Lyon in France.
There are several things Herrera included to ensure her CV was successful:
A complete professional and academic background. We can see that this section forms the bulk of the resume. As it should.
Plenty of hard skills. Herrera included 7 hard technical skills and multiple languages. All of these skills are very valuable in academia.
A succinct description of all projects. She includes the full name of the projects, their duration, and theme.
References, publications, and certifications. All of these sections are included in the full version of this resume and can be found by clicking the button below the sample CV.
Lyon University PhD Student Resume Sample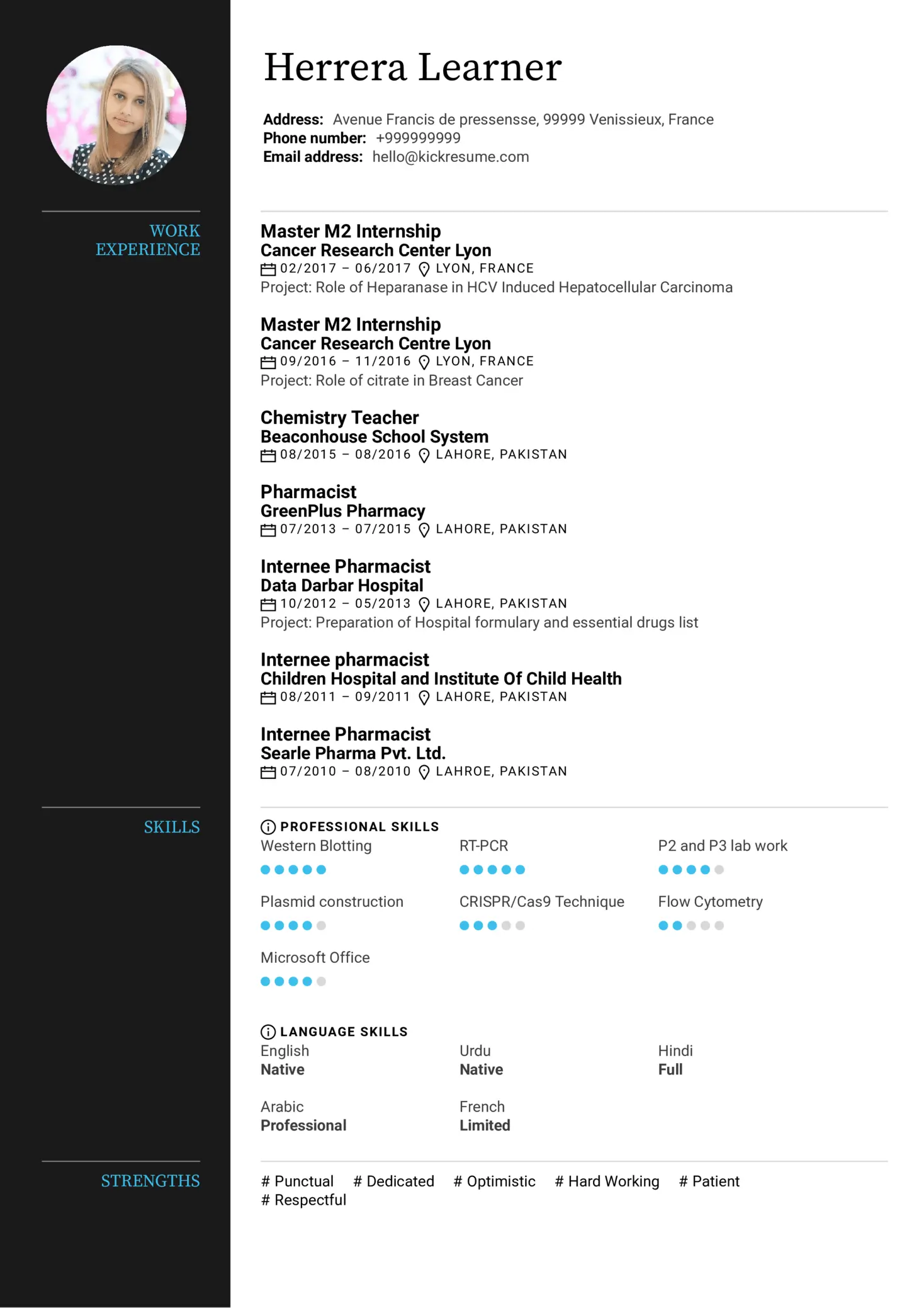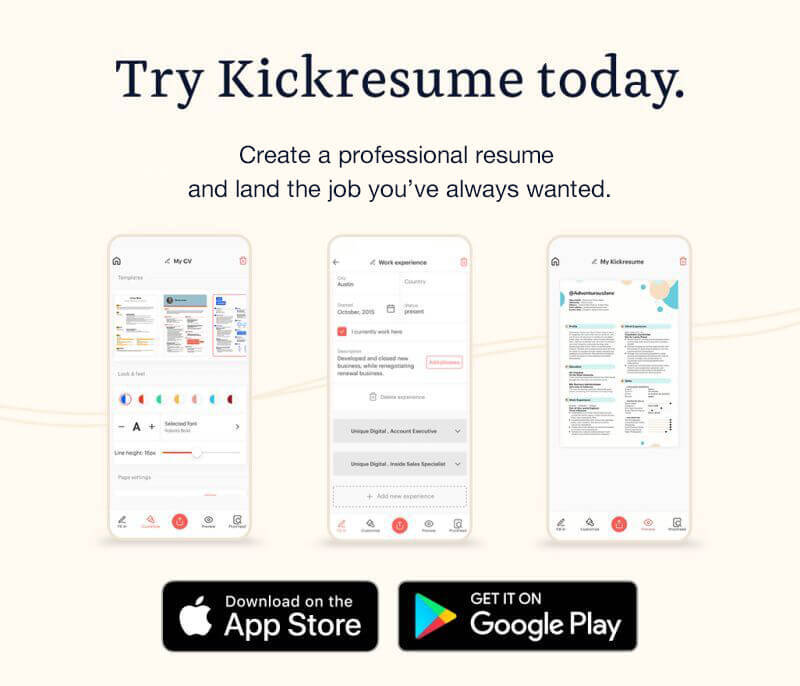 Career Writer

Klara recently graduated from the University of St Andrews in Scotland. After having written resumes for many of her fellow students, she got an opportunity to write full-time for Kickresume. Klara is our go-to person for all things related to student or 'no experience resumes'. At the same time, she has written some of the most popular resume advice articles on this blog. When she's not writing, you'll probably find her chasing dogs or people-watching while sipping on a cup of coffee.