Between job openings going remote and layoffs due to a tougher economy, the job market feels more competitive than ever before. 96% of workers said they're looking for a new job in 2023, according to Monster.
How is a Gen Z graduate candidate with no experience supposed to stand out?
The good news is that employers already think of Gen Zs as digital natives with a unique feel for what's going on online.
This is something older candidates can't develop, and it's something you can lean on to make up for a lack of experience.
And there's even more to it. Let's see how you can double down on your strengths to make a great first impression on potential employers.
How to stand out as a Gen Z graduate candidate
So what can you do to show off what makes you unique and stand out from more experienced candidates?
1. Curate a compelling personal brand
Curating a clear personal "brand" is a good idea for any candidate.
It means everything employers can find from you professionally — from your resume to your LinkedIn to your portfolio pieces — is delivering the same message.
For a designer, that brand might be fun and creative. For a lawyer, it would be established and trustworthy.
To start creating a brand, just think a little about the kinds of questions companies will ask themselves when creating their own brands.
What makes me different?
What do I do, and how do I do it?
Who am I here for?
What do I value the most?
What's my personality?
Your personal brand should vary based on the sector you want to get into. But as a Gen Z graduate candidate, you have two strengths you can play to in any context:
Tech-savvy and aware of how people will respond to messaging online.
You can demonstrate that in the way your resume is presented. Your resume is going to be viewed digitally. So, you can think outside of the box and include more interactive elements with a video introduction or clickable links to your online pages.
Or you can even create a personal website or an online resume, ready to share with potential employers by just sending them a link.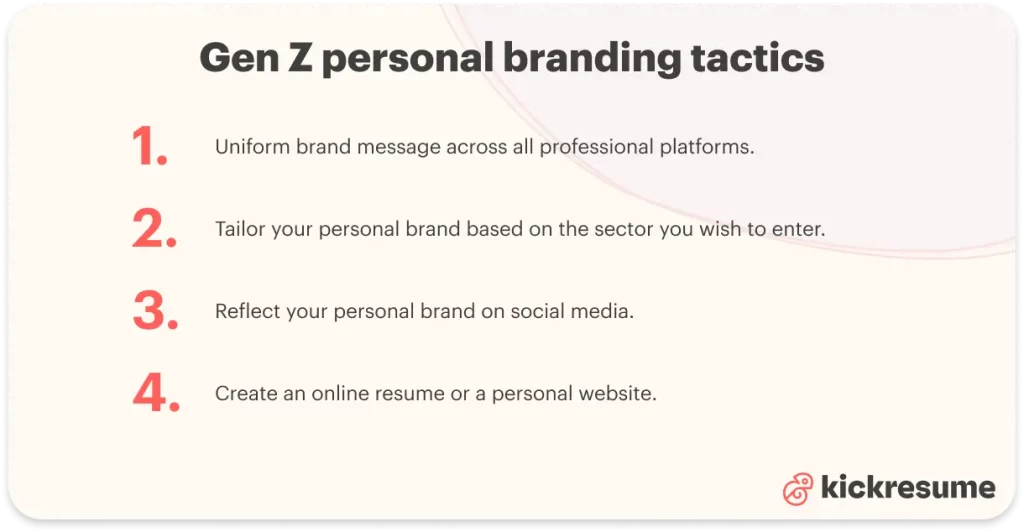 2. Utilize academic credentials, skills and experience
You may not have years of work experience to help you stand out. But, you can leverage your academic achievements and skills to cover for your lack of experience.
Highlight any relevant internships or part-time jobs you've had during your studies in your CV.
Also, reference any honors, awards received, or special projects you worked on during your education. 
In addition, emphasize the skills you've gained, such as problem-solving, research, data analysis, or computer programming. Many employers value transferable skills as well as any exposure you've had to specific tools or technologies. 
For example, if you've completed an internship in an HR department, which means that you learned how to use specific HR tools, this can be a great thing to highlight on your CV.
This kind of extra detail will help you stand out from other applicants and demonstrate your familiarity with features like HR analytics and employee database management. You might not think much of knowing how to generate a payslip online, but being trusted with that in an internship says a lot about how reliable you are.
It can also help you to create industry-related talking points in interviews. For example, if you're familiar with social media advertising platforms, you can discuss these in your interview and give your opinion to show your enthusiasm for the industry.
Finally, as a graduate without much work experience, you want to use a functional resume format that emphasizes what you can do now, not what you've done in the past.
This is the way to go when you don't have a history of results.
In the resume example below, Barbara emphasizes her computer and interpersonal skills. Then backs them up by referring to her education and volunteering activities:
Functional resume format example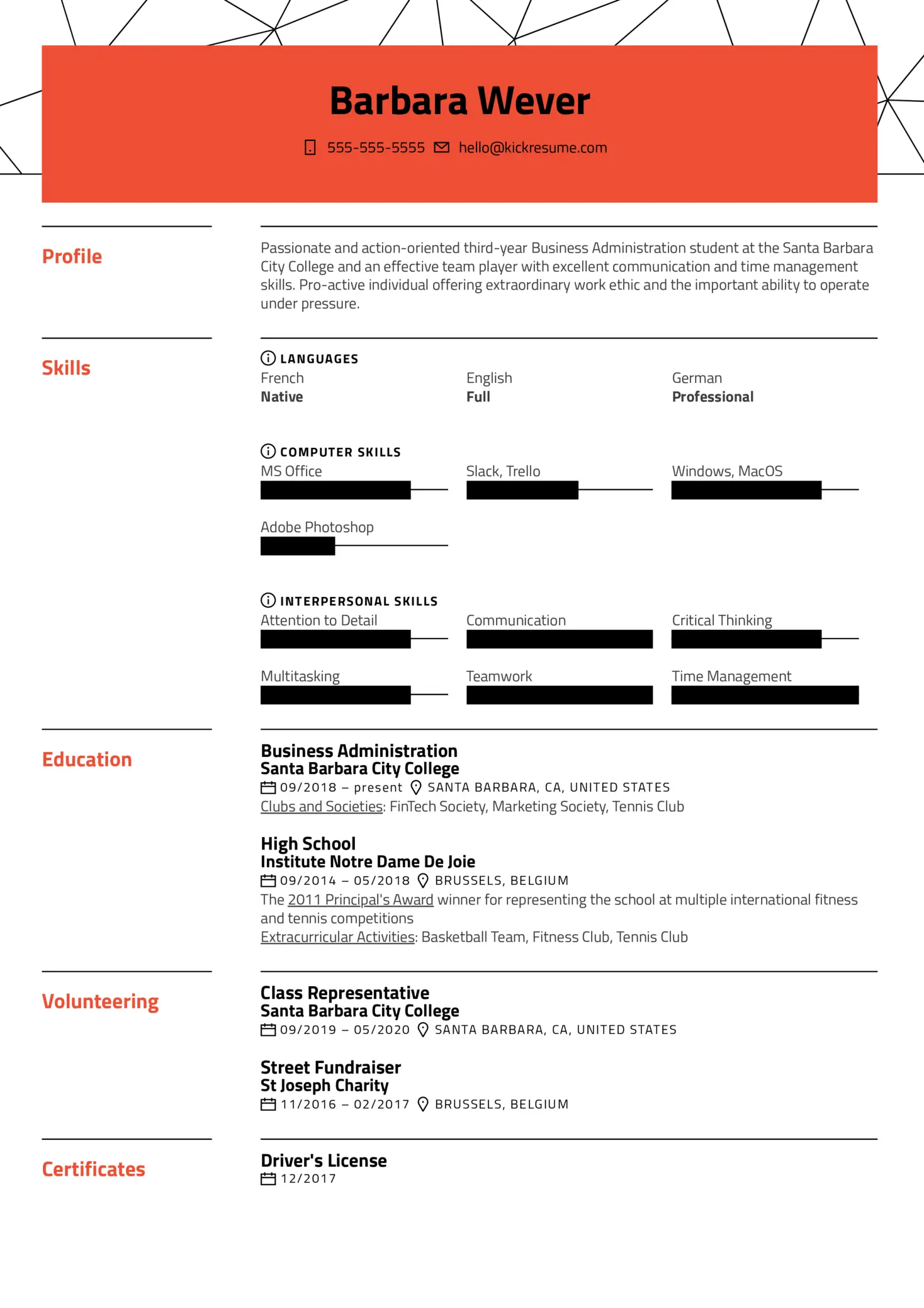 3. Nurture a professional network
Building and maintaining a professional network is critical for career success. Networking can open doors to job opportunities and provide valuable insights into the industry.
Here are some ways to nurture your network and make a good impression as a recent graduate in the job market:
Online networking platforms
Online networks provide a curated space to meet people with similar interests in your industry. Joining such spaces gives you access to fellow young graduates and veterans in the field who you can connect with and build valuable relationships with.
An excellent networking platform you can join is LinkedIn. There, you can actively engage with industry professionals and peers. Leverage it to participate in discussions, follow companies you admire and share relevant content.
Make sure you update your profile with relevant information to make you stand out as a Gen Z graduate candidate. A well-curated profile will also attract like-minded individuals to you.
Alumni and industry professionals
Alumni associations are another way to connect with professionals and forge relationships that help you stand out as a Gen Z Graduate candidate.
Their meetings also give a lot of opportunities to make a good impression on recruiters who may be members of the same Alumni associations.
As such, try to reach out to alums from your university or college who work in your field of interest.
In addition, attend networking events or virtual meetups organized by professional associations to build your professional network.
Career fairs and other networking events
Career fairs and industry conferences also present plenty of opportunities to meet potential employers outside of an interview environment. 
To maximize such events, prepare an elevator pitch to introduce yourself confidently. 
4. Illustrate adaptability and tech skills
An advantage most Gen Zs have over job seekers of other generations is fluency in technology and adaptability to new situations.
As technologies like AI change the way we work, employers are going to look for candidates who can quickly understand what these technologies can and can't do.
Also, with remote work becoming the norm, soft skills like diligent communication and emotional intelligence are going to become more essential than ever.
Having grown up with smartphones and social media, it's Gen Z who are best placed to understand how a bit of punctuation or the right emoji can change the meaning of text online.
That makes Gen Z candidates perfect for entry-level marketing and communications roles.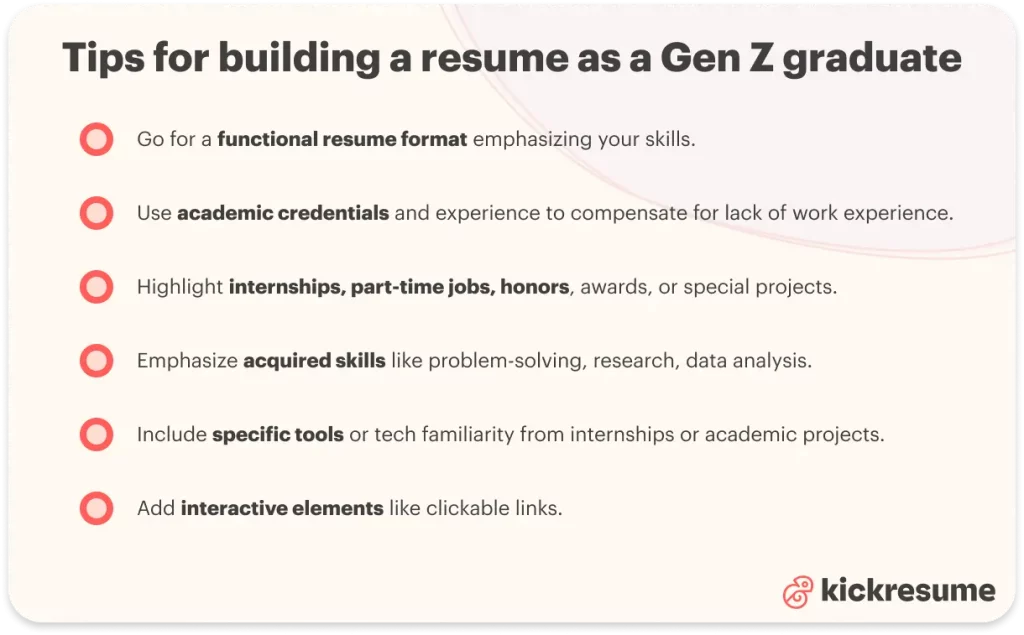 5. Highlight soft skills
Soft skills are essential in today's workplace and can help you stand out from other candidates as a Gen Z graduate. Some critical soft skills include:
Problem-solving and critical thinking
Critical thinking and problem-solving skills are premium desirables recruiters want in candidates. As such, you should demonstrate these abilities as best as you can.
For instance, you can share examples of how you've approached and solved challenges in academic projects or real-life scenarios.
Communication and interpersonal skills
When writing your resume, showcase your ability to work well in teams by highlighting your teamwork skills.
Remember to communicate clearly and concisely when conversing with professionals. Also, demonstrate your ability to build positive relationships with colleagues and clients.
Emotional intelligence
Today's workplace culture requires you to consider your co-workers and others you interact with while on the job. Essentially, it requires you to be intellectual, proficient and emotionally intelligent.
So, think about some situations where you demonstrated empathy, active listening and the ability to handle conflicts positively. It will help you stand out in job applications and during interviews.
6. Demonstrate goal-orientedness and proactivity
Employers appreciate candidates who are goal-oriented and proactive.
If you've thought about how your resume reflects your personal brand, you should have a clear goal or purpose in mind for your career.

Maybe you're in business-to-business tech because you want to help small businesses compete with large enterprises. Maybe you're a designer because you believe that good design can improve our everyday lives.
Or, maybe you even have dreams of starting your own business and want to build your experience first. 
Whatever it is, by discussing your goals and aspirations you can show your enthusiasm for the role and your ambition for the industry you're applying to.
In addition, demonstrate your proactivity by volunteering for relevant causes and taking on leadership roles whenever you get the opportunity. Employers are more likely to hire candidates with initiative and a drive to make a positive impact.
7. Get ready for job interviews and assessment tests
In addition to the traditional job interview process, employers might give you assessments. These might be multiple-choice quizzes or open-ended questions for you to write answers to.
These might include aptitude tests testing your cognitive abilities like numerical skills, language comprehension and problem-solving skills.
Personality tests might try to gauge what kind of person you are and how you'd fit into the rest of the team.
There are also specific skills tests like typing speed or job knowledge tests that will test your knowledge of your chosen field.
Assessments can sound daunting — there's no way to really prepare for them. But they're actually an advantage for graduate candidates: They require no previous experience.
When you're answering a question like "It's Friday afternoon, how would you prioritize tasks X, Y and Z?" you don't need to tell a story about how you were constantly juggling deadlines in a previous role.
For more traditional job interviews, most of the common-sense wisdom still applies.
Obviously, you should research the company and the role and draft some answers to generic interview questions. But as a graduate, you might struggle with questions like "Tell me about a time when…".
So, when preparing for the interview, focus on skills and values:
Why do you want to work at this company and not a competitor?
What is it you, more than any of the more experienced candidates, could bring to the role?
If you got your personal brand right, and this role really is aligned with it, it should be easy to come up with good answers based on your skills and values.
And if you have a story from your education or experience that you can use to back this up, that's great. But it's not a dealbreaker if you don't.
8. Showcase unique projects and side hustles
Lastly, entice recruiters with unique projects you've worked on.
Don't hesitate to show the side hustles and interesting activities you pursued during your academic journey. 
Whether it's a freelance gig, a passion project, or an entrepreneurial venture, these experiences can demonstrate your initiative, creativity and ability to manage multiple responsibilities.
They'll also often involve extremely marketable skills, such as knowing how to write a business plan, manage a project and plan a budget. 
You can easily mention that in your summary section at the top of your resume. You could also showcase these projects in a separate section of your resume if it doesn't quite fit in with your other work experience.
If you want to let employers see this work in more detail, you can link directly to a portfolio site or a social media page dedicated to your project in the resume.
Key takeaways: Even a Gen Z candidate must start somewhere
As a Gen Z graduate candidate, you have many opportunities to stand out in the job market.
Curating a compelling personal brand, leveraging your academic credentials and nurturing a professional network are some of what makes your job application stand out from other candidates.
Combine these strategies with a positive attitude and a genuine passion for your chosen field, and you'll be well on your way to landing your dream job. Good luck!
Content Manager & Resume Expert

A journalist by trade, a writer by fate. Nikoleta went from writing for media outlets to exploring the world of content creation with Kickresume and helping people get closer to the job of their dreams. Her insights and career guides have been published by The Female Lead, College Recruiter, and ISIC, among others. Nikoleta holds a Master's degree in Journalism from the Comenius University in Bratislava. When she's not writing or (enthusiastically) pestering people with questions, you can find her traveling or sipping on a cup of coffee.