Did you use to dream of building rockets and flying to space? Well, now you can turn your childhood dream into a career — that is, if you know how to get a job at SpaceX.
As the fastest-growing company in its industry, SpaceX is a highly sought-after employer for many aspiring engineers, scientists, and space enthusiasts. However, landing a job there is a challenging process that requires a lot of time, skills, and dedication, as only a tiny fraction of applicants are able to land a job.
So, how can you turn your out-of-this-world aspirations into reality and secure a position at SpaceX? Well, if you're an engineer with an Ivy League university degree and U.S. citizenship, you're off to a good start.
To learn more about SpaceX career requirements, keep reading. We'll also guide you through the whole job application process, from what qualifications you must have to how you can prepare for and nail the interview.
The basics: about SpaceX
Just like Tesla, SpaceX was founded by the visionary entrepreneur Elon Musk. This groundbreaking company is pioneering the future of commercial space exploration and revolutionizing how we think about space travel.
From launching reusable rockets and spacecraft to developing cutting-edge technology that can take humans to Mars, SpaceX is leading the charge toward a new era of space exploration, allowing for private trips to the universe.
Over the years, SpaceX has grown into a successful company, with its revenue averaging between $3.25B to $4.6B in 2022.
SpaceX has its headquarters located in Hawthorne, California. Other 9 offices and labs can be found around the U.S, including the following locations:
Washington (2 offices)
Brownsville (Texas)
Canaveral (Florida)
McGregor (Texas)
Currently, SpaceX is working on developing several significant space projects, including Dragon, Starship, Falcon Heavy, and others.
The broad scope of their work as well as their steady growth, means that SpaceX is on the lookout for new employees. At the moment, there are over 100 open vacancies available, and they employ almost 10,000 employees.
Would you like to be among them? Then take a look at the following chapter about the most common job positions at SpaceX to see if you'd be a good fit.
Side note

Interestingly enough, only 14% of SpaceX employees are women.
What are the most common SpaceX job positions?
SpaceX is a large company which means that they're in need of a wide variety of employees, ranging from engineers and accountants to designers and marketers.
Skilled engineers and mechanical technicians are in the highest demand.
These are some of the most common SpaceX positions:
Aerospace engineers. They design, develop, and test spacecraft, launch vehicles, and related systems.
Mechanical, software, electrical, and manufacturing engineers. They develop and optimize various systems, such as structures, propulsion, and thermal management for spacecraft and launch vehicles.
Quality assurance engineers. They ensure that SpaceX products meet quality and safety standards through inspection, testing, and process improvement.
Technicians. They support the assembly, testing, and maintenance of spacecraft and launch vehicles in various disciplines.
Supply chain specialists. They manage the procurement, logistics, and inventory of materials and components.
Project managers. They plan, execute, and monitor the progress of SpaceX projects to ensure they're completed on time, within scope, and on budget.
Human resources. Someone needs to recruit and manage all those engineers.
These are just a few examples of the many job positions available at SpaceX. To view a full list of current job openings, see the SpaceX careers website.
But besides full-time jobs, SpaceX offers internships, too.
SpaceX internships
If you want to work at SpaceX, but don't have the necessary qualifications or experience yet, consider applying to their internship program.
To be eligible for an internship at SpaceX, you should be:
Enrolled in a 4-year college or accredited university program
Studying a relevant degree (e.g., engineering)
An undergraduate student (while Master's and Ph.D. students can apply for internships, most positions are geared toward bachelor's students)
Have a GPA of 3.5 or higher to increase your chances of being selected for an internship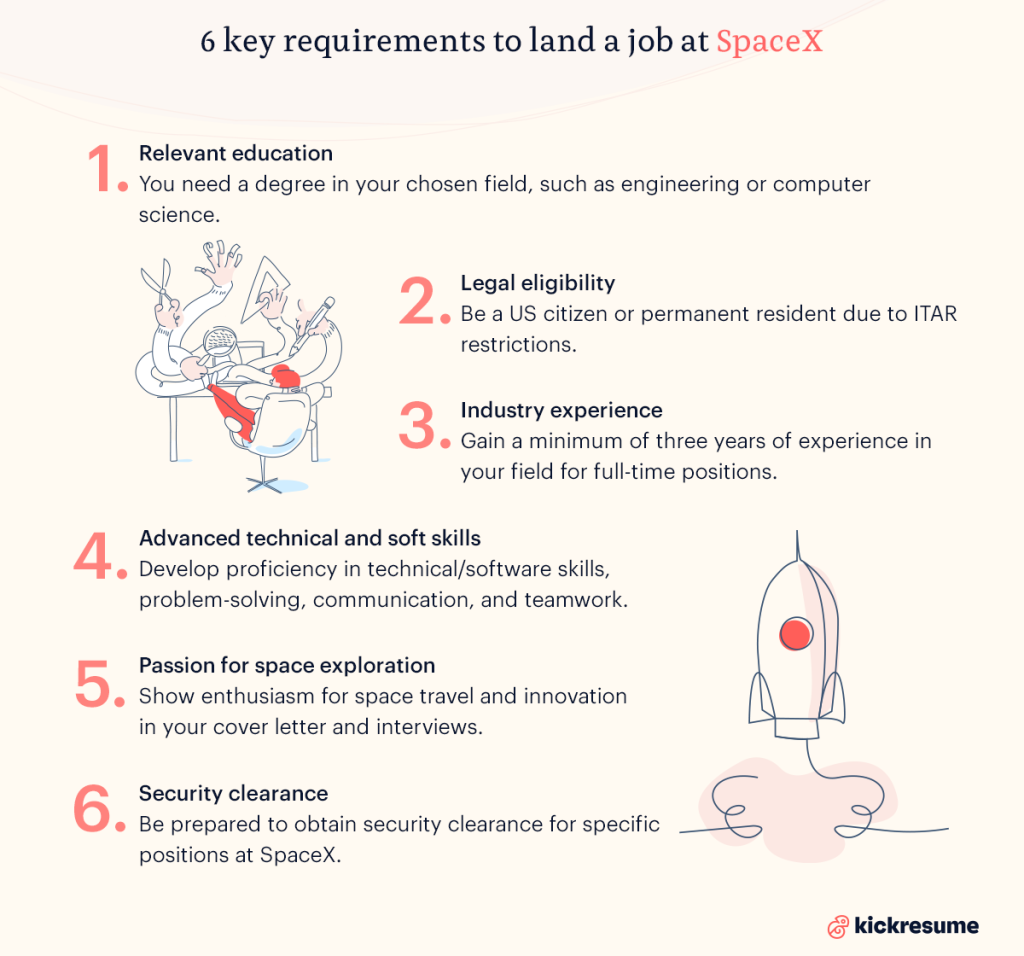 What are SpaceX's hiring requirements?
Naturally, requirements for getting hired at SpaceX can vary depending on the specific job position you're applying for.
However, these are general requirements and qualifications that SpaceX typically looks for in candidates:
Education. You must have a relevant degree in the field you're applying for (e.g., engineering, computer science, business, etc.). Most job openings at SpaceX require a Bachelor's Degree, but for an engineering position, you may even need a Master's Degree or Ph.D.
Legal eligibility. You need to be a US citizen or have permanent residency to be able to work at SpaceX. Since the company deals in rocket science, it's subject to the International Traffic in Arms Regulations (ITAR), which prohibits it from hiring foreign workers.
Experience. Previous experience in a specific field or industry is often necessary, and the required years of experience can vary depending on the position level. Most commonly, for a full-time starting position, you'll need at least three years of experience in the field.
Skillset. Proficiency in technical or software skills, problem-solving abilities, excellent communication, and teamwork skills are all essential qualities for all SpaceX employees.
Passion for space exploration and innovation. SpaceX values candidates who are passionate about space travel. Make this interest of yours shine through your cover letter and also during interviews.
Security clearance. Some positions at SpaceX may require obtaining a security clearance. In this case, SpaceX will have access to the US government's security information to make sure that they can trust you to work on sensitive projects.
Now that you know that you're meeting the most basic hiring SpaceX requirements, it's time to apply.
How to apply for a job at SpaceX
To apply for a job at SpaceX, follow these steps:
Visit the SpaceX careers website

Go to the official SpaceX careers page and browse job listings. You can filter them by names of the project (e.g., Dragon), location (e.g., Austin), and mode of working (full-time or part-time). You can also search for specific job titles or locations using the search bar.

Click on a job title.

If you find a job that interests you, click on its title to view the job description, requirements, and qualifications.

Create an account or log in.

If a position catches your eye, you'll need to create an account on the SpaceX careers website or log in with an existing account. To start this process, click the "Apply" button at the bottom of the job listing.

Fill out the application form

Complete the online application form, providing your personal information, work experience, education, and any other required details. You may also be asked to answer specific questions related to the job or your experience.

Attach your resume, cover letter, and other documents.

Be sure to upload your resume and any other relevant documents, such as a cover letter or transcripts, as part of the application process.

Review and submit your application.

Once you've completed the application form and attached all required documents, review your information for accuracy and completeness. When you're satisfied, click the "Submit" button to send your application to SpaceX.
Now, all you've left to do is wait. You can monitor your application status by logging into your account on the SpaceX careers website to check for updates. Just remember that the hiring process at SpaceX can be competitive, so be patient.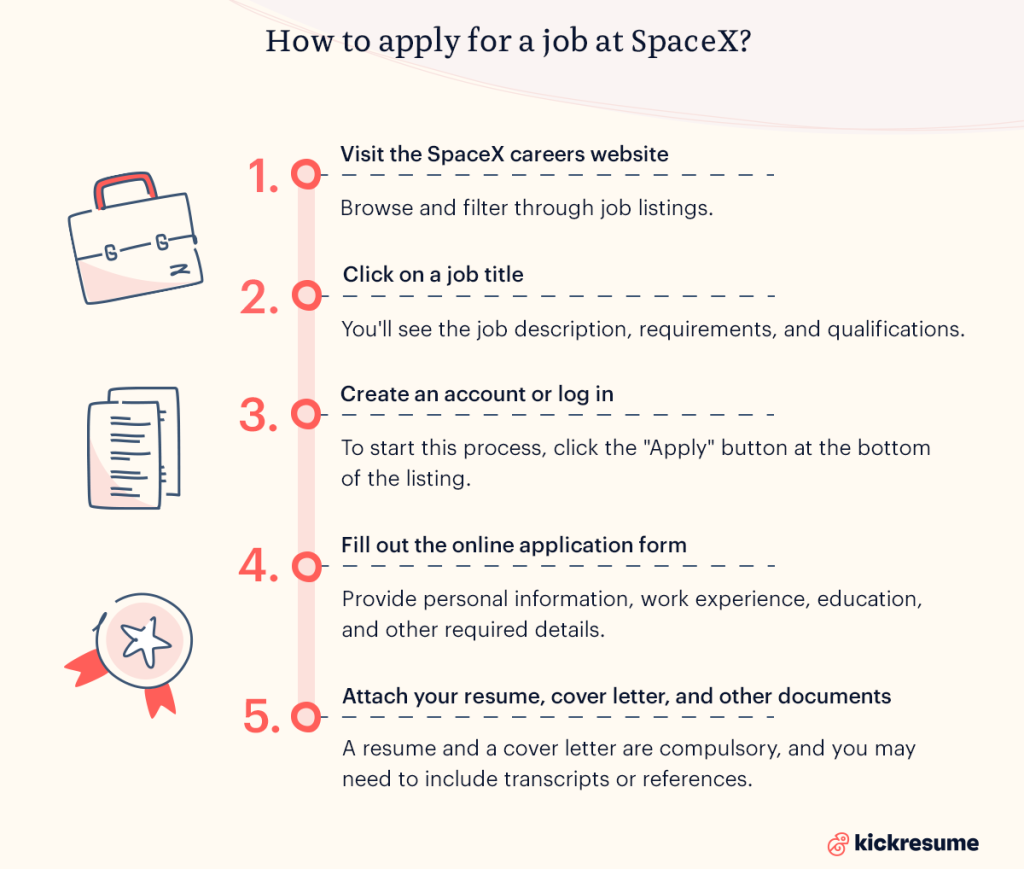 SpaceX resume and cover letter tips
At SpaceX, both a resume and cover letter are expected.
As you'll be fighting over a position with dozens (if not hundreds) of other candidates, both of the documents have to be top-notch.
SpaceX resume tips
Tailor your resume for a specific job opening. Even if you're applying for a couple of super similar positions, your resume shouldn't stay the same. For each specific application, remove things that don't matter, and add those that do. Remember, no two jobs are the same, and the same applies to resumes.
Use quantifiable achievements. Using them will make your resume look very professional. Demonstrating is more powerful than describing.
Use bullet points to structure your text.
For an engineering position, make it very clear what hard skills you possess. Dedicate an entire resume section to your technical skills, and feel free to use graphs to show how advanced you're at each of them.
Write an impressive education section. As we already said, education is essential for SpaceX. An Ivy League degree is preferred, and often even a Ph.D. is required. So don't underestimate your education section, and include the name of your alma mater and possible research projects that you were a part of.
Don't make your resume too long, even if you have years of experience. Three pages should be a maximum, and if you're applying for an internship, even one page is enough.
Make the most out of the attractive resume design. But don't go overboard either. A nice, minimalistic template will make your CV look orderly and smooth.
SpaceX cover letter tips
Don't repeat the same info from your resume. Rather, elaborate on the information provided in the resume.
Address the letter to a specific person. Avoid generic greetings like "To Whom It May Concern." Instead, take the time to find out who will be reviewing your application and address your letter to that person.
Make it max one page long. No recruiter has time to read an essay. Four to five short paragraphs of text are ideal.
Make your passion obvious. This is what a cover letter is for. Express your enthusiasm for the company and the opportunities it offers. Explain why you're excited about the prospect of working at SpaceX and how you believe your skills will contribute to the company's mission.
Mention a connection. If you have a personal connection at SpaceX or know someone who has worked there, mention that person in your cover letter as a way to establish a connection with the company.
Highlight relevant skills and experience. Focus on explaining how your skills and experiences directly align with the job requirements. Use specific examples to demonstrate your qualifications and provide evidence of your achievements.
Proofread, proofread, proofread. There's no place for typos or slang language in your cover letter.
For more tips on how to write a resume or a cover letter, read our complete resume guide and cover letter guide.
How to prepare for a job interview at SpaceX?
If you're called for an interview, you've already made it much further than most people do.
But this is also that part of the hiring process which demands the utmost focus and preparation, as the interview can make it or break it. Being well-prepared for possible scenarios is the key to success.
Before the interview, you should:
Research the company thoroughly. Scroll through Glassdoor and other places to prepare for the interview. Learn about their projects, past achievements, and company culture in depth.
Read through your resume one more time. Highlight things that deserve more recognition or prepare to talk about things that you didn't manage to include in the resume.
Never forget about the basics. Dress to impress (no jeans!).
Also, prepare your answers for the most commonly asked SpaceX interview question:
If a satellite is attached to the top of a rocket, how do you suppress the vibrations during take-off such that the electronics on the satellite won't be damaged?
If our grasshopper rocket is leaning to the left on decent, how much variation in the gyro settings needs to be offset accounting for the speed of the earth?"
Design a system for mounting a spherical pressure vessel to a flat wall, allowing it to expand or contract.
How can you apply statistical process control to a low-volume product such as rockets?
Fixed wall with an aluminum beam in between. The beam is heated. What happens inside the beam at the walls? How would you optimize a beam, which is fixed to the wall at one end, for a vertical load at the very end? What is happening at the wall due to the vertical load? How would you optimize a beam for a torsional load?
Finally, after the interview is over, make sure to follow up. A few hours after you said goodbye, send a short and polite thank-you email to the interviewer, expressing your appreciation for the opportunity and reiterating your interest in the position.
What does the hiring process at SpaceX look like?
The hiring process at SpaceX is often super long, sometimes taking as much as 6 months.
Once your resume makes it through the applicant tracking software you finally get to the interview phase. Well done! But you've still got a long way ahead of you – so buckle up and get prepared for several rounds of interviews.
This is what the usual hiring process at SpaceX looks like:
First, you'll receive an initial phone screen interview with a recruiter. Here, in case of approximately 30 minutes, you'll discuss your resume and skills.
Then you may have one or three more phone interviews with different members of the team. You may be asked to solve quick riddles or tests.
After, you'll be emailed a more extensive test problem that you must solve within a day or two.
Once this round goes well, SpaceX will fly you over for a one-day on-site visit to their HQ in California, where you'll go through an intense "grilling" day-long interview with all members of your future team.
If some members of the SpaceX team couldn't make it to the in-person interview, you should expect a phone call from them.
And then, all you need is to get a "thumbs up" from each interviewer in order to receive an offer. If anyone votes no for a candidate, he or she won't get hired.
What is it like to work at SpaceX? Is it hard?
SpaceX seems to be a decent place to work, especially if you don't mind long workdays. In exchange, you receive a good amount of employee benefits and a decent salary.
SpaceX has an overall rating of 4.0 out of 5 on Glassdoor, based on 2,780+ anonymous employee reviews.
These are some of the things you should expect if you want to work at SpaceX:
You'll need to live near the SpaceX office or be able to relocate. As you may know, Elon isn't exactly a fan of remote work.
You should be able to work under pressure. SpaceX is known for its fast-paced, high-pressure work environment, so candidates should be able to handle challenging situations and tight deadlines.
Be flexible and adaptable. At SpaceX, you'll be required to work long hours and prioritize work over personal life.
Due to the hectic tempo and demanding work hours, an average SpaceX employee works for the company only for 3.6 years.
What is SpaceX's work culture like?
Based on the Indeed reviews, SpaceXs work culture is very male-oriented and "bro-like." Apparently, you also get to attend a high number of office parties. So if this is something that you prefer, you may like it there.
However, it's also hard to ignore the infamous rumors about SpaceX being a toxic workplace thanks to the intense workload and problematic leadership behavior.
In exchange, you get a well-paying job in a highly competitive field. So it's really up to you to evaluate whether the hectic work tempo and mental pressure are worth it for you.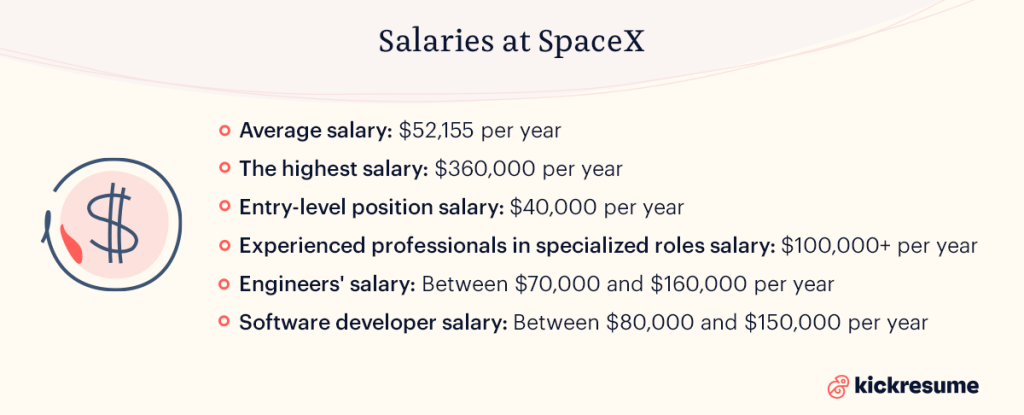 How much can I earn at SpaceX?
Salaries at SpaceX can vary greatly depending on your role, experience, and qualifications.
The average salary at SpaceX is $52,155 per year, while the highest salary is $360,000 (bonuses included) per year for software engineers of the highest level.
Other SpaceX salaries range from:
$40,000 per year for entry-level positions;
$100,000+ per year for more experienced professionals in specialized roles;
$70,000 and $160,000 per year for engineers;
$80,000 and $150,000 per year for software developers;
SpaceX benefits
Salary isn't everything that SpaceX offers you in exchange for your services. According to Glassdoor data, some of the most common SpaceX employee benefits include:
Generous vacation days. If you stay for more than 7 years, you'll get 20 days off per year
Healthcare, dental, and life insurance
Healthcare on site
Cafeteria and lunch discount
Discount on SpaceX gear and products
Stock options
Final tips for working at SpaceX
So now that you know what the whole process of getting a job at SpaceX looks like, there are some final details that may help you
Getting a referral from someone who already works for SpaceX will significantly improve your chances of getting noticed and being called for an interview.
Elon Musk's approach is often, well, unorthodox. There are people who landed a job at SpaceX by sending him a direct email. Would you try this as well?
Once you land your job at SpaceX, don't forget to dress professionally for the office. SpaceX has quite a strict dress code policy. As an employee at SpaceX, you must dress professionally. Leggings, jeans, t-shirts, or shorts aren't allowed. Instead, opt for office-friendly shirts, trousers, and dress shoes.
And if you feel like SpaceX may not be the right fit for you after all, why not try out your luck at Apple, Tesla, or Google?
This article was recently updated. The original article was written by Martin Poduska in 2017.
Junior Writer

Kaja Jurcisinova is a junior copywriter at Kickresume. Kaja completed her undergraduate degree in Art History at the University of St Andrews in 2018 and graduated with a Master's in Arts and Culture from the University of Groningen in 2021. She was an intern at multiple cultural institutions across Europe, including the Dutch Museum Association in Amsterdam, the Matter of Art Biennale in Prague, and the European Cultural Centre in Venice. At the moment, she resides in Visby on the Swedish island of Gotland.