Artificial intelligence entered the world of recruitment only relatively recently. And yet, in such a short time, it managed to take it by storm — mainly on the side of recruiters. The question is, how can AI help job seekers, too?
Good news! AI-powered resume and cover letter writers, AI resume checkers, or AI job-matching tools are now a reality. These tools easy to use and surprisingly capable.
We're going to show you 5 AI-powered tools that you can leverage to get hired faster.
The role of AI in recruitment
A recent study revealed that the majority of recruiters (65%) already use AI as part of their workflow.
What's more, a whopping 85% of HR professionals believe AI will replace parts of the recruitment process in the near future.
Despite what you may think of using AI in recruitment, it looks like it's not going away.
So, how exactly is artificial intelligence used in recruitment? And what are the advantages of this technology in the world of HR?
4 main ways in which AI is used by HR while recruiting
Job-matching. AI can help both the candidates in finding the most relevant jobs and the recruiters in sourcing the best candidates for vacant positions. Job seekers can leverage machine learning algorithms to only find job descriptions that are optimized for their requirements and experience. Recruiters, on the other hand, get to find and connect with relevant candidates without having to sift through hundreds of applications.
Screening. Many bigger companies use ATS systems to filter candidates. These AI-powered screening tools scan each application (including the resume) and extract information relevant to the hiring manager's needs. This includes the candidate's skills and qualifications, but also more nuanced things like whether the candidate changed jobs frequently. The result is a shortlist of the best candidates eligible to enter the next stage of the hiring process — the job interview.
Engagement. Some employers also use AI chatbots to organize interviews, schedule skill assessments, or plan meetings. It also helps companies stay in touch with the shortlisted candidates and gives frequent updates about the process.
Onboarding. In the final stage of the hiring process, AI is frequently used to guide new hires through the onboarding process. It introduces company policies, procedures, resources, and sorts out any trainings and documents. This technology gives onboarding teams more time to focus on the people-centric and complex aspects of bringing in a new employee.
But there are also other novel ways of using AI by job seekers in the job search process, which directly benefit them.
Without further ado, let's have a look at 5 ways job seekers can use AI in their job search:

1. AI resume writers (to help with writer's block)
Most people hate writing resumes. Fortunately, you don't have to do all this work yourself anymore. AI-powered resume writers can do the majority of it for you in a fraction of the time.
They generate relevant content to fill your CV with, thus speed up the resume writing process.
If you're curious about the technology behind it, most of these AI writers are based on OpenAI's GPT-3 neural network which is a powerful language model able to produce texts that are indistinguishable from texts written by human writers.
How exactly does OpenAI's GPT-3 model work?
You input some text as a prompt (in this case your job title) and the model will transform it into what it predicts to be the most useful result (e.g. your work experience descriptions).
Hence, the AI resume writer does exactly what you'd think it would — automatically writes your resume.
What are some examples of AI resume writers?
Best AI resume writers
Kickresume's AI Resume Writer is based on GPT-3 model, too.
The model will take your job title as a cue and generate role-specific bullet points for your Work Experience section. You can add more, edit them, or customize them.
How to use Kickresume's AI Resume Writer?
All that's left then is to edit the text to make it more you.
Naturally, an AI has no way of knowing about you or your career accomplishments. But these consequent edits are usually easier to make when you already have the first draft at hand.
Other AI resume writers include Rezi, which is based on the principle of analyzing keywords in a job description, and Skillroads, which generates a resume after you complete a questionnaire.

2. AI cover letter writers (to help write the first draft)
It doesn't end with AI resume writers. AI has also branched out into the realm of cover letters.
Loved by few and dreaded by many, cover letters have now also become an integral part of the job-hunting process. Many times, you simply need one.
If you're a part of the majority and dread having to spend time writing one, you can let an AI cover letter writer make one for you.
Similar to the AI resume writer, Kickresume's AI cover letter writer is powered by OpenAI's GPT-3 natural language processing model.
This model can generate role-specific cover letters that look and feel a lot like cover letters written by real people.
If you want to try it out, here's how to write your cover letter using AI:
Nevertheless, you should use any AI-powered cover letter writers with caution.
Why?
Well, artificial intelligence doesn't know you. It only knows the data you feed it. Hence it cannot tell your full story.
In spite of that, it can still produce a decent cover letter that you can use as your first draft and edit it to make it more "you".
Example of a cover letter generated by AI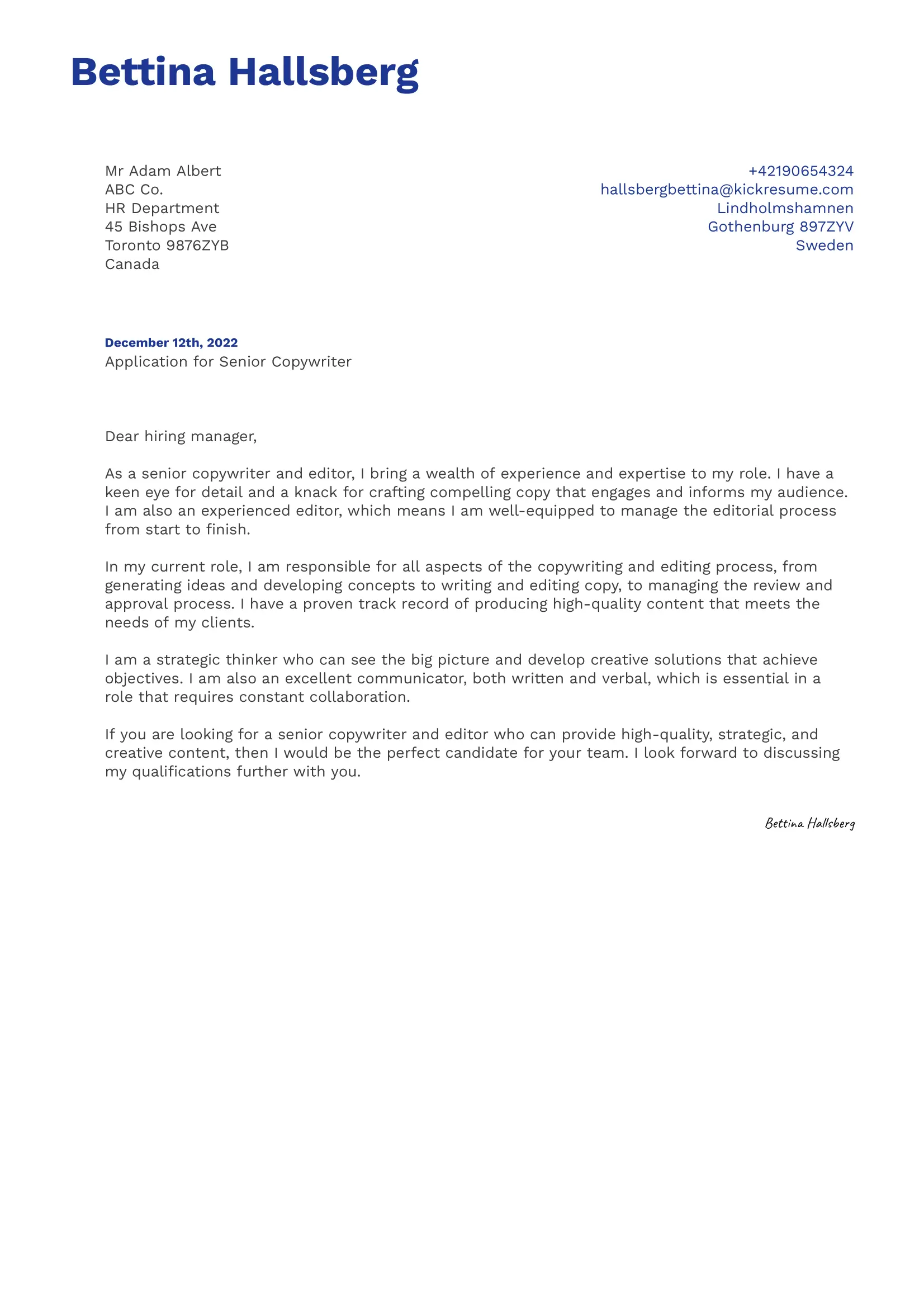 Other AI-powered cover letter generators include Rezi, Rytr, or INK.
3. AI resume checkers & reviewers (to help you improve your CV)
In short, an AI resume checker is an online tool using artificial intelligence that can help you answer questions like: "Is my resume good?" and "How can I make my resume better?".
A machine learning algorithm can do this job way better than your friend ever could since it's trained to look for specific things and draws its data from huge databases of resumes.
There are different types of AI resume review tools, which check CVs for different criteria.
For example, Kickresume's AI resume checker grades your resume based on three different types of criteria based on what recruiters usually look for in a resume.
These are:
Does the resume contain everything it should?
Are you using the space effectively?
Are there any overused expressions in your CV's content? Action verbs?
Then it tells you your resume score, shows a list of issues, and gives personalized tips on how to improve it.
On the other hand, Jobscans AI resume checker analyzes how well your resume is tailored to a specific job ad. It then calculates how it matches percentage-wise.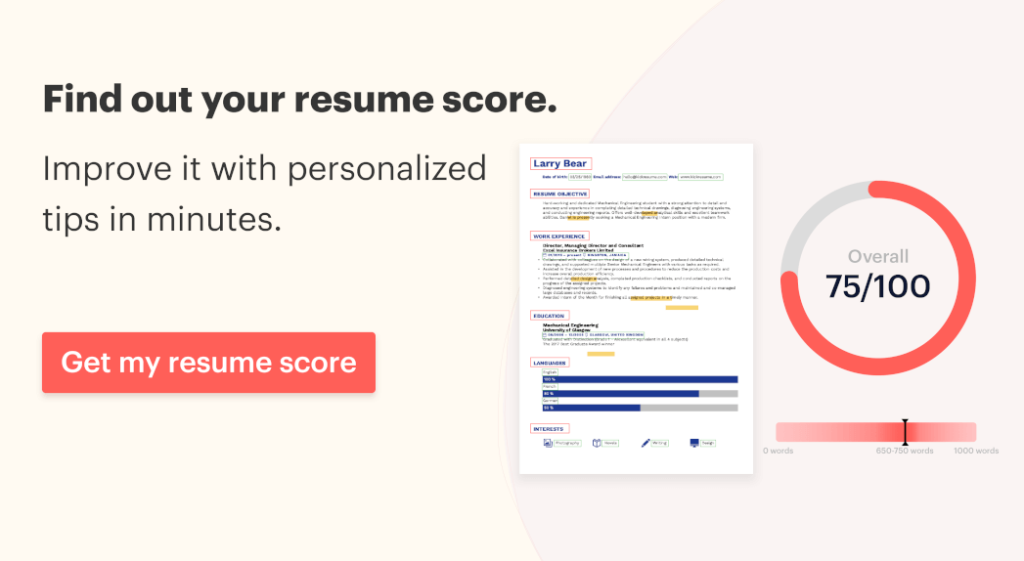 4. AI-powered job-matching tools (to save you the endless scrolling)
If you've ever looked for a job, you know it can easily be almost a full-time job.
Well, with the help of machine learning you can now overcome the hurdle eating up the most time — endless scrolling through irrelevant job postings.
AI job-matching tools can help you find relevant open positions that exactly match your skills, experience, salary expectations, or preferred company culture.
Apart from saving your precious time, there are other benefits you might've not even considered:
It removes bias. Unfortunately, when human recruiters are determining which candidates are considered for a position, often a (un)conscious bias creeps into the decision process. AI helps companies avoid this and creates equal opportunities for all job seekers.
It ensures a perfect match. When you find an open position using AI-powered job-matching tools, you already know it matches your skill set, experience, and your idea of suitable company culture. Thus, you won't find out mid-interview that you're highly over-qualified for the job, etc.

Best AI job-matching platforms for job seekers
While many talent-matching platforms are meant for employers to use, there are some designed to specifically help job seekers.
Here we pick the top 3 AI job-matching platforms:
Pyjama Jobs. This remote job board uses an algorithm that matches you with relevant jobs only. All you have to do is state your expectations from a job (e.g. type of job, salary range) and upload a resume. The AI algorithm then starts comparing your profile and requirements against thousands of job offers in the database. Once a match is found, both you and recruiters are instantly able to see it and chat.
Talentprise. A job marketplace where you'll do an assessment and it ranks you based on five pillars, including education, expertise, experience, capabilities, and skills. This qualitative data combines with AI to ensure a good match.
Fortfay. This team success platform gives you a quiz to take in order to identify which workplace culture you'd most likely flourish in. After completing the quiz, AI algorithm compiles a list of suitable companies with available jobs. 
5. AI job interviews (to help even the shiest ace an interview)
Job interviews are the most feared part of the job search process. Still, there's no getting around without having to be a part of one.
And, as it happens, AI has slowly but surely ventured into the job interview realm, too.
AI interviews, (or AI assessments), are automated video interviews during which you answer a number of pre-set questions.
As you answer, the AI looks at factors like facial expression, language proficiency, and content to assess you (mainly) in terms of behavior and team fit.
While this tool is also one of those seemingly only useful for recruiters, there are ways it can benefit job seekers, too.
Here's what we think are the biggest advantages of AI job interviews:
You can prepare your answer. Unlike in a typical job interview, in one operated by AI you usually get 30 seconds to prepare your answers.
You can do the interview anytime & anywhere. Choosing the time and place of your interview is very convenient.
It removes (un)conscious bias. Whether we like it or not, we're constantly being judged. And even though recruiters shouldn't have a biased opinion, they do — often without even knowing. Things like clothing, accent, or tattoos won't matter in an AI interview.
It's ideal for shy people. Since the interview is operated by AI, there's no human besides you involved. Also, as mentioned before, you can prepare your answers and have the interview anywhere and anytime, making it a lot less stressful.
Perhaps the most well-known AI-powered hiring platform is HireVue, which is used by 700+ businesses, including Unilever, Vodafone, PwC, and Oracle.

Tips for AI-powered interview
If a company uses AI interviews, don't panic. You can learn how to leverage this technology to your advantage.
After all, similar to a human recruiter, the AI is looking to see or hear certain things. When you know what these are, you can actually "manipulate" the AI to your advantage (to an extent, of course).
Here's how to succeed in your AI interview:
Maintain (healthy) eye contact.

Even though you're essentially speaking to yourself, you should maintain eye contact as you would during a normal interview. Don't overdo it, of course. Or else you'll seem like the robot.

Use keywords from the job description.

This is one of those things the AI is trained to look for. Make sure you have a list on hand and during your preparation time, try to find a way of naturally including it in your answer. 

Treat it like a normal interview.

This means you should still dress the part, research the company, prepare answers to common job interview questions, and be sincere. 

Be wary of other non-verbal cues.

Don't shy away from using gestures, smiling, or nodding. Keep a straight posture to exude confidence. And, make sure your voice isn't trembling.

Do a practice run.

Yes, it's very cringe to watch yourself on video. But it's necessary to uncover any quirks and mannerism you otherwise would have not. 
Key takeaways: How can AI help job seekers?
Whether we like it or not, AI is now present in all stages of the recruitment process.
And while AI-powered tools usually mainly benefit the recruiters, there are ways AI can help the job seekers.
Here are our top 5 AI tools that benefit the job seekers:
AI resume writers which help with the writer's block.
AI cover letter writers which can write your first draft.
AI resume checkers which can help improve your resume.
AI-powered job-matching to save you the endless scrolling.
AI job interviews which help even the shiest people ace interviews.
Learning how to leverage these technologies to your advantage will ultimately save you time and make your life easier. Companies use them, so why shouldn't you?
Career Writer

Klara recently graduated from the University of St Andrews in Scotland. After having written resumes for many of her fellow students, she got an opportunity to write full-time for Kickresume. Klara is our go-to person for all things related to student or 'no experience resumes'. At the same time, she has written some of the most popular resume advice articles on this blog. When she's not writing, you'll probably find her chasing dogs or people-watching while sipping on a cup of coffee.