It's no wonder why even simple questions like "How far back should a resume go?" or "Does a resume have to include all the jobs?" can be challenging to answer nowadays.
Our world is vastly different than it was just 20 years ago, with advances in technology having rendered many jobs obsolete and people switching companies at nearly twice the rate.
We'll go over these questions in detail and give you tips on how to compliment your work experience, regardless of whether you're a student, fresh graduate, or an experienced professional.
How far back should your resume go in 2022?
The common advice is to keep the work experience in a resume between 10 to 15 years. Doing so will give your hiring manager a general outline of your start, your growth, and where you find yourself now. However, this rule is not set in stone and the answer can vary depending on a few factors, such as:
How long you've been in the workforce;

Does your experience align with your job target;

And your qualifications.
Generally, if a job you've had has provided you with valuable experience and skills that align with your job target, then you want to add it to your resume.
Student or recent graduate work experience (0 – 2 years of experience)
As a student or recent graduate you're probably not concerned about how far back your resume should go.
In fact, you might be concerned about the opposite. Do you even have enough years of experience on your resume?
All we have to say to this is — don't worry. It's expected for you to have minimal experience when entering the workforce. Besides, you'll realize in a bit that you're more qualified than you think.
You don't need to have years of experience on your resume to show your employer you're the right candidate for the job.
You can do so by highlighting your:
High-school and college achievements

Part time and summer jobs

Transferable skills gained while you volunteered, interned, led a fundraising, played sports, etc.
Just make sure that what you jot down in your resume is relevant to the job at hand and that it reflects the truth of your character. As most employers are quick to notice when a resume is full of fluff.
Also, just because you were not paid as an intern and/or volunteer doesn't mean what you did wasn't work. You can still write them down as work experience, for example: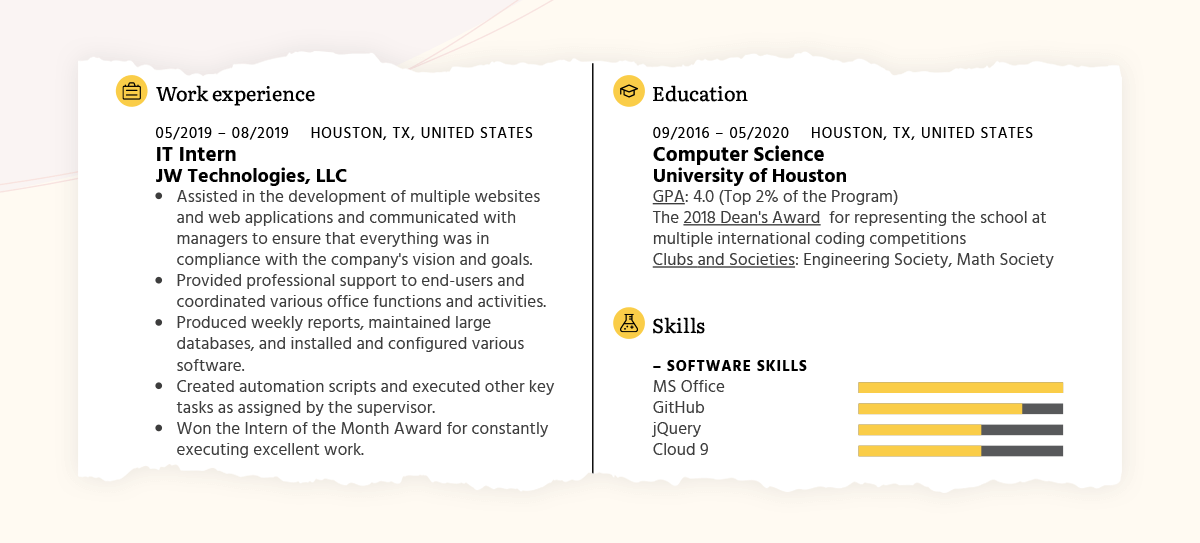 Entry level work experience (2 – 5 years of experience)
If you're someone with entry level work experience, it's time to minimise the importance of your college experience.
That means, removing your college courses, awards, school projects and GPA from your resume.
Instead, your main focus should be on your post-graduation experience. Whether that be your paid work experience, internships or volunteering.
Because you're still fresh into the workforce you might find that your resume's job history is lacking.
In such case, apart from including a work experience section, you can complement it with other resume sections, such as:
Skills: Adding this section will show your potential employer you have the skills and abilities that are required for the position.
Strengths: Stand out from the rest by picking a few quality strengths you possess, such as being good at communication, adaptable, and reliable. Make sure not to go overboard with them and include only those you feel strongly about. Quality beats quantity.
Projects: Including personal projects that align with your job prospect is a great way to show a hiring manager your dedication and internal motivation to succeed in your career.
Mid-level and experienced professionals (more than 5 years of experience)
If you've been in the workforce for 5 to 10 years, you're still not up to the point where you should be worried about how far back you should go on a resume.
However, it's still advised not to write every single job you've had. Instead, list only the jobs that are related to the opportunity you want.
For those who have worked for more than 10 years, it's now time to start implementing the 10 to 15 year rule.
By implementing the 10 to 15 year rule you're making sure your resume is:
Relevant

: In a fast changing world, jobs that took place long ago may be irrelevant to today's job market.

Clear

: You want the hiring manager to have a clear outlook of where you started, how you progressed and how you got to where you are now.

Concise

: Limiting your job listings makes it easier to stick to an appropriate resume length (1-2 pages).

Tailored

: Adding only the jobs that align with an employer's job description is a great way to get noticed. Especially as on average hiring managers sift through 100's of resumes per job.
Also, by not going further than 15 years in your work history, you lessen the probability of age discrimination.
If however, you find yourself with older experience that is still relevant to the job at hand. You could always showcase the skills gained at that job in your professional summary.

How many jobs should I put on my resume?
This question depends on the type of career you have. If for example, you have a government job or work in academia, then you might have to provide an extensive and oftentimes complete work history.
However, such cases are not the norm and the general advice is to add between 3 to 7 job listings.
Adding more then that will only serve to distract the recruiter.
Also, as a rule of thumb, you only need to go into detail in your last two to three jobs. Then, decrease the level of detail the further back you go, until eventually your older job listing should be only the dates of employment, your role, and the company's name.
Christy's word of advice

How long is a piece of string? How far back your resume should go depends on your industry, career level, and the experiences you'd like to highlight. A junior professional can usually leave it all in, whereas for a mid- or senior-level person, 6-8 years of increasingly shorter job descriptions is generally fine, followed by just the companies/titles/dates for earlier jobs (or removing them entirely if not relevant/quite junior). Anything relevant beyond that could even be simplified with a one-line statement (e.g. Previous experience: Junior Program Manager, Assistant Program Coordinator)

Christy Morgan, Resident HR Expert
When to remove old jobs from a resume ?
Ideally, you want to tailor your resume so that the jobs you list on your work history are no older than 15 years and are relevant to the job you're applying for.
That means that if you have a mid-level to experienced role, there is rarely a need to add that summer job you had in high school.
If you're still having a hard time deciding which jobs to remove or add to your resume, remember that the same advice you've applied when learning how to write a resume applies here. You want to keep your job listing relevant, clear, and concise.
All in all, there will rarely be a need for you to jot down your entire job history on a resume. It's a marketing document, not a legal one.
Resident Writer

A documentary photographer and writer. Noel has worked for International publications like Deutsche Welle in Germany to News Deeply in New York. He also co-founded the global multimedia project Women Who Stay and collaborated as a journalist fellow with the University of Southern California. He went from traveling around the world to sitting on a couch thanks to the pandemic, but he got a nice job working for Kickresume thanks to that, so he won't complain.