How do you add your resume to your LinkedIn profile? There are several ways, depending the reasons you have for doing it. And thinking about those reasons is where you should begin.
Why exactly do you want to upload your resume to LinkedIn?
Do you want to upload it to your profile to share it with your network?
Do you want to use it to apply for jobs via LinkedIn?
In both cases, it's relatively easy to do and I'm going to show you how (with pictures).
But then again, I'm also going to explain that adding your resume to LinkedIn is usually not the best idea.
1. How to add your resume to your LinkedIn profile?
If you want to share your resume with your network, you can upload the document directly to your profile.
First, go to your profile.

Click the blue "Add profile section" button.

Expand the "Featured" tab.
Select "Media" and choose the resume file from your computer (e.g. "resume.pdf").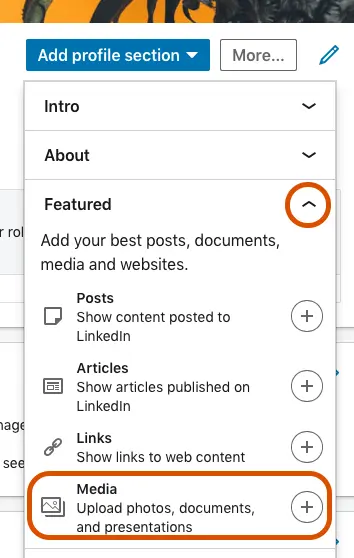 Et voila! If you do this, anyone can will be able to see your resume under the Featured section of your LinkedIn profile. Mine looks like this: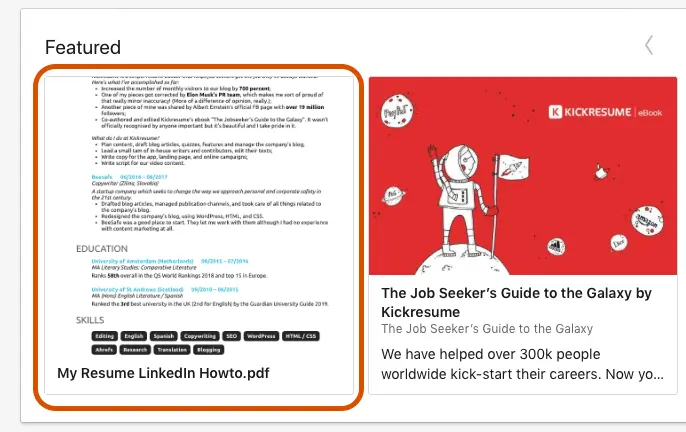 2. How to upload your resume to LinkedIn for future job applications?
You can do it either while already applying for a job, or upload it beforehand.
Any resume that you upload in this way will remain in your profile and you can use it in any of your future job applications.
Click at "Me" in the top right corner and go to "Settings & Privacy".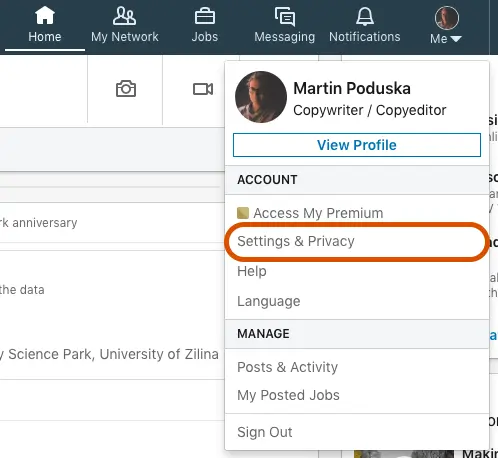 While in the "Privacy" tab, go to "Job seeking preferences" on the left and click "Change" next to "Job application settings".

Scroll down to "Manage your resumes" and click "Upload" to add your resume. You can upload it either as a PDF or MS Word document.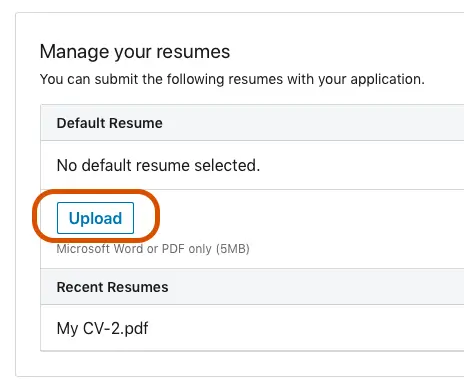 Done! LinkedIn now remembers the resume and you can find it in "Recent Resumes" the next time you apply for a job through LinkedIn.
3. Why your resume doesn't belong on LinkedIn
Of course, uploading your resume to LinkedIn during the job application process is fine. After all, most employers still want to see your resume and don't satisfy themselves with a LinkedIn profile.
But if you've been meaning to include your resume in your LinkedIn profile for the whole world to see, you may want to reconsider. Here's why.
Your contact details become public. First, you will receive more spam email. That's almost a given. Second, if there are people you don't want to have your email address, you just gave it to them. That opens you up to all kinds of potential abuse.

You announce your job search to the world. Does your current employer know that you want to change jobs? In most cases, you want to keep your job search a secret until you have a new job offer.

It's redundant. If your LinkedIn profile is properly filled out, it already includes most information from your resume — and more.

You lose control over it. Not only can your resume be downloaded and distributed by literally anyone now, you're also giving up the advantage of tailoring it to a specific role and employer.
It may appear like you don't understand Linkedin. LinkedIn serves different purposes than your average job board. By putting your resume up on LinkedIn, you may communicate that you don't know how the platform works.
In the end, you should focus on creating a strong LinkedIn profile that will show you in the best possible light. Who knows, if it's good enough you may not need that resume at all. Check out our Ultimate Guide to Getting Noticed on LinkedIn.
Editor in Chief

Martin Poduska is a resume expert and career advice writer at Kickresume. He leads Kickresume's team of writers and is the main person responsible for upholding the standards of expertise and quality on the blog.In addition to having written nearly 100 in-depth, painstakingly researched resume advice articles, as chief editor he has also edited and revised every single article on this blog. Tens of thousands of job seekers read Martin's resume advice every month.Martin holds a degree in English from the University of St Andrews and a degree in Comparative Literature from the University of Amsterdam.