The highly respected and revered profession of a judge is a top career goal of many aspiring legal professionals.
However, becoming a judge is a highly competitive process that takes years of concentrated effort and experience.
This article will go over the many steps you can take to start your legal career and work your way up the judicial ladder.
Who is a judge?
In the most basic terms, a judge oversees court cases, interprets the law, and depending on the type of case either gives a verdict or does the sentencing based on the jury's decision.
If you've seen basically any piece of media ever, you'll have at least some idea of what a judge does. From calling the judge "Your Honor", wearing special robes, to wielding a gavel with more power than Thor's hammer, the position enjoys a certain level of theatricality.
The common law system in the US means that the judge is not only bound by laws but by previous judges' decisions — precedents. Becoming a judge will allow you to actively shape the law through applying precedents, or by overruling them instead.
We're not going to try and explain the whole legal process and the entire US courts system in all its multilateral beauty.
But knowing the court hierarchy is useful in order to set your career goals. As you can imagine the process of becoming the next RBG is a bit different than when you start off as a magistrate judge.
1. District Court and District Courts Judges
The District Court is the court of the first instance in the US. There are 94 districts in total and include not only the district judge but also magistrate judges who help with case preparations.
While the judge oversees the trial and at the end carries out the sentencing, it's the jury that decides whether the defendant is guilty or not. The district system also includes special courts such as the US Tax Court on the state level and the US Court of International Trade and US Claims Court that hear cases on the federal level.
2. Court of Appeals and Appellate Judges
While the District Courts Judges hear cases, adjudicate and their decisions are binding, defendants and plaintiffs can appeal the decision. The Appellate Courts' role is to decide whether the law has been in fact applied correctly.
There are 12 Circuits plus the Federal Circuit which is adjudicated by a separate court. The Appellate Judge has the power to overturn the case and change the ruling. In which case the decision becomes binding — in most cases.
3. Supreme Court and SCOTUS Justices
The absolute highest judicial power in the US lies with the US Supreme Court (SCOTUS). The Court only hears a limited number of cases — about 100 to 150 cases a year.
There are 9 judges — or Justices as they are officially called — nominated by the President and appointed by the US Senate. Their tenure lasts their whole life with the average tenure being around 16 years.
The youngest Justice appointed was Justice John Jay in 1789 at 44 years old. Let's see how you could beat that, shall we?

How to become a judge: A step-by-step guide
1. Get an undergraduate degree
The good news: there are usually no strict program requirements for your undergraduate studies. But there are of course some degrees that are more preferable and will give you a better chance later.
Such degrees include criminal justice, history, political science, international relations, or economics. In your coursework and extracurriculars, you should focus on developing your public speaking, decision-making, writing skills, time management.
All of these will be important not only in practicing as a judge but in getting into law school after your undergrad activities, such as debate.
However, think beyond being able to manage your work. Empathy, charisma, impartiality, strong sense of ethics — these are the qualities that will make you stand out as a judge.
You should be able to know that not everything is black and white, so to speak. Consider taking a philosophy class, or volunteering in order to get better at personal development.
While not every judge is open to judicial activism, it still helps to be able to consider multiple sides of a story.
2. Take the LSATs to get into law school
You've graduated from college with flying colors and a ton of extracurriculars that helped you develop as a person. Well done, now comes the hard bit — Juris Doctor.
The Law School Admission Test is a comprehensive exam that will test your reading comprehension, analytical reasoning, and logical reasoning through a multiple-choice test where each section lasts 35 minutes. There is also an essay writing section.
Have a look at the official LSAT website for the upcoming dates, registration process, sample tests, and some more in-depth info.
The LSAT test your preparedness for law school. However, that's not all there is to it. Law schools are notoriously difficult to get into. Similarly, securing funding can be quite challenging and will likely require you to be on top of your class and get a fairly high LSAT score in all components.
But as you can imagine, it heavily depends on the specific school you're hoping to get into. Harvard or Yale Law will naturally require you to do extremely well.
But somewhere like the Loyola University of New Orleans College of Law will accept a 3.10 GPA and LSAT score as low as 148. A Juris Doctor degree here will set you back $46,808.
Similarly, the Southern University Law Center, Baton Rouge, Louisiana will accept you with a 3.00 GPA and 144 LSAT score. A J.D. title from here is a bit cheaper — $16,000 for residents and $28,000 for non-residents of the state of Louisiana.
Ideally, you'll want to study in a location where you wouldn't mind staying even after graduation to begin your law career. Some schools provide a more localized curriculum and each state has slightly different state laws.
3. Finish law school with a Juris Doctor
You'll study law not only from the theoretical perspective but will have the opportunity to take part in mock trials, practice crafting judicial opinions, or gain practical experience in an internship.
Your curriculum should include courses such as civil procedure, evidence, legal philosophy, legal history, advanced legal research, and jurisprudence.
Law school takes about three years to complete. You should of course aim to graduate at the top of your class in order to set yourself on a quick path to a judgeship. Upon graduating, you'll receive a Juris Doctor (J.D.).
And what about a Ph.D.? While doing a Ph.D. in law is not a requirement to be a judge, it will deepen your knowledge of the discipline in a meaningful way. You'll also get the chance to cooperate more closely with brilliant legal minds and build your connections and secure some recommendations.
If you're interested in learning more about gaining a doctorate, check out Yale's Ph.D. Common Questions.
Christy's word of advice

Are you yearning to be earning like Judge Judy? While most judges aren't millionaires, they do have incredibly satisfying careers. When it comes to judicial resumes, more is better. In fact, these are typically longer than the standard 2 pages. Be specific, yet give the reader a clear understanding of your responsibilities and achievements. Include your qualifications and credentials, specializations, key skills, publications, memberships, pro bono or volunteer work, conferences you've presented at, and career highlights that showcase your major wins and accomplishments.

Christy Morgan, Resident HR Expert
4. Take the bar exam
If you thought that the LSATs were difficult, oh boy you're in for a surprise. According to a survey, in 2017, 15 US states had a passing rate below 60%, and only 10 states came on top with over 70% passing rate.
While California's sunny weather might give you some much-needed vitamin D, you'll be staying inside anyways, studying. With a 44% bar exam passing rate, California provides quite the contrast to Oklahoma's 88% passing rate.
As we said, if you're wondering how to become a judge quickly, you should take into consideration where exactly you're studying.
According to the accrediting organization, the American Bar Organisation, the bar exam consists of the Multistate Bar Examination (MBE), which is a rather long standardized test covering areas such as Constitutional Law, Contracts, Criminal Law, or Evidence.
The second part involves essay writing on varied topics. Some states instead use the Multistate Essay Examination (MEE) and the Multistate Performance Test (MPT).
The American Bar Association also stipulates that law students take an ethics exam in professional responsibility.
5. Gain experience in law
Before becoming a judge, you'll need to serve either as an attorney, a prosecutor, a public defender, or a specialized lawyer or in other positions. However, becoming a judicial clerk should be of high consideration to you.
Did you know that in the history of the Supreme Court, nine justices served as clerks to other justices? While that might not seem like such a high number, it does point to a really good career path for an aspiring SCOTUS Justice.
As a clerk, you'll provide judicial assistance to a judge, look up applicable precedents to apply, or assist with writing judicial opinions. Most importantly, overall gain so much from a judge's mentorship.

6. Create an amazing resume and cover letter
To eventually become a judge, you'll need to gain a lot of experience. A well-crafted and eye-catching resume and cover letter can really help with that.
Once you've accumulated enough experience, you might be asking how far should your resume go. Take a peek at our article to find out! And then follow these steps:
Focus on relevant legal experience. It's likely that you'll be progressing in your career whether you stay in your position for long or not. While an internship in a legal firm when you were in college might help you out in getting your first attorney job, it won't do when you're trying to become a judge.
Include a detailed job description. Always adapt your work duties to fit the job description better. Read the description, and then read it again.
Detail relevant education. Highlight courses you took that can make you seem more like a well-rounded legal professional.
Highlightrelevant skills. While this can vary based on the specific post you're applying to, there are some skills every judge should have. Such as:

working with others and establishing relationships
decisiveness and confident decision-making
effective communication — both spoken and written
handling workload and managing deadlines
empathy and open-mindedness

Include published articles, attended conferences, and special training courses. As a legal professional, there's always space for improvements. Show that you are keeping up to date with legal developments in different areas of law.
Judge resume example
Judge Resume Sample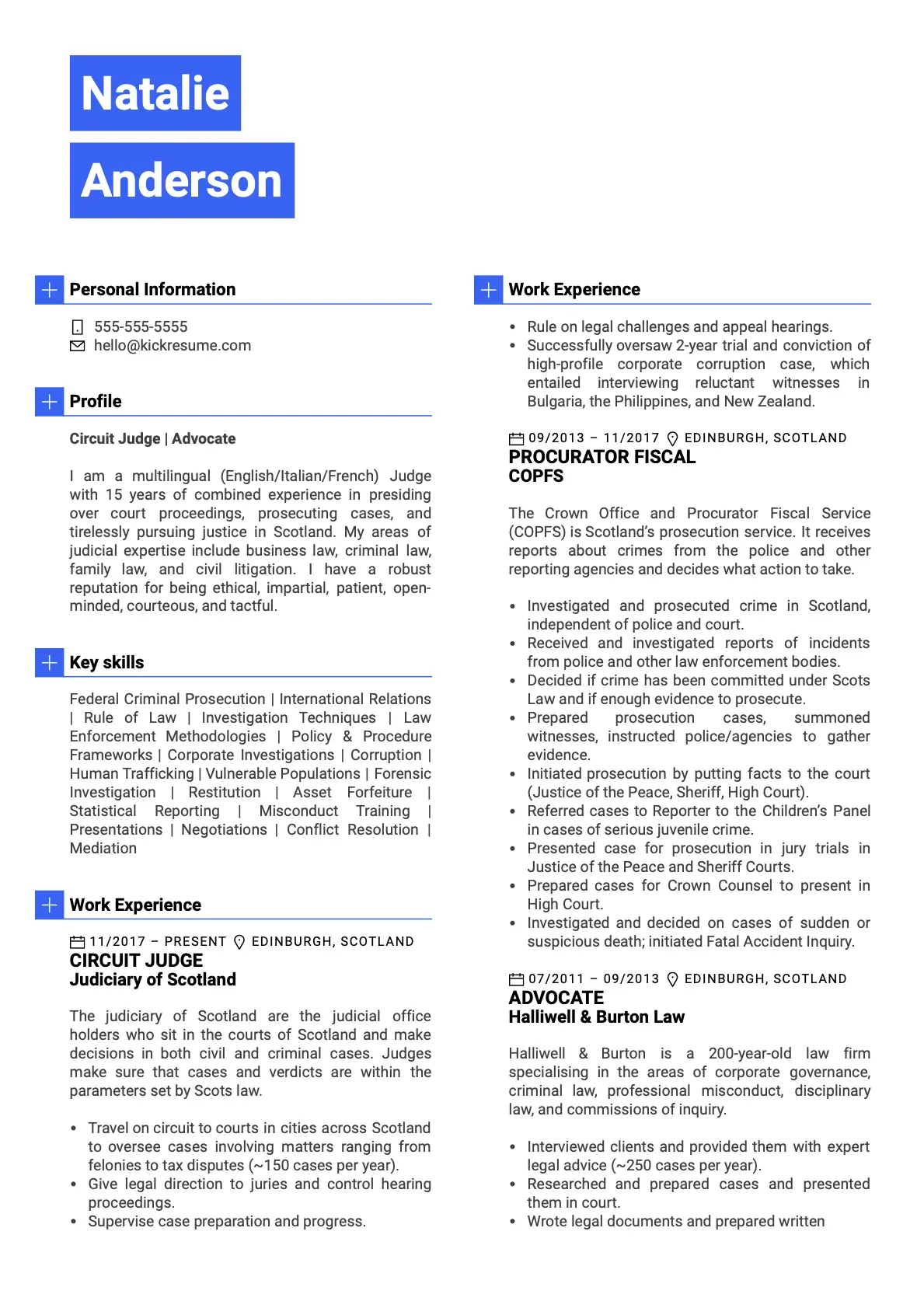 Have a look at some of our legal resume samples. As a bonus, you might know that the former President, Barack Obama, studied law, too! You'll be sure to find his career inspiring in this article!
Judge cover letter example
Judge Cover Letter Sample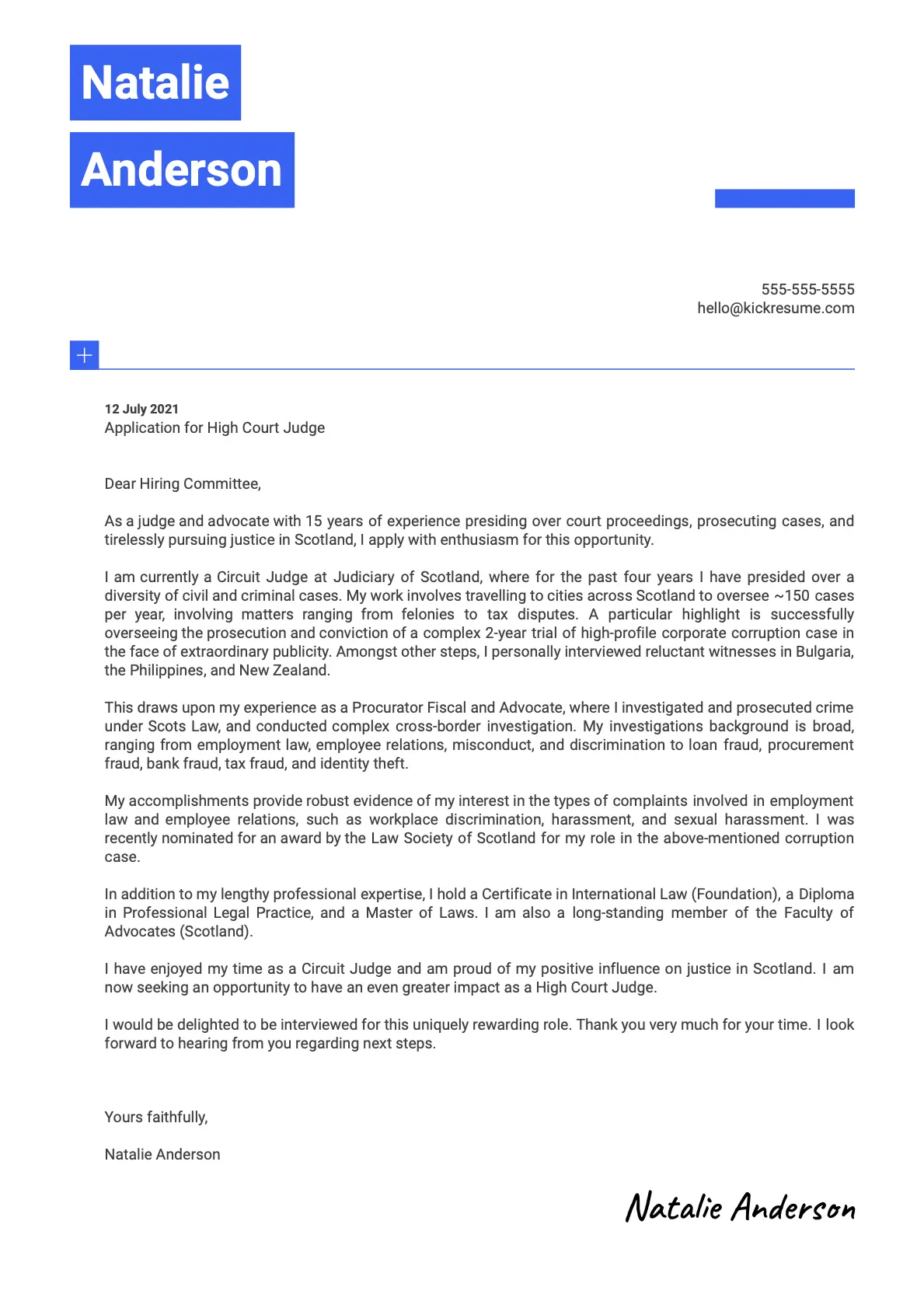 To stand out from the crowd of other competitors for highly valued legal positions, have a look at great legal cover letters, too!
7. Get your judgeship
To become a judge, you'll need to carefully build your professional experiences. Before becoming a judge you'll need to practice law for at least 2 years in most jurisdictions.
To be honest, networking and relationship building is your best friend. Judges don't get hired, they get elected or appointed. Really try to make yourself, and your work, known.
Be prepared to have your personal life publicized. Judges, especially the appointed ones, become public figures. This is especially true before the election, so get ready for some heat.
While you go through the lengthy application process, also apply for an evaluation by the bar association. ABA has the power to recommend an individual for a judgeship — or refuse to do so.
ABA's word carries a lot of weight so once again, make sure your work stands out and you're held in high esteem by your peers.
There are 2 main ways you can gain your judgeship.
1. Election
For most judicial positions, you'll need to run in some highly competitive elections. The rules will vary based on the district in which you want to get elected. This will include the number of judges or the length of their terms in office.
In general, on the state level, judges will serve for a limited amount of time, while federal judges can sometimes serve for life. Judges who aren't serving for life often serve anywhere between 4 and 15 years depending on the district.
There might also be temporary positions available if a judge decides (or is forced to) step down during their term.
2. Appointment
As we mentioned, the other way of becoming a judge is through appointment by a political figure such as a senator or the President. There are of course rules for the appointment.
They include some checks and balances and dictate conditions under which one can become a judge. Federal judges, who often get appointed, as well as some state judges, serve for life. This means for as long as they see fit with no upper limit for their tenure.