It might be a good time to ask "How to become a real estate agent?" in 2022. The housing market has been booming for the past few years, with 6.9 million homes being sold in 2021 alone.
I mean, who knows what's going to happen in 2023 but one thing is certain: people will always try to buy land. They don't make it anymore.
While being a real estate agent isn't always glitz and glamour, the job certainly offers countless benefits and opportunities.
Becoming one, however, isn't so straightforward.
Why?
Well, there's no college degree that would set you up for a career in real estate. Becoming a real estate agent requires a lot of initiative, time, and energy. But the profession is eventually more rewarding for that.
We'll show you all the necessary steps to take to start your career in real estate and will guide you through the requirements, licenses, and exams.
Who is a real estate agent and what do they do?
A real estate agent is a licensed professional who arranges commercial or residential property transactions.
It's also their job to put buyers and sellers together and act as their representatives in negotiations.
Real estate agents are usually compensated completely by a commission — a percentage of the property's purchase price. So, their income depends on their ability to close a deal.
However, people often confuse real estate agents with realtors or real estate brokers.
What's the difference?
Real estate agent: A real estate agent is essentially a salesperson, qualified to help consumers buy or sell a property. In almost every state, a real estate agent must work for or be affiliated with a real estate broker (an individual or a brokerage firm).
Real estate broker: Is a step up on the professional ladder. Additional education and certifications authorize a broker to handle other legal and financial aspects of a deal.
Realtor: A realtor is a member of the National Association of Realtors (NAR) and is hence an expert in the field. All realtors are real estate agents or brokers, but not all agents or brokers are realtors.
This article, however, focuses solely on the licenses, certifications, and exams necessary to become a real estate agent.

Why should I become a real estate agent?
This occupation is not your typical 9 to 5 job and in many ways, it offers benefits that you wouldn't get in any other job.
To mention a few:
You make your own hours
No need for a college degree
You don't need to be in an office all day
You decide your income
No dress code is required
Still not convinced about a career in real estate? Embark on a different career path, see: How to Become an Architect: Degrees, Exams & More.

How to become a real estate agent: A step-by-step guide
Whether you're a fresh graduate seeking your first job, a professional trying to switch things up in your career path, or you simply want a side job in addition to your current one, starting a career in real estate can be an exciting opportunity.
The bad (or good?) news is that there's no clear-cut trajectory when it comes to how to become a real estate agent.
But there are steps and activities which all real estate agents have to undergo eventually.
Important note: Please bear in mind that some of the required certifications and exams do vary between states, so always make sure you research specific requirements.
Anyway, without further ado, let's plunge right into it.
1. Complete a pre-licensing course
To get your real estate license, you first need to complete a pre-licensing course.
In other words, enroll in a real estate school. You can either do that online or take the classes in person.
Reminder: The requirements for pre-licensing courses and licensing applications are different in every state, so you should first check your state's requirements. To do so, select your state from the drop-down menu on Real Estate Express' website.
Generally, in order to enroll in a pre-licensing course, most states require a:
Permanent residency in the state of the license application;
Minimum age of 18 years or older;
Criminal background check.
During this course, you'll be required to take a certain number of classes to become eligible to take the state licensing exam.
Different states require anywhere from 20 to over 200 hours of pre-license coursework classes before they allow you to take the state exam and earn the license.
For example, while the state of California requires 135 hours, New York only requires 75 hours of classes.
If you're looking to take your course in California specifically, here's a full list of real estate schools in California. You can also use this site to find the best schools in your own state.
2. Take the real estate licensing exam
You can usually apply to take the exam even before you complete the required number of hours of the pre-licensing course.
You'll need to make payment of an application fee (averaging between $100-$300) and register for the test through a third party.
Then you need to wait for your application to be approved.
Once it's approved, you need to take the state exam.
The test includes approximately 100 multiple choice questions and takes between 1.5 and 3.5 hours to complete.
Each state has a different minimum score for passing the exam, however, many require a minimum of a 70% score to earn your license.
Finally, you must obtain an official real estate transcript or certification of completion from your exam board, and a copy of your exam score.
3. Apply for your real estate license
Once you pass the exam, you should submit an application together with all required documents (e.g. the exam transcript and certification of completion) and fees to your state's real estate regulatory organization.
When your application gets approved, you should receive your real estate license in the mail within the next two months.
An important thing to keep in mind is that you're not allowed to work as a real estate agent before your license is officially issued by the state's real estate authority.
4. Find a real estate brokerage
Brokers are fundamental to the real estate market since real estate agents (usually) must work for a broker for at least the first few years.
While an agent connects the buyers and the sellers and acts as their representative, a broker or a brokerage firm helps facilitate real estate transactions and oversee all the related legal matters.
In fact, it's the brokerage firm that pays you a percentage of the commissions it collects from your real estate transactions.
So, how do you find the right real estate broker for you?
Search online for brokerage firms. If you have no connections so far, the best way to find a broker is to search online for brokerage firms near you and calling them to see if they're recruiting new agents. The good news is, they almost always are!
Pay attention to details. Once you find a couple of brokers willing to recruit you, pay them a visit and scope out the environment. Assess their level of professionalism, pay attention to their social media presence, and read the reviews.
Check out the NAR. The National Association of Realtors' website contains resources for new agents and information and statistics on real estate brokers around the country.
Schedule an interview/chat. Here you need to ask the most important questions. Discuss crucial topics such as scheduling expectations, commissions, referrals, and company culture.
5. Create a real estate agent resume and cover letter (+examples)
Getting the license and finding a great brokerage isn't the end of the process of becoming a real estate agent.
Just like in any other professional area, major real estate brokerage firms will be hesitant to hire someone full-time without seeing their prior experience, achievements, and skills.
Being your own boss right from the start is pretty difficult in this business.
This means that you'll still need to go through the regular job application process — resume and cover letter included.
Here are tips for crafting a bulletproof real estate agent resume along with an example resume:

Resume tips for real estate agents
Write an attention-grabbing resume summary. A real estate agent is first and foremost a salesperson. Your resume should sell itself and grab the recruiters' attention through an impactful resume summary.
Add a short and relevant education section. As mentioned before, your prior education and college degrees aren't really important for this job. What's important is your pre-licensing and post-licensing courses and the relevant classes you have taken.
Quantify your past accomplishments. Put a number on how many deals you've closed in your previous jobs. If you're new to the field, try to quantify the details of your daily responsibilities.
Focus on work achievements. If you've closed a major important deal, brag about it! If you haven't (yet), using action verbs such as "achieved" or "led" can make even the minor achievements or daily responsibilities sound more impactful.
Add essential hard and soft skills. Naturally, only list industry-relevant skills. These include market analysis, CRM software, good communication, the ability to negotiate, and emotional intelligence.
Include your social media or website. You really want to sell yourself. Your clients will want to know you on a personal level as well, which is where social media can help.
Cover letter tips for real estate agents
For this kind of job, a cover letter is a must. It's really THE space where you should sell yourself. So, take it as your first sales job.
For people who are new in the business: a good cover letter often can make up for the lack of previous experience.
On the other hand, experienced professionals have room to brag a little about their achievements in the field.
Here are a few tips to point you in the right direction when writing a real estate agent cover letter along with an example cover letter:
State why you're interested in their brokerage. There are a lot of real estate brokerage companies out there, which is why you should explain the reason this specific one caught your eye.
Provide an overview of your experience and education. This, of course, includes only relevant courses and previous jobs. It's good to briefly state what your responsibilities were, what qualifications you have, etc.
Mention your top accomplishments and skills. Your time to shine! Quantify your results, brag about any major deals you've closed, and list the skills you acquired. Soft skills are especially important for this kind of job. Describe how these skills would make you a good asset to the company.
Real Estate Agent Cover Letter Example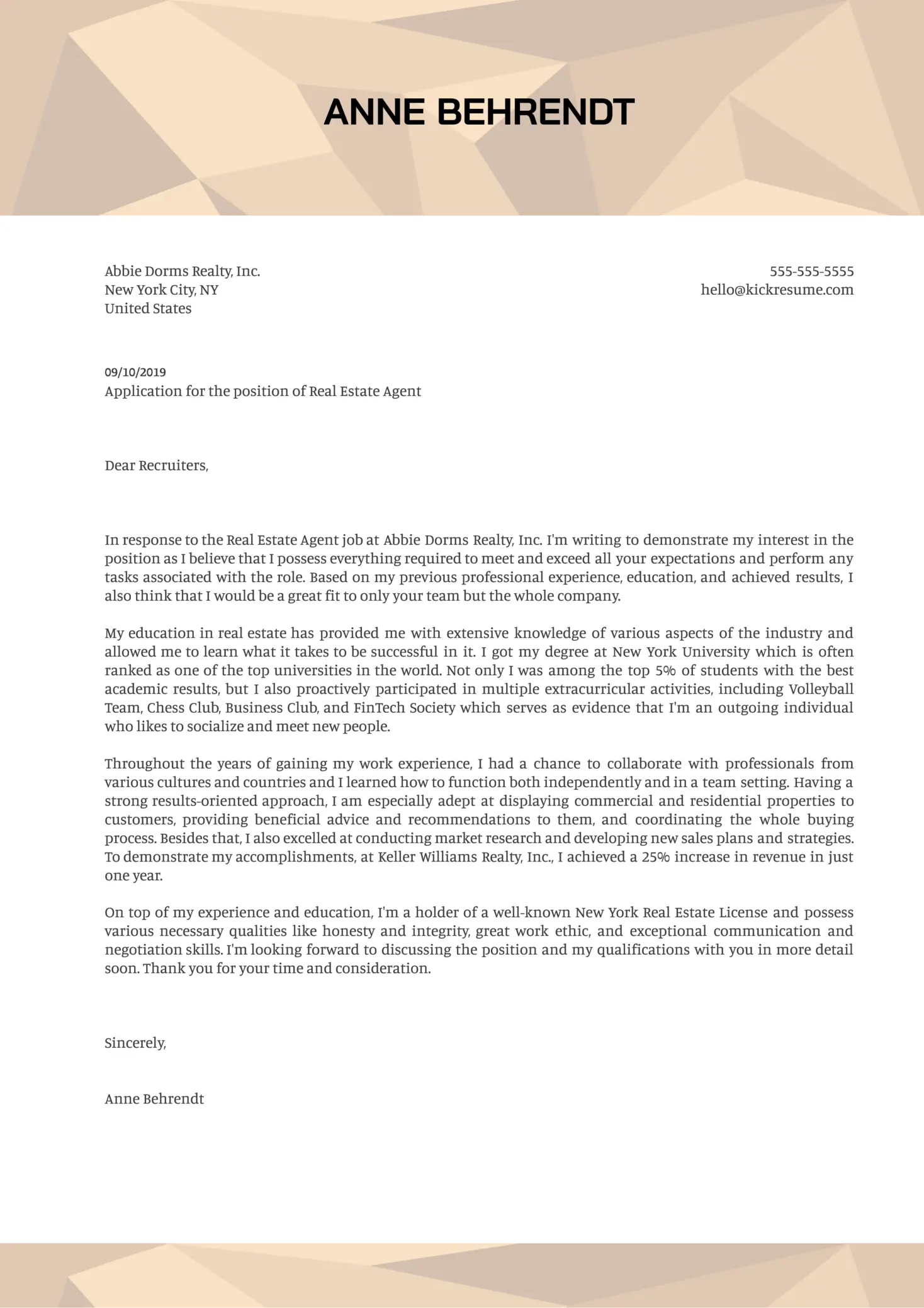 6. Nail your real estate agent job interview
Lastly, you need to pass a job interview with a prospective brokerage firm. The good news is that with the resources out there, you can prepare really well.
Here's how to make a great first impression at your real estate agent job interview:
Show off your communication and people skills.

They're evaluating how you're going to appear to buyers and sellers. This is the most important thing to remember. A real estate agent is, in essence, a salesperson. You need to be likable and have great people skills. Not to scare you, but it's basically the most important sales presentation you're going to make. Additionally, this means you should carefully pick what to wear, arrive on time, have your business cards ready, and carry your resume with you.

Research the company and carry out due diligence.

Make sure you feel out what the company culture is and that you fit into it. A good tip is to reach out to an agent working for that company before an interview and ask them if you can join them at a house viewing. Be observant, make notes, and ask them to tell you about the vibe of the firm. Next, have a look at their social media and website. At the interview, ask as many questions about the company as you can.

Display an understanding of real estate tools and resources.

Real estate is no longer just about giving an entertaining house tour. Technology has really been taking off over the last few years and there are a lot of great tools and resources, which help step up your game. Some of these include real estate CRM, lead generation tools, email marketing tools, video editing, or virtual tours.
7. Network, network, network
The real estate business is very competitive. You can see it even in movies, where agents are pitted against each other to compete for clients.
While it may be a little too dramatic in the movies, there's some truth to it.
Meeting new people as an agent gives you the chance to broaden your network and gain new real estate leads at every turn. These people can provide valuable insight into the business and help you gain some exposure.
So don't be shy!
A good place to start networking is either within your brokerage firm or on LinkedIn.
Reach out to people, organize an informal meeting, ask them for some tips in the biz, and make a good impression.
Et voilà — you have a connection.
A good tip: Ask for their "guidance". It makes people feel important, boosts their self-esteem, and makes them more likely to spend time with you and help you.
And in case you still feel awkward and don't know where to start, have a look at: How to Start Networking? 10+ Networking Pickup Lines and Tips.
FAQ: How to become a real estate agent
Is becoming a real estate agent worth it?

Yes! You can make your own hours, there's no need for a college degree, you don't need to be in an office all day, and you're in charge of your income. Additionally, the real estate market is booming and will continue to in the coming years.

What is the process to become a real estate agent?

-Complete a pre-licensing course.
-Apply for and take the real estate licensing exam in your state.
-Apply for your real estate license.
-Find a real estate brokerage firm.
-Grow your network.
-Craft a real estate resume and cover letter.
-Prepare for an interview.

Do real estate agents make a base salary?

Most real estate agents earn a commission on the property they sell. Therefore, no, it's unusual for real estate agents to make a base salary.
Career Writer

Klara recently graduated from the University of St Andrews in Scotland. After having written resumes for many of her fellow students, she got an opportunity to write full-time for Kickresume. Klara is our go-to person for all things related to student or 'no experience resumes'. At the same time, she has written some of the most popular resume advice articles on this blog. When she's not writing, you'll probably find her chasing dogs or people-watching while sipping on a cup of coffee.