Being an architect can be very stressful. Apart from being creative and innovative, you'll also need technical competency and strong IT and software skills.
All while keeping in mind strict deadlines. Hence, you have to work well under pressure, too.
However, being an architect can be extremely rewarding. Once you see your vision come to life, there seems to be nothing quite like that. It's almost a given that you'll never get bored of your job. Plus, it pays quite well.
So, if you're wondering how to become an architect then keep on reading.
We'll guide you through the complex process, requirements, and qualifications you'll need to become a licensed architect.
Who are architects and what do they do?
Just in case you didn't already know, an architect is a skilled professional who plans and designs buildings or spaces and generally plays a key role in their construction.
Basically, an architect is as much of a scientist than he/she is an artist.
Their job responsibilities involve much more than just designing buildings.
It's truly a highly accomplished and multifaceted career which requires you to be many things at once.
Hence, architects have to:
Translate their ideas into schematic design drawings and documents, often using niche architecture software programmes;
Integrate mechanical, electrical, and plumbing details into the designs;
Satisfy zoning regulations, secure project approvals and permits from regulatory authorities;
Prepare construction documents with detailed structural and material information;
Work with contractors during a building's construction phase;
Oversee project budgets;
Market their firms to secure new projects;
Communicate with clients on daily basis to make sure their needs are satisfied.
Just to name a few of your responsibilities as an architect. Yeah, let that sink in.
If you're getting cold feet and want to embark on a different career path, see: How to Become a Human Resources Manager: Degrees, Training & More.
What are the different types of architects?
There are several different types of architects. As mentioned before, apart from designing buildings and houses, architects can also design spaces or even less visible technical infrastructure.
So, what can you do with an architecture degree?
At some point in your architecture career, you're likely to be one of these 7 types of architects:
Residential. They deal with clients who would like to have their own customized houses designed. This includes single family homes, townhouses, condominiums and apartment buildings.
Commercial. Commercial architects develop designs for commercial properties. They focus on designing plans for buildings that will be used for retail stores or other commercial purposes.
Interior. Interior designers make interior spaces functional, safe, and stylish for almost every type of building after consulting their client's wishes.
Technical. Technical architects are responsible for the fine details of a building's planning, ensuring that it can successfully be built and that it will function.
Landscape. Landscape architecture is concerned with outdoor spaces like parks, gardens, neighborhoods, campuses, and public spaces. They design these spaces to be efficient, engaging, and harmonious with the environment.
Urban. Urban designers are in charge of grouping buildings, designing nodes, paths, and street networks. It deals with the scales of neighborhoods, districts, and cities.
Industrial. Industrial Architects specialize in the architecture of an industrial facility. They need to understand the different industrial processes, and accordingly, design efficient and functional buildings that can hold them.
If you like working with people, but you're not very fond of deadlines, have a look at: How to Become a Psychologist: Degrees, Specializations and More.

How to become an architect: A step-by-step guide
Since architecture combines artistic vision with functional execution and human safety, the requirements to become a licensed architect involve strict standards for education, experience and testing.
In this section, we'll provide you with a step-by-step guide on how to become a licensed architect.
There's more detailed information for job seekers in the U.S., however, the path towards becoming an architect is generally very similar everywhere.
1. Get a bachelor's or master's degree in architecture
Firstly, a professional degree is a crucial component of an architect's credentials.
In the United States, you have to get a degree from a NAAB accredited university. The National Architectural Accrediting Board (NAAB) recognizes 123 accredited architecture programmes in the United States.
In the United Kingdom it's very similar. You have to study full-time for five years at an ARB-accredited architecture degree programme, with periods of leave to gain practical experience before entering the profession.
Almost every country requires a Bachelor of Architecture or a Bachelor of Science degree in a relevant architecture or design specialty.
Furthermore, it's highly advised that undergraduate architecture graduates continue their education and obtain a Master of Architecture degree.
2. Secure an architecture internship
Gaining relevant work experience through internships and apprenticeships is crucial everywhere.
There are different internship requirements in different countries, but normally you should spend some time working under the direct supervision of an architect. This way, you'll learn the ins and outs, from sending an architect design brief to dealing with the most complex architect design cases.
Actually, in the US, architecture school graduates must do an internship under the supervision of a certified architect in order to qualify for licensure and built their experience in the field.
The Intern Development Program (IDP) requires architect interns to earn 5,600 training unit hours in various work categories such as programming, site analysis, zoning requirements, contract negotiation and project management.  
3. Complete the Architect Registration Examination
In the States, upon completion of the IDP, architect interns are eligible to take the Architect Registration Examination in their home state.
The examination consists of 7 separate exams covering all facets of architecture which you have to complete correctly as one of the requirements for licensure.
Some form of assessment of your previous experience is inevitable everywhere. Whether that involves a written exam, oral examination or creating a final project.
4. Apply to be a licensed architect
Once all the state requirements for licensure are met, architects must submit:
a detailed application along with proof of education,
completion of IDP or equivalent hours of experience,
and examination completion.
Many states also have continuing education requirements for license renewal.
But generally, the most common path to licensure involves earning at least a bachelor's degree, completing a state internship and sitting the state's Architect Registration Examination.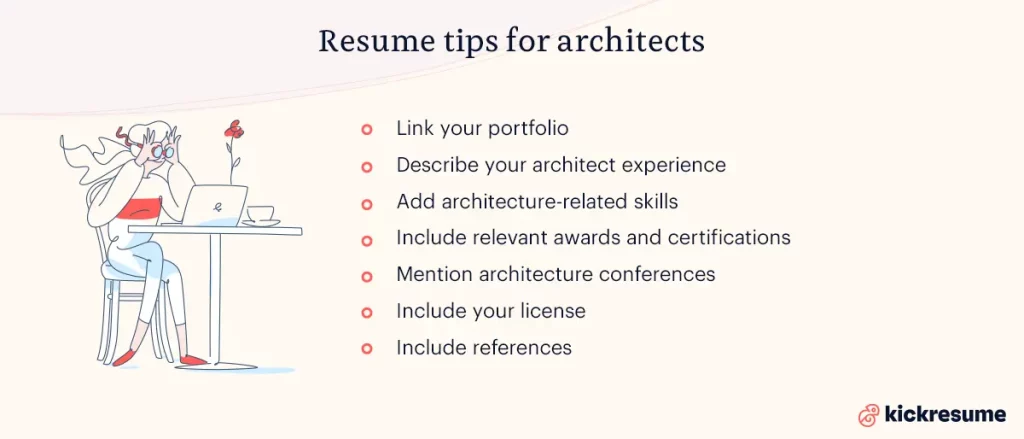 5. Create an architecture resume and cover letter (+examples)
Getting a degree and securing a license isn't the end of the process of becoming an architect.
Just like in any other professional area, architectural studios will be hesitant to hire someone full-time without seeing their prior experience, educational background, and skills.
This means that if you're not planning on being your own boss, you'll still need to go through regular job application process — resume and cover letter included.
If you're not sure what the distinction between the two is, have a look at: Cover Letter vs Resume: 7 Key Differences and the Art of Writing Them (+Examples).
Resume tips for architects (+Example)
Link your portfolio. Having a portfolio is vital for an architect. Nowadays, you should have an online form which anyone can easily access.
Describe your architect experience. Talk about your projects, clients (if the NDA allows it), or cost-savings.
Add architecture-related skills. As an architect you have to work closely with people while also having to be highly technically proficient. Hence, you should include your soft, hard and technical skills. Being a team player and working well under pressure is a good beginning. Can you work with AutoCAD, ArchiCAD or Rhino? Specify that in your skills section.
Add architecture awards and certifications. There are plenty of different competitions and specific certifications for architects. If you were successful, let the hiring managers know!
Add architecture events and conferences. Whether you were a speaker, an organiser, or you only attended those events, it's relevant for your resume.
Include references. If you've worked with a well-known architect, list them in your references section.
Include your license. Don't forget to include your licensure along with all of the necessary details, such as in which state you've achieved it.
Tailor your resume for each application. Make sure to tailor the CV according to the job description. For instance, if you're applying for a technical architect job, highlight all your technical skills and competencies that match the job ad.
Have a look at the best soft and hard skills to put on your resume in 2022.
Architect Resume Example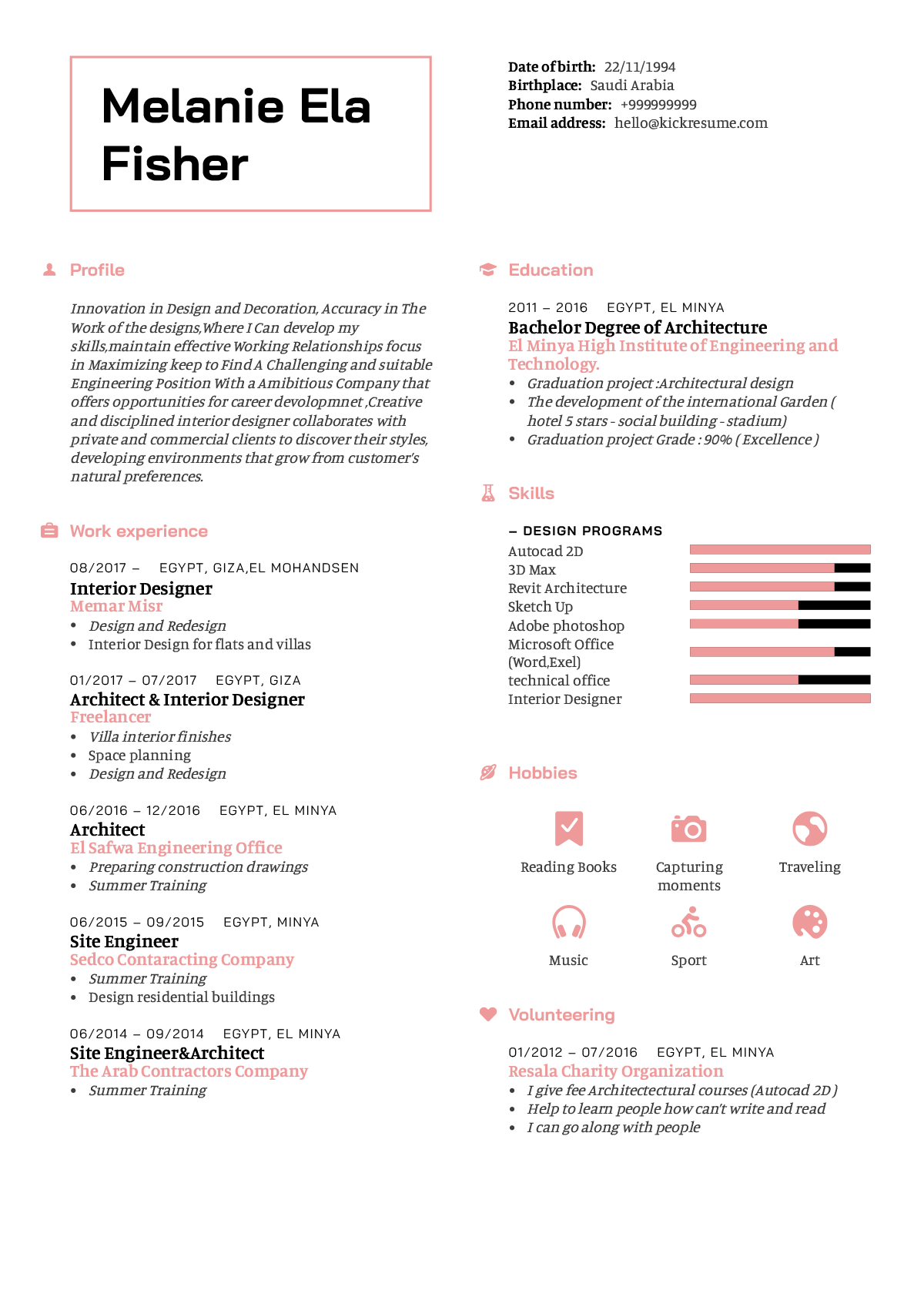 Cover letter tips for architects (+Example)
The thing with architecture cover letters is that they aren't really all that important. It's way more important to have an outstanding portfolio.
However, if all candidates have a killer resume as well as a killer portfolio, a killer cover letter may be the one thing that sets you apart from the others.
Which is why you shouldn't underestimate it. Here's a few tips to point you in the right direction when writing an architecture cover letter:
Open your cover letter by describing the position you're looking for and why you're the best candidate –⁠ of course by tailoring to the job description. Have a look at 7 Great Cover Letter Openings.
Make sure to emphasize your previous work experience as well as the attributes that make you a good fit for the position.
Make it evident that you're familiar with the job role, the architectural field and the architectural studio.
Don't just simply copy and paste everything in your resume, but expand on the best parts of it. This can be your accomplishments or awards.
Don't get carried away. A few short paragraphs should be enough.
Here's an example:
Architect Cover Letter Example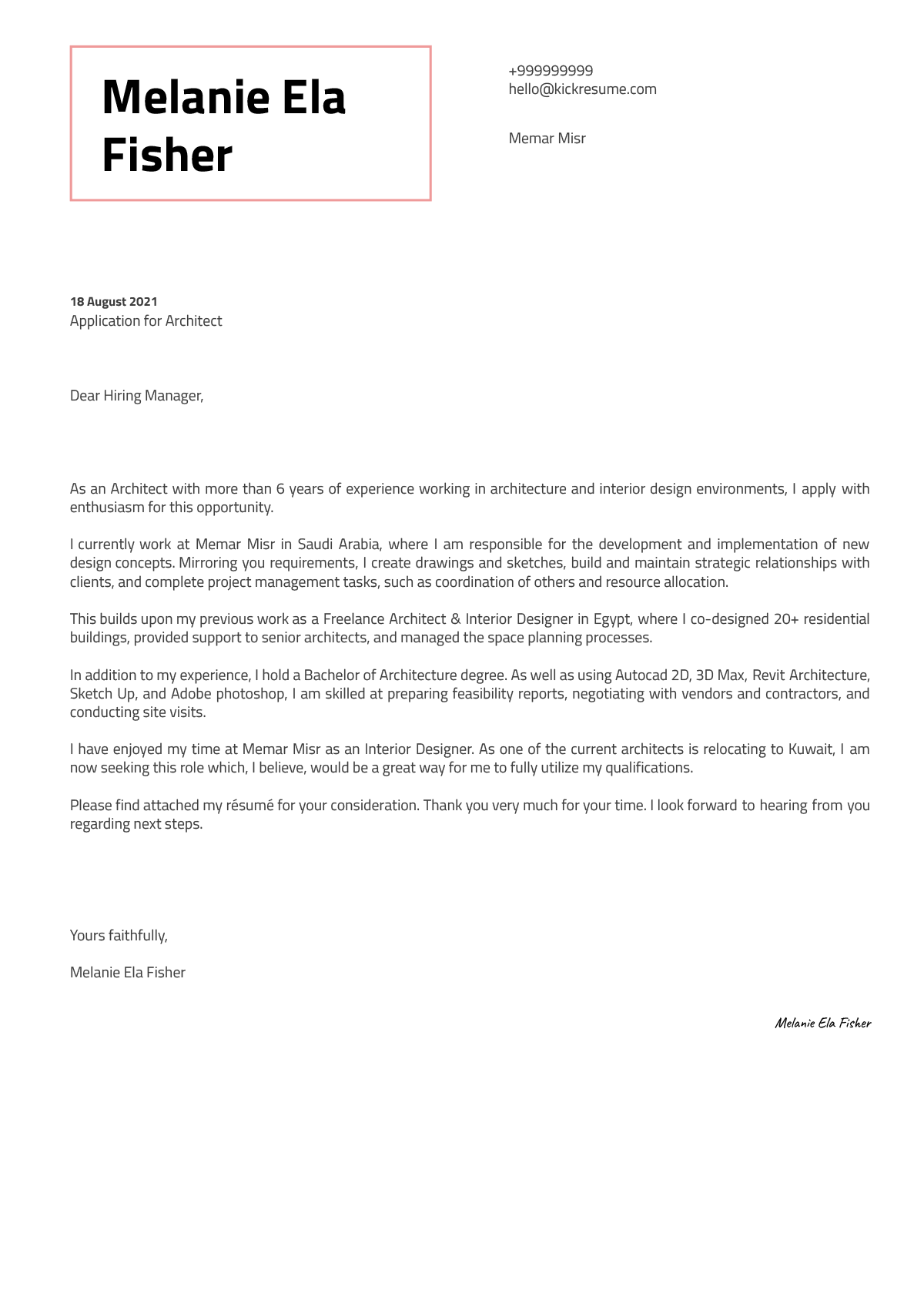 5. Nail your architect job interview
To make a great first impression at your job interview, simply follow these steps:
Research the employer. We can't stress this enough, but the more you know about the architectural studio and their work, the better you can prepare and tailor your portfolio. Plus, being familiar with your potential employer's work will impress the interviewers and will help you align your interests with theirs.
Instil confidence. Architects are busy people who need someone who can solve their problems for them. Passively sitting and being quiet won't give the employers the impression that you can take control in situations. You have limited time to impress the hiring managers, so being confident and letting them know you can take charge is important.
Body language. Again, you want to come across as confident and capable, so nodding your head and looking at the table isn't what you want to do. Instead, try to use power poses, such as crossing your legs and gesturing with your hands as you speak.
Always take props. Don't just bring your portfolio. Consider bringing your CV, a small model, a magazine with your publication, or even a sketchbook.
Offer your portfolio. Don't simply start flicking over the pages and showing it to everyone in the room. Rather, you should offer them to have a look at it if they'd like.
Always have questions. Preferably leave out the direct questions about salary and benefits. Leave that for later. Try something like "Is there a particular project that you think I will be working on?". Or "What are the opportunities for growth within the company?".
Career Writer

Klara recently graduated from the University of St Andrews in Scotland. After having written resumes for many of her fellow students, she got an opportunity to write full-time for Kickresume. Klara is our go-to person for all things related to student or 'no experience resumes'. At the same time, she has written some of the most popular resume advice articles on this blog. When she's not writing, you'll probably find her chasing dogs or people-watching while sipping on a cup of coffee.