You can't do much in less than 6 seconds. On the other hand, it's enough time for people to create more than 200k posts on Facebook, 21 babies are born around the world, and Bill Gates earns about $1,250.
It's also enough time for hiring managers to screen your resume. Yep, that's right. It really doesn't take them long to decide whether to shatter your hopes and dreams, right?
Because of that, you better use this time to convince them to invite you to a job interview. But that's easier said than done, isn't it?
There are many ways to achieve that. But out of the things you can do at the very beginning, choosing the right format for your resume has probably the biggest impact.
It helps hiring managers assess your experience fast. What's more, if you choose the right format for your resume, you might find that it makes telling your personal story feel much more natural.
But what are the most common resume formats? What do they look like? And how can you tell which one suits you the best? That's what this guide is all about.
How to choose the best resume format?
There are three dominant resume formats in use today. Recruiters are used to seeing them every day. Each of them serves a different purpose.
Chronological resume format. Probably the best choice for most experienced professionals. Revolves mainly around the candidate's current and past professional experiences.
Functional resume format. Great for fresh graduates or anyone switching careers. Emphasizes skills instead of experience.
Combined resume format. As the name suggests, it's a combination of the previous two. Requires a good understanding of what you want to achieve with your resume.
How do you choose a format that best suits your needs? Think about which elements you'd like to emphasize. Is it your recent work history? Or would you rather emphasize your skills? Or both at the same time?
Yes, yes, it's beginning to sound a bit too complicated. Are you dazed and confused yet? Here's a flowchart: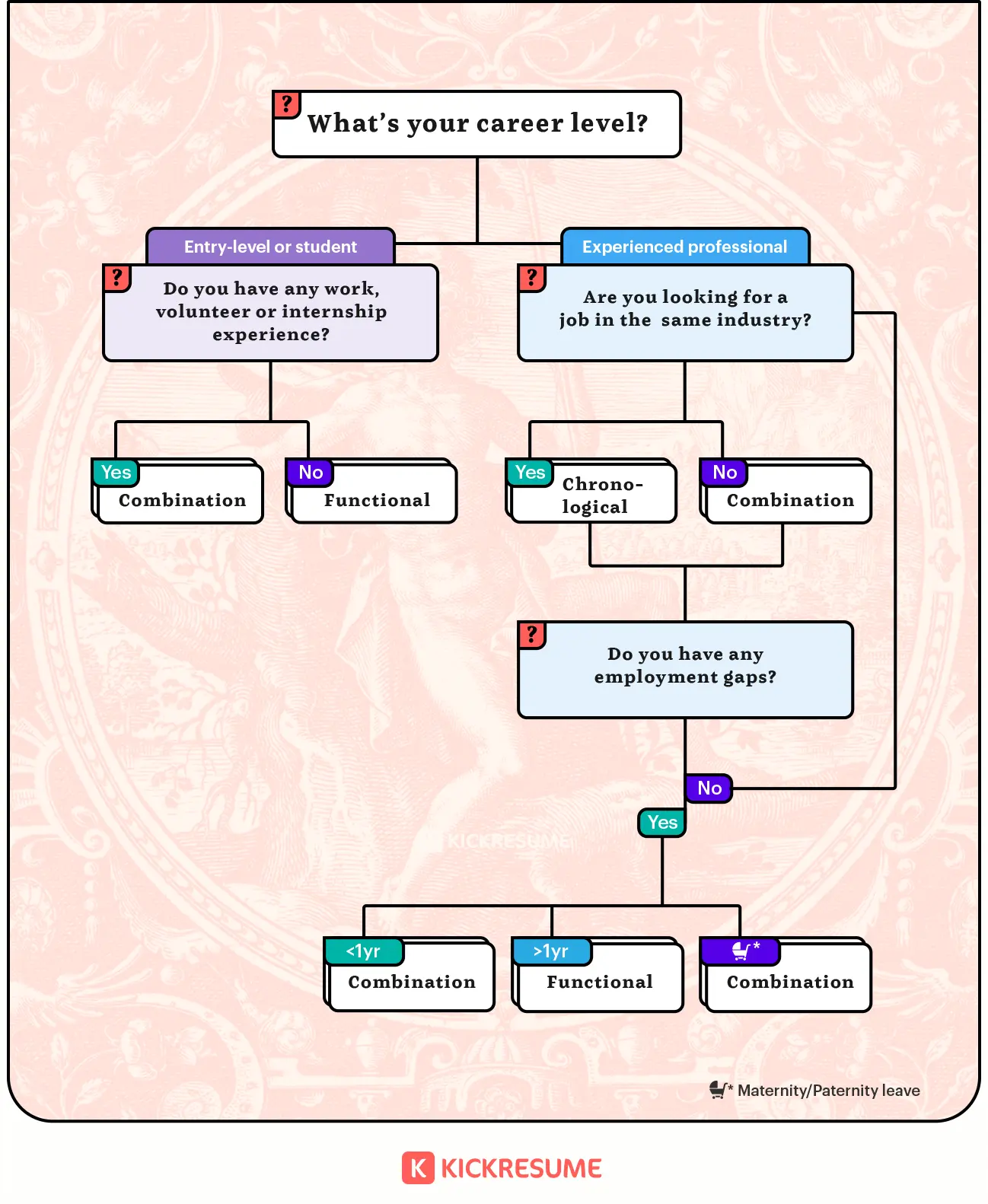 How to write a chronological resume?
The chronological resume format is the most widely used of the bunch. In fact, when you think of a traditional resume, you probably think of a resume written in this format.
A chronological resume simply lists one's employment history in a reverse chronological order. Thanks to that, it allows recruiters to quickly evaluate the job seeker's career trajectory and work history.
It is a dependable resume format that works flawlessly if you have enough work experience to showcase.
However, that also means that the work experience section receives the most attention and is given priority over the applicant's skills and education.
But if you decide to use this format, you need to think hard about how to make your resume stand out using various layout elements.
One of the ways would be to try using paragraphs and bullet points in a creative way.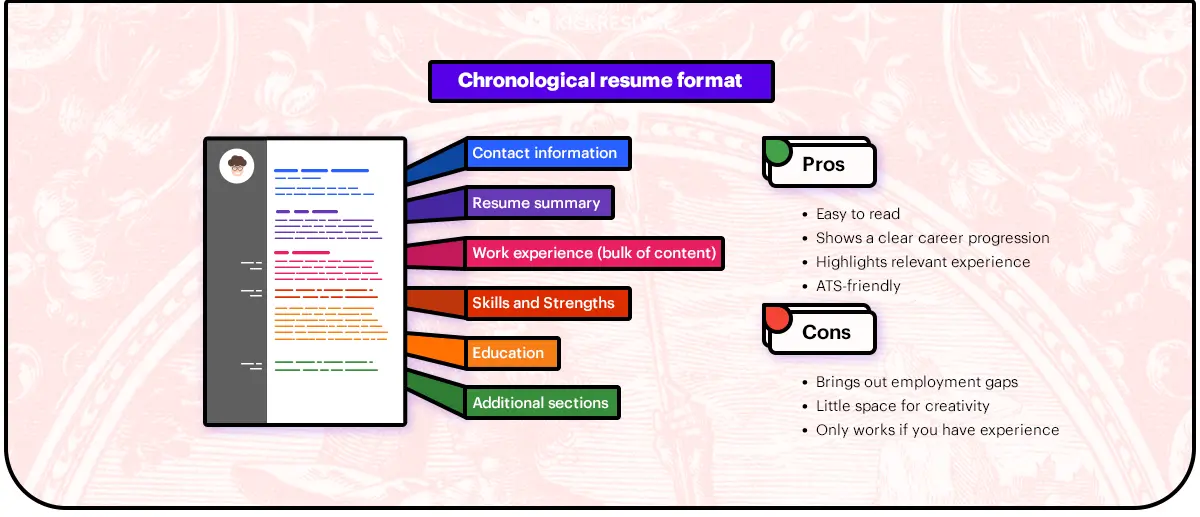 How to write a functional resume?
The functional or skill-based resume format can be a bit tricky to use. Use it only if you have a good reason for it. What might that be, you ask?
This format zooms in on your skills and strengths with much less emphasis on your work history. Its purpose is to highlight transferable skills and achievements that are relevant to the role being pursued and that employers expect their future employees to have.
However, the functional resume is a lot less common than its chronological counterpart.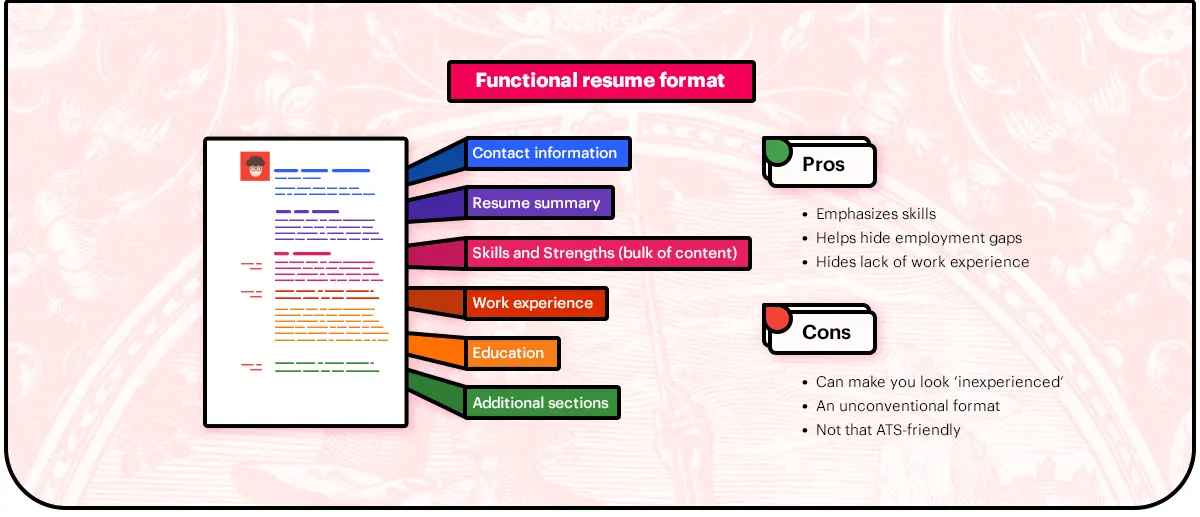 How to write a combination resume?
This hybrid format combines several aspects of the chronological and functional resume formats. It's best suited to those job seekers who seek to shed an equal light on their transferrable skills and work history.
Thanks to its versatility, the combination resume helps job seekers incorporate a variety of experiences into a single document.
Ultimately, you can choose the order of these sections yourself. But "Achievements" should always follow "Skills and Strengths" or "Work experience."
The combination resume format is often seen as the best option for job seekers with little or no experience and career switchers, as it lets them play up skills that are relevant in their target industry.
Its flexibility lets you prioritise certain sections over others. What you need, though, is a strategy that you'll use consistently throughout your resume. Otherwise, it can end up a messy document that's hard to read.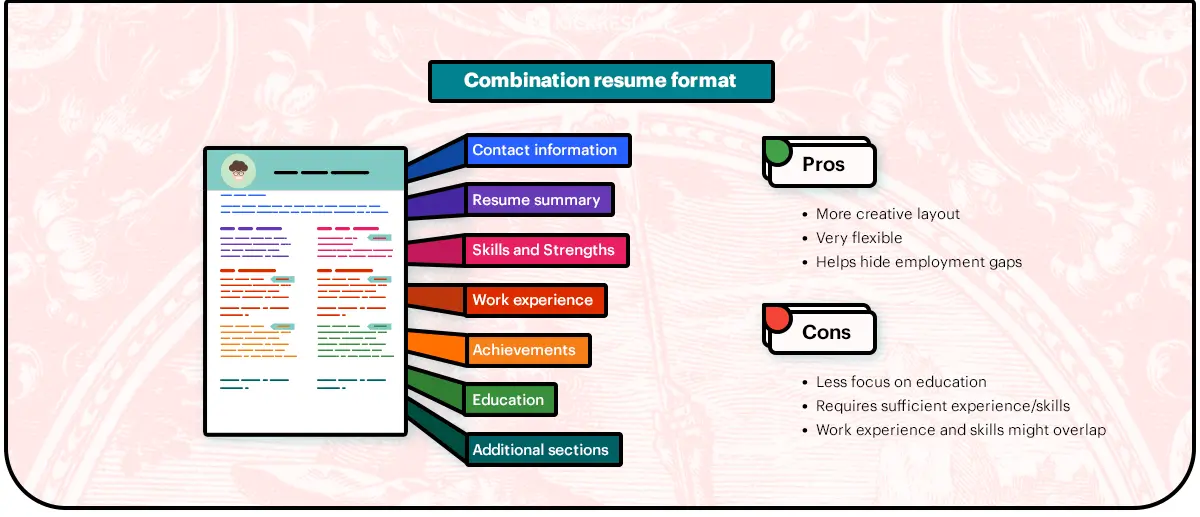 Final resume format considerations
The resume format is just a tool. Your ultimate goal is to help recruiters extract key information about you as quickly as possible. Remember that the proper layout of a resume with well-defined individual sections will make your resume look eye friendly and professional.
Finally, let's recap 4 main points concerning the format of your resume:
Open up with a summary statement

. Objective statements are things of the past. Create a summary statement instead which is basically just a 2-3 sentences long elevator pitch about why you're the best fit for the job.

Make that format choice.

Think about things you're proud of

.

Is it your extensive work history or a broad array of

skills

? If it's a no-brainer, use e

ither chronological or functional resume. If it's all closely intertwined, though, go for a hybrid resume format.

Put the best parts first

.

The top one-third of your resume is a valuable real estate. Whether it's your skills, work history or education, be sure to make it shine like a diamond.

Fit your resume on one page. A maximum of two pages is acceptable for job seekers with an extensive employment history. If you're not sure how many jobs to include on your resume or which ones to remove, check our guide How Far Back Should a Resume Go?
With this guide in your pocket and these tips up your sleeve, you are ready to customise your own resume to your profile and the job you've been hoping to land. Good luck with that!
Career & Resume Writer

Jakub Kapral is a former professional linguist and a career writer at Kickresume. He has written almost 100 diligently researched resume advice articles and his texts are visited by thousands of people every month. Jakub is a natural teacher who looks to help those who want to enhance their career prospects. He's also an avid drummer and a proud father of two.