"Don't judge a book by its cover," they say. Yeah, sure. Yet, everybody does it anyway, whether they admit it or not.
It's also the number one reason why companies reject applicants post interview — their poor outward appearance.
I know, it's kind of cliché, but making a good first impression really matters. If you want the job, you need to dress appropriately. What should you wear to your job interview then?
First of all, there's no single right answer. It depends on three things — the norms and standards in the industry in which you're interviewing, the position you're interviewing for and the company.
Whether you're applying for a C-level position, interviewing for a marketing position or chasing a role in a startup, this guide will help you pick the best outfit.
Research the company's dress code
Here's an example. If you're a software developer, your interview can be anything from jeans and t-shirt to a full suit.
The reason is simple. Some companies have a set dress code, whereas others are far more relaxed. First, you need to determine what their appropriate office attire is. How?
With some internet stalking. You can check company's social media and look at what other people are wearing to work. A few companies even have "A day at our company" videos. Try to google those.
Also, you can ask current employees or friends who work in similar environments.
Alternatively, you can ask a recruiter directly during your phone interview. They really have no reason to hide this from you. And if they say "business casual", ask what business casual means for their company. You may be surprised.
Last but no least, you should also consider the role and industry. If you're interviewing for a corporate position in finance or law, you should wear a formal business attire. However, for less formal positions and workplaces, business casual (or even casual in case of startups) is always the best option.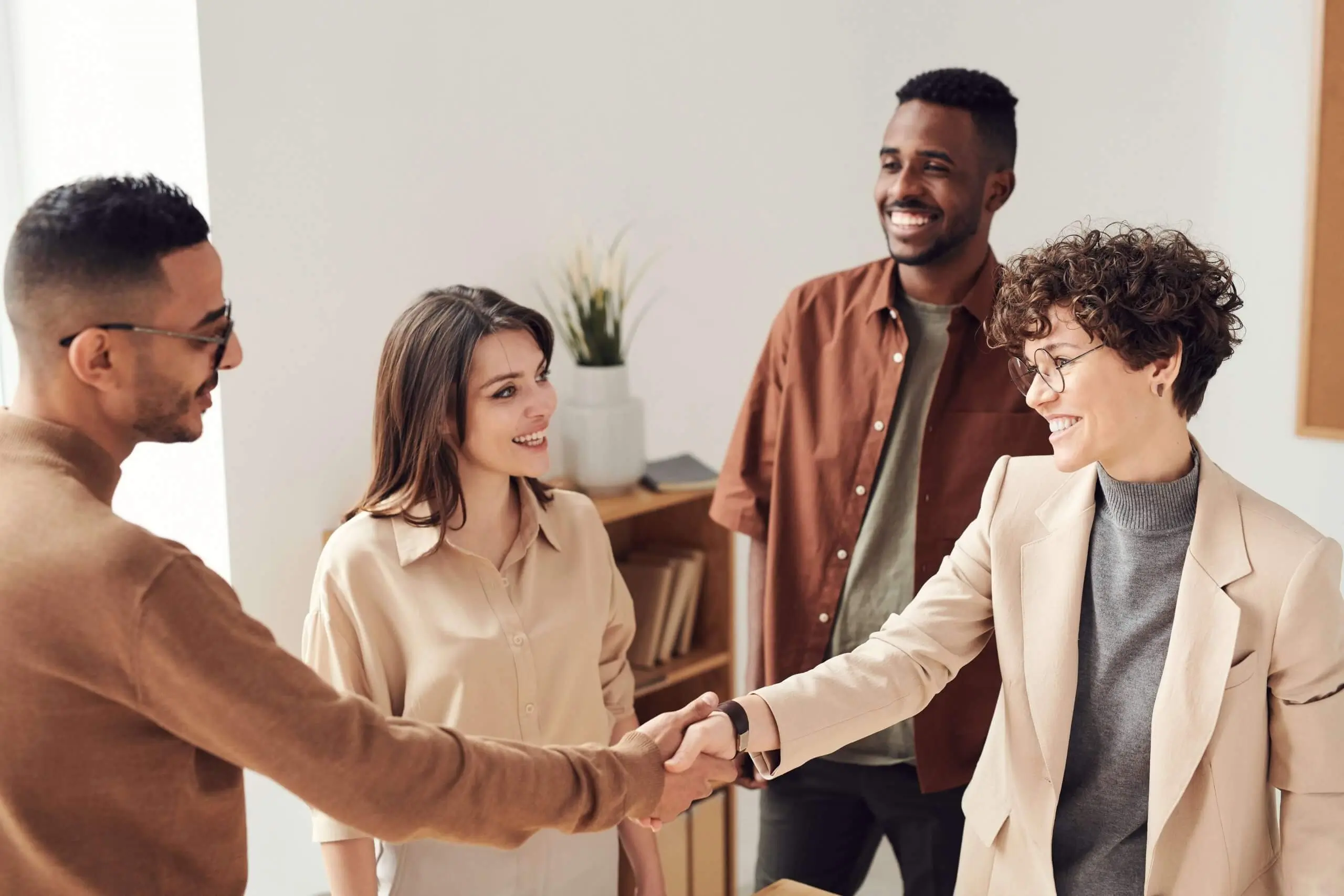 What to wear to a corporate job interview
If you already know that the company where you're applying for a job is a formal workplace, try to determine its level of formality. It can be either business professional or business casual.
What's the difference? In a nutshell, business casual is less formal than traditional business professional attire.
Business professional
If you're targeting a C-level position or seeking a white-collar job in industry like finance, banking, or law, you should opt for formal attire. This usually means wearing a suit and tie:
Men's attire:
Suit: Ideally in navy, grey, brown, beige, or black color.
Shirt: Long-sleeved in soft colors. You can never go wrong with white.
Belt and shoes: Dark brown, black, or navy blue leather shoes or oxfords. Remember the golden rule — your belt should match your shoes.
Tie: An all-over, neat pattern, a small dot or a classic stripe all work well. Avoid anything wild.
Bag: A briefcase is a great idea.
Jewellery: A watch. And that's it.
View this post on Instagram
Women's attire:
Pant or skirt suit: Ideally in navy, gray, dark gray, dark green, beige, or black color.
Formal dress or skirt: Dress or skirt shouldn't be too short (ideally up to the middle of the knee).
Shirt: Elegant blouse, dress shirt, or a professional top.
Shoes: Conservative, closed shoes with low heels. If you don't like heels at all, stick to something low and basic like oxfords or loafers.
Bag: Professional, large enough to fit a resume and other documents.
Accessories and makeup: Don't overdo it. Go for a more natural look. Also, if you opt for skirt or dress, you should wear tights too.
View this post on Instagram
Business casual
If you're going for an interview in a less formal corporate workspace, you can leave the suit at home. This, of course, doesn't mean that you should go naked. That would be just too casual, wouldn't it?
Business casual is something between a suit and jeans with a t-shirt. Something less formal, yet still professional.
However, be careful about this one. Business casual can mean something different for different companies. But you should be just fine with these outfits:
Men's attire:
Pants: A formal pant with good fit in colors like grey, brown, or black. This can be slacks, chinos, cotton pants, or dark jeans.
Shirt: Formal long sleeve shirt with light colors. You can also wear polo-necked shirt or turtleneck tee.
Tie: Optional, but if you want to give a better professional look, you can wear it.
Shoes: Loafers, leather shoes or Chelsea boots in black or brown. No sneakers.
Women's attire:
Pants: Dark jeans, black or navy slacks, khaki or cotton pants. You're also safe with a conservative pants suit.
Shirt: Either split or striped shirt, button-down shirt, turtleneck tee or blouse.
Dress or skirt: Professional, not too short. Also, make sure the dress has a high neckline and your shoulders are covered.
Shoes: Sandals are a big taboo – you should always wear closed shoes. Also, don't pick something you can't walk in. If you don't like heels, stick to something low and basic, e.g. loafers, flats, or Chelsea boots.
Accessories and makeup: Keep your accessories choices simple and professional. Go for a more natural look.
View this post on Instagram
What to wear to a startup job interview (or any casual environment)
Startups are known for their anti-corporate attitude and relaxed atmosphere. Job interviews there are rather informal (we know a thing or two about that here at Kickresume).
Showing up formally dressed can create a sense of distance and disconnect with the culture. Imagine a situation where you wear a suit and tie at an interview where everyone else is wearing jeans and a tee. Awkwaaaard.
That, of course, doesn't mean that you should show up wearing leggings and your favourite band t-shirt. Be casual, but not too casual.
Men's attire:
Pants: Slacks, dark jeans, non-ripped jeans, or other casual trousers.
Shirt: Button down shirt, sweater, smart t-shirt, turtleneck tee, or blazer combined with a t-shirt.
Shoes: Tasteful sneakers or loafers.
View this post on Instagram
Women's attire:
Pants: Smart slacks, dark wash jeans, or white jeans are ok (without holes). You can also wear blue jeans if you pair them with a blazer.
Shirt: A nice top, button-down shirt, blouse, turtleneck tee, or sweater.
Dress or skirt: A knee length or midi skirt/dress can also work.
Shoes: You can wear heels, loafers, flats, or Converse — whatever is comfortable for you. Just no flip-flops or sandals.
View this post on Instagram
What not to wear?
Finally, let's review what not to wear to an interview, regardless of the formality. Here are the most common job interview faux pas according to HR managers:
Too short skirts and dresses

Shorts

Transparent blouses and too revealing clothes

Statement shirts

Loud patterns and shiny colors

Wrinkled, stained, or ripped clothing

Unfitted clothing

Shiny belts

Flip-flops and other open-toed sandals

Too much cleavage

Too much perfume, jewellery, or makeup
Still in doubt?
Whenever in doubt, remember the rule of thumb — it's better to go into your interview slightly overdressed than underdressed.
It tells your future employer that you take both your appearance and the job opportunity seriously.
Because of that, you may want to steer towards a slightly more formal option whenever in doubt.
And one last piece of advice I have to give you — don't let your clothes wear you. If you don't feel comfortable in a suit or dress, don't wear it. Remember that how you dress isn't just about how you look, it's also about how it makes you feel.
Stay comfortable, confident and carry a good smile. Good luck!
Content Manager & Resume Expert

A journalist by trade, a writer by fate. Nikoleta went from writing for media outlets to exploring the world of content creation with Kickresume and helping people get closer to the job of their dreams. Her insights and career guides have been published by The Female Lead, College Recruiter, and ISIC, among others. Nikoleta holds a Master's degree in Journalism from the Comenius University in Bratislava. When she's not writing or (enthusiastically) pestering people with questions, you can find her traveling or sipping on a cup of coffee.