Known for its beautiful castles, sausages, beer, dirndl, and Volkswagen, you may also fancy joining Germany's powerhouse of an economy and enjoy a life of comfort and social security.
But for a foreigner, especially one who doesn't speak fluent German, finding a job in Germany can be challenging. No worries though, in this article you can learn how to apply for a job in Germany and get it.
Shall we begin?
Is it easy to get a job in Germany?
It depends on your area of expertise. Jobs such as doctors, nurses, engineers, or IT specialists are always in high demand. If you want to see how easy it is to find a job in Germany in your industry, fill in the "Quick Check" form at the Make it in Germany webpage. In a few simple clicks you can see what are your chances of finding a job in Germany based on your professional background as well as your country of origin.
Sprechen Sie Deutsch? Although it's possible to find a job in Germany with only speaking English, knowing German will skyrocket your chances. Of course, there are plenty of international job positions that only require the English language, but these tend to be more competitive, so speaking at least some German is a huge asset. If you're looking to learn, there are plenty of online German lessons for all levels available to get you started.
If you're having a hard time finding something suitable, you can always contact "Hotline Living and Working in Germany". This free-of-charge service is there to listen and provide personalized advice regarding your job search. Do not hesitate to reach out to them via phone, chat, or email if you feel like you could use personalized help.
How to apply for a job in Germany?
Get a visa. Research the rules regarding visa requirements properly and make sure you meet all the requirements for entry and work stay.
Get health insurance. Don't forget about this one! This is mandatory from the day you cross the German border.
Look at the official job center or one of the job portals. Take a look at the official Federal Employment Agency. Otherwise, you can always browse numerous job portals, there are over 1,000 of them. The most popular ones include Stepstone and Indeed, just to name a few.
Once you have these basics covered, create your resume and cover letter, hit send, and hold your breath.

Work visa in Germany
The first thing you need to do when searching for a new job in a foreign country is to find out what kind of visa and other residence permits you need. Oh, and don't forget to research if your school degrees and other qualifications are officially recognized in Germany, too.
Are you from:
European Union, Lichtenstein, Switzerland, Norway, or Iceland? It's easy then. You don't need any kind of work visa or residence permit, and you're free to come and stay as long as you wish.
USA, Canada, Japan, South Korea, Israel, Australia, or New Zealand? You're allowed to come to Germany and stay there visa-free for up to 90 days (as a tourist). If you also want to work there, you'll also need to apply for a residence permit.
Other than the countries listed above? You'll need to apply for a work visa. That means you have to get a signed work contract before entering Germany.
When applying for a visa, contact your country's German embassy. Always make sure to give yourself enough time as it may take a while before the work visa is finalized.
However, there is an exception to this rule: having a university degree. People with officially recognized higher education diplomas can apply for a contract-free six-month visa and look for their new job in Germany in person.
For more info, check out Germany's visa regulations and also what kind of residence permit you need to stay in Germany. The process of receiving a residence permit in Germany is quite complicated, so make sure that you follow the rules to avoid getting into legal trouble.
German-specific resume and cover letter tips
If you want to find a job in any country, first, you'll need to create a resume (and potentially a cover letter) to apply for it. Fortunately, good resumes look alike no matter the country. Thanks to that, your German resume only needs to account for a few regional specifics.
(Mostly) German-specific resume tips
Keep it clear and simple. Germany's work culture is based on efficiency. Don't overdo it with fancy designs, and keep the visuals sleek. Also, the standard resume length is 1–2 A4 pages.
Keep it factual. Unsurprisingly, your typical German resume is down to earth and packed with hard data. The text should be clear and economical but, at the same time, highly informative. No fancy sentences or elaborate statements.
Describe your previous jobs. Your new potential German employer may have no idea just how important is the company that you worked for in your home country. Describe your past work experience and list the most impressive things that you've accomplished in your previous job. Make sure the description matches the requirements for the job you're applying for.
In other words, provide context. The same applies to your other accomplishments. For instance, if you attended a highly-ranked university in your home country, don't forget to mention it.
List your previous international experience if you can. Show employers that you have no problem adapting to life and working in new cultures.
Make your resume chronological. Describe your work experience, then your education — both in a reverse chronological order (starting from your most recent job).
Include personal info. In Germany, it's common to include your address, date of birth, nationality, or marital status.
Add a photo. Put your professional passport-style photograph in the top right corner of your resume.
Attach other documents. It's common to enclose copies of supporting documents with your resume such as diploma certificate, references, or certificates.
If you feel like you need more inspiration, check out our resume samples (you can even filter them using the keyword "Germany").
(Mostly) German-specific cover letter tips
Again, make sure you're being direct, clear, and informative. Stress your experience and willingness to work — Germans are known for their hard work and efficiency.
Don't waste words, but be clear about your ambitions and passion for the job you do. Also, try to avoid emphasizing how much you want to live in Germany or Europe. Rather focus on the work position you want and the specific reasons why.
For some examples, take a look at these cover letter samples.
Christy's word of advice

As a progressive, globally-focused country, there are lots of opportunities for English speakers in Germany. Teaching and call centres are popular options. An English language resume in Germany is very similar to the international standard (2 pages, reverse chronological order). Do include your full contact details, as well as a photo. Germans often include nationality, date of birth, and marital status, too. You can use the Europass format for your resume, but I only recommend this for junior professionals, as Europass is a bit clunky when you have a lot of detail to add.

Christy Morgan, Resident HR Expert
German job search engines
Volunteer jobs in Germany for foreigners
Volunteering is always a great way to enhance your CV. It shows that you like to engage with your local community and shows your future boss that you have the motivation to improve both yourself and the world around you.
When it comes to volunteering in Germany, your English may come as the biggest advantage. Check out the Go Overseas portal, as it offers a number of volunteering opportunities. These usually include teaching or community service work.
Again, make sure to get your visa and residence permit sorted out before you attempt to enter the country.
Summer jobs in Germany for foreigners
Are you tired of lazy holidays and prefer to spend your summers gaining extra experience? If you do, there are plenty of offers for summer jobs in Germany listed at Glassdoor. If you're coming from an EU country, consider looking at Erasmus Intern where you can find summer internships for students or fresh graduates.
Of course, if you're not a student, you can always try to look for seasonal jobs. The most popular seasonal jobs in Germany include: waiter, field worker, builder, miller, mechanic, and animal farmer.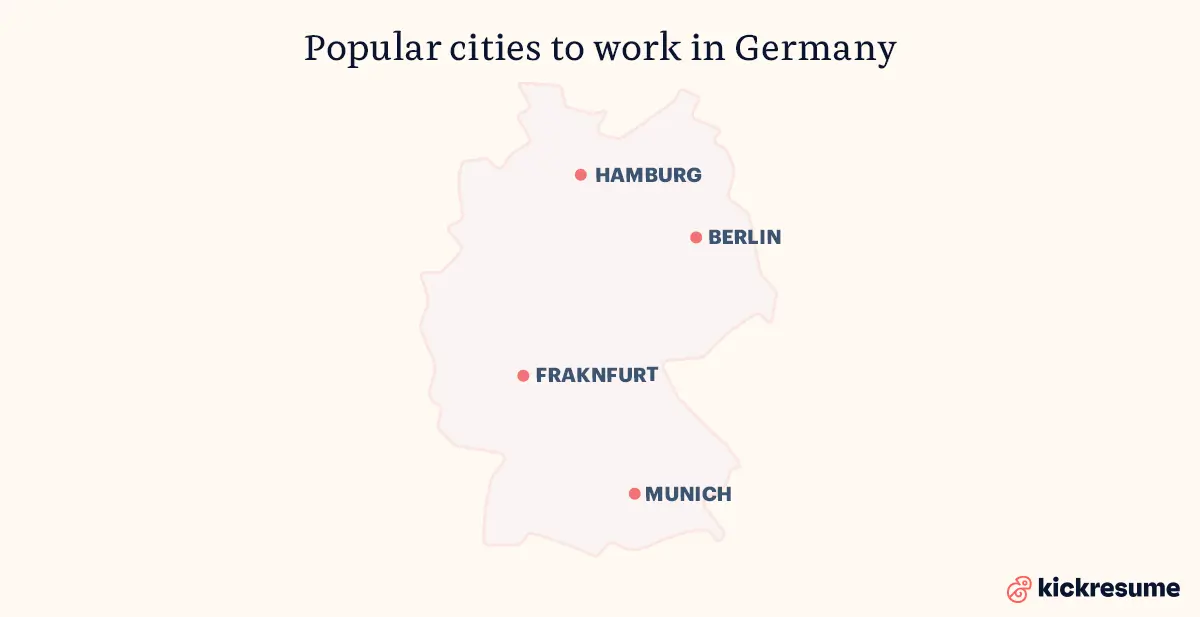 Popular cities to work in Germany
Berlin, of course. This cool international place is a hub for expats in Germany. With more than three million citizens, there are plenty of jobs in Berlin, ranging from flourishing startups, to jobs in the creative sector, or branches of various international companies.
Frankfurt, the economic capital of Germany, is full of skyscrapers and banks. If you're looking for a job in finance or banking and live in a comfortable city that is not too big, Frankfurt is the place for you!
Munich, with a population of over a million and a half, is a great place for an international job seeker because of the nearby headquarters of Siemens and BMW, which are located here. And don't forget the Oktoberfest that attracts millions of people from all around the world each year!
Hamburg is the second-largest city in Germany, located in the North. It not only has the third biggest port in Europe but also a flourishing start-up scene. If you're thinking about finding a job in banking and finance and prefer a city with a chill vibe, this may be the ideal place for you!
American companies hiring in Germany
The German economy depends heavily on its car production. Because of that, it's home to regional branches of Ford and Opel that employ hundreds of thousands of people.
Other than that, Amazon, Apple, Exxon, Google, Starbucks, all of these world-famous companies, have large offices located in some of Germany's biggest cities.
Salaries in Germany
In Germany, you'll earn the most as a doctor (92 000 euros gross annual salary). It's closely followed by jobs in finance, law, consulting, IT, or HR.
At the same time, German salary averages 42,400 Euros per year, with the minimum wage being 19,368 euros per year.
Generally speaking, life in Germany comes with a comfortable salary (in exchange for hard work), as well as plenty of vacation days, extensive maternity leave, affordable health care, and overall good quality of life thanks to its tax system and the government's emphasis on social well-being.
Coronavirus-related information for foreigners looking for a job in Germany
We all know what COVID has done to the job market. The job availability during the COVID-19 pandemic depends again on your specialization. Positions such as waiting tables are no longer as in demand as they used to be, but doctors, engineers, or IT specialists shouldn't have a problem finding a job in Germany, even during the pandemic.
Most importantly, make sure you have the right to enter the country. Recently, Germany has been through a number of harsh lockdowns, but the rules vary from Bundesland to Bundesland (Germany's federal states), so don't forget to research the rules for the region you've chosen properly.
You can take a look at all the limitations, regulations, and rules that are linked to entering Germany from different countries at the Federal Ministry of Health website.
And that's it! Good luck with the job search!
However, if you feel like this European country is not right for you, on your blog, you can find out how to find a job as a foreigner in Japan, Australia, New Zealand, Canada, or the UK.
Junior Writer

Kaja Jurcisinova is a junior copywriter at Kickresume. Kaja completed her undergraduate degree in Art History at the University of St Andrews in 2018 and graduated with a Master's in Arts and Culture from the University of Groningen in 2021. She was an intern at multiple cultural institutions across Europe, including the Dutch Museum Association in Amsterdam, the Matter of Art Biennale in Prague, and the European Cultural Centre in Venice. At the moment, she resides in Visby on the Swedish island of Gotland.