London is one of the world's leading financial centres for international business and commerce. Hence it's only natural if you're asking yourself "How to find a job in London as a foreigner?".
Despite Brexit, London remains a multicultural melting pot attracting people from all around the world.
The current post-Brexit situation certainly makes it more difficult for people to find a job in Britain and move there. But that doesn't mean it's impossible. If anything, it's more like a bump on the road.
We're here to help you navigate this process and help you ward off any concerns you may have.
Is it easy to get a job in London?
Let's put it this way: the UK left the EU recently, creating barriers for trade and cross-border exchange, which has far-reaching consequences for businesses and citizens. All while there's a global pandemic taking place.
While Brexit makes it more difficult for foreigners to live and work in the UK than it was pre-Brexit, the Covid-19 pandemic has lead to business closures and manufacturing disruptions. All of that negatively impacts the economy in a big way.
Yeah, it's not all sunshine and rainbows.
On the brighter side, the British economy is still very strong with lots of employment opportunities in the country as well as in London.
London is where the economic growth is concentrated, with 10 times more jobs on offer than the next best area of the country, the southeast.
Here are a few tips that will make your job hunting process in London easier:
Check the skills shortage occupations. The UK government website publishes and regularly updates a skills shortage occupation list. If you find your occupation on this list, it means your chances of landing a job in London are significantly higher.
Be a team-player. In the UK, teamwork is highly valued and seen as one of the top soft skills. When applying for a job, emphasize your ability to be a team-player, and watch your chances of landing a job skyrocket.
Your CV needs to be perfect. The competition is very high in London. Hence, it's the little things that set candidates apart. For example, the difference between a good resume and a great resume. Don't worry, we have a separate section dedicated to resume and cover letter tips.
Practice your English. Even if you're a perfect candidate with all the qualifications and skills, you won't land the job if your English isn't really good. Remember, there are locals who want the job just as much as you do.
Networking. LinkedIn is super big in the UK. Join LinkedIn groups that are specific to your industry and engage with people working in London. Or, even better, go to a networking event and meet the people face-to-face.
Get your visa. This probably goes without saying for some, but it's definitely something new for Europeans. You won't land a job if you have no work permit. Plus, it's better to obtain all the necessary permits well in advance. We have a separate section dedicated to visas providing more in depth information.
If you want to stay in the UK, but you're not insisting on staying in London, check out: How to Find a Job in the UK as a Foreigner?

How to apply for a job in London?
It always pays off to prepare before you apply for a job, whether that's in your own country or a foreign one. However, there are certain steps in the application process that will differ from country to country.
Here's what you need to get in order before applying for a job in London:
Have your CV and cover letter ready. Emphasis on the cover letter. During any British job application process, you'll almost certainly be asked to provide one, so make sure to have it ready. If you're not sure how to start a cover letter, check out our cover letter opening examples.
Do your research. Look up the company and find out as much about it as you can. Not only will you be prepared for questions about the company during an interview, but you'll also find out about their interviewing practices. You can also find out a lot on different forums about the interview process in a given company.
Get a UK phone number and a bank account. It's better to take care of these technicalities prior to applying for a job, since it'll be easier for the company to contact you and transfer your salary. In other words, you'll look more prepared in general.
Get a visa or work permit. You should carefully research the specific visa requirements, since your right to work in the UK depends on where you're from as well as what type of work you want to do. We have a section dedicated to visas, so worry not.
Apply for a National Insurance (NI) number. You need to apply for a National Insurance (NI) Number before you start working in the UK. This number is used for social security purposes, and you can apply for it here.
Work visa in London
Thanks to Brexit, everybody apart from British citizens now needs a visa to work in the UK. There are some exceptions, however, these are very strict and complex. So generally, if you're a foreigner looking for a job in London, you'll need a visa.
If you want to make absolutely sure whether you need a visa, you can visit the government website and try the "Check if you need a UK visa" tool.
Types of work visas in London
Below we briefly summarize the types of visas you can apply for when seeking work in the UK and the short overview of specific visas. Click on the name of each specific visa type to get more information as well as the requirements.
Apart from the categories and types we mention here, there are many other types of visas you can apply for. You can check them all on the government website.
1. Long-term work visas
Skilled Worker visa. A Skilled Worker visa allows you to come to or stay in the UK to do an eligible job with an approved employer.

This visa has replaced the Tier 2 (General) work visa.

Health and Care Worker visa. A Health and Care Worker visa allows medical professionals to come to or stay in the UK to do an eligible job with the NHS, an NHS supplier or in adult social care.
Intra-company visas. An Intra-company visa allows you to come to or stay in the UK to do an eligible job at your employer's UK branch.
Minister of Religion visa (T2). You can apply for a Minister of Religion visa (T2) if you've been offered a job within a faith community (for example as a minister of religion, missionary, or member of a religious order) in the UK, or you meet the other eligibility requirements.
Sportsperson visa (T2). You can apply for a Sportsperson visa (T2) if all of the following apply:

you're an elite sportsperson or a qualified coach, who's recognized by your sport's governing body as being at the highest level of your profession internationally,
your sport's governing body is endorsing your application,
your employment will develop your sport in the UK at the highest level,
you meet other eligibility requirements.
2. Short-term work visas
3. Investor, business development and talent visas

Resume and cover letter tips
For your resume
Call it a "CV" not a resume. In the UK, the common term for a resume is "CV", rather than a resume or the full Curriculum Vitae.
Use British English. Not American English. For example, say postcode not zipcode, timetable instead of schedule, etc.
No more than two pages. In the UK your CV shouldn't be longer than two standard A4 pages. Make sure to familiarize yourself with the standard margin sizes for an A4 size papers, too.
Don't include your photo. While this is common in many countries, in the UK it's a big no-no.
Include your grades. Grades are important especially if you're fresh out of school. Don't forget to convert them into a British equivalent.
For more inspiration, check out these resume samples.
For your cover letter
Tailor your cover letter. Cover letters are super important in the UK. Make sure to read the job description and tailor your cover letter to suit the needs of the company.
Don't duplicate your CV. Cover letters should complement your CV, not replicate it. Emphasize what you'd bring to the company and why you're the right fit. Basically, all the things that you can't fit into the CV but you want the potential employer to know.
Don't exceed one A4 page. Typically, it's best to keep it as concise as possible. Let's say 3-4 paragraphs long. Try not to ramble too much, and make sure each sentence conveys a clear message.
Not sure if your cover letter is good enough? These cover letter samples will help.
London job search engines
If you want to find a job in London as a foreigner, the quickest and easiest way to do it, is to look at job search engines.
These websites have numerous different features and qualities. Some focus on a specific field, while others aim to earn you the best wage possible in your desired career.
Here we list the top 5 job search engines for foreigners who want to find a job in London or the rest of the UK.
CV-Library. After registering you and your CV, you can browse through more than 10,000 job offerings. By loading your CV, you'll be immediately redirected to job offers that might interest you. This will save you the time of manually entering your areas of interest and other details.
WikiJob. You can search by industry, location, or keywords. It's updated hourly, hence you'll always have access to the most recent and relevant career options.
Indeed. This is a popular job search engine that many job seekers recognize all around the world. You can filter by location and compare different wages across positions.
Monster. To attract more job seekers, Monster allows recruiters to post job ads on Facebook and Instagram. When you register your preferences, the jobs you're looking for will show up in your Facebook and Instagram feeds.
Glassdoor. Apart from being one of the most popular job search portals, Glassdoor also allows candidates and employees to anonymously share their experiences, interview questions, and employer wages with the general public.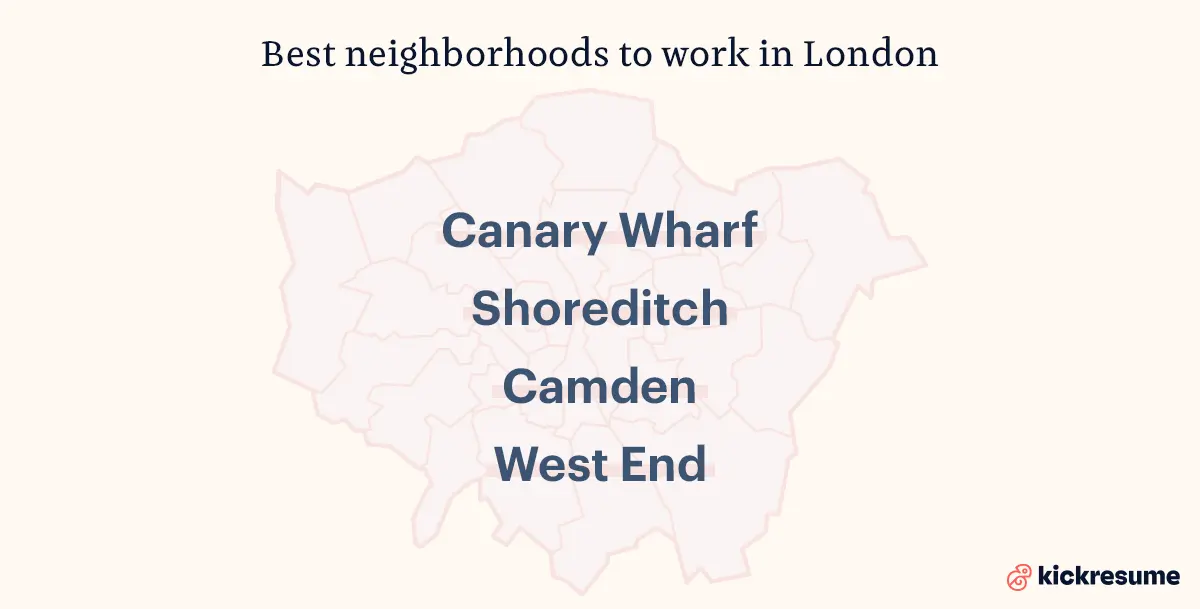 Popular neighborhoods to work in London
London offers some of the best areas to work in the world. In London you can find amazing co-working spaces, high-end offices, quirky design studios, or fancy headquarters of some of the biggest companies in the world.
Interestingly, each of London's districts boasts its own unique personality. There are areas where similar businesses have concentrated over time, changing the whole character of the district.
Have a look at 4 créme de la créme areas to work in London, where opportunities are plentiful.
Canary Wharf. Canary Wharf is the best place to work at when you work in finance. It's London's central business district, just east from the centre of the capital in Zone 2. It boasts many towering office buildings and luxurious residential properties that overlook the River Thames. Its current tenants include HSBC, J.P. Morgan and Citibank.
Shoreditch. London's hipster heaven. The area has become synonymous with creative and tech industries since the dot-com boom, and remains the creative heart of London. Old warehouses have been converted into offices offering incredible work spaces with industrial features, which are booming with promising start-ups.
Camden. Camden is a borough of diversity and contrasts. Camden's geographic position in central London and the business environment created, has enabled it to become one of the most important business locations in the country. It's home to the second highest number of businesses in London after Westminster and is 3rd highest in the UK.
West End. In addition to being a popular tourist site, the West End is also home to a number of businesses and organizations. It's the main commercial and entertainment centre of the city, with many media outlets headquartering in the West End. Downside is that it's also one of the most expensive locations in the world to rent commercial and office spaces.
Volunteer jobs for foreigners in London
Luckily, there are plenty of opportunities for people wanting to volunteer in London. The network of charity organizations providing volunteer work for foreigner is really broad, so everyone can find something matching their personality.
The first place you should be looking at is definitely London's official government website. They're offering hundreds of high-quality volunteering roles from a wide range of approved organisations. You can choose from more than 12 categories of causes to pick one dear to your heart, and scroll through hundreds of roles which may interest you.
Alternatively, the travel guide's One World 365 website features local organizations that offer volunteering projects in London to British citizens as well as internationals. They promise to guide expats through the application process and to help you arrange the whole experience.
Lastly, make sure you have all the technicalities sorted out before you apply for a volunteering program to ensure you have a legal permit to volunteer.
Summer jobs for foreigners in London
London is a hive of activity in the summer and is the perfect place to find the summer job you've been searching for. Spend your summer gaining valuable work experience that will look great on your CV and will enrich your summer holiday.
StudentJob UK lists many summer jobs available in London. Whether you'd like to work as a brand ambassador, a delivery guy, or even a photo booth host, you can find plenty of opportunities matching your needs.
Furthermore, an established job search engine like Indeed lets you search for summer jobs in London, too. They provide many different filters you can use to find the perfect match, such as estimated salary, remote work options, or job category.
Remember, if you're a student you can use your student visa. However, anyone else needs to get a work permit and apply for a visa to work a summer job in London.
Christy's word of advice

If you're in London on a working holiday or temporary visa, this is about the only time I'd advise you to go out and drink to get a job! Hospitality or other jobs can be found by networking with locals or more established foreigners over a few beers. You can also register with temp agencies, which usually welcome eager foreign workers with great language skills for jobs ranging from office work to farm labor.

Christy Morgan, Resident HR Expert
American companies hiring in London
Finding an American company with offices in the UK offers transferability, and therefore, an opportunity to build a career beyond the expat phase.
Finding a job in London as an expat can be a daunting task, which is why many Americans opt for a job in American companies.
Lucky for you, there is no shortage of American companies hiring in London.
Amazon. No surprises there. 
Facebook. Their intern program was ranked #1 by Glassdoor two years in a row.
GSK. The pharmaceutical giant offers many jobs worldwide.
Netflix. A fast-growing media giant offers job in their UK offices, too. 
American Express. Looking for a job in the financial sector? Try your luck at American Express.
Hilton. Maybe you'll meet Paris. Worth a shot.
Instagram. Instagram currently has two job openings in their London hub. Check them here.
Transferwise. They're ranked as Europe's most valuable finch startup in 2019.
Salaries in London
Apart from working conditions and career prospects, a salary is one of the most important aspects of a job. For some, it's the most important factor when looking for a job.
So, how much money does a person working in London actually make?
Well, it really depends on factors such your education, the skills and qualifications you have, as well as the industry. But generally:
The average (median) salary in London is £41,017 per year.
The average salary in London is still 25% higher than in the region with the second highest average salary in the UK.
The highest-paid jobs belong to chief executives and senior officials, who earn an average of £1,538.70 per week.
The second highest-earning jobs belong to marketing and sales directors (£1,437.40 per week).
Coronavirus-related information for foreigners looking for a job in London
We've talked about getting a visa to enter the UK in a previous section. However, having a visa doesn't grant you a permission to enter the country. Why? You also need Covid-19 related documentation.
Countries and territories are listed as either red, amber or green. The rules for testing and quarantine when you arrive in England are different for each list.
But generally, when arriving from a green or amber list country or territory, you should follow these steps:
Take a COVID-19 test in the country you're in. To board your transport to England, you need proof of a negative result from a test taken in the 3 days before the service departs.
Complete a passenger locator form. You can do this any time in the 48 hours before you arrive in England.
Find a coronavirus (COVID-19) travel test provider and book any tests you'll need to take after you arrive in England.
You may need to quarantine when you arrive in England. This depends on where you've been before you travel to England and your COVID-19 vaccination status.
Bear in mind these are the rules for England specifically, however, there are different rules for each of the countries that make the UK.
Definitely do check out the UK government website for the latest updates, since things change quite frequently.
Career Writer

Klara recently graduated from the University of St Andrews in Scotland. After having written resumes for many of her fellow students, she got an opportunity to write full-time for Kickresume. Klara is our go-to person for all things related to student or 'no experience resumes'. At the same time, she has written some of the most popular resume advice articles on this blog. When she's not writing, you'll probably find her chasing dogs or people-watching while sipping on a cup of coffee.