Despite being small, Singapore has emerged as one of the world's most prosperous countries. Its status as the largest port in Southeast Asia means that Singapore is a financial center and remains one of the busiest cities in the world.
No wonder so many people are asking themselves "How do I find a job in Singapore as a foreigner?".
This being said, Singapore has a very competitive job market, especially if you're a foreigner. Hence, finding a job here can be a challenge.
Anyway, welcome to our complete guide on how to get a job in Singapore as a foreigner. We're also going to answer some of your FAQs concerning employment opportunities in Singapore.
Is it easy to get a job in Singapore?
Well, finding a new job is generally a daunting challenge. In Singapore, the market is highly competitive and even experienced professionals may find it difficult to succeed.
On the other hand, in an economic hub like Singapore the job-market is never saturated. Moreover, Singaporean companies are familiar with hiring foreign labor, since this small country is a multicultural melting pot.
Here are a few tips that will make your job hunting process in Singapore easier:
If you'd like to stay in Asia but prefer a different place, check out: How to Find a Job in Japan as a Foreigner. Or maybe Asia isn't the right place for you. What about Canada, though?
How to apply for a job in Singapore?
There are certain steps you are required to take before applying for a job in Singapore as a foreigner, so make sure you're well prepared.
Check your eligibility to work in Singapore. To save yourself the trouble of going through an exhaustive process of searching for a job and then finding out you're not eligible, check out the online self-assessment tool launched by the Ministry of Manpower in Singapore.
Identify available and in-demand occupations. As mentioned before, getting a job in Singapore really depends on how well you can navigate the job market. Especially since you're a foreigner.
Check your qualifications. Make sure you read the whole job description and list all relevant qualifications and skills. If you don't, they'll likely prioritize someone who does.
Make sure to have your resume and cover letter ready. It goes without saying, but having a great resume and cover letter is a must. Keep in mind you have to stand out, since competition is plentiful. More details about resume and cover letter specific to Singapore are in a separate section.
Online search or an agency? Go for both! Combining multiple ways will maximize your chances of finding a job.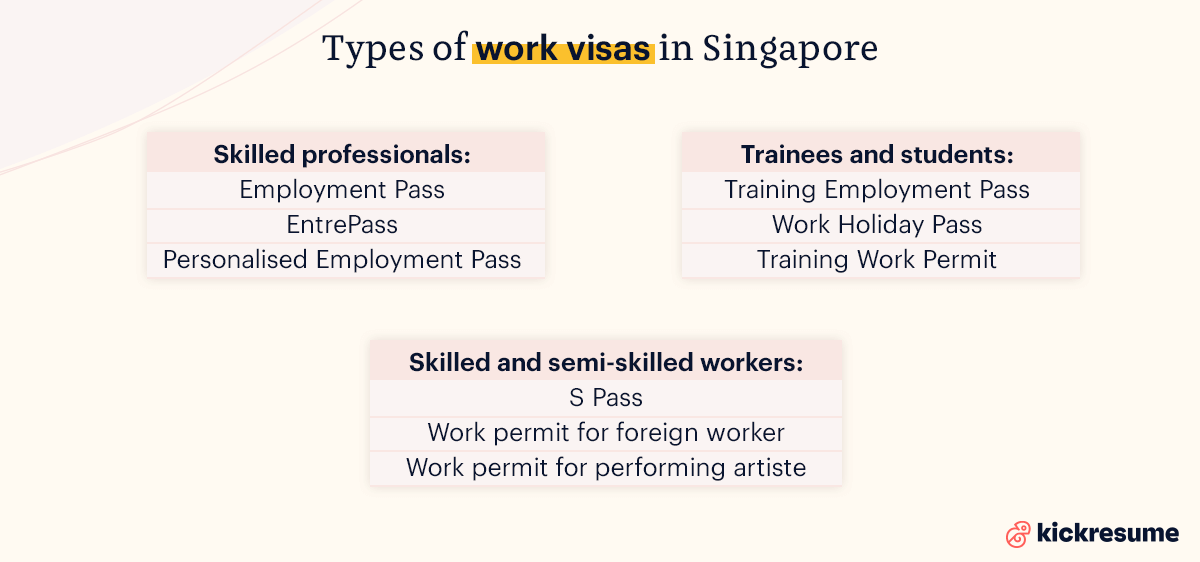 Work visa in Singapore
Once you've secured a job, you can begin to deal with the more practical side of moving to Singapore. One of the most important steps is to apply for a work visa. This will allow you to live and work in Singapore. But how do you get the work visa? And what are the different types of visas?
There are different types of work visas depending on what qualifications you have or how skilled you are. Here's a quick breakdown. Make sure to click on the links below to get more details from the Singapore Ministry of Manpower website.
Types of work visas in Singapore
1. Skilled professionals
2. Skilled and semi-skilled workers
3. Trainees and students
Click here to find out more about the types of visas mentioned on the Ministry of Manpower website, including visas for family members and the exemptions for working while on visit pass.

Resume and cover letter tips
For your resume
For your cover letter
Job search engines in Singapore
We have compiled a list of the best job search engines in Singapore. If you're asking how to find a job in Singapore as a foreigner ― this is a good place to start your job search!
Volunteer jobs for foreigners in Singapore
People all around the world do volunteer work for all kinds of reasons. These include eradicating poverty, improving educational conditions, and helping wildlife conservation. Moreover, volunteering is always a great way to boost your career outlook.
Even though Singapore is a small area, there are many volunteering programs for foreigners. The GoOverseas portal offers volunteering programs in Singapore, such as animal conservation & research program, youth and orphan care program, and many more.
Alternatively, the volunteer.gov.sg site lets you connect with agencies or schemes that align with your interests and support the causes that are close to your heart.
Lastly, make sure you have all the technicalities sorted before you apply for a volunteering program to ensure you have a work permit and everything is legal.
Summer jobs in Singapore for foreigners
Since the country is a tourist hotspot, you might be able to find a summer job related to the hospitality sector. For example in hotels, hostels, pubs, and restaurants.
The Singapore Work Holiday Programme that I've mentioned above allows university students and recent graduates from eight countries to work in the country for up to six months on a holiday visa. These countries include: Australia, France, Germany, Hong Kong, Japan, Netherlands, New Zealand, Switzerland, United Kingdom or United States.
Moreover, on Glassdoor you can search for summer jobs in Singapore by filtering the conditions. You can also use a filter regarding the wage and area. So don't waste any more time and find a job in Singapore!
American companies hiring in Singapore
Can Americans work in Singapore? Of course they can. There's a big pool of jobs in Singapore for Americans.
According to CNBC, all of Singapore's top employers of 2020 are international firms, while 8 of the leading 10 are headquartered in the United States. These include major names from industries such as banking, oil, gas, and insurance.
Here we list American companies with branches in Singapore, which are constantly looking for spots to fill. Plus, they're all on Glassdoor's inaugural report on "best places to work in 2020 in Singapore."
Christy's word of advice

A multicultural, internationally-focused country in the heart of Southeast Asia, Singapore welcomes quality foreign workers with open arms. Although there are 4 national languages, Singaporean resumes are generally in English. Resumes in Singapore also follow the universal format of up to 2 pages, reverse chronological work history, and so forth.

Christy Morgan, Resident HR Expert
Salaries in Singapore
Singapore has some of the highest wages in the world. After all, 5% of Singaporeans belong to the world's richest 1%.
So, how much money does a person working in Singapore actually make?
It is important to mention that it depends on factors such your education, the skills and qualifications you have, as well as the industry. The experience level is the most important factor in determining the salary.
Salary range in Singapore. Salaries vary from 2 140 SGD (1,590 USD) per month (minimum salary) to 37,700 SGD (28,020 USD) per month. However, it's the maximum average salary, so your actual salary can be even higher.
Median salary in Singapore. The median salary in Australia is 8,790 SGD per month (6,534 USD), which means that 50% of people in Singapore lie in the first and second quartile and thus, make less money. Meanwhile, 50% of people have a higher salary 8,790 SGD per month.
Highest paying careers in Singapore
Here we list the top 5 highest paying careers in Singapore with the average monthly salary, according to SalaryExplorer.
Surgeons and doctors. Earning on average 31,400 SGD per month.
Judge. With an average monthly salary of 26,400 SGD.
Lawyer. Unsurprisingly, lawyers earn on average 21,400 SGD per month.
Bank manager. Earning on average 20,100 SGD per month.
Chief executive officer. With an average monthly salary of 18,900 SGD.
Coronavirus-related information for foreigners looking for a job in Singapore
The Covid-19 epidemic is currently having a significant influence on many aspect of our existence. As a result, the process of looking for a job in Singapore is currently a bit more difficult.
All pass holders (work pass holders and dependants) must get entry approvals from the relevant government agencies to enter Singapore. Employers will need to submit a request for a worker's entry approval.
Click here to read the FAQs about COVID-19, such as general guidelines, precautionary measures, flexible work arrangements, and entry approvals on the Ministry of Manpower Singapore site.
Career Writer

Klara recently graduated from the University of St Andrews in Scotland. After having written resumes for many of her fellow students, she got an opportunity to write full-time for Kickresume. Klara is our go-to person for all things related to student or 'no experience resumes'. At the same time, she has written some of the most popular resume advice articles on this blog. When she's not writing, you'll probably find her chasing dogs or people-watching while sipping on a cup of coffee.