With the war in Ukraine, millions of people were forced to leave their homes, jobs, and security.
The neighboring country of Slovakia, which is a member of NATO and the European Union, is among the first choices for many people who are looking for a new home or a temporary shelter.
Whether you have left your homeland years ago or were forced to arrive only recently, this guide will explain how and where to find a job in Slovakia as a Ukrainian during these unprecedented times.
It also offers information about NGOs and governmental bodies which will assist you during your house and job hunt.
Moreover, you'll learn how to apply for a job and how to adjust your resume and cover letter to Slovak standards to make sure you'll get it.
Organizations helping Ukrainian refugees in Slovakia
First of all: If you're a Ukrainian refugee in need of shelter, medical, psychological, or material help, in the European Union, you're entitled to receiving help.
Seek volunteers at the border crossings and major train stations. They'll help you with registration and all of the initial steps.
For more practical information, go and have a look at these pages:
Several NGOs and governmental bodies offer help to Ukrainians seeking refuge in Slovakia.
Official governmental institutions helping Ukrainian refugees are:
Ministry of Interior. Alongside other initiatives, the ministry has set up two helplines for Ukrainians refugees in Slovakia. Both are operated in Ukrainian language and are reachable also from Ukraine:
+421 513 816 111
+421 259 765 111
Among the largest and most active NGOs helping Ukrainians in Slovakia are:
Človek v ohrození. Here, you can fill in a questionnaire if you need help of any sort.
Sme spolu.You can turn to this organization if you need accommodation. 
Kto pomôže Ukrajine. This initiative interlinks several NGOs and offers truly complex help for refugees from accommodation to psychological and legal assistance.
Mareena. If you've already dealt with the most urgent tasks and are ready to start the challenging process of integration into another culture, turning to this NGO may be the right choice. It offers language courses, bureaucratic help, and cultural inclusion program. Mareena is also behind this guide, where you can find all the necessary information for Ukrainian refugees escaping to Slovakia.

Residence in Slovakia and legislation
Visa & work permit
After entering Slovakia, you can stay there for 90 days on the basis of a visa-free stay. However, you don't have the right to work and you don't have health insurance during your stay.
Therefore, if you want to stay in Slovakia longer and work there, you should request temporary refuge.
This means that for a period of 1 year you're entitled to having a residence and labor permit, as well as medical care and education for children in all the member states of the European Union.
You can apply:
directly at the border crossing
at large capacity centers:
or at any foreign police department closest to you (for example, in Bratislava, Trenčín, Žilina, Banská Bystrica, Ružomberok and Rimavská Sobota).
Minors must also be present when applying.
Alternatively, you can apply for asylum. However, this one is administratively longer and can take up to 6 months.
Reporting obligation
After entering Slovakia, it's necessary to report the beginning of your stay within three business days from the entry.
You can report your address at the relevant department of the Foreign Police (according to the address of residence). You can do so in person or by post.
In the current situation, it's recommended to send the report by post, as the Foreign Police don't currently process requests other than temporary refuge.
Here's a relevant form to download.
In case you live in a hotel or hostel, the housing provider should fulfill this for you.
The basics: The job market in Slovakia
Slovakia, as a member country of the European Union, belongs to the most developed countries in the world.
It has a relatively well-functioning and fast-growing economy.
On the other hand, it's still catching up to countries such as Austria, Germany, or even the Czech republic.
In Slovakia, most people work in manufacturing industries, agriculture, and services. The IT business has a strong base in Slovakia, too. Tourism was on a steady growth path before the COVID-19 pandemic.
Indeed, the job market in Slovakia was strongly hit by the coronavirus pandemic.
However, in 2021, Profesia.sk, the largest job search engine in Slovakia, recorded the highest number of posted vacancies per applicant.

Professions in demand in Slovakia
At the moment, after the establishments have reopened after the third wave of the pandemic, there's a call for people who could work in hospitality.
There's also an urgent need for specialized medical workers.
The most stable demand is for:
IT specialists
accountants
cleaners
drivers
Regions in Slovakia with the highest number of available vacancies
Generally speaking, more work options and higher pay are available in the west of the country. In the eastern part of the republic, jobs are more scarce.
The following is the list of city regions with the highest number of job offers available. All of them are located in the west of Slovakia:
Bratislava
Trnava
Nitra
Trenčín
Is it easy to find a job in Slovakia as a Ukrainian?
This will mostly depend on the place where you seek the job, your qualifications, and language barriers.
First, there has been a sharp rise (by 130%) in the number of Ukrainian native speakers who look for a job in Slovakia in February of 2022. These are numbers that were recorded before the Russian invasion.
Therefore, the number of Ukrainian workers in Slovakia will keep on rising in the spring of 2022. Even before 2022, there has been a solid base of Ukrainian workers in Slovakia.
On the other hand, at the end of 2021, there were more than 17,000 jobs available in Slovakia. And in 2021, there were over 8,000 posted vacancies that didn't require any Slovak.
Thus, there are options to choose from.
Here are some jobs that don't require high qualifications and where the language barrier wouldn't be a problem:
kitchen and restaurant staff
seasonal worker
builder
driver
maid
warehouse worker
retail worker
staff in cleaning services
staff in social services
and other similar jobs in tourism, gastronomy, hospitality, transport, or logistics.
Currently, there are also some custom positions being made for Ukrainians, such as:
Ukrainian-speaking recruiter for a recruitment agency
coordinator with Ukrainian language
member of the "welcome team" at the border
Additionally, there are industries in which finding vacancies as a skilled worker isn't a problem.
For instance, the IT business in Slovakia is steadily growing (especially in Bratislava) and as an IT specialist, you'll always find a job. Slovak language may not be required at all and it's a segment with above-average salary conditions.
If we talk about qualified positions, for example, doctors from Ukraine have already worked in our country.
Here are some qualified jobs that you can get if you have good English:
IT specialist
software engineer
data engineer

office assistant

customer support

content specialist
jobs in healthcare sector
Moreover, an important factor that influences how easy is to get a job in Slovakia as Ukrainian is the region in which you search for a job.
Generally speaking, certain regions in the southeast of the country have ongoing issues with unemployment.
For instance, in the Rimavská Sobota (region of Banská Bystrica), unemployment rates are as high as 20%. So going there to look for a job may not be the brightest idea.
In other words, opt for those parts of Slovakia with a high number of job offers and flourishing industries. We'll tell you about these in the next chapter.
Finally, don't underestimate the wave of solidarity that Slovaks feel with Ukrainians. Many companies are actively helping.
Thus, right now, many positions are opening and being tailored specifically for Ukrainian refugees — so stay on the lookout!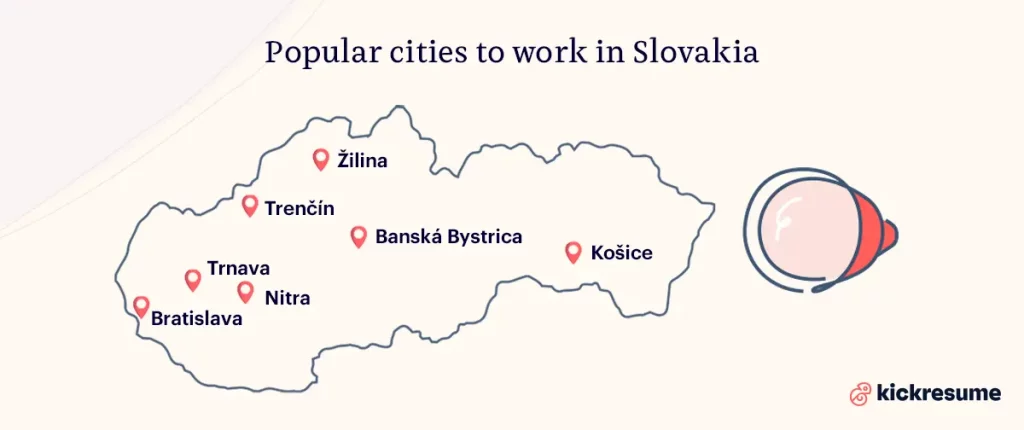 Popular cities to work in Slovakia
The following Slovak cities are known for their flourishing economies and plenty of available vacancies. It's up to you to pick the best fit:
Bratislava. The capital city of Slovakia. It has low rates of unemployment and the highest salaries. Here you can easily find jobs in IT business, management, hospitality, or marketing. On the outskirts of the city is also a large Volkswagen factory that employs thousands of people. There are also the offices of international companies like IBM which hire English speakers. However, the costs of living here are quite high compared to the rest of the country.
Košice. The second-largest city in Slovakia. Located in the east of the country and close to the Ukrainian border. Many people from the region are working in the U.S. Steel Košice, a huge steel factory. You can also easily find a job in services, retail, or hospitality. A plus point: costs of living in Košice are lower than in Bratislava.
Nitra, Trnava, Trenčín. These three middle-sized cities are all located in the west of the country. All three have very high rates of employment. You can find employment in numerous industries, including agricultural, electro-technological, or in hospitality.
Banská Bystrica. This city in the heart of Slovakia has the lowest unemployment rates in the region. There are jobs available in the car industry, energy field, or mining.
Žilina. This city in the mountainous northern region employs thousands of workers in the car factory KIA. Furthermore, people here also work in the wood or fashion industry.
After the pandemic, there are also more and more fully remote job positions available. So, working for a company in Bratislava and staying in another town may be an option too.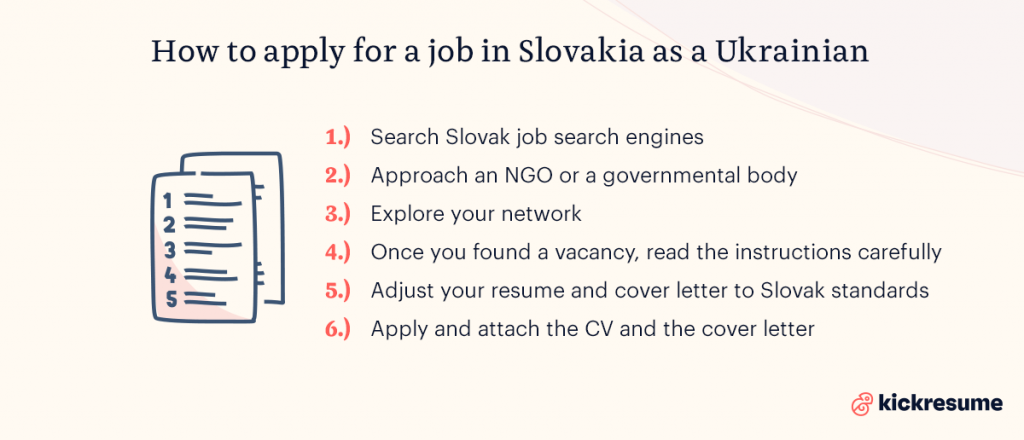 How to apply for a job in Slovakia as a Ukrainian
Applying for a job in Slovakia isn't that different from applying for a job in any other European Union country.
However, your unique situation may actually make this process a little easier.
Here's how to apply for a job in Slovakia as a Ukrainian:
Search Slovak job search engines.

Take a look at large job search engines, such as Profesia.sk.

Ask for help.

If you're in touch with an NGO or governmental body which is helping you with settling down in Slovakia, don't hesitate to approach them for help.

Explore your network.

If you already have family or friends who are already established in Slovakia, you can ask these contacts if they know about vacancies. It's usually the easiest way to find a job.

Read the instructions carefully.

Once you find a vacancy that's a good fit for you, read the instructions and follow them.

Adjust your resume and cover letter to Slovak standards.

Think of both format and language requirements. If you're unsure about how to do this, we'll explain in the chapter below.

Apply and attach the CV and the cover letter.

Some Ukrainians are used to applying only for one job at a time and waiting to hear back. In case you're one of those, we'd advise you to take a different approach. In Slovakia, it's a common practice to apply for more jobs and interview with multiple companies and decide which one fits you the best. So, feel free to apply for multiple jobs simultaneously. Also, don't forget to attach your documents — either to an email that you're sending to your potential employer, or upload them on your profile on job search portals.
Slovak resume and cover letter tips
When searching for a job in Slovakia, you're usually asked to send both a resume and cover letter.
However, it depends on the specific job position and in the current circumstances, a resume will probably suffice for most companies.
Here are some tips how to adjust it to Slovak standards:
Resume tips
Try to prepare it in Slovak language: most job positions will probably require you to send a CV in Slovak. Plus, by doing so you'll show that you're willing to learn.
Prepare a resume in English too: it's a plus, especially if you're applying for a job in an international company.
Follow the chronological resume format: it's the most used format in Slovakia. In this resume format, you list the experience and education in strict chronological order, with the most recent position at the top.
Include a picture on your resume: doing so is still a norm in Slovakia, so you'll not be making a mistake by not doing so. At the same time, it's not a must.
Have clear division between resume sections: such as work experience, education, skills, etc.
Organize your resume sections the right way: first list your contact info, resume summary, work experience, skills, and education. The rest of the sections later.
Consider using a resume template: it will make your resume more visually attractive and also help you with choosing the right order of sections. Most importantly, it will spare you time. Try Kickresume or Canva.
Here's a basic recommended resume structure:
Contact details: add your full name, email and phone number. If you don't have a stable address yet, no problem. Just skip this detail and include only your email address and a phone number.
Resume summary: write 3-4 lines (or bullet-points) of text summarizing how much experience you have, in what industries/markets, and your main skills or accomplishments. Consider mentioning that you were forced to relocate.
Work experience: include your main accomplishments and the description of your past work tasks — your potential Slovak employer probably doesn't know the foreign company and the responsibilities that came with working in it.
Skills: pick relevant skills and divide them into several subsections like computer skills, soft skills, and others.
Education: if you're an experienced professional, only mention your highest degree, the name of the university, field of study and year of graduation. If you're a student/fresh graduate, add more info like internships, or relevant coursework.
Other resume sections: feel free to include other optional resume sections like volunteering, certifications, languages, publications, hobbies, or references.
And in case you'd need to provide a cover letter too:
Cover letter tips
Match your cover letter design with your resume: this will make a great first impression.
Keep it shorter than one page.
Consider mentioning that you were forced to relocate: in the cover letter, you have the opportunity to tell your story.
Include more context which didn't fit into your resume: in other words, if you have a degree from the most prestigious university in Ukraine, your Slovak employer may not know about your school's reputation. In the cover letter, you have a chance to enlighten this fact.
Here's a basic recommended cover letter structure:
Date and contact information: List your contact details such as full name, email, phone. Add company's information such as the name of the company, department and address.
Headline: Use numbers, questions, or interesting adjectives. Something like "5 Ways I Can Help You Improve Your Company's Marketing."
Personalized greeting: Most job ads on Profesia.sk list a contact person. If you fail to find it, use "Dear Sir/Madam" (English) or "Vážená pani/Vážený pán" (Slovak).
1st paragraph: Introduction: Use this space to introduce yourself in more detail and explain why you'd like to get this job. Here you could mention that you were forced to relocate.
2nd paragraph: Why you're a great fit: Write a short summary of your career and skills, and tailor it to fit the company's needs.
3rd paragraph: Why the company is a great fit for you: Let them know why they appeal to you.
Closing paragraph: Finish strong and repeat why you're a great fit.
Signature: Use a formal sign-off like "Yours faithfully" (English) or "S pozdravom" (Slovak).
If you're still unsure about how to write a good resume and cover letter, see some of our resume and cover letter samples. Most of them are written in English.
Or read our resume and cover letter guide. There, you'll find all the necessary information which you need for writing.

Slovak-specific job search engines
What are the best places to find a job? Well, undoubtedly, the internet is the answer. But you have to know where to look exactly.
Especially if you're a foreigner looking for jobs, which don't require the command of the local language.
General employment figures in Slovakia
The average length of a workweek in Slovakia is 40 hours/week.
The employee has a right to at least a 30-minute break if he works longer than six hours a day.
12 hours at least is the required length of a break between two working shifts.
An employee must have at least two consecutive days of rest during a workweek.
4 weeks/year is the basic length of paid vacation in Slovakia.
The employer has to provide their employees with food and cover at least 55% of the food costs.
Salaries in Slovakia
Generally speaking, average and minimal salaries in Slovakia are higher than they are in Ukraine.
The minimum wage in Slovakia is 646 EUR/month and 3.71 EUR/hour.
The average wage in Slovakia is 1,211 EUR/month.
In Slovakia, only 10% of people make more than 1,917 EUR/month.
There is a clear division between salaries in Bratislava, the capital, and in the rest of the country.
The highest median salary is in the Bratislava region — 1,500 EUR/month. However, here, the high salary comes together with high costs of living.
In contrast, the lowest average salary is in Prešov. This is a region located in the eastern part of the state. Here, an average person earns just below 1,000 EUR/month. Nonetheless, services and rents are significantly cheaper.
Volunteering jobs for Ukrainians in Slovakia
On top of normal work, do you also want to help in the current situation?
Ukrainian and Russian native speakers are currently more than needed at the borders and various volunteering spots across the country.
You can help to welcome fellow Ukrainians who are fleeing war and who don't speak any other language.
Are you interested in this option? Register as a volunteer by filling in, for example, this questionnaire.
Junior Writer

Kaja Jurcisinova is a junior copywriter at Kickresume. Kaja completed her undergraduate degree in Art History at the University of St Andrews in 2018 and graduated with a Master's in Arts and Culture from the University of Groningen in 2021. She was an intern at multiple cultural institutions across Europe, including the Dutch Museum Association in Amsterdam, the Matter of Art Biennale in Prague, and the European Cultural Centre in Venice. At the moment, she resides in Visby on the Swedish island of Gotland.