Ah, weren't those the easy days when Britain was still part of the European Union and one could have just entered, drink some tea with milk, and in the meantime easily find a job in the UK?
Well, the times have changed and we're here to help you navigate them.
Whether you come from another part of Europe, the United States, Africa, or elsewhere, here you'll find simple step-by-step advice on how to find a job in the United Kingdom as a foreigner.
Because not even Brexit can change the fact that London is one of the world's main international hubs with plenty of job opportunities that attract thousands of nationalities from all around the world.
And you may be one of the lucky ones!
The basics: Geography
First, let's clarify the geography (we know, we know, it does get confusing). The United Kingdom lies on a group of islands in the western part of Europe and has a population of over 63 million people.
If you're looking to find a job in the UK as a foreigner, you're considering moving into either England, Wales, Scotland, or Northern Ireland. The Independent Republic of Ireland is fully separate from the UK and is one of the member states of the European Union.
Because of that, the visa rules are different here than in the UK. Make sure you're aware of this before starting your job search!
Also, the rules may soon change for Scotland. So, stay tuned and count on the possibility that the political situation may change in the upcoming years.
Is it easy to get a job in the UK?
To be completely honest with you, right now, the official statistics aren't really in your favor.
While the British economy is indeed still strong and there is plenty of job offers available in the UK, equally strong is the competition.
Moreover, the unemployment rates are the highest they've been in the last five years. At the same time, in comparison to 2019, there are 30% fewer open job positions.
But don't lose hope! There's always a way and it'll be easier to find a job in the UK as a foreigner if:
You look for it in

the South of England

. In general, the South is a powerhouse of the UK economy and we would advise you to start your search there.

You're looking for

a position in a field in that has a shortage of skilled workers.

Among the desired professions, you can find IT specialists, engineers, medical practitioners, or educators. So if you're qualified for any of these vacancies, good for you!

You have a great command of the English language.

Even if English isn't your native language, your command of it is naturally expected to be quite high. Remember, you'll be competing for jobs not only with a bunch of expats, but also with locals.

How to apply for a job in the UK?
Look for job offers in your field.

Start by visiting some of the most important job-search portals, such as

Indeed, Monster,

or

Jobsite.

In this way you can get a rough idea about the number of opportunities.

Go online.

Regularly scroll through LinkedIn to check for any interesting vacancies. Also, have your resume put up and make sure it's clear that you're open to . Make them come to you. And having

a great-looking resume

will help you with that.

Have your CV and cover letter ready, s

o you can quickly alter them according to the individual job requirements and send them right away.

Get the right visa.

Research the specific visa requirements properly and make sure you can meet all the conditions of entering the UK if you were to get the job.

Get the National Insurance Number (NI). When you start working in the UK, your employer will ask for it, even if you are a foreigner.
Open a UK bank account. This is a must-have so your employer can transfer your salary in British pounds.
Work visa in the UK
With the UK being the popular destination for work migrants from all around the world for decades, the rules for applying for a visa are quite complicated and strict.
Generally speaking, you don't need a visa to have the right to work in the UK only when you're a British citizen, or if you have the Indefinite Leave to Remain or the Settlement in the UK.
Before the 31st of December 2020, you could have had a visa-free stay also if you came from an EU/EEA country, but that has sadly changed (thanks, Brexit). Therefore, there's a very high chance that as a foreigner who wants to relocate to the UK for work, you'll need a visa.
If you're a citizen of a Commonwealth country or have close British ancestors and are trying to find a job in the UK, you may have an exception from having to have a UK visa permit. However, even if you fall into this category, this rule grants you only a six-month-long stay in the UK and then you still have to apply for a visa permit. However, the law is very complex and may not apply to your specific case.
Because of that, the best thing to do is to look at the "Check if you need a UK visa service" website run by the UK government. It gives you personalized advice and a simple answer for which kind of visa you need to apply if you are a foreigner looking for a job in the UK.
Since there are more than 20 types of specific working visas, there are plenty of exceptions. In other words, in the UK, it makes a difference if you're applying for a job in healthcare, in a start-up, in sport, or in a charity.
All of these exceptions and a list of types of work visas can be found on the page of the UK government. Do your research precisely and make sure you apply for the right work permit. 
Resume and cover letter tips
For your resume:
Don't include a picture of yourself

, unless it's required or you're applying for a job where looks matter, such as acting or modeling. Otherwise, this is not a common practice in the UK, as it can disadvantage certain groups of people.

The UK job market aims for inclusivity.

Not only it does not expect you to put your picture on your CV, but sometimes they want you to leave out the name of your school too, so the privilege factor does not determine who gets the job. Therefore, read the job description very carefully before submitting your documents.

Use British spelling conventions.

Approach it as the first step of cultural assimilation.

State the personal information

, such as the date of birth, or nationality. Consequently, your potential employer will know if you need a work visa or not.

Mention your grades.

Especially, if you're a fresh or recent graduate. Grades matter in the UK, so be sure to convert yours into the British scale. List them right under the name of your school that alongside the title of your degree (unless specifically told otherwise).
If you need inspiration, have a look at the resume samples (you can even filter them using the keyword "Britain" or "London").
For your cover letter:
Keep it short. Limit yourself to

a couple of short paragraphs and be sure you don't exceed the limit of one A4 page.

Don't repeat yourself.

In your cover letter, state information that will compliment your CV, but that's not just a mere repetition of the same stuff.

Stress why you want the position

,

and not why you want to live in the UK.

We get it, maybe it was your childhood dream to move to London one day, but that won't impress the company that resides there. Therefore, make sure you emphasize why it is the given organization that caught your attention. Not the place where it's located.
For some examples, take a look at these cover letter samples.
UK specific job search engines
If you want to find a job in the UK as a foreigner, your first step should be looking at the most popular independent job search engine in the UK — the CV-Library. Here you can find over 100,000 job offers.
Also, it never hurts to have a glance at the good old classics such as Indeed, Monster, or Jobsite.
There's also the official National Careers Service that's managed by the government. Not only does it give you a way to evaluate your skills and help you build your resume, but most importantly, you can search for a job at the Find a job portal.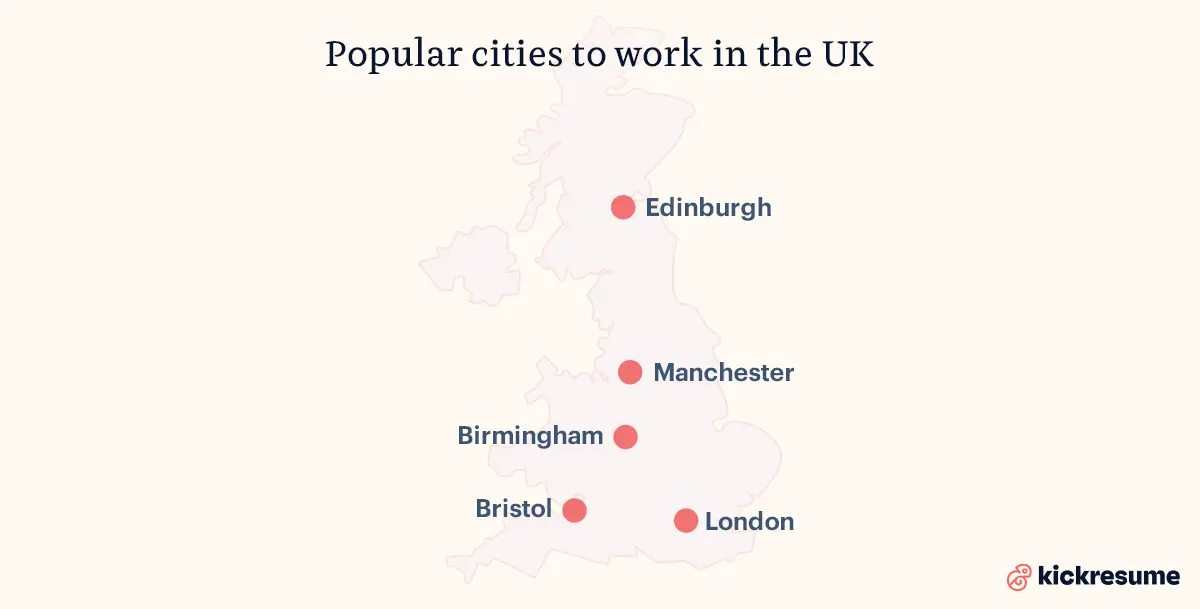 Popular cities to work in the UK
London

, of course. 62% of all the expats in the UK reside here. The capital city is the also financial center of the whole Kingdom. So, if you're a foreigner looking for a job in the UK in areas such as banking, business, or finance, this is the right place for you!

At the same time, it offers the highest number of vacancies in the creative and cultural sector in the UK. However, plenty of job offers and high salaries are balanced out by the high cost of living so be prepared for that. And the competition is also quite strong.
Birmingham.

The UK's second-biggest city with a population of two and a half million offers plenty of career opportunities, also for foreigners. Located only over two hours away from London, this is one of the favorite cities for job seekers thanks to its fast-growing companies and financial hub.
Manchester

is another English city with rapidly growing financial and banking vacancies. Manchester quickly became the second epicenter of business in the country, following London, while offering a much cheaper life.

Bristol

is another city located in the south of England. With its low rates of unemployment and equally low living costs, Birmingham became one of the favorite cities for expats with a surprising number of work opportunities for the city of its size.

Edinburgh.

If you're interested in a lively start-up scene or IT business, this picturesque Scottish capital is the right place for you! Combine this with a high number of international residents, plenty of cultural events, and breathtaking views, no wonder Edinburgh became one of the favorite destinations for foreign job seekers.
American companies hiring in the UK
There is no shortage of American companies hiring for their offices located in the United Kingdom. Among these, you can find:
Amazon.

That

should come as no surprise.

Do you want to find a job in the UK in banking or finance? Then know that there are branches of

PwC

or

JP Morgan&Co.
Netflix, Disney, Instagram, Facebook, Twitter,

and

YouTube

all have their offices in the UK, too.

Fancy working in the slowly recovering airline industry? Then you can look for a job in companies such as

Delta

or

American Airlines.
Summer jobs in the UK for foreigners
Are you not quite sure yet about full-time employment in the UK and want to just give it try for a while? Or are you looking forward to making your resume more interesting during your college years?
Then a summer job in the UK is the best option for you! But keep in mind, that as a foreigner that is seeking a summer job you probably still need a visa.
However, if you're already a student in the UK, you can simply use your UK student visa, too. In that case, have a look at this very helpful database of student summer jobs. It allows you to choose from a wide variety of types of hobs in several locations of the country.
If you're not a student and want to find a summer job in the UK, you have plenty of other options, too. For instance, Indeed has a database for summer jobs you can search.
There is, of course, a large need for seasonal workers. In that case, apply for the Temporary seasonal worker visa and decide if you'd like to work on a strawberry farm, a hotel, or a natural park! 
Christy's word of advice

A simple but very important piece of advice: check that your resume (or CV as it's known in the UK) is in UK English. If the company you're applying to has set up "optimisation" in the ATS and you've got "optimization" in your CV, it won't be detected. Same with any industry buzzwords — check out 3-4 job ads for roles you're interested in to spot any differences in local terminology, and make sure your CV reflects these.

Christy Morgan, Resident HR Expert
Volunteering jobs in the UK for foreigners
Were you thinking about volunteering in the UK? You're in the right place as there are plenty of options! The system of volunteering and the UK's network of charity organizations are very well-developed, and you can choose from a really wide variety of positions.
To find the right fit, check out the official UK database of volunteering opportunities, set up by the government.
On the other hand (surprise, surprise), the regulations surrounding your permit to stay in the UK to volunteer are once again quite strict. So, research thoroughly what kind of visa permit will apply to you.
Salaries in the UK
The official minimum salary in the UK changes every year and it differs based on a person's age. This year, the minimum wage per hour for a person over 23 is £8.91. However, if you're under 21 you earn only £6.56, and if you're younger than 18, you get only £4,62 per hour.
The current average yearly salary in the UK for full-time workers  is £31,461, which is slightly more than the previous year.  You'll earn the most if you're working in the medical profession, IT business, or marketing. 
Coronavirus-related information for foreigners looking for a job in the UK
Like finding a job in the UK after Brexit is not hard enough, corona had to complicate the situation even more.
Having a job already should grant you the right to enter. However, the rules are different for each of the countries that make the UK. There are differences between Scotland, Northern Ireland, Wales, and England. Therefore, make sure to research everything properly before embarking on your journey. Moreover, the rules keep changing so stay up to date!
In addition to having confirmation from an employer as for the purpose of your travel to the UK, at the moment, you also need to have a negative covid test, as well as to quarantine in the hotel before being able to move freely.
Because of that, give yourself some extra time before relocating. The hotel quarantine isn't cheap either, so keep that in mind.
However, if you feel like the United Kingdom is not the right place for you to work in after all, you might want to learn more about how to find a job as a foreigner in Australia, New Zealand, or Canada.
Good luck!
Junior Writer

Kaja Jurcisinova is a junior copywriter at Kickresume. Kaja completed her undergraduate degree in Art History at the University of St Andrews in 2018 and graduated with a Master's in Arts and Culture from the University of Groningen in 2021. She was an intern at multiple cultural institutions across Europe, including the Dutch Museum Association in Amsterdam, the Matter of Art Biennale in Prague, and the European Cultural Centre in Venice. At the moment, she resides in Visby on the Swedish island of Gotland.