Kia Ora! New Zealand is truly amazing, and it's no surprise you're wondering how to find a job in New Zealand.
Apart from breathtaking landscapes and a high quality of life, New Zealand also offers a bustling job market for anyone eyeing a fresh start overseas. With its strong economy and diverse job opportunities, it's an appealing destination for foreigners wanting to expand their horizons and work abroad.
So, can foreigners work in New Zealand? Absolutely! You just need to identify in-demand jobs, craft a New Zealand-style resume and cover letter, and choose a suitable work visa type. And, of course, apply for it properly.
In this article, we prepared a quick overview of the steps you should take to get a job in New Zealand as a foreigner and then looked at each step in more detail later on.
How to find a job in New Zealand: 6-step guide
To help make the process of relocating to New Zealand more manageable, in this chapter we've outlined the essential steps you should take in order to get a job in New Zealand.
So, this is how to get a job in New Zealand as a foreigner:
Identify in-demand jobs

Begin by researching the job market in New Zealand, and identify jobs that align with your skillset and experience, especially those in high-demand industries listed in the Green List. In-demand occupations include nurses, general practitioners, and teachers.

Use a New Zealand job search engine

Use job search engines and websites that specifically cater to the New Zealand market. The most popular ones include Seek, Indeed, or TradeMe. 

Secure a job offer with a New Zealand-style resume

Securing a job offer before starting the visa process will generally make your life a lot easier (though it isn't a necessity for all types of work visas). To do so, adapt your resume and cover letter to meet the New Zealand standards. Your resume should be short, without a photo, and should include a resume summary.

Prepare for the Visa application

Gather the required information and documents beforehand. This generally includes an identity proof, a police certificate, medical certificates, and document translations. You also need to set up a RealMe account before applying for the majority of work visas. 

Apply for a work visa

Now, you need to choose the appropriate visa type for your situation. For example, if you're a student, opt for a Fee Paying Student Visa. If you secured a job offer for an in-demand job, opt for the Skilled Migrant Visa.

Get a tax number

After obtaining your visa, proceed to apply for an IRD number through the Inland Revenue. Upon starting your job, you'll need to provide this number to your employer. The IRD number serves as your unique identifier for all tax-related matters in New Zealand.
Now, let's delve further into these steps and see more details on how to find a job in New Zealand and achieve your kiwi goals!
1. Identify in-demand jobs in New Zealand for foreigners
The population of New Zealand only amounts to around 5.1 million. Because of that, finding a job in this comparatively small job market (compared e.g. to the USA) might be a little more challenging.
However, you can significantly improve your chances if you have expertise in one of the fields in which New Zealand experiences a shortage of talent.
Currently, some of the most in-demand jobs include roles in the fields of healthcare, engineering, IT, construction, and education.
Here are the top 10 in-demand jobs in New Zealand:
Registered nurses. Aged care, pediatric care, mental health, or surgical care.
General practitioners. The number of GPs is predicted to drop in the next decade.
Teachers. In demand from preschool to university level.
IT professionals. Web developers, ICT project managers, and software developers.
Electricians and plumbers. These professions are consistently in demand.
Surveyors. Especially land and quantity surveyors.
Civil engineers. Primarily those involved in large construction projects.
Specialist medical professionals. Anaesthetists, paediatricians, cardiologists, etc.
Midwives. In demand due to a midwife shortage.
Engineers. Electrical, telecommunication, chemical, industrial, environmental, etc.
Head over to New Zealand's Green List, which lists all the jobs in high demand.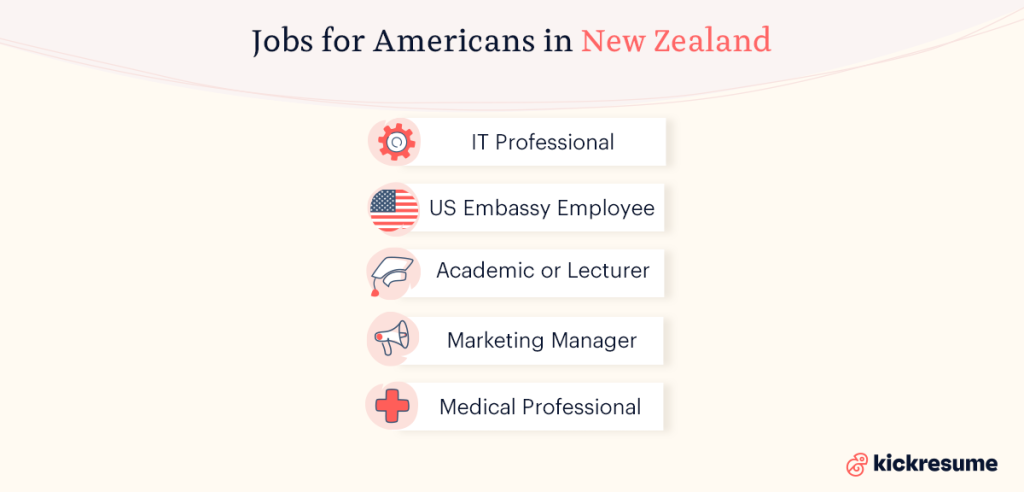 Jobs for Americans in New Zealand
New Zealand has long captivated Americans with its stunning landscapes, high quality of life, and friendly, English-speaking population.
Fortunately, there are various job opportunities that are particularly suitable for Americans looking to make the move to New Zealand.
Here are five jobs that could be the perfect fit for Americans seeking to establish themselves professionally in New Zealand:
IT professional. The thing is, the market in the US is starting to be pretty saturated. Which is why American IT experts can find plenty of opportunities in New Zealand's growing tech sector.
US Embassy employee. The US Embassy in New Zealand offers various positions for Americans to use their diplomatic, administrative, or management skills.
Academic or lecturer. American educators and researchers, particularly those with advanced qualifications and expertise in specific fields, are very sought after to teach or research at New Zealand's universities, colleges, or other educational institutions.
Marketing manager. Americans with experience in digital marketing, branding, and global market strategy can contribute valuable insights and help locally-based companies thrive on the world stage. Their understanding of the US markets can be a significant asset for New Zealand businesses targeting the US audience.
Medical professional. American medical professionals, such as doctors, nurses, or therapists, can find opportunities in New Zealand's healthcare system. This may require obtaining additional certifications or registrations to practice in New Zealand.
2. Use a New Zealand job search engine
Job portals are a huge part of job search. Typing "New Zealand job offers" or "New Zealand job search" first should give you plenty of ideas.
Still, we have picked the most useful sites to find a job in New Zealand as a foreigner
Or, find the full list of job search portals, categorized into general jobs, specialist jobs, general recruitment agency websites as well as industry-specific jobs, and animal care and conservation.
3. Secure a job offer with a New Zealand-style resume and cover letter
While not necessary for all types of work visas, obtaining a job offer beforehand can be beneficial as it improves your chances of your visa being confirmed.
And we all know, the most vital step for securing one is sending out your resume and cover letter.
Hence, you should adapt your resume and cover letter to meet New Zealand standards and stand out to potential employers.
Resume
When applying for jobs in New Zealand, it's essential to keep in mind that a New Zealand hiring manager may not be familiar with the details of roles you have held in your home country or with overseas companies. Therefore, make an effort to explain the nature of the business or company.
Likewise, you should adjust your resume to fit the New Zealand standards:
Keep it short. In international settings, your current CV may include extensive information on every job or course you've ever taken. However, in New Zealand, that's not the case. Employers are primarily concerned with whether or not you have the skills and experience required for the specific job. Ensure that the resume doesn't exceed two pages.
Focus on skills. New Zealand is big on showcasing skills on a resume. Rather than merely listing your skills, provide examples of how you've applied each skill in real-life situations. For instance: "Project management skills - successfully led a team of 8 to complete a complex software development project, delivering the final product on time and within budget."
Limit personal information. In your resume, include only your name and contact details while withholding information about your age, marital status, ethnicity, or religion. Resume photos are unnecessary, too.
Use a reverse chronological format. Organize your resume in reverse chronological order, starting with your most recent job experiences. Use bullet points for briefly outlining your responsibilities.
Include a resume summary. Begin your resume with a concise summary or career objective, consisting of two or three sentences that showcase your strengths and goals. This will provide hiring managers with a quick overview of your professional profile.
To see this applied in practice, look at the resume sample below, which belongs to a real person who got a job in New Zealand:
Sr. Technical Support Specialist Resume Sample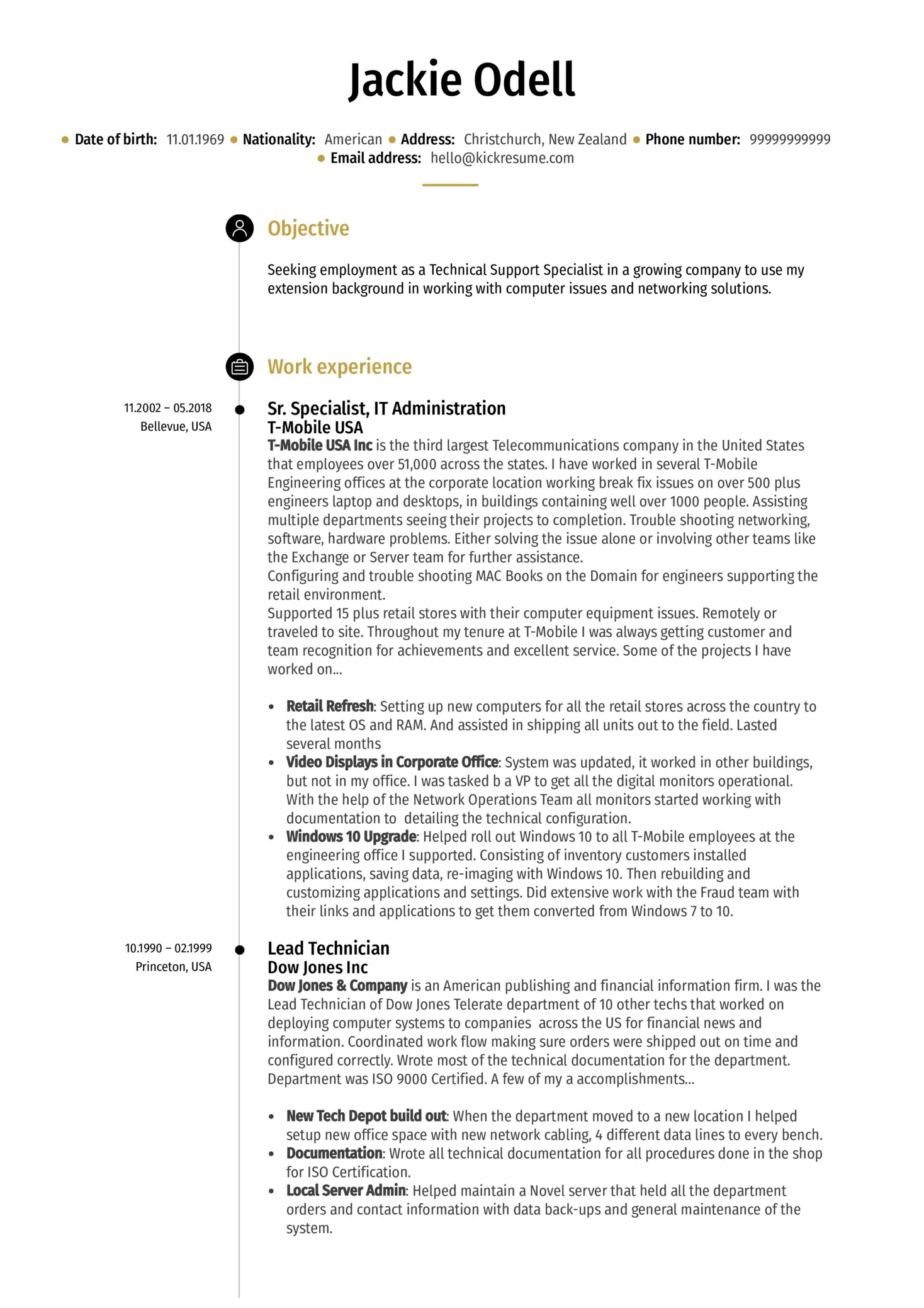 To see the full, two-page version of the resume, click directly on the image.
Cover letter
When writing your New Zealand cover letter, don't focus too much on your desire to work and live in the country. Doing so may come across as overly eager and unprofessional.
Instead, focus on securing the job and illustrating how you can provide value to the company despite being from a different country.
Provide detailed explanations of your qualifications and directly address the specific requirements listed in the job posting.
Unsure about your cover letter? Take a look at some cover letter samples for guidance and inspiration.
4. Prepare for visa application
Applying for a work visa is a complicated process. Which is why you should make sure you have all the necessary documents ready beforehand.
Here's what you'll need before you apply for a work visa in New Zealand:
Identity proof. Provide proof of your identity and good character. A photo, passport, and other identifying information are needed.
Police certificates. If you've lived in any country for more than five years since you turned 17, you may need to provide police certificates from those countries to show good character.
Medical certificates. Depending on your duration of stay and your origin, you may have to provide medical certificates or get a chest X-ray from a doctor approved by Immigration New Zealand.
Document translations. If your documents aren't in English, provide certified translations.
Most work visas can be applied for online via the New Zealand Government's RealMe account, which is a government-operated authentication and identity verification platform.
Before you can apply, though, you need to select a suitable work visa type for your situation.
5. Work visas in New Zealand
With so many work visa options available in New Zealand, it can be overwhelming trying to determine the best one for your specific situation.
However, there's no need to worry. The wide variety of work visas ensures that there's a visa type suitable for each individual's unique circumstances.
Here we list a few types of visa which fit a wide variety of circumstances.
Types of work visas in New Zealand:
Fee Paying Student Visa. This visa allows international students enrolled in a course of study in New Zealand to work up to 20 hours per week part-time during term time and full-time during scheduled holidays.
Post Study Work Visa. It's designed for international students who have recently graduated from a New Zealand educational institution. It permits the holder to live, study, and work in New Zealand for up to three years.
Skilled Migrant Category Resident Visa. This visa category targets individuals with skills and experience in occupations that are in high demand in New Zealand. Skilled migrants can apply for permanent residency. You'll need to send an expression of interest (EOI) form that details your work experience and qualifications (we detail what EOI is in the next chapter.)
Accredited Employer Work Visa. Recently (in July 2022), this visa has replaced the Essential Skills Work Visa. It's for individuals who have a full-time job offer from a New Zealand employer in an occupation where there are skill shortages in the country. The duration of this visa depends on several factors, though in general, the duration is stated as up to 3 years.
Working Holiday Visa. It enables young people aged 18 to 30 (inclusive) to stay and work in the country for up to 12 months (23 months for UK and Canadian citizens). New Zealand provides a different visa for each country eligible for this program. For example:
Another option is to get a job from the Green List, which lists occupations in such high demand that when you secure a job offer from an accredited employer for a job on this list, you may be able to get indefinite residency immediately (Tier 1 jobs) or after 2 years of working here (Tier 2 jobs).
If you didn't find a visa type that applies to you, New Zealand's immigration office website will help you pick the right one. Simply scroll down and select 'Explore and select a visa'.
What is the expression of interest (EOI)?
For some types of visas, the first step to being even considered is to have completed the so-called expression of Interest form (EOI).
It's a form in which the applicants are assigned a points score based on their:
age
qualifications
work experience
and several other factors
To be accepted to the applicant pool, you need a minimum of 100 points. However, the government is currently only accepting those with 180 or more points.
Periodically, Immigration New Zealand selects EOIs with the highest point scores exceeding a set threshold. After selection, applicants are invited to apply for residence under the Skilled Migrant Category.
A friendly note before you even start an EOI — check out the so-called Points Indicator. It's a simple guide that can give you a clue whether you have a chance to get "pooled". 
6. Get a tax number
After obtaining your visa, proceed to apply for an IRD number through the Inland Revenue. Upon starting your job, you'll need to provide this number to your employer.
The IRD number serves as your unique identifier for all tax-related matters in New Zealand. It keeps track of the tax you pay and helps make sure you pay the right amount or get the right entitlements.
To apply for a tax number, you'll need several documents. These include an identity proof, a proof of address, and you may, in some cases, need a fully functional New Zealand bank account.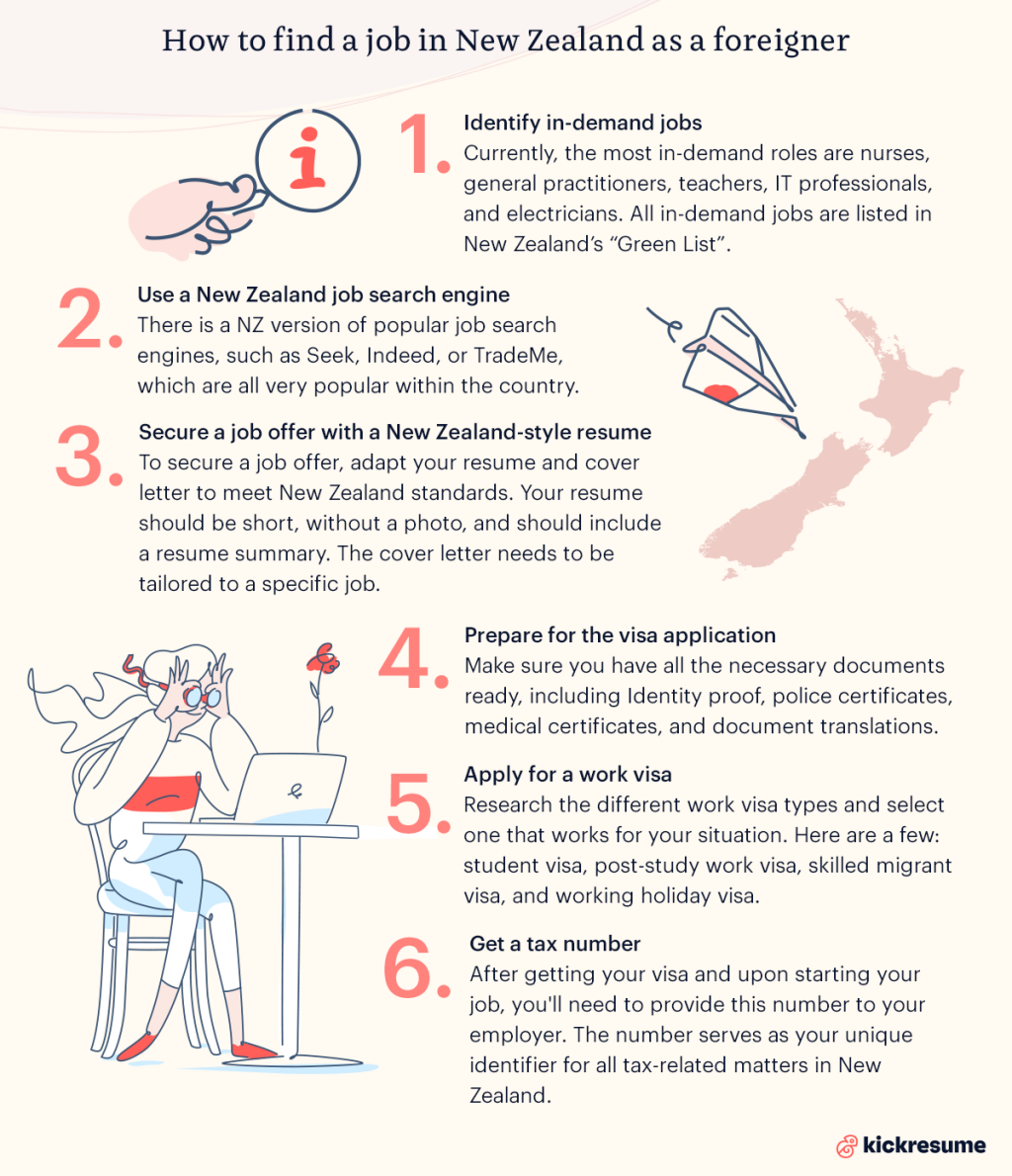 Other essential websites
The following four websites can provide additional support and guidance to not only help improve your job search but also offer information on living and relocating to New Zealand.
Or even help with finding people going through the same experience.
Careers NZ. Careers New Zealand is a website that provides a wide array of content on the topic of finding employment on the country's two islands. Apart from job postings (more than 400), the website also provides information about courses and training, as well as scholarships and grants
New Zealand Newcomers Network (NZNN). NZNN is a network of groups throughout New Zealand welcoming newcomers. The support is here both for New Zealanders moving to another region, as well as for newcomers from abroad.
Just Landed – NZ. JustLanded.com is an international server helping people who move to a new country anywhere in the world. New Zealand's Guide covers just everything: visas and permits, jobs, housing and rentals, health, money, education, business, and a plethora of other handy tips.
New Zealand Now. Are you looking for official government information on living and moving to New Zealand? New Zealand Now is a website made by New Zealand's immigration office. It brings tips on how to apply for visas, what kind of permits do you need, what is the working environment like culture-wise, and much more.
Key takeaways: How to find a job in New Zealand as a foreigner?
Getting a job in New Zealand might not be easy, but by following the strategies and drawing information from this guide, you can get guidance and support during the process.
And, you know, get rid of some of the stress.
So, in your journey to discover how to find a job in New Zealand as a foreigner, simply follow these steps:
identify in-demand jobs, especially those on the Green List
use a New Zealand-specific job search engine
secure a job offer with a New Zealand-style resume and cover letter
prepare for the visa application by gathering the required documents
apply for a work visa that fits your circumstances
get a tax number
However, maybe New Zealand isn't what you want after all. Maybe you'd prefer to work in Australia, find a job in Canada, or even prefer working from a rainy cottage and get a job in the UK.
Career Writer

Klara recently graduated from the University of St Andrews in Scotland. After having written resumes for many of her fellow students, she got an opportunity to write full-time for Kickresume. Klara is our go-to person for all things related to student or 'no experience resumes'. At the same time, she has written some of the most popular resume advice articles on this blog. When she's not writing, you'll probably find her chasing dogs or people-watching while sipping on a cup of coffee.