It's a company that started as a small business that sold books online. Now, they're globally successful and famous for their extremely quick deliveries , a streaming platform, and, well, Alexa. And it's owned by a bald billionaire. Even if we hadn't mentioned the company's name, you'd probably already know who we're talking about. It's Amazon.
If you're reading this article, you're probably interested in becoming a part of Amazon's success story. Or do you want to have a major company known by everyone listed on your CV?
In any case, this article will give you step-by-step instructions about how to get a job at Amazon.
Whether it's a position at Amazon customer service, Amazon delivery, or Amazon logistics department — here, you'll learn how to apply for a job at Amazon and write the perfect Amazon resume.
This guide will also teach you how to nail an Amazon job intervie and show you a resume sample written by a real person who got hired at Amazon last year.
Amazon in a nutshell
In 1997, during the early days of internet shopping, a company for selling books online named Amazon was established in 1994, the U.S., Washington state. The headquarters are located in Seattle.
The company grew significantly over the years and expanded its product portfolio.
These days Amazon offers many products and services, including premium express delivery of countless products, the e-reader Kindle, and a streaming service.
By offering extremely quick deliveries, easy access to all necessary products, and a wide international reach, they became the number one online retailer in the world.
Its founder, Jeff Bezos is currently one of the richest people on the planet. Until 2020, he was THE richest person in the world.
At the moment, Amazon employs more than half a million people in the U.S. alone.
Why to get a job in Amazon?
A major global brand on your resume.
Numerous employee benefits. In the U.S. these benefits include: health care insurance, maternal/paternal leave, adoption assistance, restricted stock units, Amazon employee discount;
Flexibility when it comes to the place of residence. Due to the number of locations around the world, you can choose to apply for work in a branch located close to you. Amazon also offers a limited amount of remote job opportunities/working from home arrangements.
But obviously, working at Amazon is not all rainbows and unicorns, especially if you're looking for a job as a warehouse worker. There have been numerous scandals reported over the past couple of years regarding worker safety, intimidation, and anti-unionization efforts.
Anyway, in the end, it's up to you what you do with this information. We just thought you might want to know that.

How to apply for a job at Amazon?
When applying for a job at Amazon, follow this step-by-step guide:
Go to the Amazon career center page

Here, you will find all Amazon job listings. Based on your preference and qualifications, you can decide in which department and what location you want to work. 

Use the "Find Jobs" toolbar to search for free vacancies

You can find it at the top of the page. Alternatively, click on one of the job categories presented below the toolbar.

Remember, Amazon is a huge global company with offices all around the world. There are thousands of work opportunities. The key here is to read the Amazon job description properly to see if you're a good match for a given position. 

Apply for a position via Amazon online application tool

After you find an attractive vacancy on their internet page, you can use the Amazon online application form.

Just click the button "Apply now" and follow the instructions. You'll have to create an Amazon account on their web page if you already don't have one. You'll also have to attach your resume if it's required for the position.

Wait for them to reply

After you selected a fitting role and finished and sent an online application, all you have to do is wait. Amazon will contact you and invite you for an interview in case of interest.

Don't wait for rejection and don't refresh your Amazon job application status five times a day. Due to the high number of submitted applications, they won't contact you if your application wasn't successful. 
Alternative ways to find Amazon vacancies
Recruitment. Amazon places a lot of emphasis on physical recruitment. If this appeals to you, you can visit one for their recruitment sessions, whether public ones or those in colleges or the military. For military recruitment, go and see details at the Amazon military recruitment page.
Hiring fairs. Have a look and see if there's a large hiring fair close to you. Some fairs are invitation only, others you can just walk in. In this way you can get employed for warehouse work, either full-time or part-time. Many people get hired on the spot.
Networking. If you know someone who already works at Amazon, don't hesitate to reach out to them. Inquire about the position and work culture so you can find out if Amazon is the right fit for you. If you decide to go for it, also ask the person for a reference! Having a referee on the inside significantly increases the chances of getting the Amazon job.
Amazon job positions
If you want to work at Amazon, you have a wide variety of positions to select from — based on your education, experience, qualifications, or special skills.
You can choose from 34 job categories. For example, you can apply for a job in:
If you don't have experience, specialization, or a university degree, you can opt for:
Warehouse work: All you have to do is to be is over 18 years old, have high school a diploma, and have a negative drug test.
Amazon delivery driver job: For this, you don't need a special driving license. However, you have to be at least 21 years old to start a courier career.
As you can see, the options are plenty. So if you're wondering if it's hard to get a job at Amazon, the short answer is NO.
The spread of the pandemic and the consequent expansion of home deliveries also contributed to Amazon's growth. Because of that, Amazon needed to hire more people than ever.
On the other hand, there are limitations, such as specific qualifications or the need to have a university degree for certain positions. Scroll down to see which ones!

Amazon job requirements
Having a degree is a plus, in some departments (such as Business or IT) it's not a must. What matters are the skills necessary.
Being an adult. As of 2022, Amazon hires only adults. That is, people who are above 18 years old.
Amazon part-time and student jobs
If you want some side money as a university student or are looking for a second job, Amazon part-time job may be the right solution for you.
There are plenty of Amazon part-time job offers, whether in higher management or IT departments, or warehouse.
Just select one of the hundreds of options and don't forget to tick the part-time option in the search bar located on the left when you're scrolling through Amazon's job offers. The available vacancies will show up.
Amazon offers special employment programs for students, in both undergraduate and graduate schools. Taking an opportunity like this not only improves your student budget but also significantly enhances the quality of your resume.
Having an Amazon student job on your CV will make your job search easier once you're a fresh graduate.
Amazon internships
You can apply for the classic internship option in various departments.
This option is available for bachelor's, master's, and also Ph.D. students. The Amazon internship usually takes place over summer and lasts around 3 months.
Also, Amazon's internships are paid and often offer a bonus for relocation. If you don't want to move, some internships are held as online/remote.

How to prepare for a job interview at Amazon?
Now, when you applied for the right vacancy and got called for an interview, you're probably wondering how to nail it.
But an interview at Amazon is no different from an interview at any other company.
Research the company's website thoroughly. Be prepared for the usual interview questions. Have look at the About company section.
If you're wondering what to wear to an Amazon interview, the usual rule applies. Dress politely.
Always thank the Amazon recruiter/hiring manager via email after the interview is over.
Amazon uses behavioral-based interviews. This means the hiring manager will test and observe your reactions, thoughts, and behavior in certain work situations. Get ready to be tested on how you would react in various hypothetical work scenarios.
Research and learn the famous 14 principles of Amazon's leadership before the interview. Understand the company values and figure out what kind of approach towards challenges is expected from you.
Additionally, you will be also asked to do an online assessment. On its website, Amazon writes that "online assessments as one way to help us get to know you better, and we design them to measure key characteristics required for success in a role." Here's a useful guide how to prepare for online pre-employment tests.
If you're interviewing for a more technical job position (for example in software engineering), get ready to demonstrate your skills.
Finally, prepare for the most common Amazon interview questions:
Why Amazon?
Which leadership principle of Amazon do you connect with most?
Do you know who the Amazon CEO is?
Tell me about a time you faced a crisis at work.
Describe (Amazon product or service relevant to the role) as you would to a prospective customer.
Amazon resume and cover letter tips (+ resume example)
Cover letter tips
Amazon is not your classic company! So good news — they don't allow a cover letter! One less worry for you.
Amazon resume tips
What if I told you that you don't even need a resume at all times?
For getting hired at the Amazon warehouse, you don't need a resume at all! Your photo ID should be enough. But get ready for a drug test.
However, for other positions in other departments, get your resume ready. Especially, if these positions require years of experience or special training.
Amazon claims that if you create an online application where you include a summary of your experience, skills, and successes, you don't even have to include a resume at all.
Instead, you'll be asked to upload your LinkedIn profile information.
If you have examples of your work, don't upload them to your online application either. Rather, include links to your work.
However, we do advise you to include a resume, especially if you're striving for higher or more competitive positions. If you want to know how to write a truly great resume, have a look at this comprehensive resume guide.
Learn what they're expecting for a specific position and adjust your resume accordingly.
Amazon resume example
For more tips and inspiration, have a look at the resume sample made by a real person who got hired by Amazon in 2021!
Software Development Engineer at Amazon Resume Sample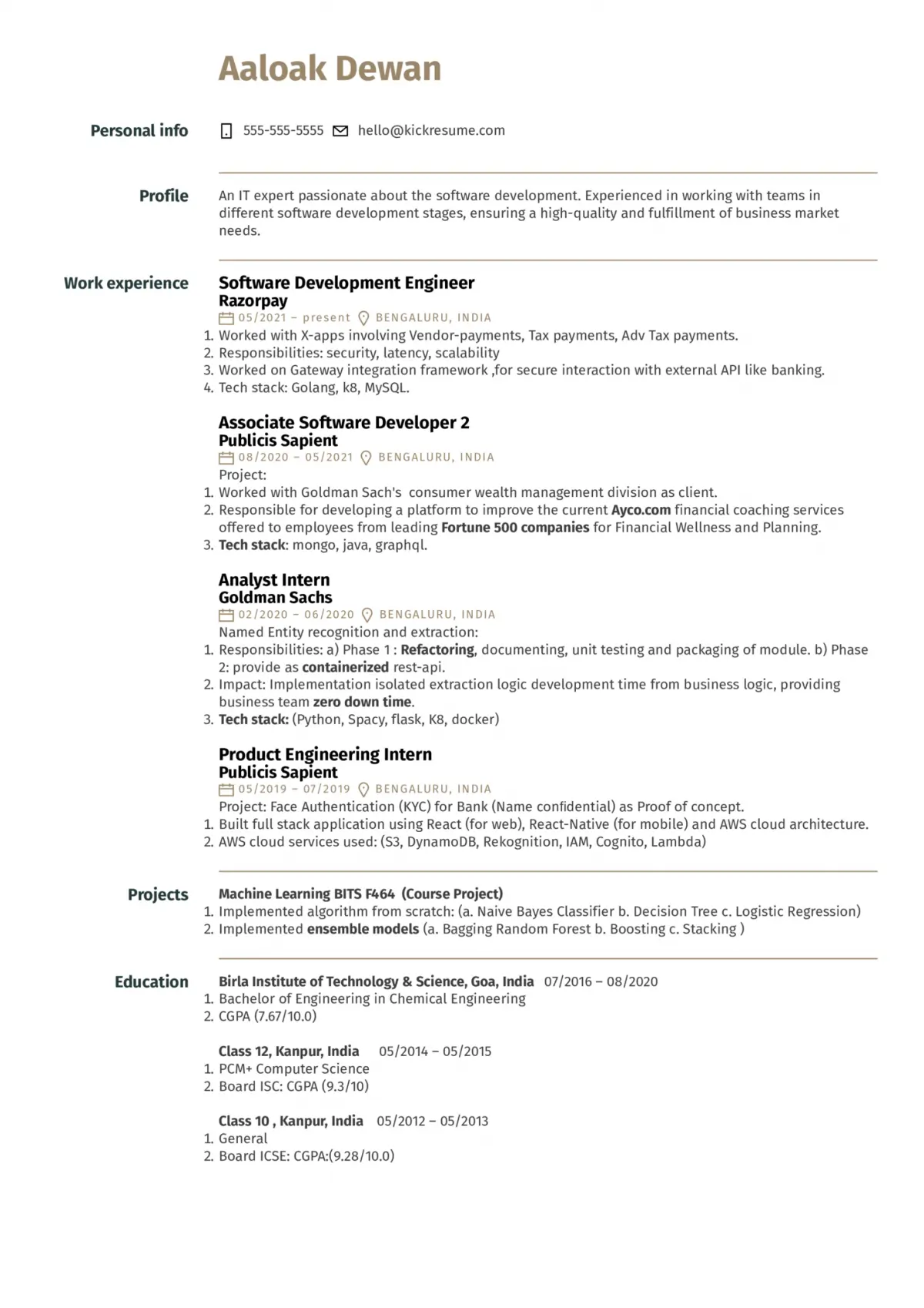 Do you want a resume that is as cool as this one? Use one of the Kickresume resume templates.
And if you want even more inspiration, browse through our countless Kickresume resume samples.
How much does Amazon pay? (Amazon salaries)
Well, again, depends on your role. Amazon employees make based on the department in which they are.
The general rule is that any full-time or part-time Amazon employee won't make less than $15/hour.
You can also add benefits, such as a share of Amazon stocks, into the mix. In some places, you can even receive a starting bonus worth up to $3000 when signing up.
Recently, Amazon increased their hourly salary to $18/hour for newcomers.
Of course, if you're in higher management/work in headquarters, expect a higher salary.
Here's a list of Amazon positions with respective salaries:
Senior Manager $161,357/year
Software Engineering Manager $173,819/year
Cargo Handler $15.48/hour
Warehouse Worker $16.21/hour
Packer $15.71/hour
Pharmacy Technician $32,398/year
Pharmacy Assistant $31,792/year
What is it like to work at Amazon? Is it hard?
Now, you may be asking — "Great, I know how to apply for a job at Amazon. But how is it to work there? Is it hard to work there?"
Well, since it's such a large company with thousands of different roles, the answer to this question varies. The challenge will vary based on your job.
Generally speaking, Amazon pays well but expects commitment, hard work, and one has to expect rather long working hours shifts.
Thus, Amazon may not be an ideal company for you, if you like a slow-paced and stress-free work environment.
Final tips for working at Amazon
During your first day at Amazon, keep in mind that you can make a good impression only once. Most importantly — don't hesitate to ask your new manager for help or advice, this is your chance to learn!
Don't be scared and negotiate your salary at Amazon. It's most certainly possible!
Work hard. Amazon is not a place for slow or lazy workers. Remember, you're doing this in exchange for good pay.
Now, that you know everything about applying for a job at Amazon, don't hesitate, to write that resume and apply for your dream Amazon position!
Or, if an Amazon job doesn't seem like your cup of coffee, what about applying for a job in Starbucks? However, in case you're less into working as a barista and more into technologies, applying for a position at Tesla, Google, or SpaceX might be a better call for you.
FAQ: How to Get a Job at Amazon
Junior Writer

Kaja Jurcisinova is a junior copywriter at Kickresume. Kaja completed her undergraduate degree in Art History at the University of St Andrews in 2018 and graduated with a Master's in Arts and Culture from the University of Groningen in 2021. She was an intern at multiple cultural institutions across Europe, including the Dutch Museum Association in Amsterdam, the Matter of Art Biennale in Prague, and the European Cultural Centre in Venice. At the moment, she resides in Visby on the Swedish island of Gotland.