If you're wondering how to get a job at Costco, there's something you need to have clear — Costco careers don't come easy.
The company is so successful at keeping its employees happy, that very few of those who get hired at Costco want to leave. There's just not that many applications open.
With that said, Costco is constantly growing and with over 810 warehouses open world wide, there's bound to be some open slots for a few outstanding individuals.
In this short guide, we'll take you through the Costco application process and provide you with great tips and examples to create a great resume, cover letter, and advice to help you ace your Costco job interview.
How to apply for a job at Costco
Costco, like many other successful brick and mortar companies such as Walmart, Target and even Starbucks — has gone digital. That means if you want to work for Costco, you must fill in a Costco online application. No exceptions.
This can be unfortunate for some, as there are some people who shine in face-to-face interactions and an online application process can hamper their ability.
However, know that even though it's hard to get a job at Costco, there are a few things you can do if you want to up your chances.
We'll go over them in the chapters below, but first let's continue with the Costco job application process.
These are the steps you need to take when applying for a job at Costco:
Meet Costco age requirement (18+).

Go to the

Costco Career Page

.

Click "Apply Now" beneath Costco Careers.

Enter State, City and zip code and apply to the store you want to work.

Create a profile. You'll need a valid email (make sure it's professional) and your legal first and last name.

Select the job you will be applying for, choose Costco part-time jobs or a full-time position.

Fill out the application. Include all work experience, references and other pertinent information.

How to make your Costco online application stand out
Like we said earlier on — Costco treats its employees well, really well. Their pay when compared to similar retail positions is above average, the benefits are good, and morale runs high.
Job seekers know this and apply to Costco in huge numbers. This in turn means competition can be a bit of a problem for those looking to find a job at Costco.
If you want to land a job at Costco, you're going to have to stand above the rest from the beginning of the hiring process. Here are a few tips that can get your Costco application noticed.
Costco employees on Reddit gave the following advice:
Full availability: The ability to work any hours, including holidays and weekends is greatly treasured by Costco and can be the difference between getting hired or not.
Be open to any department:

Most new hires start as front-end assistants, cart crew, or stockers

, make it known you're ok with that. You can always move up the Costco career ladder at a later time as Costco likes to promote from within.

List a reference from a current Costco employee: This one might not be easy for everyone, but if you know someone that works at Costco, ask them if you can add them in your references.
A Costco manager on Quora also says: "Once you've filled out the application, take a cover letter or resume to the building you applied to and speak with an AGM. Introduce yourself, briefly go over with them about your interests, and then ask if there are any positions to be filled."
The statement by the hiring manager above is not unique, everywhere you read you find Costco managers stating something similar. They all love it when someone goes above and beyond by reaching out to them in person.
Since they're likely to get hundreds of applications for each person they hire, you have to go the extra mile to stand out.
Costco job positions
Apart from the common cashier position, Costco has dozens of job positions to choose from. It's a multinational company after all, so it's of no surprise that you can find many job opportunities within the company — raging from finance, to marketing, and even pharmaceutical.
With that said, some positions are more popular than others. These are five of the most popular and in-demand jobs at Costco:
Costco membership assistant (job description)
With over 105 million members, Costco's primary money maker is its membership program. And as a Costco Membership assistant you'll have the very important task of processing new member sign ups, renewals and added cards. You'll also be instructing the members and potential members about the perks that come with the membership, such as credit programs. Other tasks includes:
Providing excellent customer service

Assisting at refund counter

Helping with marketing as necessary
Costco cashier (job description)
A Costco cashier is expected to perform various job duties ranging from scanning items, to ringing up a cash register. However, Costco cashiers should also have strong communication skills, a good grasp of basic arithmetic and the ability to work in a fast-paced environment. Other job duties include:
Clean up activities

Setting-up the department

Performing closing tasks
Costco stocker (job description)
Costco sells a lot and needs to constantly restock its supplies. As a Costco stocker you'll be in charge of organizing and tidying up the merchandise throughout the store and warehouse. You'll also be expected to clear and clean the aisle and assist members. Other job duties include:
Stocking opened cases on shelves

Assembling and setting up display models

Communicating with managers on merchandising plans
Costco food service assistant (job description)
I don't know about you, but I always get really hungry after a day of shopping. As a Costco food service assistant you'll be in charge of preparing and selling food and drinks to customers. You'll also be cleaning the kitchen and eating area, all while providing high quality customer service to members. Other tasks include:
Ringing up sales, collecting money and making change

Pulling ingredients and other supplies from warehouse

Cleaning and sanitizing food machines
Costco service deli clerk (job description)
As a service deli clerk, you'll be in charge of preparing, packaging and labeling a variety of dishes ranging from: salads, sliced meats, cheeses, sushi and of course the famous Costco rotisserie chicken. Other tasks include:
Assembling ingredient boxes

Figuring out production needs

Filling out time and temperature record forms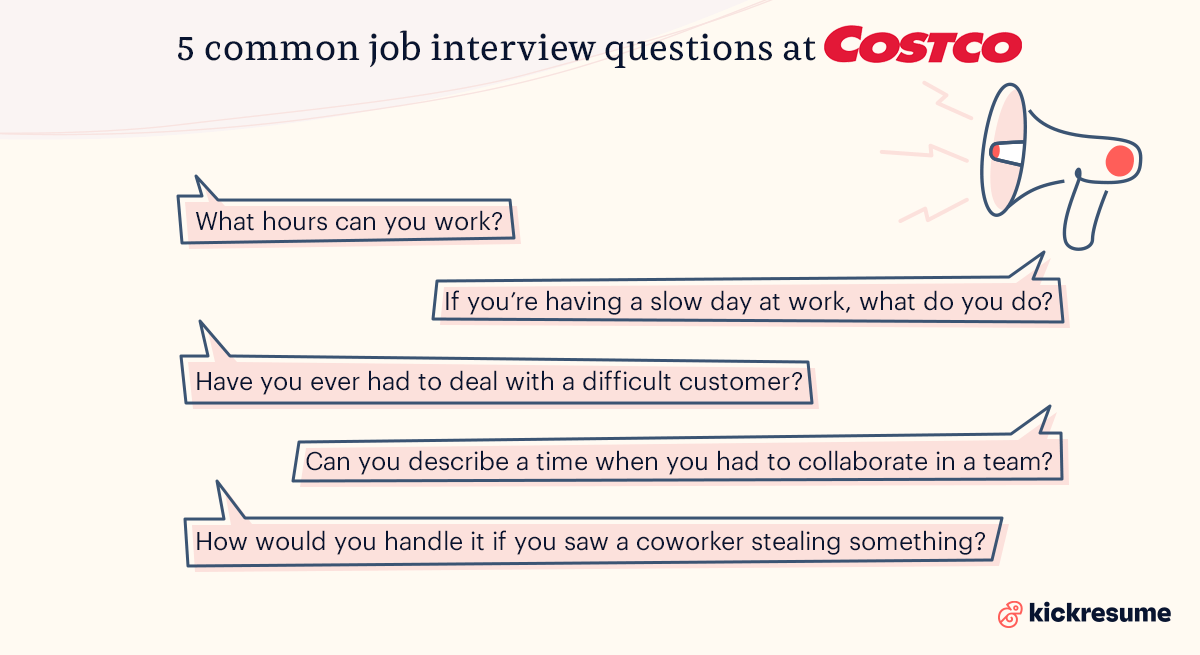 How to prepare for a job interview at Costco
Preparing for a job interview at Costco should be similar to any other job. However, apart from the basics such as going over a job interview guide, we have a few tips that can help you ace your Costco job interview.
Go over the job listing
Going over the job listing is recommended regardless of what position or company you're applying for.
By examining the ins and outs of a job description you're able to answer a hiring manager's interview questions more thoroughly and align your response with what they are searching for.
Doing this can impress a Costco hiring manager greatly, distinguishing you from the competition.
Bring a copy of your resume
Having a copy of your resume at arms' length can be a lifesaver when a recruiter throws you a hard interview question.
Many times a recruiter will have a copy of your resume and will be using it as a reference on what questions to ask you.
By having your resume with you, it allows you to remove some of the stress that comes from trying to remember details such as dates and other bits of information pertaining to your previous jobs.
This frees up your mind, eliminates stress, and allows you to respond to questions with more confidence.
Dress accordingly (business casual)
You might be saying, "It's just a retail job, no need to take a suit."
And you're right. Unless you're applying for a Costco managerial position, wearing a suit might actually work against you. The Costco environment is casual and what you wear for a Costco job interview should reflect that.
For example, you could wear:
Top

: Solid button down shirt or conservative top; blue, grey, black or white.

Bottom

: Dress slacks, presentable skirt, or dark jeans.

Shoes

: Brown or black dress shoes.
No need to overthink it, take a shower before the job interview, groom yourself, and let your self-confidence do the rest.
Review common interview questions
There are too many job interview questions a hiring manager could ask during a Costco job interview. That makes it a bit difficult to prepare accordingly.
However, there are some interview questions that come up more often and preparing for them might help you formulate a job landing response.
What hours can you work?

When responding to such a question, remember that the more flexible you are the better chances you have of getting hired. If possible, remind the interviewer that you're able to work on weekends and holidays.

If you're having a slow day at work, what do you do?

Such days will not be the norm at Costco, however they do happen from time to time. When responding to such a question, it's good to remind them that you're someone who is self-motivated and is able to remain productive regardless of the situation.

Have you ever had to deal with a difficult customer?

When answering such a complex question, it's important that you keep your thoughts organized and answer it in a way that highlights your problem-solving capabilities and interpersonal skills.
In general, most questions asked at a Costco job interview will be situational and preparing for such questions might be the best route for you to take.
Other job interview questions a Costco hiring manager might ask
Could you tell me about a time you reached a big goal?

How would you define "a sense of urgency?"

What would be your approach to a colleague doing something incorrectly?

How would you handle it if you saw a coworker stealing something?

If a customer became hostile, how would you handle the situation?

Can you describe a time when you had to collaborate in a team?

When given multiple high-priority tasks, how do you decide where to start?

If given a task and don't know how to proceed, what do you do?
Christy's word of advice

Fancy a free Thanksgiving turkey? Depending on your location, that's just one of the many perks of being a Costco employee. Aside from being many people's favouite membership-only big box retailer, they have a pretty great reputation as an employer. What they look for in potential employees is culture fit (= positive, high energy, customer-centric), entrepreneurial spirit (= excellence, pro-activeness), and commitment to quality (= delight in offering awesome products and services). So, find ways to infuse your resume and cover letter with examples of these through your responsibilities, accomplishments, skills, and professional recognition (e.g. employee of the month).

Christy Morgan, Resident HR Expert
Costco resume and cover letter tips and examples
The secret to writing a great Costco resume and cover letter is no different than for any other job — tailor it to the job description.
There really is no other way around it. Luckily, aligning your qualities and skills with a company's values can be as simple as going over the job ad, writing down what you are familiar with and listing it on your Costco resume skills section. Such as:
Interpersonal communication

: Costco is known for blowing the competition out of the playing field when it comes to customer service. It makes sense that they'll be on the lookout for employees that have a knack for interpersonal communication.

Teamwork: Although the phrase "we're a family" might be a bit cliché in the work industry, Costco employees are some of the

happiest retail workers

out there and this impart has to do with the company's approach to teamwork.

Time management

: The environment at Costco is fast-paced. That means an employee who is bad at managing his/her time is bound to lose the company revenue.
Resume
Ok, now that you're aware you possess some of the skills that align with Costco's values, it's time to pick the ideal resume for the job you're applying for.
Are you applying as a Costco cashier? Then your resume should highlight your interpersonal skills, as well as ability to work in a fast-paced environment. Such as this cashier clerk resume example.
If applying as a Costco assistant manager or store manager, your resume should highlight your ability to lead a team and your time management skills. Similar to this retail store manager's resume sample.
For more information on resumes, check out this comprehensive guide on how to write a resume.
Cover Letter
As for your Costco cover letter, always reference the job listing. Then try to answer the following questions:
Who are you?

Why are you submitting this application?

Why do you want the job and are you already familiar with it?

What are your previous experiences that align with this job?

Why should we consider you?
Just make sure you keep it concise and to the point.
At the end, it should look a lot like this cashier cover letter example.
How much does Costco pay? (Costco salaries)
The wages of Costco employees vary depending on the position and time worked in the company.
Although the average starting pay as of right now is $15/hr, you get raises when you meet certain goals, such as working a certain amount of hours.
Having said that, common jobs such as cashier clerks and assistants tend to be topped at $25/hr.
Other positions, such as forklift operators, assistant managers and store managers tend to have a higher average pay, ranging from $20 to $33 per hour and top at a higher cap.
What is it like to work at Costco?
So what's the final verdict? What is it truly like to work at Costco and does the hype meet the expectations?
In short — yes.
Everywhere you look, you find employees praising their work experiences at Costco. And I mean everyone — from an assistant cashier clerk, to a shift supervisor and store manager, to a Costco truck driver and a forklift operator.
But I think the best way to show you this enthusiasm is by quoting a real Costco employee and his 12 year journey at the successful company:
"I owe a huge amount of my success to Costco. They truly believe in helping their employees. And because of that, the day-to-day work was great. All your co-workers are happy, hardworking people, who genuinely believe in the company that they work for and want to see it succeed. And since Costco's number one objective is "take care of our members", the employees focus a lot on customer service. happy employees, happy customers, everybody's happy."
FAQ: How to get a job at Costco
Is it hard to get hired at Costco?

Getting a job at Costco can be a bit competitive. However, as the company has many stores throughout the world, there are constant job openings available. The requirements to work at Costco are; to be at least 18 years of age, pass a drug screening, and have proper certifications for some jobs like forklift operator.

What are the benefits to working at Costco?

There are many benefits offered by Costco such as healthcare, dental, vision, and life insurance coverage. Also, for those who qualify there is also paid time off for vacations and sick days. Other benefits are 401(k) retirement plans and employee stock purchases. Most benefits start after 30 days of full-time employment.

How many days do Costco workers work a week?

Nearly all employees at Costco work 5 days a week. However, many new hires at Costco are part-time workers and work fewer days. As a part-time employee you are guaranteed a maximum of 24 hours per week, while full-time employees are expected to work between 38 – 40 hours spread throughout 5 days. There are also seasonal workers and the time worked by such employees vary from 1 day a week to full-time employment.
Resident Writer

A documentary photographer and writer. Noel has worked for International publications like Deutsche Welle in Germany to News Deeply in New York. He also co-founded the global multimedia project Women Who Stay and collaborated as a journalist fellow with the University of Southern California. He went from traveling around the world to sitting on a couch thanks to the pandemic, but he got a nice job working for Kickresume thanks to that, so he won't complain.