Do you want to be one of those people who receive an admiring "wow" every time they answer the question: "Where do you work?" If yes, then you should consider getting a job at Google!
This major tech company is famous for its work culture, many employee benefits, and good salary.
Google is a huge company and offers many varied career options. Google career paths range from HR and marketing to software engineering, management, or design. You can just pick a position that suits you the best!
It's also known to be a great workplace. As a company, they place emphasis on inclusivity and diversity as they want all their employees to feel happy and satisfied.
If all this sounds good to you and you want to get hired at Google, it's important for you to nail the Google application process. With a few tips, you can do so. This guide will teach you how!
The basics: about Google
Google has been around since 1994 after it was established by a group of Ph.D. students in California. Since then, it has grown, like, a lot. Fast forward to today, and pretty much everyone around the world knows Google.
Google's primary mission is: "to organize the world's information and make it universally accessible and useful."
To put it differently, you and everybody else recognizes Google as the world's most famous internet search tool. However, Google does more than that.
Google also offers:
cloud computing and storing (Cloud and Drive)
artificial intelligence (Assistant)
navigation (Google Maps)
video sharing service (YouTube)
mail service (Gmail)
translation (Google Translate)
video calling (Meet)
more more more
Most of these services dominate their respective fields. In other words, a big chunk of the internet is part of Google.
Thanks to this global domination, Google is one of the "big five" — the most successful IT companies in the world. Google has even been labeled as THE most successful company in the world.
And who wouldn't like to be a part of that? If you do, scroll down to the next chapter and find out how you can become a Googler!
Google job positions
While Google is indeed an IT company, thanks to its huge size and many products, there are many job categories and job positions available; even when you're not a software developer.
Among the most popular Google job positions, you can find roles in Human Resources, Design, Marketing, or Sales.
And then, there are the classic categories:

How to apply for a job at Google
Before you start with the Google application process, you may be also wondering —what are my chances? Is it hard to get a job at Google?
Long story short, yes. Landing a job at Google won't be a walk in the park. Thanks to its famous name, decent salaries and company culture, there are always plenty of applicants for every Google job opening.
On average, there are two million applicants for Google positions per year. For the software engineering positions, they accept less than 1% of applicants. Crazy, right?
And even if you face a rejection for the first time, it does not necessarily mean that you don't have what it takes. It could simply mean that it wasn't the right time and place for you.
Here's how to get a job at Google:
Search for job offers on the Google career center.

Every job search starts with a search for the available vacancies. If you're determined to be an employee at Google, the first step for you will be clicking on the Google career center.

This page is your classic job board. You can either type in the kind of position you're interested in, such as "manager".

Or, you can filter vacancies based on your location, specialization, level of achieved education, or preferred job type (full time/part-time/internship).

There's also a whole special section for students who are looking for internships, programs, training, or graduate schemes. 


Create an application profile.

Once you found a job offer that seems like the perfect fit for you, it's time to apply for it. 

You can do so via their Google Careers page directly. All you need is a profile. If you already don't have one, no worries, it won't take much time to create one. 

Apply.

Google's online application form is quite easy to navigate. Once you've signed in and searched for job offers, you can click the apply button placed under an interesting vacancy in the Google career section.

Keep in mind that Google assures the quality of the hiring process by limiting the number of job applications per applicant. It's possible to apply for max. 3 jobs per month. 

This way, Google knows that they receive applications from people who know what they want, and who place quality over quantity. 

A bonus tip.

Network network network. If you already know someone who works for Google, good for you! If they give you a recommendation, your chances of being recruited and being called to an interview are much higher.
What are Google's hiring requirements?
Age. You may wonder if Google has a hiring age requirement. And just like most companies, it does. Google's hiring age is 18+. You have to be an adult. On the other hand, there is no hiring age maximum! Thanks to Google's inclusive approach, if you have the skills necessary, you can apply for a job even at higher age!
Education. A high school degree is a must. And while a university degree isn't officially required, it's prioritized.
Skills. Of course, required skills vary based on the position in which you wish to work. However, if you're a developer, you should have knowledge of Java, C++, C Go, and Python coding languages.
Personality. Google wants the best people. The crème de la crème of job seekers. And this is reflected in the qualities that they search for. They want you to be a natural leader, a creative and a curious human being
What are Google's hiring preferences?
After you passed the basic requirements, now it's time to stand out from the crowd. What makes you better than the rest of the applicants?
Higher education. Do you have a master's degree, or a Ph.D.? Great! An extra degree, further education, or experience in engineering and computer science would be your biggest advantage.
Experience. If joining software engineers is your goal, having at least 4 years of relevant work experience in this field will come in handy.
Motivation. Having the right education isn't enough. You should have the drive to keep learning new programming languages and constantly better yourself.

How to prepare for a job interview at Google
Well, since you've obviously nailed the online application, you've been called to the interview. Good job!
But this is the moment when the real struggle begins.
What do Google interviews look like?
Google interview process can last for longer than 2 months! If you're applying for a software development position, expect to have 5 to 7 rounds of interviews.
The interview starts with a phone screening meeting followed by on-site exercises and tests. These usually last 45 minutes. The whole hiring process is executed by a committee of multiple people so it remains fair and objective.
Google's interview process has a firm structure. And Google is very transparent about it. All the necessary information is listed on their career page. Some of their main interview tips are:
Find connections between the job listing and your resume
Focus on data when talking about your achievements
Come ready with questions that you'd like to ask
You can also plan your answer to some of the most common Google interview questions:
Tell me about a time when you took a risk and failed.
What is the most complex thing you know a lot about? Teach me about it.
Tell me about an unstructured environment you've worked in.
What is your favorite Google tool, and how would you improve it? (Source: www.educative.io/)
Finally, there are a few additional basic things you can do that will help you make a great first impression and land you a dream Google job position.
Choose an appropriate attire. If you're wondering what to wear to a Google interview, the basic interview advice applies here, too. Go for something simple, professional, ironed, and clean. Avoid stains, heavy dramatic makeup, the smell of sweat, and brush your hair. I say you can never go wrong by wearing a white shirt with a black skirt or trousers.
Google recruiter/hiring manager is the person you want to impress. Be polite, give a firm handshake, and present yourself with natural confidence.
If you have a virtual interview, prepare your set-up. Find a quiet room, adjust the lighting, test your video conferencing app, microphone, camera, etc.

Google resume and cover letter tips (+examples)
Google resume tips
Writing a resume is a crucial part of the application process. On the Google career page, Google clearly indicates what they search for in a resume. We advise you to follow their instructions precisely to higher your chances of getting the job!
Make a new resume for each job you apply for, even for different jobs within the same company. No job is the same, and therefore, every job requires a new tailored resume that fits the vacancy perfectly. The changes you make may not be big, but they matter. This is when using a resume template comes in handy – as it allows you to make small changes to your CV quickly and easily.
When you describe your past work experience, always connect it to your professional skills. In other words, when you write about your past job position, always describe what skills it has taught you. Google also appreciates if you include more concrete and tangible data here. This leads us to the next point.
Be specific. Mention specific challenges and projects you've faced and handled successfully in the past. How did you achieve the specific outcome? And how long have you worked in this role? How do you know it was a success? Google cares about all of these things.
If it's a leadership role that you aim for, and you already have experience with leading a team, write about it in your resume in great detail. How many people have you managed? And what was your method of leading people?
If you find yourself right out of school and you lack experience, it's cool. Instead of writing about your job experience in detail, write about school projects. What skills have you learned while working on extra-curricular projects? How will you apply these at work?
While these tips may sound like Google encourages you to write pages upon pages – don't. They still want you to make it short and easy to read. Be clear, concise, and include all the important information. However, don't overdo it. Keep your resume to the max. 3 pages (and even that may be a little too long).
If you still struggle with writing a resume or aren't sure what sections one should include, read this full guide on how to write a resume first.
3 resumes that got people hired at Google
One picture is worth a thousand words.
See and learn from these resume samples that were made by real people who used Kickresume resume templates and got a job at Google!
Google Server Manufacturing Supervisor Resume Sample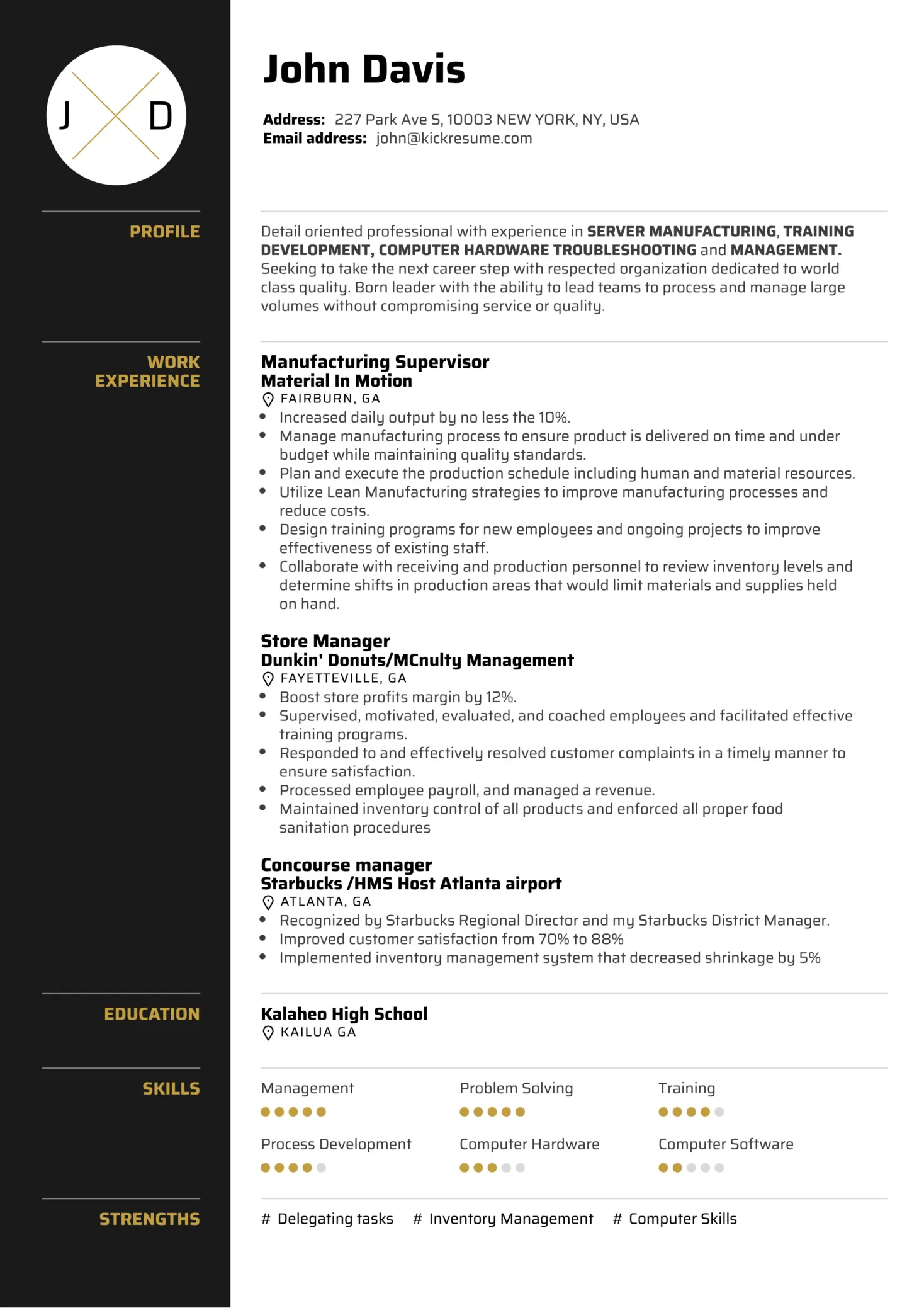 Notice, how "John Davis" included a profile section. This short introduction is followed by a chronological list of work experiences and a listing of concrete skills. Moreover, you can see that Google really doesn't require a university degree for certain positions, especially if they see a strong candidate.
Google Software Engineering Intern Resume Sample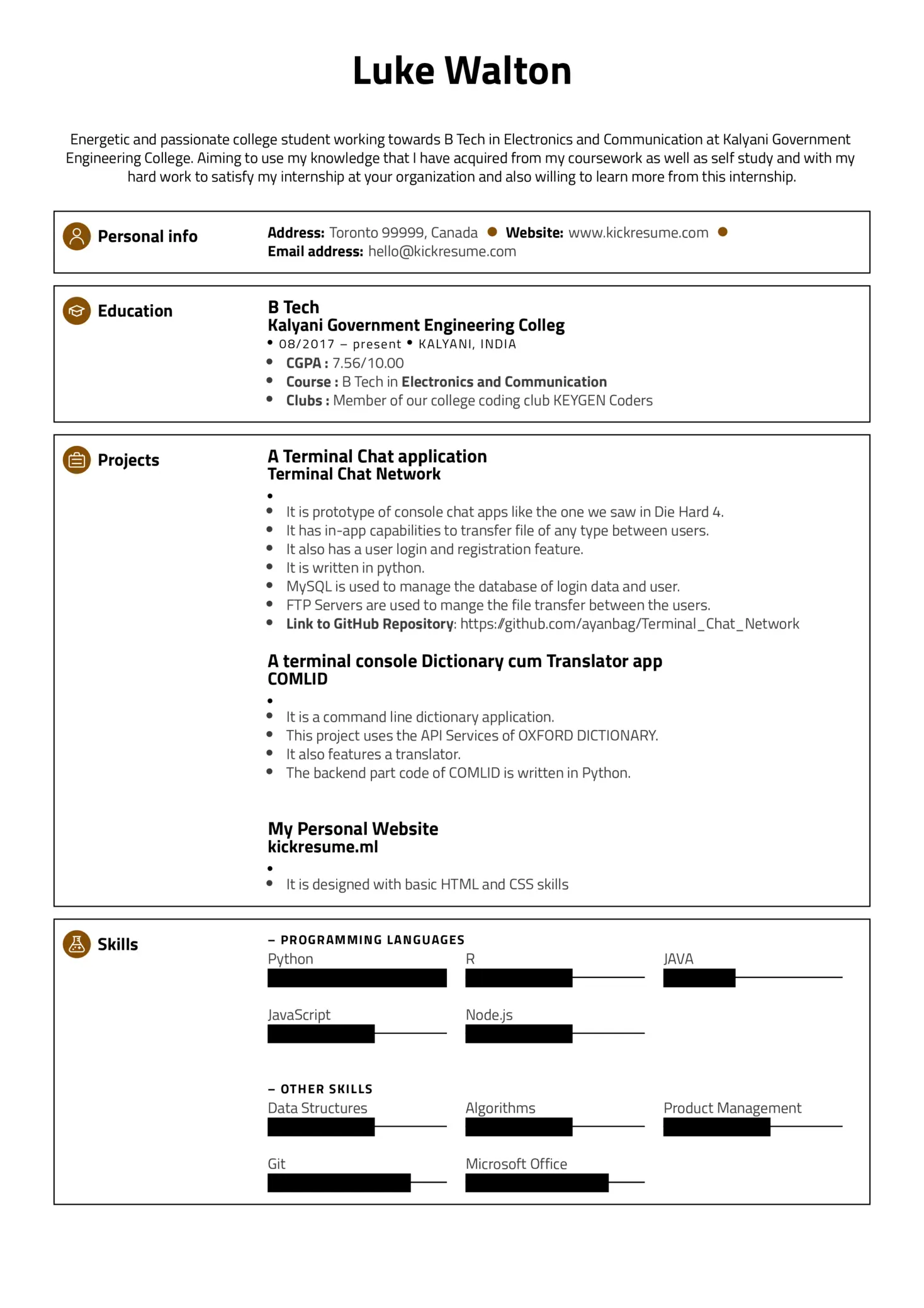 This sample of a Google resume is great if you're also at a starting point of your career. You can see how "Luke Walton" used a simple template that is easy to navigate and leads your eyes directly to the important information.
In his case, he couldn't have relied on previous work experience. Because of that, he placed his education section first. Then, he followed by providing details about extracurricular projects on which he has worked in the past. You want to do the same when you're applying for an internship.
Google Team Leader Resume Sample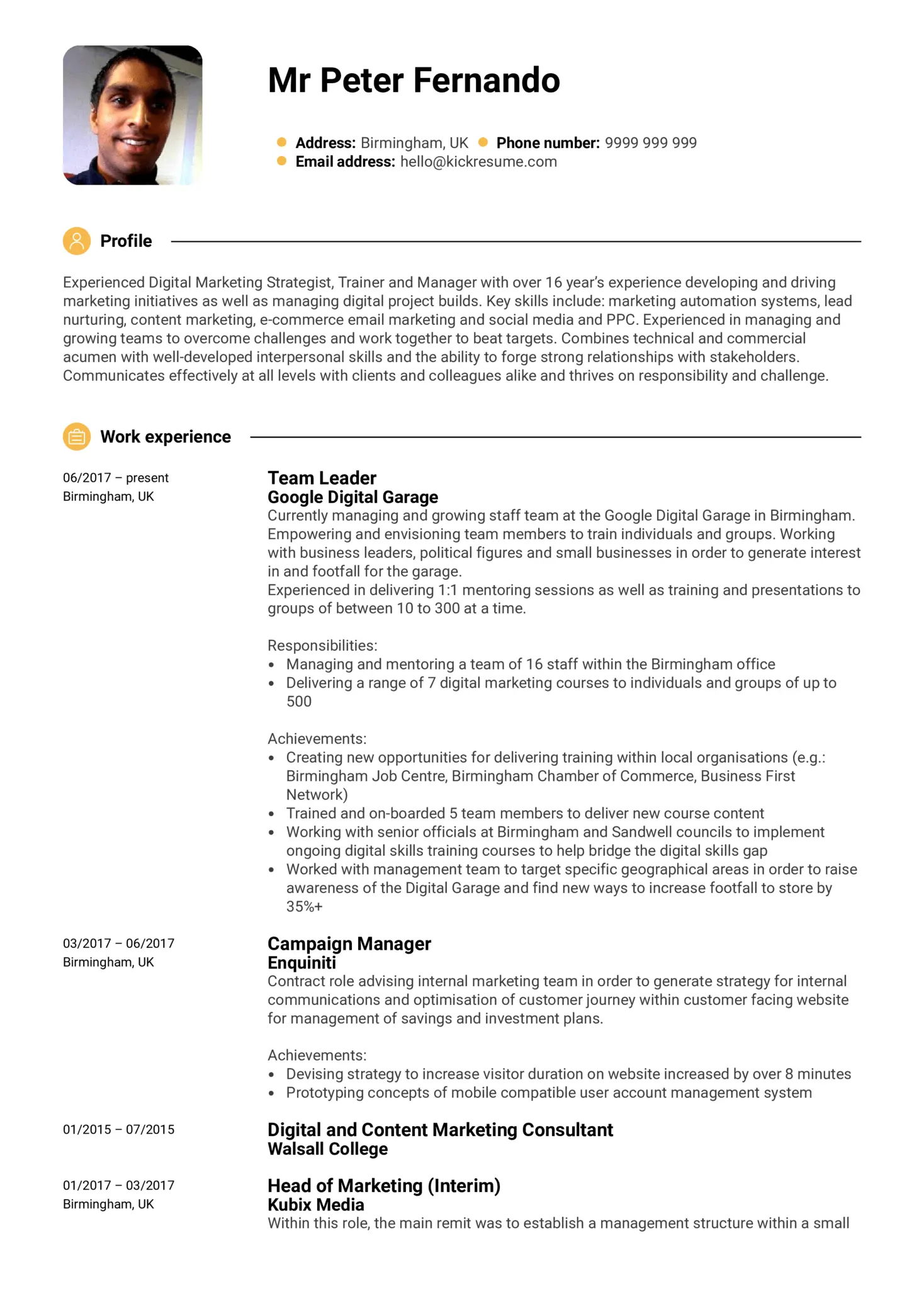 The final Google resume sample has the perfect length, uses a simple visual language, and has a familiar and clear section division. This is something that is always appreciated by a hiring manager.
Additionally, pay attention to how "Peter Fernando" highlighted his achievements and specific responsibilities. What a clever move –– Google specifically asks for this detail-oriented approach. And you want to make sure you follow their recommendations.
If you want to see more resume samples, have a look at the Resume Examples Library.
Google cover letter tips
Google is much less specific about cover letters than they are about resumes. Cover letters aren't even required!
This is great when you don't have much time. However, you can always include it in your application. But there's no guarantee it will be read.
Otherwise, the same advice as with Google resume applies here, too.
Be concrete, concise, and make a direct connection between your past experience, skills it taught you, and how exactly you'll apply it at Google.
Finally, making it clear that you're highly passionate about the role that you're applying for will, of course, give you an additional advantage.
Would you like more tips on how to write a good Google cover letter? Read this handy guide.
What is it like to work at Google? Is it hard?
Now that you know how to apply for a job at Google, you may be wondering how it is to actually be working at Google. Is it hard? Is Google a good place to work at?
Well, thanks to benefits and work culture, a common nickname for Google is a "playground for grownups."
Indeed, 70% of Google employees report high satisfaction with their workplace. They are also satisfied with the work-life balance.
On the other hand, it's not all easy. At Google, you have to work hard and put in an effort. Google work hours are usually quite long. 44% of employees state that they work 10+ per day. For most employees, however, it's the classic 8hours/day.
Some of the main benefits of working at Google:
In the U.S., you get three weeks of vacancy per year!
Flexibility. You can work from home or make your work hours flexible.
Friendly and transparent company culture and communication.
Support for mental health.
Google also offers a child-care service!
Some final tips for working at Google:
Find a mentor. This will make your start in an intimidating workplace much easier.
Don't share your political views with colleagues and stay away from harsh humor.
Communicate with your team leader/mentor often, especially at the beginning, so it's clear that you're on the same page.
Write down your first impressions from your performance. This will come in handy during your later report meetings with a team leader.
Make sure to attend some of the internal training offered by Google. This is the perfect opportunity to learn and grow!
How much does Google pay?
You can imagine that salary at Google is quite nice, right? And generally speaking, this is true. However, the pay differs markedly based on the occupied work position.
The average salary (with bonuses included) at Google is $133,066. This is $63 per hour.
The best-paid position is the Director of Finance. They earn up to $600,000 annually.
On the other side of the spectrum is a receptionist position. They earn only around 37,305/year.
If you wonder how much do Google software engineers make –– on average, they earn over $180,000 per year.
Google starting pay very much depends on the department in which you work. A fresh out of school programmer at Google makes approximately $124,000. However, you can add $43,000 to this amount in stock compensation.
Working at Google is a dream for many. However, if you aren't one of those people, you may prefer to get a job at NASA, Tesla, or Amazon.
FAQ: How to get a job at Google
Junior Writer

Kaja Jurcisinova is a junior copywriter at Kickresume. Kaja completed her undergraduate degree in Art History at the University of St Andrews in 2018 and graduated with a Master's in Arts and Culture from the University of Groningen in 2021. She was an intern at multiple cultural institutions across Europe, including the Dutch Museum Association in Amsterdam, the Matter of Art Biennale in Prague, and the European Cultural Centre in Venice. At the moment, she resides in Visby on the Swedish island of Gotland.