The space race is on again and many are wondering how to find a job at NASA.
It's natural, as space is the future — the near future to be precise. Everyone, from SpaceX, to Amazon, to Virgin Mobile and Boeing are rushing to get a piece of the pie.
And why shouldn't they, it's a potential trillion dollar industry.
In fact, as of 2020, there were 147,953 workers hired in the private space industry. A number that is expected to skyrocket within the next few years.
Without further ado, as the space industry is hot and ready to take off, here's a quick guide we prepared so that you can launch your career at NASA.
How to apply for a job at NASA
Applying for a job at NASA might seem as difficult as reaching a distant star. A long, difficult and arduous undertaking.
And although there's some truth to this, there are ways one can prepare in order to have a greater chance of getting hired at NASA.
Having said that, before we continue with this, let's first take you through the NASA application process.
Here are the steps you need to take when applying for a job at NASA:
Create a

USAJOBS

account.

Build your resume (more on this on the resume chapter below).

Upload your resume to USAJOBS.

Search for

NASA job opportunities

on

USAJOBS.

Fill out the application. Include all work experience, references and other pertinent information.

Submit your application.
How to make your NASA online application stand out
Ok, it doesn't take a rocket-scientist to fill-in an application for a job at NASA.
But it doesn't hurt to have the foundation of one if you want to make it to the next stage of the hiring process.
Normally, those who work at NASA have STEM degrees (Science, technology, engineering, and math).
And although there are employees at NASA who don't have a technical background, they're more the exception than the rule.
This is what a NASA contractor had to say in this regard: "I have coworkers with Art History, Kinesiology, and English degrees. You definitely don't need a technical background, but it puts you at a pretty big disadvantage for anything but technical writing."

With that out of the way, here are a few tips that can get your NASA application noticed.
Employees at NASA gave the following advice on Reddit:
Show sincere passion: Someone with sincere passion will naturally gravitate towards activities that align with what NASA is searching for, such as pursuing research and lab work, engineering clubs, and related internships. They pursue them not only because they want to work at NASA but because it's genuinely something they enjoy. This is something NASA wants to see.
Apply to the Pathway program:

If you're able to get into the competitive

Pathway internship

program at NASA, your application will be much more memorable amongst a sea of equally qualified candidates. Know that you can apply for normal internships within NASA at the same time.

Do your research: Regardless of how well you think you know NASA, make sure to keep expanding your field of knowledge regarding the positions you want to apply for, as well as

NASA's history, mission, and on-going projects.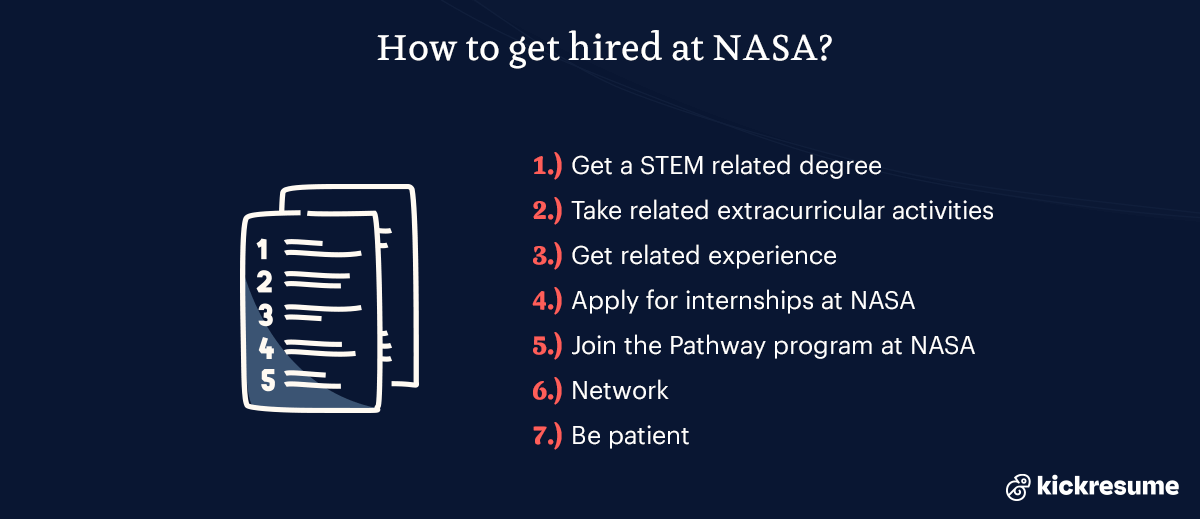 NASA job positions
It takes a large group of qualified individuals to get anything done at NASA.
Hence, NASA is much more than astronauts.
In fact, of the more than 17,000 employees working for NASA, only 48 are "active" astronauts.
As a result, here's what NASA has to say on this: "We are scientists, engineers, IT specialists, human resources specialists, accountants, writers, technicians and many other kinds of people working together to break barriers to achieve the seemingly impossible. Most positions are actually a bit mundane and have little to do with rocket-science".
Also, know that most people who work for NASA actually do so through contractors, especially engineering work. Jobs directly through NASA are more management related than engineering.
Having said that, here are four in-demand jobs at NASA:
Aerospace engineer, AST (job description)
As an aerospace engineer AST at NASA you'll be tasked with understanding technology and system performance. You'll also conduct scenarios for potential failure points and work on rooting them out. NASA missions aren't cheap, so people with an amazing attention to detail are needed as their tech is often designed to be failure-free. Other job duties include:
Provide technical leadership

Risk analysis

application

Providing

programmatic advice
Engineering technician (job description)
Someone's got to make sure the rocket ships are maintained in good shape. As an engineering technician at NASA you'll be performing a variety of tasks ranging from repairing ship components to developing flight plans. Other job duties include:
Test equipment for accuracy
Determine causes of equipment malfunctions
Construct test equipment
Computer engineer (job description)
The mobile phone in your pocket has more than 100,000 times the processing power than the computer that landed a man on the moon. Quite the achievement. Now, nearly everything within NASA is done with computers and computer engineers are highly important to NASA. The tasks of a computer engineer at NASA is finding potential points of failure, creating computer programs, and ramping up efficiency. Other tasks include:
Analyzing digital circuits
Devising alternative options alongside other engineers
Designing custom hardware
Administrative Support (job description)
Not all jobs at NASA are in engineering, as an administrator support you'll be working in various roles such as marketing, dealing with public relations and managing assistants. Other job duties include:
Preparing instructional materials
Calendar management
Scheduling and coordinating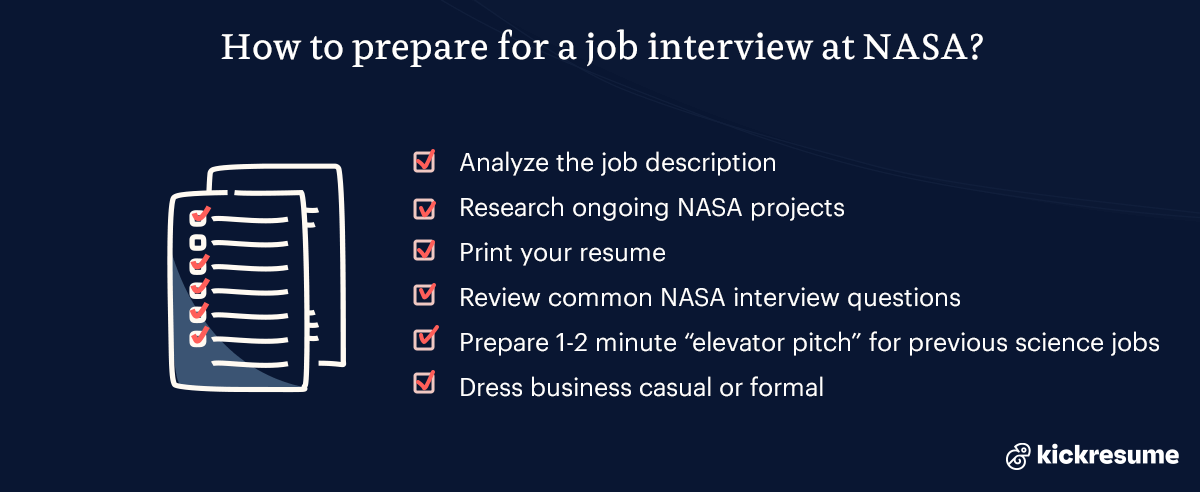 How to prepare for a job interview at NASA
It definitely takes time to prepare for a job at NASA, at least if you want to have a better chance of getting hired.
As NASA is constantly working on projects breaking new grounds, such projects tend to have astronomical prices and so they search for people who pay great attention to detail, work good in a team, are highly professional, passionate and responsible.
This is done to lower the chances of human error which can cost the organization billions of dollars.
It makes sense for you to prepare diligently before interviewing at NASA. So, apart from going over a job interview guide, we have a few tips that can help you with your NASA job interview.
1. Research the job description
You should take this general advice to a whole new level when applying for a company with a strict hiring selection process such as NASA.
Also, make sure you know the ins-and-outs of the position you're applying for and if you're able to, do in-depth research on the ongoing projects related with the job posting.
Remember to stress your passion and enthusiasm for your field of interest and not just NASA.
2. Bring a copy of your resume
It's easy to ramble when a hiring manager asks a question regarding your credentials. Because of this, it's wise to have a copy of your resume at arm's length.
We recommend that you prepare a 1-2 minute "elevator speech" for each science related thing on your resume as they'll likely ask you to expand on them.
Doing this will not only lessen the possibility that you'll ramble, but you'll also free up your mind from information overload, which will in turn remove stress and help with the perception of you dealing well under stress. A quality that NASA values greatly.
Download our free ebook for more clever shortcuts to "hack" your job search journey.
3. Dress accordingly (business casual or formal suit)
No need to bring an astronaut suit for the job interview, but a business casual suit should be the minimum. Though, depending on the position you're going to be applying for, a formal suit might also be required.
For example, you could wear the following business casual attire for a NASA job interview:
Top

: Solid button down shirt or conservative top; blue, grey, black or white.

Bottom

: Dress slacks, presentable skirt, or dark jeans.

Shoes

: Brown or black dress shoes.
4. Review common interview questions
Like we stated before, careers at NASA can vary greatly and because of that so do job interview questions.
However, there are a few common themes that carry throughout job positions at this space giant, such as teamwork, responsibility and initiative.
Keeping that in mind, here are a few questions NASA employees got asked in their job interviews, as well as brief advice on how to respond to them:
What is one experience you had with someone who was hard to work with?
When answering such an interview question, it's important to respond without being overtly negative. For example, instead of saying they were "lazy and arrogant", you can instead say "there were issues with communication and organization".
How do your goals align with NASA?
Working at NASA can be very demanding and so the organization looks for candidates whose life goals align with the company's goals.
Someone whose life goals differ too much from the organization can hamper the ability to cope with such a demand, making it harder to deal with the many responsibilities of the job at hand.
What do you like to do in your spare time
?
NASA is looking for passionate individuals that show initiative and this question can be a great way to emphasize any extracurricular activities that align with the job listing. This is the time to talk about that robot competition you joined.
Usually, getting to the interview stage at NASA means you already have the necessary skills and experience required listed on your resume. Give yourself a quick pat on the back for getting to this stage.
Remember, attitude is everything at this level. Keep your responses positive and professional through your job interview and assuming you brushed up on the technical knowledge required by the job you should be on the right path.
Other questions a hiring manager at NASA might ask are:
Why do you want to work at NASA?

How does what you want to do fit in with NASA's missions?

How did you choose your university?

How would someone who knows you well describe you?

What are your weaknesses?

Can you describe your ideal working environment?
Christy's word of advice

Fancy a career out of this universe? NASA hires far more than just astronauts, you know. However, as one of the world's most crème-de-la-crème employers, the hiring process is tremendously competitive, especially for specialist positions. If you don't have a fancy degree or military background, I recommend focusing on entry-level, seasonal, or internship positions to get your foot in the door. Having these experiences on your resume will increase the likelihood of more permanent opportunities coming your way.

Christy Morgan, Resident HR Expert
NASA resume and cover letter tips and examples
A NASA resume and cover letter should scream compatibility with the job requirements, the organization's mission and the company culture.
Therefore, it's highly important that your resume and cover letter are always tailored, detailed and well-researched.
For inspiration on how to align your resume and cover letter with a NASA job position, study the job description. Likewise, you can also take a look at the following NASA values:
Curiosity:

We're continually asking questions and seeking answers. Every day is a chance to try something new and come up with novel solutions to "unsolvable" problems.

Team-oriented:

We come together as one to solve complex issues. Innovation is a staple, teamwork is a must and everyone's opinion counts.

Passion for Exploration:

We are constantly embarking on a range of adventures to better understand our planet, the solar system and beyond.

Agility:

We are comfortable and flexible working in ambiguous environments. We embrace change and are ready to grow and adapt to what the future may bring.

Resilience:

When we put our minds to something—we don't give up. We aren't deterred by obstacles or constraints, and we stay the course to achieve our goals.
Resume
A resume for working at NASA should be done more as a traditional CV, especially if you're going to be working directly for NASA and not through a contractor.
Employees who work directly through NASA are civil servants and are expected to follow the same rules of employment that any other government worker does, including following a federal resume format.
Now that you're aware of the differences between working directly for NASA and through a contractor, here are a few resume examples you can use to jumpstart yours:
Are you applying as a mechanical engineer at NASA? Then your resume should highlight your ability to communicate complex information,

technical mindset and other engineering roles.

Such as this

senior mechanical engineer example

.

Are you applying for a job in research within NASA? Then your resume should highlight your proactive approach, as well as your proven track record in finishing assigned projects within budget and schedule. Similar to this research assistant resume example.
For more information on resumes, check out this comprehensive guide on how to write a resume.
Cover letter
Similarly, your cover letter should also be tailored to the job listing and NASA's mission statement. Then try to answer the following questions:
Who are you?

What are your credentials?

Why are you submitting this application?

Why do you want the job and your knowledge of it?

What are your previous experiences that align with this job?

Why should we consider you?
Just make sure you keep it concise and to the point.
At the end, it should look like this research associate cover letter example.
What is it like to work at NASA?
Although working at NASA can be hard and the pay may be subpar compared to other aerospace organizations, most employees find it a good tradeoff for what they get in return.
They feel accomplished and proud as they work to advance mankind's mathematics, science and engineering.
As the most common jobs at NASA are as engineers and scientists a typical day can go as followed:
Scientist: According to a NASA employee on Quora, Scientist at NASA fall under a few categories, those doing only research, those on a project, or those who do both. Those who do only research spend about 75–85% of their time doing research in their area of expertise. As for the ones involved in projects, they spend most of their time making sure their part of the project is going smoothly, participating in design and testing and monitoring scientific instruments.
Engineer: Like at any other engineering job, you'll spend most of the time sitting down and working on rather 'mundane' tasks, but you get to build and manage space vehicles. Most positions can be narrow-focused, as most engineers will be expected tasks within a large project; this can often feel like you're not actually building a space faring vehicle that will be traveling across our solar system.
How much does NASA pay? (NASA salaries)
Depending on what career you decide to pursue within NASA, you can expect a salary ranging between $57,000 to $150,000 a year, with the average salary at NASA coming out to around $93,000 a year.
Moreover, those who decided to pursue a career as an Aerospace Systems Engineer will have the highest average annual salary at $113,000. Research scientists have the lowest average salary at $75,000.
FAQ: How to get a job at NASA
How hard is it to get a job at NASA?

Due to the organization's strict hiring process and limited job spaces, getting a job at NASA can be a hard undertaking. Hence, it's imperative that you do your due diligence and prepare accordingly by:

- Getting a degree in a STEM-related field.
- Doing related extracurricular activities.
- Taking internships related to the field.
- Being a part of the Pathways internship program.
- Showing passion regarding the field.
- Having perseverance (don't give up after the first rejection).

Can I work for NASA if I'm not American?

Apart from a few very rare occurrences, working for NASA requires you to be a United States citizen. However, this only applies to those wanting to work directly for NASA. Meaning, you can still work for one of the thousands of private contractors who work for NASA alongside NASA's direct employees while performing the same job.

What type of engineers work at NASA?

As NASA has diverse missions, it hires engineers from nearly all walks of life. Ranging from mechanical engineers to civil, computer science, and aerospace engineers. NASA hires up to 20 different types of engineers.
Resident Writer

A documentary photographer and writer. Noel has worked for International publications like Deutsche Welle in Germany to News Deeply in New York. He also co-founded the global multimedia project Women Who Stay and collaborated as a journalist fellow with the University of Southern California. He went from traveling around the world to sitting on a couch thanks to the pandemic, but he got a nice job working for Kickresume thanks to that, so he won't complain.