Tesla is a tech company that sometimes looks too cool to be real. It's the fastest-growing car manufacturer in the world. And their award-winning electric vehicles look like they come from outer space. So the first question you might be asking yourself right now is: how to get a job at Tesla?
The truth is it won't be easy, given the fact that Tesla receives thousands of job applications. But the good news is they still review every single resume manually.
To help you out with your job application, we've gathered information from job candidates and former employees.
Describing their experience, they've given us valuable tips and disclosed the principles the company is built on.
In this article, we'll describe the whole application process and will tell you what key areas you need to focus on if you want to land a job in the iconic tech company.
Why get a job at Tesla?
Since its founding in 2003, Tesla became a symbol of continuous innovation in the electric car industry. Starting as a small startup with just 5 employees, Tesla is now one of the world's most valuable companies.
Today, Tesla has over 110, 000 employees worldwide. They produce not only electrical cars but also solar panels, glass, energy storage, and more. Last year, Tesla had a yearly gross profit of $16.851B.
By submitting your application to Tesla, you're up for a roller-coaster ride in one of the most exciting startups in Silicon Valley. It's led by a visionary leader and offers a great deal of autonomy coupled with productive teamwork.
Elon Musk once said: "If you're working at Tesla, you're choosing to step up your game."
Getting a job at Tesla means working alongside driven and motivated people in a truly thriving environment — a fertile ground where daring visions of the future can really take off.
Tesla also offers its employees plenty of benefits. Among the Tesla benefits in the US, you can find:
Health and life insurance
Paid parental leave
Pension plan
Paid vacation time
Disability insurance
Stock benefits
Fitness resources
This doesn't sound too bad, right?
Is it hard to get a job at Tesla?
To be frank — it's not easy at all. And no wonder! Many people clamor to land a job in a company that's making history.
It also means that landing a job at Tesla became much more challenging over the years.
In 2017, Tesla received just shy of 500,000 applications for less than 2,000 open jobs. However, in 2020, only three years later, the number of applications grew to a crazy 3 million!
And this number is only bound to rise in the years to come.
Especially if you're interested in being a part of the software engineering team, your chances of getting a job at Tesla in 2022 are only 0.5%.
However, the intimidating number of applicants doesn't have to mean a game over. 

The company professes to value diversity and appreciates a variety of different kinds of thinkers.
So if you come from a non-traditional background, this company may be a great match for you.
It might be your problem-solving skills and unconventional approach to challenges that will land you a job.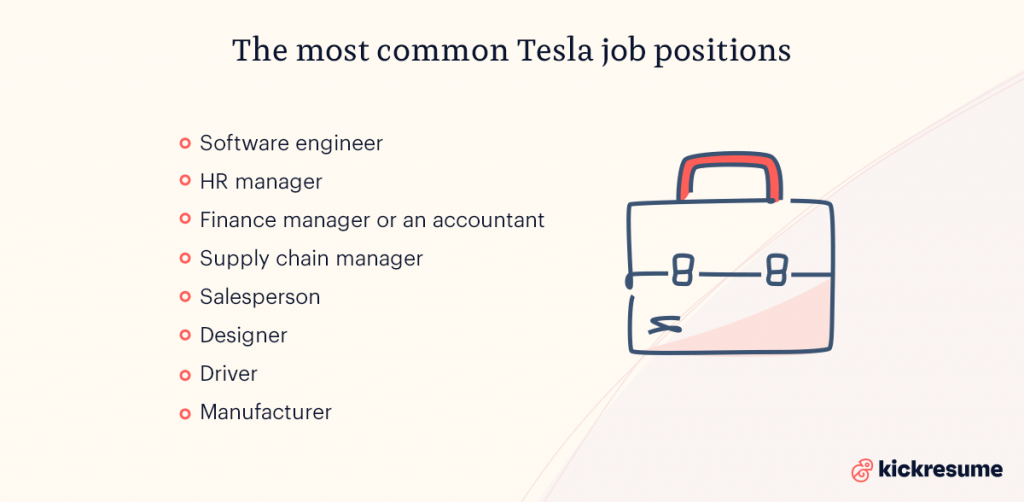 Tesla job positions
Over the years Tesla grew into a huge company with hundreds of thousands of employees. Thanks to that there are countless job positions that need to be filled every week.
These are some of the most common Tesla job positions:
Software engineer
HR manager
Finance manager or an accountant
Supply chain manager
Salesperson
Designer
Driver
Manufacturer
While most of these roles are full-time, there are seasonal or part-time opportunities as well. However, be aware that in these cases you may not receive benefits such as health insurance or vacation days.
Tesla internship
Additionally, Tesla offers plenty of internship opportunities for students.
If you want to do more than just make coffee and are up for a challenge, apply!
Tesla promises that their interns learn a lot by being allowed to lead projects and carry a large amount of responsibility on their shoulders.
How to apply for a job at Tesla
While the company claims to have no one ready-made formula for choosing their staff and all they're looking for is excellence, the selection process does have its structure.
Here's a step-by-step guide on how to get a job at Tesla:
Go to the Tesla career page. This should be your first step. See what job offers are available.
Filter available vacancies. You can choose the region or a city in which you want to work, the type of job you want to do, or a job category. You can also choose if you're interested in a full-time or a part-time position.
See if you fit the criteria for the selected vacancy. The requirements are always listed in the job description of the selected job offer.
Hit the Apply button. This will take you to the next stage of the application process.
Fill in your personal information and attach your resume. The good news is that the cover letter isn't necessary!
If your online application was successful, you can expect to enter the interview part of the selection process.
Alternative ways of applying for a job at Tesla
There are also other alternative ways of applying for a job at Tesla:
Networking. If you know people who already work at Tesla, don't hesitate to approach them. Ask for advice or a reference. Having an insider connection will certainly make you more recognizable to recruiters!
If you're bold enough, reach out to a hiring manager directly via email and skip the application process. Don't forget to attach your CV.
Use services of recruiting companies. Remember, the agents in these companies are getting paid from the commission — that is, if you manage to get hired. For this reason, they try extra hard to make you noticeable. They're also more responsive. On the other hand, this definitely isn't a free service.

Tesla interview process
The Tesla interview process consists of several rounds. Get ready for them, as well for the most common Tesla interview questions.
First, expect a quick 30-min screening. This screening will take the form of a phone or a video call with a recruiter. In this interview round, you can expect general interview questions like "Why do you want to work at Tesla?"
Once you pass this quick screening, expect interview number two. This time you'll talk with a different recruiter, probably an engineer (if you're applying for an engineering role). Now you should expect more detailed questions. You also might be asked to assemble something or given a coding exercise right on the spot.
Frequently asked Tesla interview questions
Oftentimes, during a Tesla interview, you'll be asked about one specific accomplishment that you're most proud of.
Take your time, this is one of the most important questions in Tesla interviews. Don't underestimate this part of the process and prepare your answer ahead.
When you're answering this question, you want to choose a situation in which you significantly impacted the outcome.
In order to provide a succinct answer, break it down into the following parts:
What was the problem?
What was your solution?
How exactly did you solve it?
What was the result?
Structuring your response in this way will make you realize if you were a real game-changer or just an observer.
Some other frequently asked questions are:
What qualities and traits are needed to work for Tesla?
Why do you want to work at Tesla?
Where do you see yourself in the next five years?
What makes you a good fit for this role here at Tesla?
How do you deal with tight deadlines and multiple priorities?
Finally, the company's mission is to accelerate the world's transition to sustainable energy. That sounds cool, but what about you?
Get ready for a question targeted at your own approach towards sustainability and sustainable energies. Figure out what it means to you personally and how it resonates with your life principles.
What comes after a Tesla interview?
The two interviews are over and you may be feeling very good about them. However, don't celebrate yet! This isn't the end of the Tesla application process.
If the interview process went well, you'll be required to write a statement letter.
You'll be asked why you'd be a good fit for Tesla and what would be your contribution to the company. In other words, you'll have to write something very similar to a cover letter.
If they like it, you'll get a job at Tesla.
If not, there's no reason to despair. Failures are a part of the journey to success. Even Elon Musk knows a thing or two about this, too.
Tesla job requirements
Since Tesla offers hundreds of job positions, the requirements for different roles vary.
However, generally speaking, if you want to get a job at Tesla, there's no need to have decades of experience or be a graduate from one of the Ivy League schools.
Tesla's not drooling over degrees, they're looking at your potential and personal qualities.
Tesla checks potential candidates for three traits:
being innovative
driven
being a team player
A new member of Tesla staff must be willing to experiment, test, and learn. It's no big deal if you fail, but fail fast and be flexible once you do.
Furthermore, every single Tesla employee needs to:
have a high-school diploma
be over 18
If you're interested in the most competitive position of a Tesla engineer, you need to fulfill at least these basic requirements:
have a knowledge of coding languages (such as C++)
an engineering degree isn't always a must, but it's definitely a giant plus
to have people-skills
be able to work under pressure

Tesla resume tips
You might be glad to know that the resume screening process isn't automated at Tesla — every single resume is reviewed by a human.
Why is this good news? Well, for starters it means that a well-prepared resume can do wonders.
Do the following to ensure that your Tesla resume is going to be top-notch:
Use bullet points when writing about your work accomplishments. It structures your text and ensures that your sentences aren't too long.
Don't forget to include a profile section. A well-written profile can catch the attention of a recruiter immediately.
Use quantifiable data. This is essential especially when it comes to the work experience and skills section.
Avoid indicating your age, relationship status, race, or anything too personal. Tesla is an inclusive employer and doesn't want to hear about these details.
Place your work experience first. And in case you're just out of college, focus on the extracurricular section of your resume.
Tesla cover letter
As said earlier, a cover letter usually isn't required at Tesla.
However, if you make it to the final round of application, you'll be asked to write a statement of purpose (read more about this in the chapter on the Tesla interview).
When that happens, this cover letter guide may come in handy.
What is it like to work at Tesla? Is it hard?
Remember that Tesla was born and raised in Silicon Valley's hardcore work culture. The company's culture has been described as a non-stop adrenaline rush, which can easily lead to burnout.
But if you happen to thrive under high pressure, this is the spot for you.
Tesla's CEO Elon Musk is known for setting hyper-aggressive time schedules, assuming there's no limit to his staff's productivity.
He's an inspirational leader who won't only press his staff for time but also infuse them with contagious zeal for their work.
One of the core building blocks for working at Tesla is autonomy and self-motivation. As an employee, you're expected to be proactive instead of waiting for management to dictate deliverables.
Finally, you may have heard that remote work is no longer optional at Tesla. Musk claimed that the pandemic is over and those employees who won't spend at least 40 hours in the office can feel free to leave Tesla. Kind of harsh, am I right?

How much does Tesla pay?
A decent salary is one of the main motivations for people who want to work at Tesla.
The average Tesla salary is $110,192 per year. This sum also includes bonuses.
The highest salary at Tesla goes to the sales directors. They can earn up to $225,480 annually.
On the other hand, the receptionist at Tesla earns the least. Only $38,015 annually.
FAQ: How to get a job at Tesla
Are you ready to hit send on your Tesla application? Or are you not that sure anymore? No worries, we've got you covered. Go and see if a job at Google, Nasa, or Web3 is a better fit for you!
Junior Writer

Kaja Jurcisinova is a junior copywriter at Kickresume. Kaja completed her undergraduate degree in Art History at the University of St Andrews in 2018 and graduated with a Master's in Arts and Culture from the University of Groningen in 2021. She was an intern at multiple cultural institutions across Europe, including the Dutch Museum Association in Amsterdam, the Matter of Art Biennale in Prague, and the European Cultural Centre in Venice. At the moment, she resides in Visby on the Swedish island of Gotland.