Crypto, blockchain, Web3. These buzzwords are everywhere. Technology is rapidly progressing and the hiring world is changing together with it. Right now, the newest and biggest thing in the tech and hiring world is Web3.
If you're wondering how to get a job in Web3 (or if you just want to know what Web3 is), you've arrived in the right place.
I mean, we're not going to pretend we understand blockchain as you probably do. But this article could still help you navigate the hiring side of the Web3 world — especially if you're still new to it.
You'll learn where to look for a job in Web3, how to write your Web3 resume, or how to nail a Web3 job interview.
What is Web3?
Also known as web3, or Web 3.0, Web3 is the new generation of the world wide web — the internet.
Web3 allows the wider public to harvest internet data that was up until now the sole domain of big tech companies.
While some (cough cough Elon Musk) believe that Web3 is only a hyped-up concept without a realistic future, others believe Web3 represents a much-needed revolution.
Web3 is promised to lead to more democratic usage and ownership of the internet. In other words, many people will no longer be just users of the internet, but also the owners of it.
You may ask — what is this ownership valued in?
Well, the answer shouldn't surprise you — it's cryptocurrencies. And with them, on Web3, you can buy just about anything. Whether it's a tangible product or a social media post.
Criticism of Web3
Simply put, it attempts at complete decentralization of the internet. And some believe it's the sole future of the internet.
However, it's not all praise. There's a (valid) criticism of Web3. The main point of criticism of Web3 focuses on the fact that knowledge of crypto is still limited to not that many people.
And because of that, Web3 arguably cannot be truly decentralized and democratic, as it serves only a few chosen people.
What are the job opportunities in Web3?
With the new venue came also new job opportunities. The most common (and desired) job roles in Web3 are software engineer and software developer. In these roles, you'll be required to code and create apps that are distributed on a blockchain (and not a single cloud). This work is similar to most cryptocurrency coding.
There are also positions that don't require technical and programming skills:
Business analyst. In this role, you'll be helping with mapping processes and workflows. You have to be organized and able to work with a large amount of data. At least a bachelor's degree is required for this role, too.
Marketing. A marketer in a web3 company promotes the product produced by the given company and makes it accessible to more people.
Business development. Your role will be initiating change and indicating where the company should head.
Web3 consultancy. Your role would be advising companies interested in transitioning into blockchain-based frameworks.
And why would you want to work in Web3/crypto?
First, experts claim that in the upcoming decades Web3 will take over the internet and job market. This means that if you're one of the early birds, taking a little bit of risk now can bring you massive success in the future.
Second, if you want to start your career in an established field, it may take long decades before you enter higher and better-paid positions. You have to be patient when climbing the ladder. On the other hand, the fact that Web3 is just starting means that you don't have to wait too long before being promoted to an important position.
Flexibility is another advantage of Web3 jobs. Most of Web3 job offers are remote so you don't have to worry about relocating or commuting to work every morning.
On average, a Web3 software developer is paid better compared to a Web2 software developer.

How to find a job in Web3?
Do you like the sound of all the benefits that the job in Web3 offers? I'm not surprised. Flexibility and a high salary sound good to me as well.
So, let's talk about how to land a position in a company that operates in Web3.
There are several ways to do it, whether you're looking for a developer or analyst position:
You can become an intern. While Web3 is a new field with plenty of exciting opportunities, some of the hiring mechanisms remain the same. This means, that if you're brand new to Web3, the easiest way of starting out is securing an internship and working your way up from here.
You can become an early adopter. In other words, you can be a "lighthouse customer" and use this new product before everyone else starts using it.
You can become a DAO (Decentralized Anonymous Organization) contributor. Being active in this digital decentralized crowdfunding organization can always lead to making valuable connections.
You can become a skilled networker. Consciously build your real-life network and don't hesitate to approach people who already work in companies in which you're interested.
You can become known on social media. Use social media such as Twitter or LinkedIn often and wisely. Here, you can post your work and promote your brand. In other words, use online venues as the best opportunity to stand out from the crowd.
Where to look for a job in Web3?
When it comes to brand new job fields, the easiest way to penetrate into them is often via your existing network. That's because many of the available positions aren't officially advertised and there won't be an official online application process either.
Furthermore, the hiring process will differ from company to company.
However, there are some basic principles that you can follow and these will lead you to landing a Web3 job:
Start by investigating your network, reaching out to people who are already working in crypto, or indicating that you're looking for a job in Web3 on LinkedIn.
Second, try Twitter. There are people out there who landed their Web3 jobs solely via connections that they've made in Twitter NFT spaces.
Hackathons are another spaces where you can come across a Web3 opportunity.
If you aren't great at networking, or you're just at the beginning of your career, there's still the good old-fashioned way of searching for job offers — job boards.

However, you need to know which ones are the best when looking for a job in Web3.
The best Web3 job boards are:
What companies are hiring for Web3?
Once you know where to look for a Web3 job, it's good to start thinking about what company you'd like to work for.
There are plenty of them to choose from.
Among the most popular companies that offer a high number of vacancies in Web3 are:
Of course, these are the biggest ones that will offer the highest salaries. On the other hand, their vacancies will be more competitive.
Fun fact: Recently, even Google started to look for web3 employees!
Is it hard to find a job in Web3?
While many think that the relative novelty of Web3 makes it very easy to find a job, this isn't necessarily true.
Indeed, if you're an established software developer with vast experience and an extensive portfolio, landing a job in Web3 shouldn't be too hard for you. However, if this is the case, it'll be easy for you to find a job pretty much anywhere.
Contrary, if you're just starting out, it may be a little challenging to get a job in Web3, as the job itself isn't easy. That's why companies are looking for more experienced candidates.

What skills are needed for a Web3 job?
First and foremost, as a Web3 blockchain developer, you need to have an excellent knowledge of multiple coding languages.
Java is a must, Python, C++, C#, and others are always appreciated, too.
When it comes to actual work responsibilities, you should be confident that you can handle the most common job tasks in Web3 development, such as:
creation of crypto
creation of DApps
minting NFTs
design patterns
However, you shouldn't underestimate soft skills — you need them even as a developer. Among the most important soft skills that will land you a job in Web3 are:
being able to demonstrate your drive and passion for the industry
motivation to further your education and train your skills related to crypto
client skills
ability to lead a project
being able to meet deadlines
Finally, if you're searching for a less technical position in Web3 — such as marketing or business — a certain amount of years of experience is usually required alongside a bachelor's degree. Moreover, you should be able to demonstrate an interest in crypto and basic knowledge about Web3.
How to become a Web3 developer?
If you're interested in crypto development and you are wondering how to get a job in Web3, expect that you'll have to meet high expectations and selection standards.
For a Web3 developer, you'll need to meet these requirements:
You should know the basics of crypto. The best way of doing it is by joining a Web3 developer group or an immersive and hands-on Web3 coding bootcamp where you can study crypto basics alongside other developers, build practical projects, and receive personalized feedback and mentorship.
You should have knowledge of at least three coding languages. That's really non-negotiable. Java is a must, Python, C++, or C# com in handy, too.
You should have an existing portfolio. A certain level of experience is needed. You should impress your future employer with the presentation of your work. After all, your work speaks for itself better than any words would.
You should learn to interface with blockchain.
You should learn to use a Smart Contract. Even though some claim, it may not be necessary, it'll make your job significantly easier.
You don't have to have a university diploma. While it certainly helps, having a formal education isn't necessary. That is if your portfolio and skills speak for themselves.
Does this sound like not the best fit for you? Don't worry, the perfect software development job may be waiting for you at Google, NASA, or Tesla.
Resume tips when applying for a Web3 job
While simple and minimalistic resumes are usually advised for the common software developer jobs, when we talk about Web3, we're talking about newness, freshness, and creativity. Your resume should reflect these qualities.
Show that you're an original person who likes to think outside of the box.
Also, the following sections shouldn't be missing from your Web3 resume:
Profile. Often left out but a very important part of the resume. This is your chance to make the best first impression. Tell your future employer who you are right away.
Work experience. Conventionally, this section comes first after the profile. Always include a brief description of your past responsibilities. Focus on what you've achieved. Use active language and specific numbers.
Education. While a good education will add value to your resume, it's by far not the most important section on your CV. If you're aiming for a Web3 position, place the education towards the end of your resume. Work experience, portfolio, and skills should come first.
Skills. Arguably the most important part of your Web3 resume. Clearly list relevant skills — for instance, if you're a developer, this will be the coding languages you're familiar with. And, of course, blockchain skills.
Certificates and courses. Show that you've attended extra courses and learned about Web3 in your free time.
Include a link to your portfolio. If you're a developer, the portfolio is a key part of your job application.
Final tip: When you list skills on your resume, it's always great to include quantifiable data. Be specific and demonstrate an ability to translate your skills into numbers. Here, charts come in handy (and look good).
Get inspired by the following software developer resume sample. While it may not use the most creative resume sample, its design is sleek, eye-catching, and stands out from the crowd thanks to the usage of bright blue color. (Okay, it's not perfect but I helped a real person score their software developer job.)
Software developer at Navarro resume sample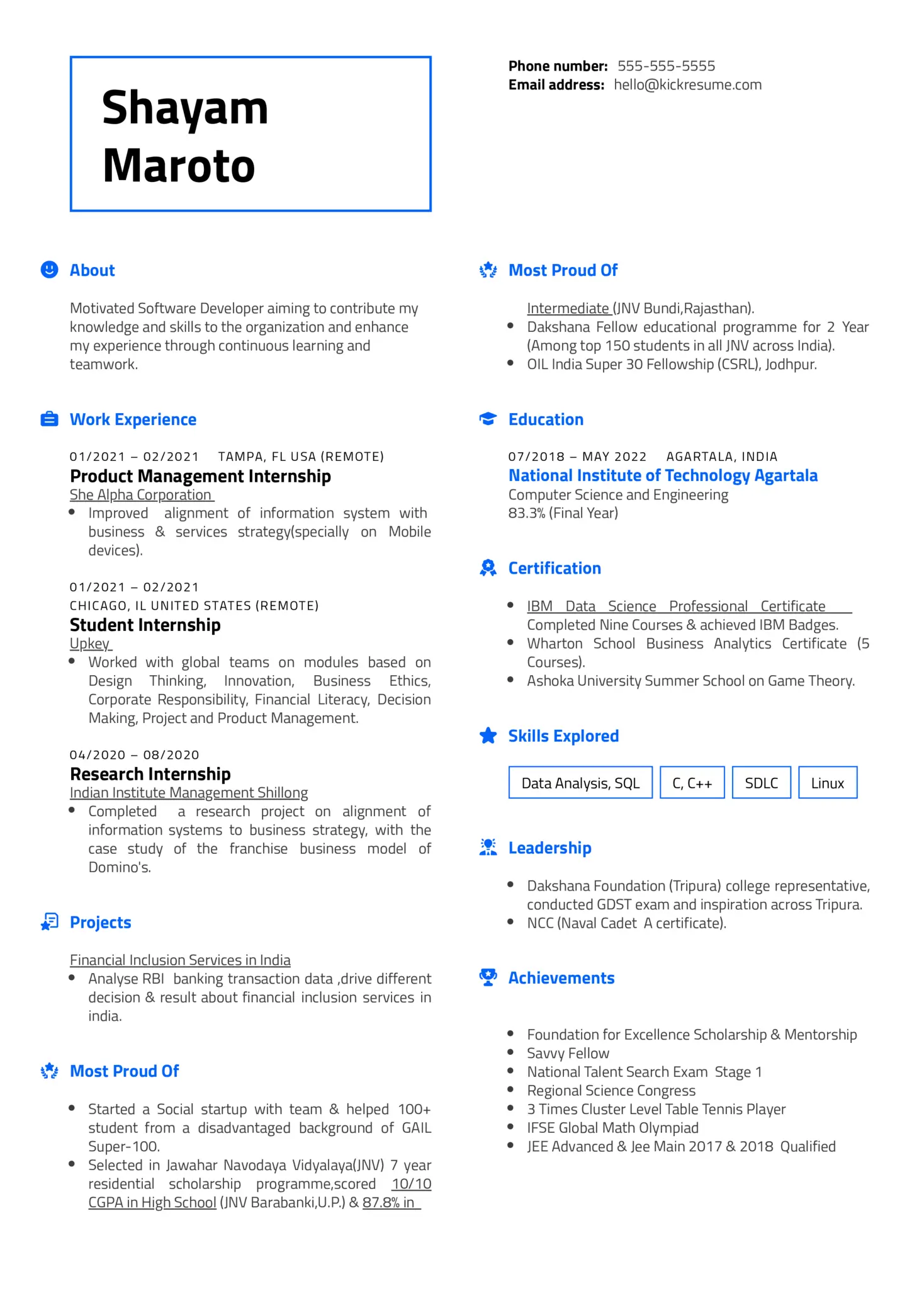 And if you're still unsure about how to put your Web3 resume together, read this resume guide. It has all the information you'll ever need.
On the other hand, for developer jobs, at times resumes or education qualifications aren't even a necessity. Companies often look at Twitter, LinkedIn, and GitHub profiles instead. Because of this, make sure that you have a strong and professional online presence.
Cover letter tips when applying for a Web3 job
For most standard developer jobs, cover letters aren't required. However, there are always exceptions to the rule. So if your potential future employer asks for a cover letter, you'll be ready and know how to write it!
The principle that you've applied in your resume should be kept in mind also when writing your cover letter.
Try to be creative and instantly recognizable. On the other hand, be very specific and demonstrate your skills in a measurable way. (Easier said than done.)
Remember, the cover letter is your chance to show everything that wouldn't fit into your resume. Don't just repeat information from your CV, build on it.
Moreover, in a web3 cover letter, make sure you demonstrate your passion and knowledge of this new field.
Here are some general cover letter tips:
If possible, always address the letter to a specific person, such as the hiring manager.
The cover letter shouldn't be shorter than half a page. It also can't be longer than 1 page.
Proofread and avoid grammar mistakes.
Start the cover letter with a catchphrase.
Never forget to thank the recruiter for their time a sign the cover letter with your full name.
Finally, look at the creative cover letter sample below. See how the sleek design attracts attention and at the same time presents the information in a highly professional way.
It would be even better if you match the design of your cover letter with the design of your resume. This will create a great put-together first impression.
Android Developer Cover Letter Sample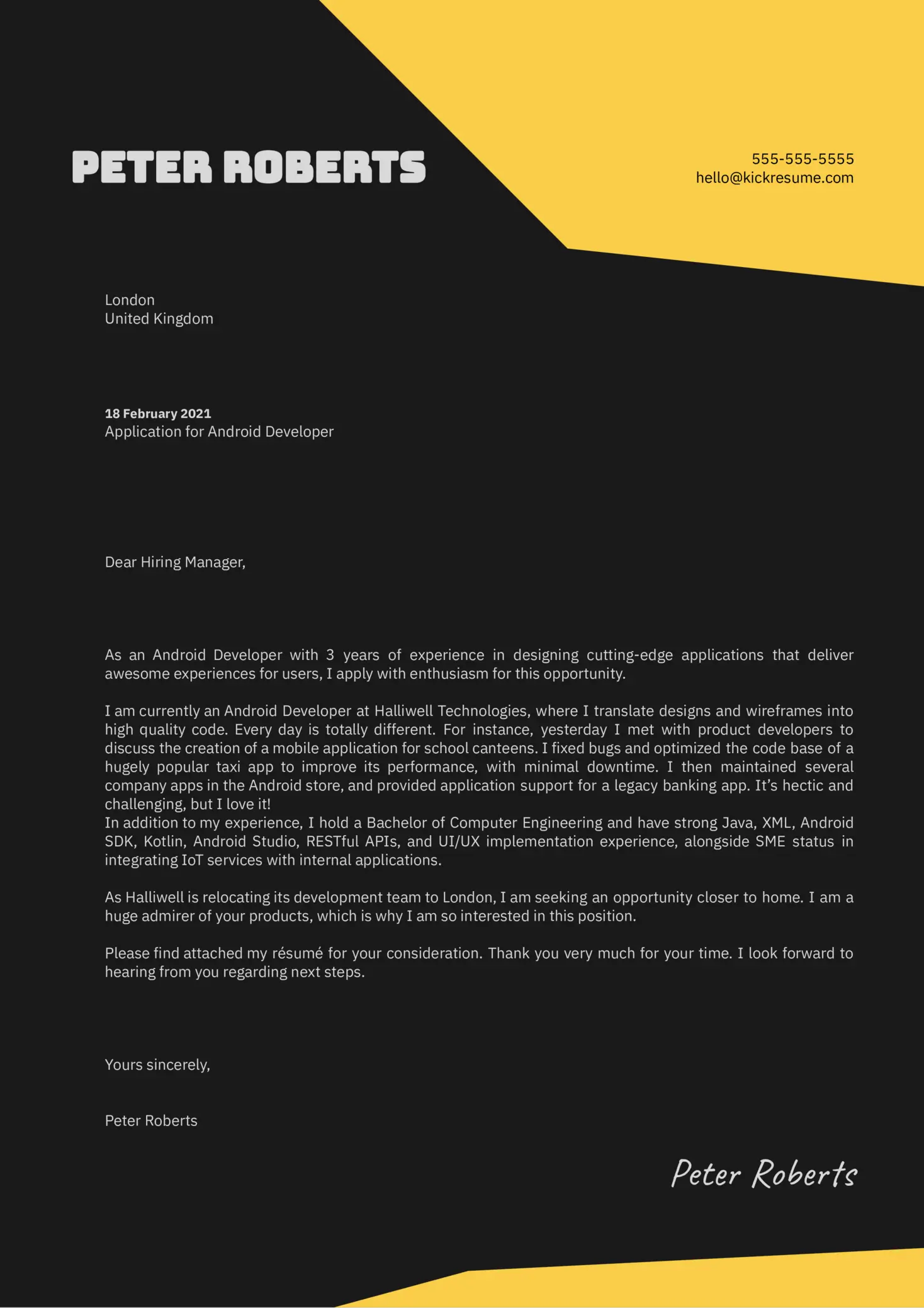 For more tips on how to write the perfect Web3 cover letter, take a look at more cover letter samples or read this detailed cover letter guide.
What is a Web3 job interview like?
So, now that you've submitted your resume and cover letter, you'll be hopefully called for an interview.
Interview for a job Web3 is like any other interview. It's important to keep in mind these basic job interview tips:
dress sharply and professionally
be polite
have a firm handshake (that is if the interview is in-person)
arrive on time
send a thank you email after the interview
You should also be getting ready for a Web3 job interview specifics. During your interview, you can expect and should be prepared for questions such as:
What is the difference between Web2 and Web3?
Do you know what is a Web3?
What is a smart contract?
Do you know the difference between Bitcoin and Ethereum Blockchain?
What is your favorite Blockchain project and why?
You also may be required to demonstrate your knowledge of coding skills in practice, so be ready for that as well.
FAQ: How to find a job in Web3
Junior Writer

Kaja Jurcisinova is a junior copywriter at Kickresume. Kaja completed her undergraduate degree in Art History at the University of St Andrews in 2018 and graduated with a Master's in Arts and Culture from the University of Groningen in 2021. She was an intern at multiple cultural institutions across Europe, including the Dutch Museum Association in Amsterdam, the Matter of Art Biennale in Prague, and the European Cultural Centre in Venice. At the moment, she resides in Visby on the Swedish island of Gotland.