If you own or manage a business in 2022, you've likely found yourself wondering how to hire remote employees and whether or not you need to.
Ever since the start of the Covid-19 pandemic, the shift toward remote work environments has been accelerated immensely.
According to a recent Forbes article, researchers expect that roughly 25% of all jobs in North America will be remote by the close of 2022.
With this movement away from traditional work environments, businesses need to consider how to reshape their hiring models to fit this evolution.
Figuring out how to hire remote employees and build a solid remote onboarding strategy is key.
In this complete guide, we'll cover a wide variety of topics on how to hire remote employees, including:
The benefits of hiring remote employees
What to consider when hiring remotely
How to find the best remote workers
How to hire remote employees step-by-step
The benefits of hiring remote employees
If this is your first time considering hiring remote employees, you may be wondering what the benefits of a remote workplace are.
Here are 5 excellent benefits that come with hiring remote employees:
Lower operational costs. When you hire employees to work remotely, you eliminate the need to operate a full-time office space. In some cases, you may even choose to go fully remote, eliminating the need for renting an office at all. This can greatly reduce your overhead operational costs, such as office rent and utilities.
Access to more talent. Limiting yourself to only working with professionals in your immediate area means you have limited access to talented workers. By offering remote employment positions, you greatly increase your pool of talent to select from, allowing you to build a more diverse and powerful team.
Greater applicant attraction. With the growing popularity of work-from-home business models, more and more job applicants are looking for such opportunities. As a result, advertising that your company offers remote positions will lead to more job applications overall.
Improved employee morale. Remote workplaces have as many benefits for your employees as they do for your company. By allowing your team to work remotely, you provide them with lower commute costs, greater schedule flexibility, and more time to spend at home with family and friends. In turn, your employee morale and retention rates are boosted as well.
Increased business resilience. By operating a business solely from one physical location, the resilience of your business highly depends on that location's well-being — and as we all witnessed with the pandemic, this can become a major problem when natural disasters occur. Having the business structures in place to support a remote team and work environment gives your business the foundation and agility it needs to survive the toughest of times.

What to consider when hiring remote employees
As you begin setting up your remote business model, it's important to keep a few key factors in mind.
Remote workplaces are inherently different than traditional ones, providing greater business flexibility and employee freedom.
However, you must also set clear boundaries and expectations for your remote employees, as you won't be with them in person to offer corrections or feedback.
There are several important considerations when hiring remotely:
Scheduling remotely. One of the biggest differences between a remote and traditional workplace is the work week schedule. Some companies may choose to follow a more standard business schedule (for example Monday to Friday, 9 a.m. to 5 p.m.) while others may give employees greater freedom in the form of async work. How you create your schedule can ultimately help set the tone for how your remote workplace will be managed.
Setting expectations. When allowing employees to work remotely, you must set clear expectations for how you expect them to act during business hours. For instance, if you plan on using productivity tracking software, you'll need to thoroughly explain how this works and what it will require of your employees. Setting clear expectations will help you keep your team satisfied, productive, and in line, all while working remotely.
Redefining workplace benefits. Along with standard benefits packages (health insurance, 401K, etc.), most employers will also offer a variety of workplace benefits, such as workplace parties or in-office supplies and equipment. For a remote workplace, you'll need to redefine these extra benefits to work for remote employees. A great example of this is partnering with local businesses (coffee shops, gyms, etc.) to offer your employees special discounts and deals.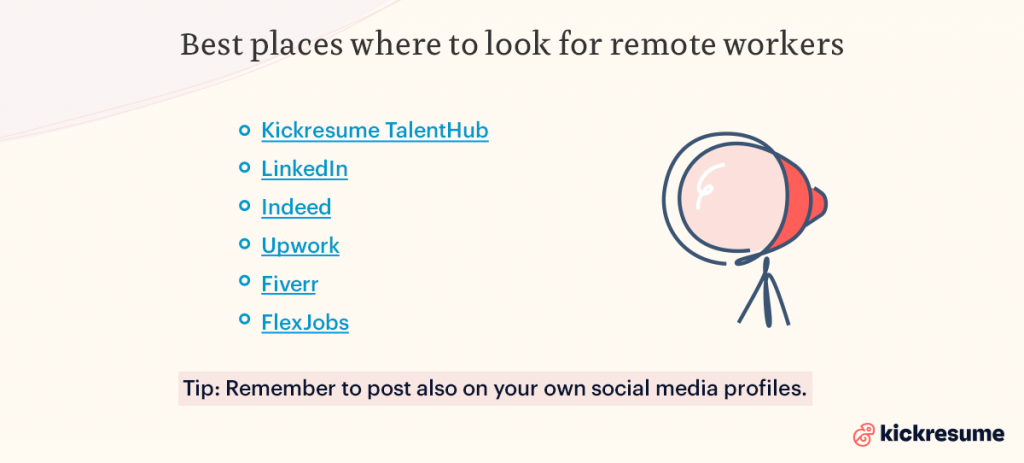 How to find the best remote workers
When hunting for the best remote workers to add to your team, it's essential to know where to look and how to convince the best applicants to apply.
It's important to consider in your quest to find remote workers that these professionals are always trying to find the best advice on how to find remote jobs as well.
There's a tremendous pool of eager professionals out there, just waiting for their ideal remote job to come along.
Here are four tips for finding the best remote workers for your job openings:
Know where to look for remote employees

From remote job boards to your company's social media, the obvious thing for you is to go online.

Present yourself as a solid employer

It's crucial to showcase why your business is a great place to work. You do so by building your brand awareness and company culture openly.

Write a cool remote job posting

For a job posting to be effective, it needs to be engaging, informative, and concise. Make sure that you choose the right tone.

Know where to advertise your remote jobs

We recommend posting the offer on 1 to 3 sites so you don't get overwhelmed by the number of applications that you have to keep track of.
Now that you know what is required, let's talk about each step in more detail!
1. Know where to look for remote employees
In terms of where to look for remote workers, the most obvious place to start is online.
There are many different online locations where job applicants hang out, from job boards to social media.
The top places to look for remote employees are:
Kickresume Talent Hub. At Talent Hub, you're able to reach a wide pool of 20k active job seekers, get automatically matched with relevant candidates, and save time you'd otherwise spend reading through resumes that don't fit your criteria.
LinkedIn. On LinkedIn, you can not only upload a job posting but you can also search through LinkedIn users who list themselves as open to work, as well as send these professionals messages encouraging them to apply.
Indeed. Indeed is one of the most well-known online job boards available today and attracts more than 225 million prospective candidates to its site. With Indeed, you can access a wide range of job applicants from all different industries and professional backgrounds.
Upwork/Fiverr. If you're searching for temporary or freelance remote workers, try out freelance marketplaces like Upwork or Fiverr. These sites are great for building talented teams for specific jobs or projects. They can help you avoid time-consuming onboarding processes.
FlexJobs. FlexJobs is a large online job board designed to help workers get matched with the right employers. With FlexJobs, you can post fully remote or hybrid positions, enabling you to find both local and more distant workers. The founder of FlexJobs also created a secondary job board, Remote.co, which is specifically dedicated to only remote job openings.
Social Media. If your company has an established social media presence, posting about remote job openings can be a great way to find applicants. There is a high chance they already know about and are interested in your company. Platforms like Instagram, Twitter, and Facebook are especially good for this purpose.

2. Present yourself as a solid employer
As you work to find the right remote employees for your company, it's crucial to remember that you need to showcase why your business is a great place to work.
There are ways how you can present yourself as a solid, trustworthy, and reliable employer:
Increase your brand awareness
Brand awareness can make a huge difference when trying to find the right candidates for the job. As mentioned in the section above, focusing on establishing your company on social media can help you not only boost your visibility but also connect with professionals who are already enthusiastic about your business.
Build a comprehensive careers page
Most job applicants will take the time to review your website before applying. So having a well-designed careers page is critically important. On your careers page, you should include current openings, company values, and what you look for in an employee.
Remember to keep your branding consistent as you write this webpage.
Communicate your company values & culture
In 2019, Glassdoor conducted a survey that found that company values and culture are one of the top considerations for job applicants. Thus, you should clearly define your company values and culture anytime you post a new job opening. Also, have these details listed on your social accounts and website.
Describe how you work remotely
When applying to remote jobs, most job applicants' first question is how the remote environment will work.
To attract the largest number of quality applicants to your company, answer this question before they can even ask by describing your company's workflow and expectations of employees.
For example, if you provide computer equipment and a stipend for WiFi, explain these types of work-from-home resources to applicants.
3. Write a cool remote job posting
Once you have solid branding in place and can properly present yourself as a great employer, it's time to write your remote job posting.
For a job posting to be effective, it needs to be engaging, informative, and concise.
The tone and style of the writing in your job description can help you create the right impression of your company. Keeping it formal but lighthearted is often the best way to go.
Let's look at the following two examples to see the difference between an effective job description and a less-effective one:
#1 Remote job description
The issue with this example is that it's too vague and doesn't give the applicant any sense of your personality or the energy they will find in your workplace. Let's examine how the second example works to correct these issues:
#2 Remote job description
This second example is more detailed and compelling, using better keywords and offering more information about what the company is like to work at.
As a result, this example will likely draw in more qualified applicants looking for this type of position compared to the first example.
4. Know where to advertise your remote jobs
Along with knowing where to look for remote workers, you must also decide where to advertise your open positions.
An important factor to keep in mind is that the more places you post, the more applicants you'll have access to — but also, the more websites and applications you will need to keep up with.
Ideally, you should choose between 1 to 3 sites for searching for applicants and advertising your openings.
We recommend choosing at least one job board and one social media platform (preferably LinkedIn, though depending on the job, other social platforms may be more effective).
There's also the more traditional option of advertising in newspapers, billboards, and other more standard advertisement methods.
This can be a good option if your line of work is in a field that isn't typically remote, meaning that relevant professionals may not necessarily be looking on remote job boards for open positions.
How to hire remote employees step-by-step
So, you now know where to look for applicants and advertise openings, as well as important things to consider when writing your job postings and how to present yourself as a solid employer.
Let's now move on to the actual hiring process — aka, what to do once you have finally picked out the ideal candidates that you would like to reach out to.
Having an optimized hiring process is key, as you want to onboard new employees quickly while also letting the ones you turn down move on to new prospects.
Below, we have outlined 6 key steps for hiring remote employees, including everything from assessing and interviewing candidates to sending an official offer.
Here are our 6 steps for hiring remote employees:
Step 1: Assess job candidates
The first key step in your hiring process is to assess the available job candidates.
You want to give people enough time to apply, so set a deadline for when you will begin reviewing applications. It can also be helpful to let applicants know about this deadline so that they apply in a timely manner.
To assess your job candidates, you can take several courses of action, including:
Conducting initial phone interviews. An initial phone interview can help you gain a better first impression of a job candidate and their personality. This can also be the step where you weed out under-qualified candidates or those whose professional personalities you think aren't a good fit for the position.
Administering pre-employment tests. For certain jobs, like programming or journalism, for instance, there may be specific rules and skills employees need to know to do the job effectively. Administering a pre-employment test can help you identify the candidates with the best base knowledge for the job.
Running ATS software on resumes. Applicant Tracking Systems (ATS) refers to automated software that helps to filter out the best resumes from the worst ones, saving you much time in the long run. ATS software looks for specific details, such as keywords or poor grammar. This software can also help you organize applications and rank them according to your preferred candidates.
Pro tip

Not sure what to look for in your ideal remote employees? Check out our many resume guides to find out what are the key skills to look for in a great applicant.
Step 2: Schedule an interview process
Once you have chosen the applicants you'd like to move on to the interviewing phase, you'll now begin setting up your interview process.
Since you're looking for remote employees, you'll likely conduct job interviews remotely as well.
The best way to do this is either over the phone or via video interview.
To conduct a video interview, you'll need to:
Install video meeting software, such as Zoom or VidCruiter.
Provide the applicant with thorough instructions, including the video meeting software they need and how to install it.
Offer a short list of meeting times for the applicant to choose from. You don't want this list to be too long, as you'll likely have many applicants to schedule interviews with and need to avoid accidentally double-scheduling time slots.
Additionally, you should prepare your interview questions ahead of time so that you make the most out of your interview time with an applicant.
Along with standard questions, you should also ask questions specific to remote working, such as:
Depending on the type of job and how many applications you receive, you may want to conduct multiple rounds of interviews to narrow the applicant pool down further.
Step 3: Ask for references and do background checks
Asking for professional references is an incredibly important step. Especially when hiring remote workers who you may not immediately meet in person.
When reaching out to professional references, make sure to ask key questions, such as:
Once you get to the part of the application process where you're ready to begin extending job offers, this is the point when you should run background checks.
Waiting until later in the process is ideal and sometimes legally necessary, as certain states may place restrictions on professional background checks.
Plus, running background checks too early before weeding out more applicants can be pretty ineffective in terms of costs, so waiting until later in the process is generally the better approach.

Step 4: Communicate salary and benefits
As you get further into the hiring and interviewing process, you can begin salary negotiations and explanations of your full benefits package.
Of course, many applicants will inquire about salary and benefits earlier than this.
In this case, it's essential to be open and honest with applicants, as those who find your salary and benefits packages unsatisfactory can help you narrow your applicant pool further.
It can also be helpful during this stage to explain what career growth looks like at your company, such as how to gain promotions or salary raises.
This will help you to set clear expectations on the applicant's end so that they have a better understanding of how to move forward with your company.
Step 5: Create a contract and send you job offers
There are several different types of remote work contracts, ranging from full or part-time to freelance. Each contract will have different specifications needed in them.
So make sure, you pick the right one when you're employing your remote employees.
According to Contracts Counsel, there are four main types of contracts used for employment:
Permanent employee contracts: Permanent employee contracts are the most common type of employment contract and are used for both full-time and part-time employees. In these contracts, you'll clearly communicate key details such as wages or salary, benefits, and responsibilities.
Fixed-term employment contracts: Fixed-term contracts are often used for temporary or seasonal workers, as well as freelancers or contractors brought on to help with specific projects. In these contracts, a set timeframe is determined after which the person's employment will be either reviewed or terminated.
Casual employment contracts: Casual employment contracts are generally used for part-time or temporary employees in which a set schedule is not provided. However, these contracts will often have a minimum amount of hours for employees to work during each work week or month.
Zero-hour contracts: Although rarer, zero-hour contracts are given out to employees where a minimum amount of work hours isn't provided. These contracts can be especially helpful when working with freelancers or contractors who are being paid a set stipend rather than an hourly wage or salary.
Once you have these contracts drawn up, you can send out your official job offers. At this point, the applicant can choose to either accept or reject the offer.
Alternatively, they may also choose to negotiate certain terms, such as work hours or salary — at which time, you can decide if you're open to negotiations.
Step 6: Onboarding remote workers
Congrats! You've found your new employees and are ready to get them started with your team.
Onboarding remote workers can be a little trickier than in a traditional workplace. You'll need to send them all the necessary equipment and give them time to set it up and get ready.
Additionally, for new employee training, you'll need to coordinate virtual training sessions for your newest team members to participate in.
In total, we recommend planning for at least a two-week onboarding process for all new employees.
Editor in Chief

Martin Poduska is a resume expert and career advice writer at Kickresume. He leads Kickresume's team of writers and is the main person responsible for upholding the standards of expertise and quality on the blog. In addition to having written nearly 100 in-depth, painstakingly researched resume advice articles, as chief editor he has also edited and revised every single article on this blog. Tens of thousands of job seekers read Martin's resume advice every month. Martin holds a degree in English from the University of St Andrews and a degree in Comparative Literature from the University of Amsterdam.