Starting a freelance business is quickly becoming a popular alternative to traditional employment options.
After all, why would you want to deal with vertical company hierarchies, stuffy offices, and rigid working hours when you can start a freelance business and work anywhere, anytime, and for yourself?
The idea of being their own boss strongly resonates especially with young people, opting for freelancing 53% of the time.
Consequently, there are over 70 million freelancers in the US today (36% of US workforce), and experts expect that number to reach 90 million by 2028.
And since you're reading this, you probably want to join the club. The question is, how do you start?
In this article, we'll break down the 10 steps necessary for starting a freelance business. First, however…
What is a freelance business?
Freelancing can be defined as a form of self-employment in which the freelancer delivers their services to companies on a contractual or project basis.
A freelance business is a legal entity (i.e. a self-owned company) the freelancer uses to enter partnerships, deliver services, and send invoices.
There are many types of freelance businesses. Most commonly, they offer creative and high-knowledge services remotely over the internet, like copywriting, photography, web design and development, and more.
However, there's a specific subtype of freelancers, often dubbed "gig-workers" or "contractors", who work on-site. That means even professionals in cleaning, construction, carpentry, and otherwise can be considered freelancers.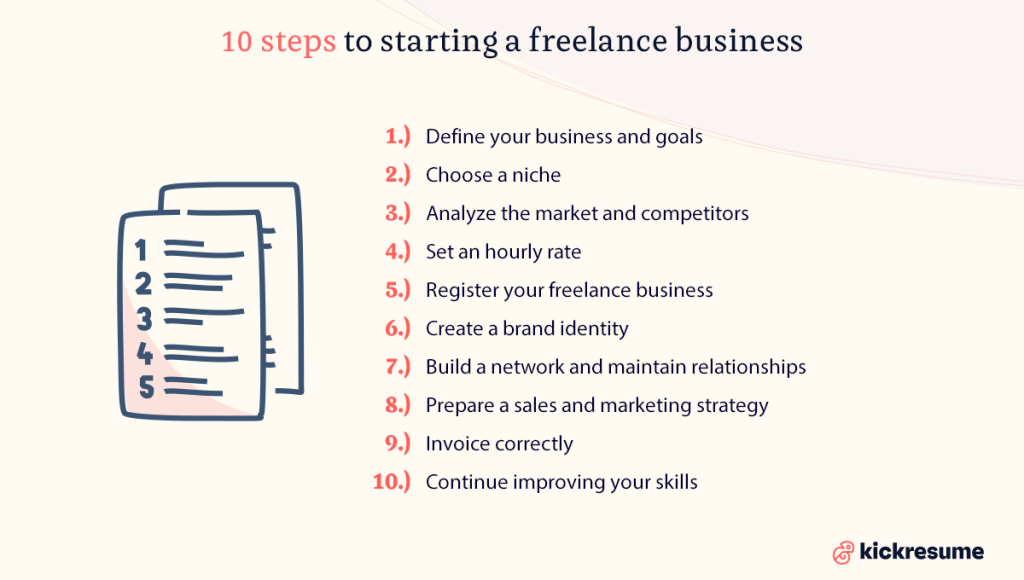 10 steps to starting your own freelance business
People often get over-excited when they first hear about the concept of freelancing.
However, it's not as simple as it may seem at first glance. There are plenty of things to consider when first starting your freelance business.
No need to worry, though. If you take these 10 steps, you'll be on your journey toward success before you know it.
#1 Define your business and goals
The first question every would-be freelancer needs to answer is, "Do I want this to be my full-time job or just a side gig?". This is important because it'll help you estimate how much time and effort you're willing to put in.
Your freelance business plan will differ greatly depending on whether you're trying just to make a little bit of extra cash on the side, work your way up to quit your main job, or dive head first and become a full-time freelancer.
Pro tip

If you're planning to freelance while holding a full-time job, check with your employer first to find out their policies on freelancing. If you hide your side activities and get caught, you might quickly learn that the extra cash you made isn't worth it.
#2 Choose a niche and make it your own
To truly succeed as a freelancer, your work will need a focus. It's always better to do a few things thoroughly rather than many poorly.
Every industry can be divided into a variety of smaller niches. Your job is to do a little soul-searching, find one you enjoy or excel at, and give it your all.
That's not to say you'll be able to pick and choose your projects from the beginning. If you start doing business in an industry in which you have little to no professional experience, you should take every worthwhile job you can get your hands on.
Nevertheless, that doesn't mean you can't have a niche to work towards.
By specializing, you automatically get an advantage over freelancers with a more general portfolio.
Companies will be more likely to choose you and, thanks to your expertise, you'll be able to barter for higher compensation.
#3 Analyze the market and your competitors
Once you've formulated the idea of your freelance business, it's time to verify its viability by logging on and doing your due diligence.
Namely, you want to learn more about your potential clients, their audience, and your competition.
Take this into consideration about clients:
Company size
Industry
Budget
Things to consider about audiences:
Age
Gender
Education
Location
Income
Expertise in topic
Consider this about competitors:
Niche
Client focus
Education
Portfolio
Hourly rate
Establishing these market specifics early on gives you a great advantage in preparing for your first projects.
You'll be able to create tailored pitches the customers won't be able to say "no" to, turn in exceptional work, and all that at a competitive but worthwhile price.
#4 Set an hourly rate
People often struggle to choose how much to charge by either under valuating or over valuating their work.
Luckily, you've done your research and know the hourly rate of your competitors in the market.
All you need to do now is consider your experience, education, and location and adjust your prices accordingly.
You might get stuck working for pennies if you ask for too little, while worse freelancers make more. But if you too ask for too much, you might frequently face rejection. Or worse, underdeliver and stain your reputation.
#5 Register your freelance business
Finally, it's time to register a company and start your freelance business. But don't get too excited just yet — there's still plenty of work to do.
The first thing you'll need to figure out is what kind of company you want to create.
Choices will differ based on where you live, but there are generally two options open to you, each with their own positives and negatives:

1. Self-employment & sole proprietorship
Both terms relate to the arrangement where your private person and registered legal entity are seen as one and the same in the eye of the law and tax man.
Your business' revenue passes through your personal income, meaning you only have to worry about paying your personal income tax when the end of the tax season rolls around.
Benefit: It's usually quick, cheap, and easy to set up, which means you can start freelancing in a few weeks or even days.
Downside: Full liability. In other words, you guarantee the legal entity with your entire personal wealth, including cars, houses, and more. So, if you get into legal trouble and are sued for damages, you risk losing a lot more than you've probably gained from your business.
2. LLC, S-Corp & C-Corp
While LLCs (Limited Liability Companies) and corporations are vastly different, we've decided to roll them all into one quick, comprehensive overview. Otherwise, we might be here all day.
Many assume you need employees to create an LLC or corporation, but that's incorrect. You can start as the sole member, but it'll cost you.
Benefit: LLCs and corporations offer limited liability, meaning that even if something goes wrong and you get sued, the court can only touch your company's assets and not your private wealth.
Downside: LLCs and corporations are typically costly and time-consuming to register.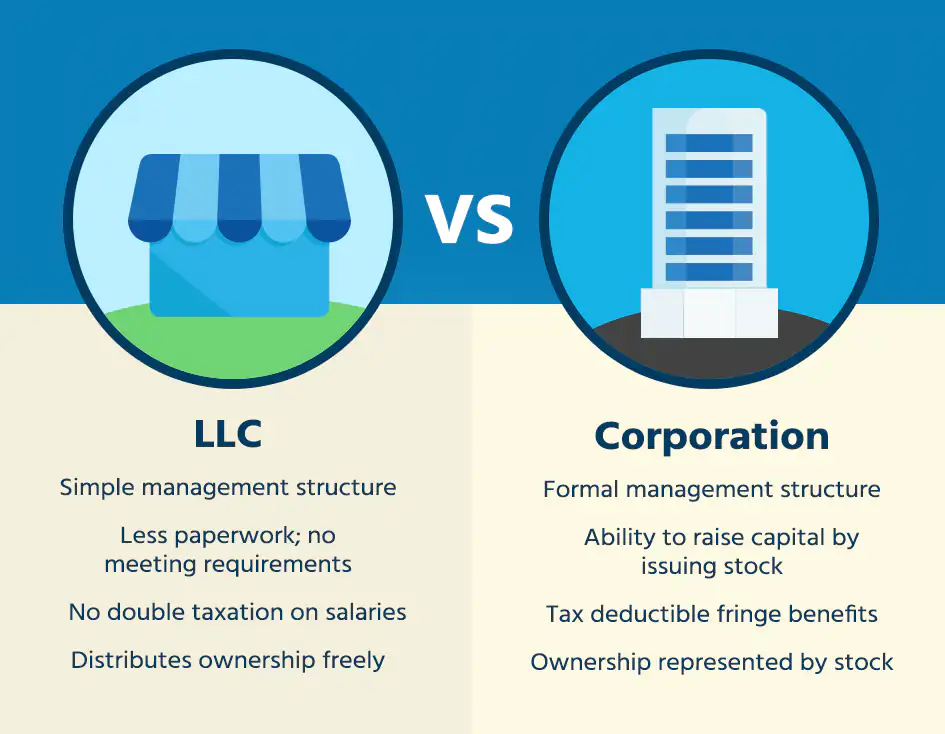 Nowadays, there are plenty of solutions for registering your business online, so if you feel stuck, don't be scared to reach out to a local provider, ask questions, and commit only when you feel ready.
Pro tip

We recommend considering your options carefully and researching your country's specific laws before choosing which type of company to start and going through the company incorporation process.
#6 Create a brand identity
As a freelancer, you're the face of your business, and you need to act and portray yourself accordingly.
There are 2 aspects of your branding you need to get right to maximize success.
These include:
1. Online presence
Your online presence consists of your social media profiles, website, and a portfolio.
Instead of endlessly promoting yourself, you should leverage your online presence to show off your expertise and skills, share your unique story, and build relationships.
Use social media to connect with like-minded individuals, peers, and potential clients.
Share stories, start conversations, and create connections because you never know when they might be useful.
As far as your website goes, you can use it as a publicly accessible portfolio, showing off your latest successful cooperation, examples of your work, pricelist, freelance profile, and story.
2. Communication & visual branding
They say consistency is key, which couldn't be more true in branding.
Your goal is to create a unique brand identity your target market can recognize and instantly resonate with.
For communication, try finding your authentic voice to create posts and make sure you stay in touch with people. Reply to DMs, comments, etc. Your communication should be professional, consistent, and aimed at your target audience.
As for branding, get professional headshots, design a logo, and choose colors to represent your freelance brand (or pay someone to do it for you).
#7 Build a network and maintain relationships
It might seem counter-intuitive to get involved with your competition, but networking with fellow freelancers can be really helpful.
Sometimes, you may need a hand with a project you're working on, and having someone you can reliably reach out to is invaluable in those situations.
What's more, it pays dividends. Help someone land a job, and they're likely to return the favor.
LinkedIn and Facebook groups are a good place to get you started on networking.
However, if a real-life convention pops up near you, it's definitely worth taking your networking offline too.
Also, don't underestimate Instagram and TikTok.
#8 Prepare a sales & marketing strategy
One of the key strategies for any freelancer looking to increase their client base and income is to leverage online marketing. This includes everything from boosting your online presence on social media or your website to optimizing SEO to drive traffic to your portfolio.
The more observant readers might have noticed that we've already been steadily sprinkling freelance sales and marketing tips throughout this article.
Nevertheless, repetition is the mother of all knowledge.
So, let's go over them and expand on some of the ideas already mentioned.
Here are our top 4 marketing tips:
1. Develop a portfolio
In the previous step we've touched on creating a portfolio. But how do you do that? Well, the work presented in your freelance portfolio should accurately reflect the diverse skills you can offer and the results you can deliver.
Depending on your industry, you can choose from various formats to best convey the value of your work.
For example, consider trying case studies, snippets, screenshots, testimonials, or even full samples of your work.
You should update your portfolio regularly, but that doesn't necessarily mean it has to be limited to your latest freelance work. If you're just starting and don't have much official content to show off, consider displaying your personal or school projects.
We don't recommend doing work for free to fill up your portfolio. However, if you don't have anything to show yet, and feel it's the only option, do what you must.
2. Leverage social media
Networking is only one aspect of social media you should consider, though. The real value of social media lies in the opportunity to present yourself in a desirable way.
Try turning your work experiences into content that can inform, amuse, and build your authority.
Here's what to do:
LinkedIn & Facebook: short, blog-type posts about your craft
Twitter: witty anecdotes or (fun) facts about your job
Instagram & TikTok: behind the scenes photos, day in the life of
Bonus: Today, it's pretty easy to create infographics, and everyone loves them.
3. Personalize client interactions
Companies, like people, are unique. As you found out during your market research, certain specifics set your target clients and companies apart from others. Whether it's their size, industry, audience, etc.
By taking this insight, you can figure out what makes these companies tick. After all, everyone likes to feel special.
By showing them that you understand their unique position and offering value up-front, you'll have a much easier time landing deals than if you don't.
4. Request reviews & recommendations
Once you landed a job, help it land you more jobs.
A client will feel more confident that they are getting a good deal hiring you if others attest to your skills. Also, studies show that most customers react best to reviews and recommendations from people like them.
So, just by asking for a review after successfully finishing a project, you can add extra value to your profile at no extra cost.
Moreover, if clients see that you engage with reviews and use them to improve, they can feel confident that your work is thorough and that you value their opinion.

#9 Invoice correctly
Now we get to every freelancer's favorite part — getting paid.
Being self-employed, you need to invoice clients for your services.
In the past, this used to be quite a headache, having to design your invoices in Word or Excel and email them, or worse yet, print them out and send them physically.
Thankfully, things are much simpler nowadays. An invoice generator like Billdu lets you create and send visually engaging branded invoices in only a few clicks.
What's more, it allows you to keep track of all your documents and expenses in one cohesive environment so that you're ready whenever the tax man comes knocking on the door.
Your invoice needs to include the following:
A unique invoice number
Your company details (name, address, contact)
Client's company details (name, address, contact)
List of provided products or services
Product/service description (quantity, price per unit/hour)
Total price
Issue and delivery date
Tax
Additionally, your invoice can also include the following:
Discounts
Additional notes
Signature or stamp
Company logo
Example of an invoice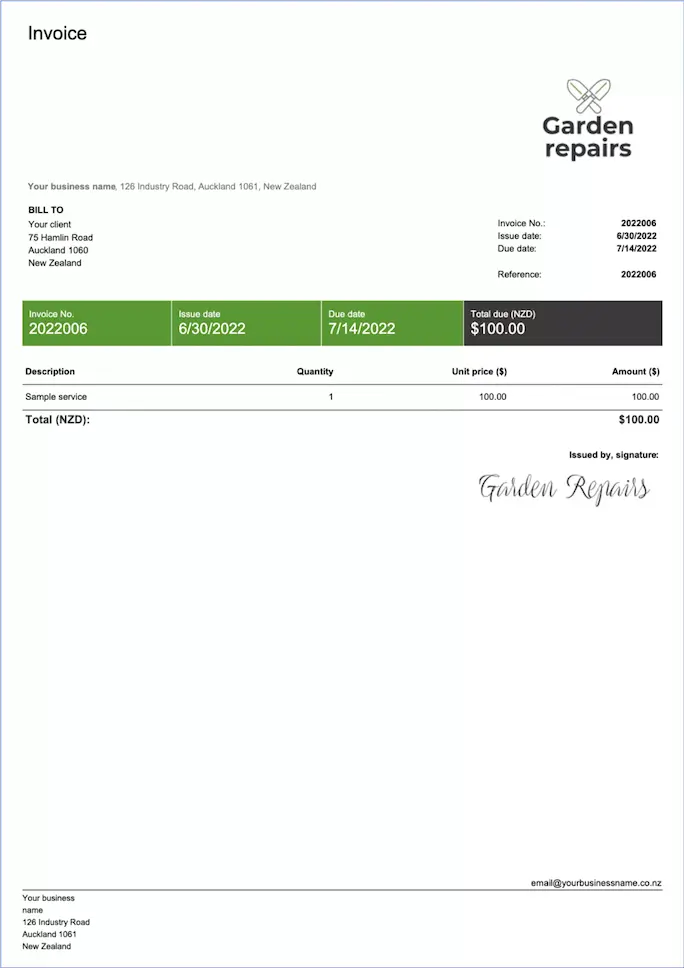 #10 Continue improving your skills
Last but not least, you must remember to never get too comfortable. Things move fast in this digital age, and you have to be quick on your feet to keep up.
Hence, don't settle for what you already know just because it's working for you right now.
Constantly seek to better yourself, add new skills, build on the old ones, take classes, expand your portfolio, and grow your community.
If you do that, you'll soon earn a name for yourself and, hopefully, plenty of money to go with it.
Author bio

Kamil Aujesky is the CMO of Billdu, one of the best-rated invoicing software for freelancers and small businesses in the world.