Christmas — a pure joy or a workplace nightmare? Despite all its positive connotations, Christmas can easily be the most nerve-wracking time of the year at work. You might have to deal with countless work Christmas challenges, be it a terrible hangover after a Christmas party or not receiving a bonus.
In fact, 42% of workers find December the most stressful month of all, according to data.
That's because with deadlines piling up and gifts to be bought, it becomes challenging to sustain a work-life balance. 
While this may seem overwhelming, you can always prepare for all kinds of obstacles that December may throw at you — and still enjoy the Christmas spirit!
So, what are the most common HR Christmas challenges, and how to manage them?
1. Seasonal sickness
December weather makes it easier to catch a cold or flu, in and outside of the office (depending on where you live, of course).
However, taking sick days during this time of year is highly suspicious and your HR manager may ask for proof of your medical issues.
That's because, during the holiday season, many creative employees decide to get extra free time off of work, blaming their health.
Keep that in mind and think twice about skipping work, as "malingering" (HR term for faking an illness) can be treated as misconduct and lead to disciplinary action.
And if the pre-Christmas illness really caught up with you and you have to stay at home, just make sure that you have a doctor's note to prove it.
Alternatively, if you're one of the lucky ones and your workplace (and health) allow it, you can also ask your boss to work from home.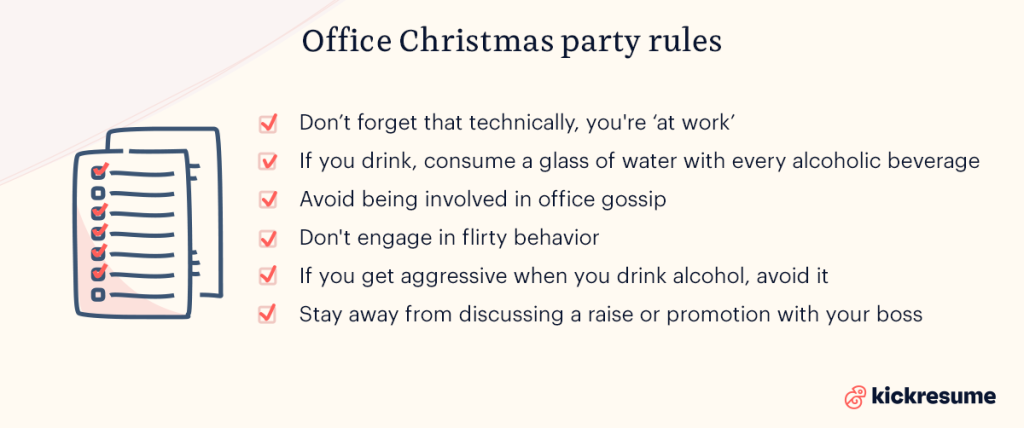 2. Christmas work parties
After a couple of bleak years filled with awkward Christmas Zoom parties, in 2022, 79% of Christmas work parties are to be held in person.
These are exciting news for many, but a return of Christmas work parties brings back a whole set of challenges.
While 69.5% of people look forward to their Christmas work party, they're also every HR manager's nightmare.
Oh yes, with that free eggnog, punch, and mulled wine, you can easily forget that you're indeed partying in the same room as your boss.
And it's all fun and games until you have to face your colleagues and boss the next morning (and they WILL remember all that karaoke signing).
So, what can you do to avoid post-Christmas work party embarrassment?
Always remember that technically, you're 'at work.'
If you choose to drink, consume a glass of water with every alcoholic beverage. Also, take regular breaks in between to ensure you don't get too drunk too quickly.
Avoid being involved in office gossip, and don't joke about any of your colleagues. You never know how the joke will be taken.
Don't engage in flirting, even if you think it's encouraged. This kind of behavior may get you in real trouble with HR.
If you tend to get a little aggressive or argumentative when you drink alcohol, avoid it completely.
Stay away from discussing a raise or promotion with your boss. Even though you may feel the liquid courage, this isn't the time and place to discuss important work matters like these.
3. Not everyone celebrates Christmas
Whether you're a boss, an HR manager, or just a regular employee, it's good to remember that some people in your team may not celebrate Christmas at all.
For others, Christmas can be hard for personal reasons and it comes together with grief, loneliness, or painful memories.
Therefore, be mindful, tolerant, and kind to others.
Even if you decide to dress up the office and celebrate this time together with your team, always make it clear that attendance at any Christmas-related festivities isn't compulsory.
In other words, don't be forceful and make it clear that no one is required to join the celebrations.
This also brings us to the next point.
4. Christmas dress code
While the ugly Christmas sweater day can be fun for some, for others, it can feel uncomfortable. Especially if they don't celebrate Christmas themselves.
So — don't feel pressured into wearing anything that you don't want to. A Christmas dress code policy is most likely not compulsory.
On the other hand, HR managers face a dress code issue during Christmas time too — and that's employees who stop respecting the office dress code completely.
So unless you're attending an evening office Christmas party, it's better to leave that shiny red dress at home.
Especially if you want to ask your HR department to get some extra time off from work during Christmas.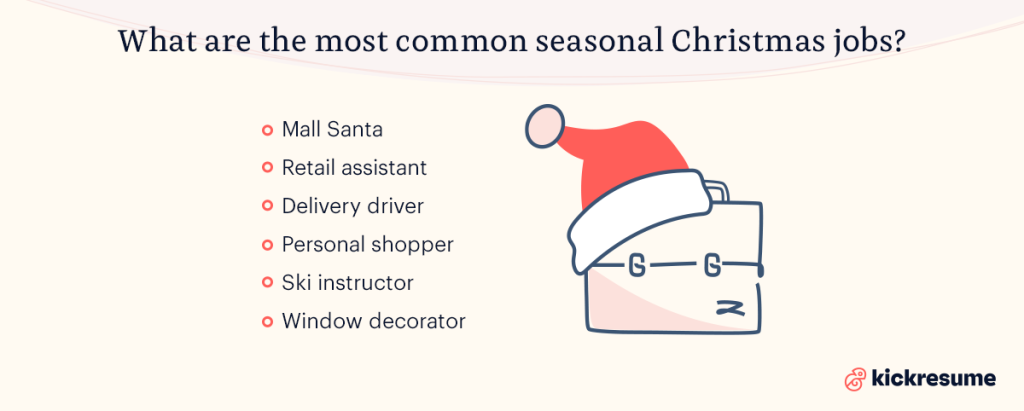 5. Getting a new job
December is a notoriously harder time to apply for a new role — everyone's trying to finish all tasks by the holidays and prepare for the festivities.
But even though hiring slows down during Christmas, it's not impossible.
Many companies are still hiring and Christmas also gives you the option to take on some seasonal work.
In the end, it might be even harder to find a job during the January job search boom.
Seasonal work
Christmas is a great time for seasonal work opportunities. Since early November, people start purchasing gifts for Christmas. And 58% of those purchases will be done in-store.
This means that stores, but also delivery services will need more employees to cover the demand of the market.
The same goes for work in a bar or a restaurant, as many people go out before and during the holidays. Hotels and ski resorts get busier too if you fancy working in hospitality or as a ski instructor.
It's also possible to land a job as a window decorator, or a personal shopper.
And if you'd like a truly Christmasy seasonal job, you can even work as a Santas elf in Finland, or as a Santa in your local mall!
So, how exactly do you secure a Christmas seasonal job?
Start looking right now. Recruiting for seasonal Christmas employees starts early, sometimes already in August. So, you should start browsing job portals asap.
Apply for several positions. Don't put all of your eggs in one basket. The more job applications sent, the higher the chances of getting a job.
Offer flexibility. Overtime and covering shifts during Christmas will be needed.
Do the best you can. If you do a great job, you can easily turn seasonal employment into a full-time one.
Looking for a full-time job in December
The end of the year is the perfect moment for re-evaluating your (professional) life and deciding if moving on is what you need. And the job market is there to support you in this decision!
While it's true that at the end of December recruiting slows down, it doesn't freeze. Many companies are still hiring, and fewer people apply.
So, there'll probably be less competition and higher chances for you to score a job!
If you'd wait for January, it would definitely get tougher — January and February are the most popular months for hiring.
This means that December is actually a great time for you to update your resume and cover letter and start browsing through job portals.
If you send out your applications now, you may as well be starting the new year as a new employee.
Just keep in mind that communication with recruiters may be slower thanks to the holidays. Don't let it stress you out and just be patient.
6. Managing Christmas expectations
For Christmas, even though we don't want to admit it, we hope to receive gifts — both at home and at work.
Common Christmas work gifts are:
holiday gift box
company's Christmas party or dinner
pre-Christmas drinks and snacks at the office
work from home during the holiday season
extra days off
a financial bonus
13th salary
If you've got any of these benefits in the past, it might be easy to count on them this year, too.
However, what to do if a Christmas e-mail wishing you a peaceful holiday season is the only gift you receive from your boss this year?
You may feel tempted to complain and request the same benefits as before. But unless these are included in your work contract, you can't demand them.
So before taking it to your boss, make sure you go through your contract again. And if you decide to bring it up, do so in a polite, non-demanding way.
It might be simply due to the reason that your company had a weaker financial year.
7. Getting time off (the ultimate Christmas challenge)
Most people like to spend their holidays at home, while others fancy an exotic Christmas vacation. Whichever you prefer, you need to be able to take some time off to do these things.
So, to avoid any disappointment, make sure that you request time off during the holiday season way in advance.
Also, be aware that plenty of HR managers are prioritizing people who have children.
While this may seem super unfair to you if you don't have offspring, in some countries (including the U.S.), it isn't illegal and you can't officially complain.
However, there's always space to negotiate.
If you want to make sure that you spend the holidays outside of work, try to talk to the HR department clearly and calmly. Most likely they'll understand and will try to accommodate your needs.
And if you're one of the unfortunate souls who have to work during Christmas, what may be a comfort to you is that you're not alone. In the U.S., 25% of people work on Christmas day. And unlike in some other countries, Americans aren't even entitled to a higher salary if they work during the holidays.
8. Christmas work overtimes
The end of the year is busy as companies are trying to meet deadlines or manage the flow of Christmas customers.
So there are chances that you'll be asked to do overtime.
You may be wondering if your employer isn't breaking the law by requiring you to stay at work for too long during the Christmas season.
The answer to this question should be found in your contract of employment.
Is there a mention of the "express right"? If yes, we've got bad news — you've agreed to overtime if it's needed.
However, you may want to do overtime. You may need some extra money for gifts, or you don't care about the holidays at all.
Either way, in this case, we bring good news — if you're granted overtime during Christmas, you may even get paid more than usual, depending on the country where you live.
For instance, if you're from Canada and do overtime during some of the bank holidays, you're entitled to 50% extra salary on top of your normal hourly wage.

9. Lack of focus
It may be the lack of daylight, mulled wine you drank last night, dealing with Christmas shopping, or just the Christmas spirit hitting you early.
Either way, all of a sudden, you may find it super hard to focus on work.
Well, you're not alone. In fact, 68% of workers are less productive in the month of December, according to a survey.
So don't beat yourself up. And try this to improve your focus at work:
Keep personal and work tasks separate. It may be tempting to start searching for and ordering Christmas gifts for your family. But by doing this, you'll stop focusing on your daily work tasks. Instead, try finishing your work first and leave personal matters for later.
Stop multitasking. Contrary to what one may assume, a Stanford study has shown that the more you multitask, the less you can stay focused on one task in the future. The ability to memorize information also got worse for people who often do several things simultaneously.
Meditate. And exercise regularly. These activities will relax your body and brain and teach you how to stay focused on one thing only.
10. Christmas weather
Finally — the Christmas weather.
If you live in the northern hemisphere, with the holidays approaching, you can count on the lack of daylight and vitamin D.
Add rain, snow showers, or a frozen car to the mix, and getting out of bed in the morning to go to work can become an unbearable task.
Unless you want to invest in a warm coat and waterproof boots, you may try and request work from home.
Home office/remote work allows you to stay inside if the weather outside is too unpleasant. Or you can even escape the winter blues completely and work from Bali for a month!
FAQ: Christmas challenges 
Junior Writer

Kaja Jurcisinova is a junior copywriter at Kickresume. Kaja completed her undergraduate degree in Art History at the University of St Andrews in 2018 and graduated with a Master's in Arts and Culture from the University of Groningen in 2021. She was an intern at multiple cultural institutions across Europe, including the Dutch Museum Association in Amsterdam, the Matter of Art Biennale in Prague, and the European Cultural Centre in Venice. At the moment, she resides in Visby on the Swedish island of Gotland.