Your resume is one of the most important documents you will create in your professional career. Why? Because it often gives the first impression an employer will have of you. Taking the time to learn how to write a resume properly can help lessen the burden that comes with job searching.
Luckily, what would otherwise take you hours of arduous work can be done in a cinch. All you have to do is follow our simple step-by-step guide on how to write the perfect resume.
What is a resume?
The word resume comes from french, meaning "summary". A perfect word as that's exactly what a resume is: a short to-the-point summary that details your professional achievements, skills, qualifications, education, work experience, and past employers. It is also known as a curriculum vitae (CV).
The aim of a resume is to gain an invitation to a job interview. It should aim to convince a potential employer that you're a strong match for the job. Because of this your resume should be adjusted and tailored to each job vacancy.
Too long to read? Here's a step-by-step video guide on how to write a professional resume in 2022
If you're already familiar with what should be on a resume and just want a quick and informative recap, or if your time is limited. You can check out our 5 minute step by step video guide.
Step 0: Before you start writing a resume
Before we move on to how to write a resume, we recommend setting a few minutes aside for research. These few minutes can save you hours of frustration and ultimately make your job search that much easier.
Here's what we recommend you to research before you write your resume:
Research the company, specifically the "About Us" page. This is a great place to search for keywords you can use in your resume or cover letter.
What is their mission statement?

What are their values?
Research the position

you'll be applying for. Great resumes are tailored to a specific job opening. You can do this by asking these three questions as you go through the job post:
Again, what are the essential

keywords

? (Save them, they'll come handy later.)

What adjectives, nouns, and phrases

occur repeatedly

?

Which words are

original or untypical

? (What language does the company use?)
Discover your strong points,

as this

will make it easier to pinpoint the qualities you want to highlight in your resume. Asking these questions has worked for us.
Ask others: "What are my skills and abilities, and what are my weaknesses?" How others see you is almost as important as you see yourself.
Look at your past accomplishments.

What are your past achievements? What skills and abilities helped you succeed in the past?

Look at your weaknesses.

What weaknesses always get you in trouble?
Another way to prepare before you begin writing your resume is by looking at these well researched, specifically tailored, and properly formatted resume examples.
Step 1: Choose the right resume format
Once you know what the company and job entails and you've identified your strengths and weaknesses, you should be ready to pick the right resume format.
Are you a seasoned professional? Then you should pick a resume format that emphasizes your experience.
A fresh graduate? Then your resume should emphasize any transferable skills you've acquired during your studies.
Or perhaps you're changing careers. Then a combination of the two will produce the best results.
There are three dominant resume formats in use today:
Chronological resume format. Probably the best choice for experienced professionals. Lists the candidate's jobs and accomplishments in a chronological order. Main resume section: Work Experience.
Functional resume format. Great for fresh graduates, IT professionals, or other skill-based professions. Emphasizes skills instead of experience. Main resume section: Skills.
Combined resume format. A combination of the previous two. Requires a good understanding of what you want to achieve with your resume.
Chronological resume format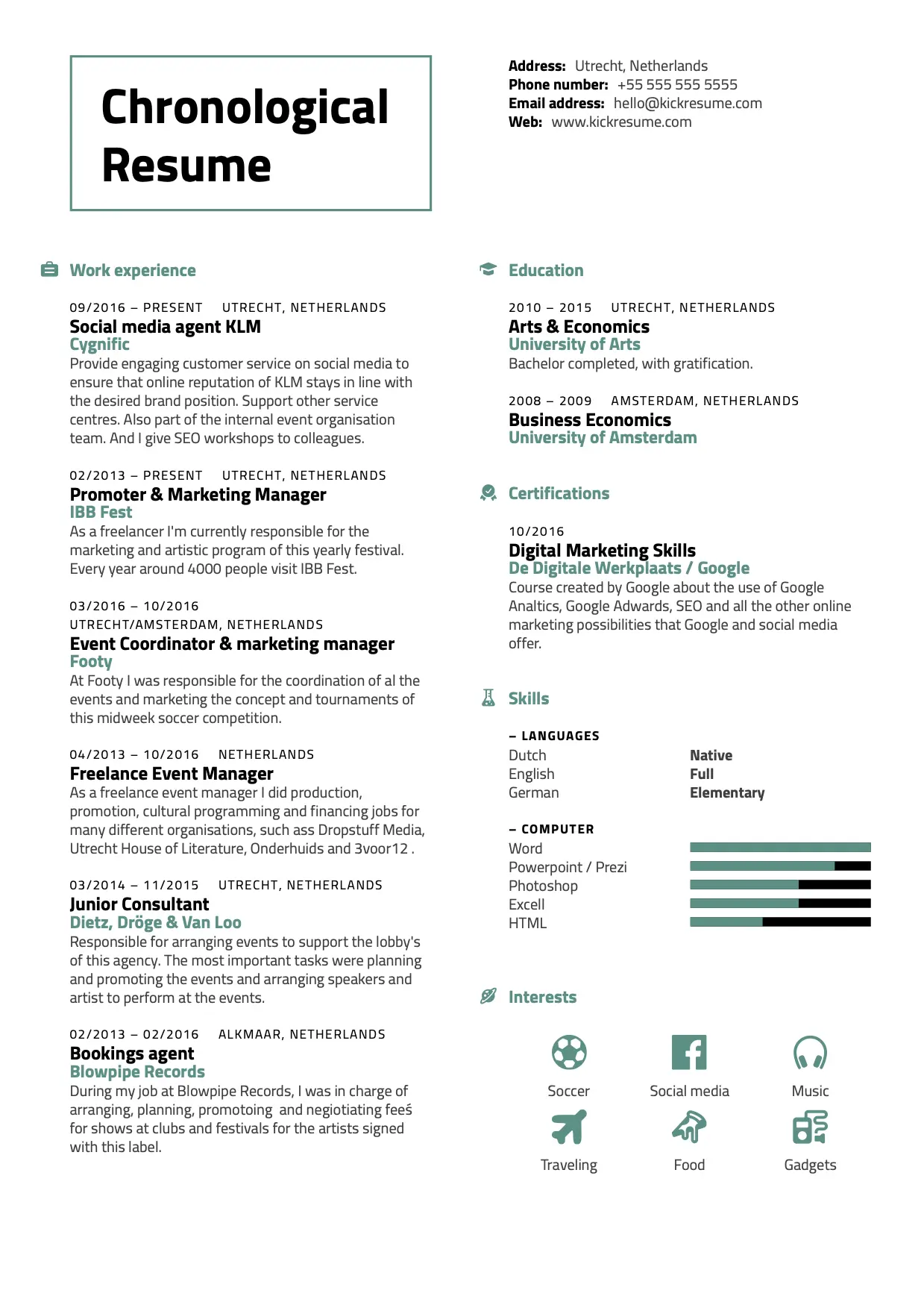 Functional resume format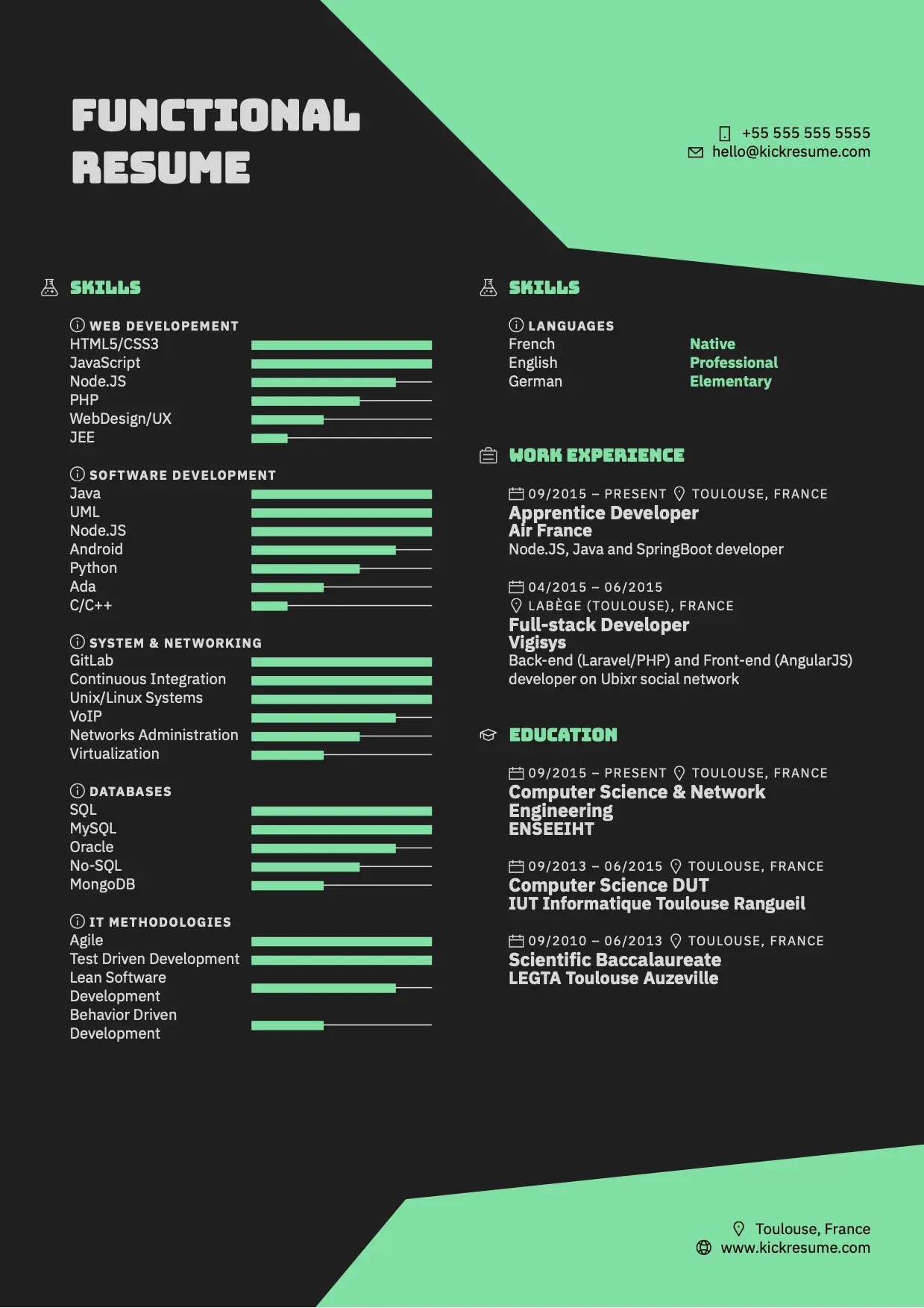 Combined resume format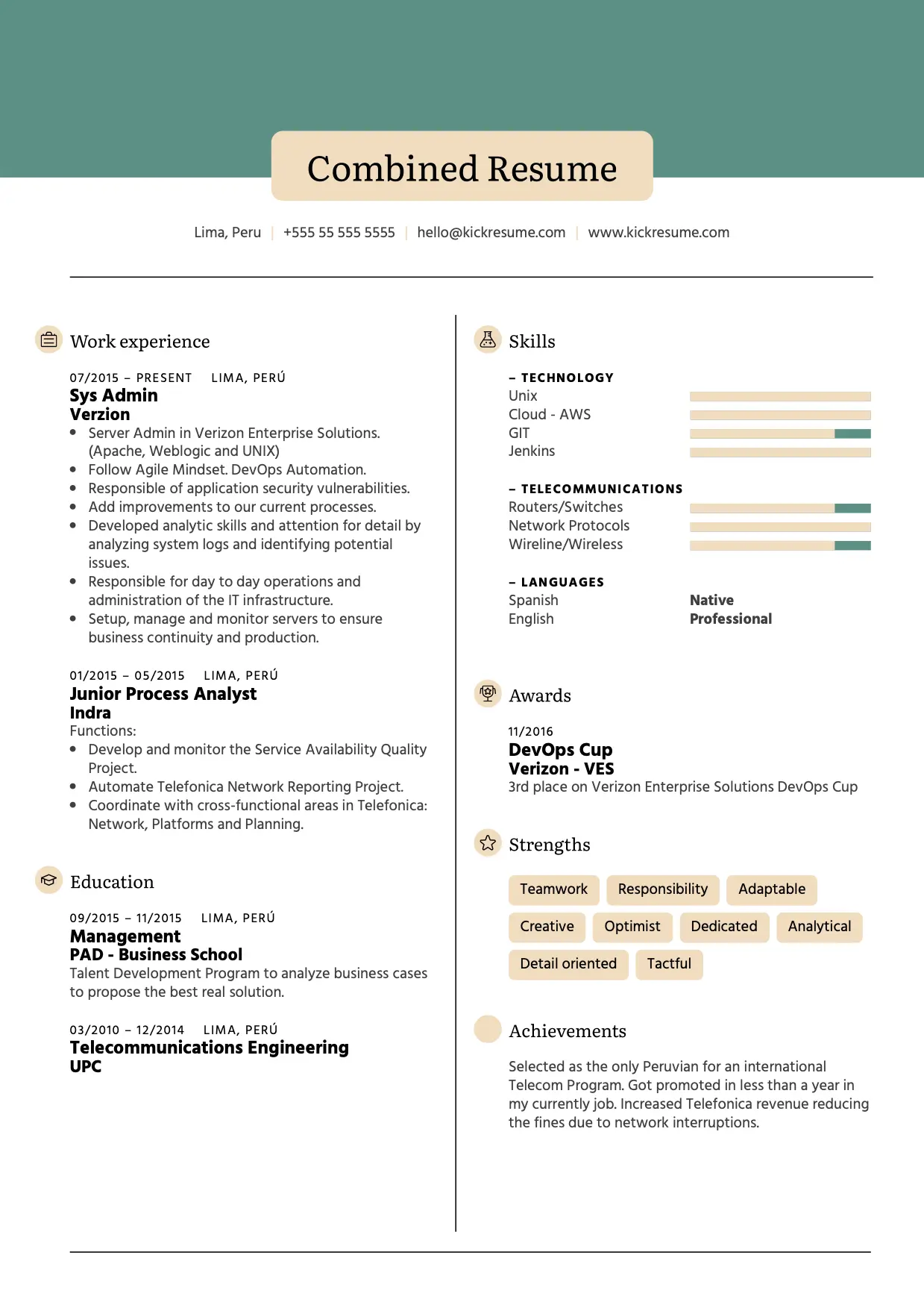 The resume format you choose will determine how you organize the information on your resume.
It will also attract attention to some things and away from others. Take time to understand your strengths and weaknesses and choose accordingly.
Ultimately, it's mostly about which resume section is going to be the longest that comes first. For more, check out Resume Format: How to Pick the Best and Get Hired in 2022.

Step 2: Add contact information and personal details
Compared to the other resume sections, the contact information section feels super easy. That is, until you start asking more questions.
Should you put your address on the resume? How to include social media, and should you? Date of birth? And how exactly should you do that?
Name.

Absolutely necessary. Put your first name first, last name last. Middle name is optional. If you're applying for a position in a traditional field, add your PhD, MBA, or other titles to it.

Title.

Optional. Tells the future employer who you are. Brand Strategist? Product manager? A subtitle to your name.

Email address.

Absolutely necessary, even when sending your application by email. Your email address should look professional (e.g. john.day@gmail.com, NOT johnny69@gmail.com). Always use your personal email address.

Mailing address.

Somewhat problematic. Your neighbourhood says a lot about who you are and, in some cases, can be a reason for discrimination. On the other hand, if you're located in the same city as the company, it can help you get the job, as it helps them save the money they would otherwise spend on a relocation package.

Phone number.

Necessary. Many employers will call you by phone to arrange an interview, instead of doing it by email.

LinkedIn.

Recommended. If you don't have a LinkedIn profile yet, consider creating it. Make sure your profile is complete and up-to-date.

Social media.

Optional. Include it if it's related to your job. GitHub, Behance, Muck Rack, even your Facebook or Instagram profile will do (if you regularly post content that has to do with your profession). Here's a few tips on

how to include your social media

.

Blog/Website. Optional. Similar to social media. If you have a blog, website, or a digital portfolio related to your chosen profession, don't be afraid to show it off.
Photo.

Problematic. Depends on the country. In most English-speaking countries, they don't add a photo. See

Should You Put a Picture on Your Resume

for a more detailed analysis.
Step 3: Begin with your professional summary
Your professional summary should be a list of about 4-5 bullet points or a short paragraph that summarizes your relevant skills, experiences, and achievements.
You can think of it as a teaser for the rest of your resume. Make sure it's interesting enough to hook the hiring manager right in.
But how do you write a good professional summary?
Write your professional summary last

. It's surprisingly easy to do if you've already finished other sections of your resume.

The first bullet point should

describe your professional title

. Don't forget to add the number of years of experience. Write it in bold.

Pick

the 3-4 most impressive parts

of your resume and rewrite them into snappy bullet points. Tease your potential employer into reading further.

To maximize the impact, pack your professional summary with

relevant keywords

. Even better, try to

quantify

each achievement.

Tie each bullet point to the requirements introduced in the job offer.
If you do everything right, you should end up with something like this:

Step 4: List relevant work experience
The work experience section is what most people picture when they think "resume".
The trick is to focus on your past achievements, not responsibilities.
Hiring managers are likely to know what your responsibilities were supposed to be. In most cases, your job title says it all.
If you want to stand out, you should tell them how you excelled in your previous job instead. And there's hardly a more effective way to do that than by mentioning your achievements.
But how do you list your work experience on a resume?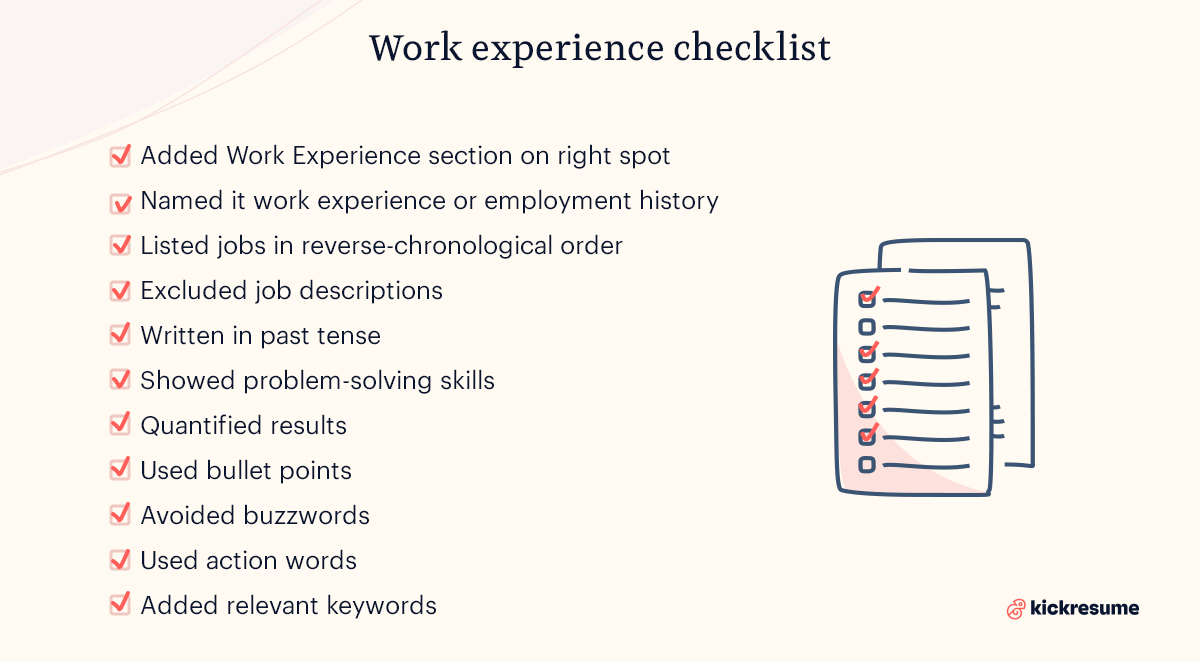 Put your work experience section in the right spot.

If you can boast a lot of professional experience, put your work experience section right under your resume summary. If you don't have enough experience yet, put it just below your education section. Finally, if you prefer to highlight your skills instead of experience, put your skills section first.

Give it a proper heading. Stick to "Work Experience"or "Employment History" as other headings might not be understood by applicant tracking systems (ATS).
List your jobs in a reverse-chronological order. Start with your most recent experience and work your way back from there. Based on your level of experience, decide how far back should your resume go.
Don't include the job description.

Instead of listing what you were supposed to do, try to tell your potential employers what positive results you had.

Write in the past tense.

This will help you focus on your past achievements instead of responsibilities. It also sounds better.

Show your problem-solving skills.

In the end, hiring managers want to know how effective you're going to be in solving real problems. There's no better way to show your problem-solving ability than to briefly describe how you solved difficult problems in the past. Follow the PAR scheme: What was the (P)roblem? What (A)ction did you take? What was the (R)esult?

Quantify results. Hiring managers love measurable results. Because of that, a single number often speaks more than a thousand words. Don't say that you "increased the company's revenue significantly." Instead, don't be afraid to brag about "increasing the company's revenue by 20%."
Use bullet points.

Bullet points help you structure each subsection. Try to limit yourself to about 5 bullets per job.

Avoid buzzwords.

People used some phrases in their resumes so much, these words have become meaningless. Everybody seems to be an out-of-the-box creative thinker with a knack for innovation nowadays. But in reality, only very few people really are those things. For more, see

10 Buzzwords You Should Stop Using on Your Resume

Use action verbs.

Unlike buzzwords, action verbs carry the weight you need to persuade an employer to hire you. Just to mention a few, these are words like "developed", "increased", "facilitated" and others. For more inspiration, check out our

Resume Cheat Sheet: 222 Action Verbs To Use In Your New Resume

.

Keywords.

Reread the job description and carefully pick the most important keywords. These are the words that best describe the position you're applying for. We've already discussed the importance of keywords at the beginning of this guide.
In the end, your work experience section should look like this:

Step 5: Summarise your education
The education summary section is where you list your degrees and relevant academic accomplishments.
Based on your degree and where you are in your career, it can be either the least or the most important part of your resume.
Are you an experienced professional?
As you become more experienced, the education section takes a back seat to your work history and hard skills.
In other words, it means that your education section should come after your work experience section, not the other way around. Neither does it have to be too long. It's enough if you include the name of your university, name of your degree, and the year you graduated.
Here's an example:

Are you a fresh graduate?
Then your degree is still one of the strongest cards you have to play.
In practical terms, it means that you should place your education section at the top of your resume — right between your professional summary and work experience section.
It should also be a bit longer. These are the things you should add to your education section if you're a student or a fresh graduate:
Academic awards.

AP scholar, Duke of Edinburgh award, National Merit Award, President's Award, school subject-based awards, dean's list, etc.

Scholarships.

Athletic scholarships, scholarships for women, creative scholarships, etc.

Academic conferences and symposia.

Don't forget to mention the scope and name of the paper you presented at a conference.

Relevant student societies.

Debating or programming clubs. If you were on a student committee of any kind, mention that too.

GPA.

Only

include your GPA

if it was higher than 3.0 on a 4.0 scale. If your overall GPA was lower, mention your overall GPA. Alternatively, mention your

summa cum laude

or

magna cum laude

.

Academic publications.

Producing an academic work worth publishing is impressive no matter the context.
In the end, your education section can look like this:

Step 6: Highlight your soft and hard skills
Before you start writing, you should know there are two types of skills: hard skills and soft skills.
Hard skills can be learned, taught, and most importantly, measured. Acquiring them requires a deliberate effort, training, and time.
Examples of hard skills include: computer skills, language skills, manual skills, mathematics, project management, etc.
Soft skills are tied to your personality traits. These skills usually come as part of your upbringing. You can also acquire some of them later in life through self-improvement. These skills can bring value to any job, as well as your private life.
Examples of soft skills include: communication, leadership, time management, creativity, decision-making, etc.
But how to make your skills stand out?
Focus on what's most relevant.

Do you have any of the skills mentioned in the advertisement for your desired job? Good. Make sure to include them in your resume's skills section.

Organize your skills into subcategories.

Divide your skills section into several subsections like computer skills, soft skills, languages, and others.

Don't underestimate soft skills.

67 percent of HR managers said they'd hire a candidate with strong soft skills

even if his or her technical abilities were lacking. On the contrary, only 9 percent would hire someone with strong technical credentials but weak soft skills.

There are skills you shouldn't include.

Never include any skills you don't have, skills that have nothing to do with the job, skills everybody should have, or skills that have become obsolete.

Step 7: Add optional resume sections
Apart from the standard resume sections we mentioned above are the optional sections. If added properly, these sections can help with: filling the gap when lacking experience, highlighting additional skills and expertise, and letting an employer know more of who you are.
This last part can be especially important to companies that prioritise hiring candidates who fit their workplace culture.
Here are some of the most common optional sections:
Technical skills: This section can be a nice addition when applying to technical

jobs. Some examples of technical skills are: programming languages, software proficiency, project management and data analysis.
Achievements and awards: Scholarships, competitions, work-related awards or even promotions to leadership positions in your job – either distribute them across other parts of your resume or put them in a dedicated section.
Certification and licenses: Include various certifications that are important and relevant for the desired job.
Publications: Mention relevant conferences, presentations and written publications. It's mostly useful if you're working in academia, marketing, or journalism.
Volunteering: This section lists your volunteer work. It should be treated similar to a work experience section. The reason being that whether your work was paid or not, it still translates to real life experience.
Hobbies: Use this section to list your interests, preferably unique. They're a great way for a hiring manager to break the ice when you get to the next stage of the hiring process.
A good rule of thumb, only add an optional section if it's relevant to the job you're applying for. You can learn what to add and how to organise these sections in our resume section article.
Christy's word of advice

Really, it sounds so simple, but one of the best ways to stand out with your resume is to apply for jobs you're a close fit for. So many people apply 'just in case they'll consider me if even I only meet some of the requirements', then feel deflated when they're rejected. The company has spent time figuring out exactly what they need and are paying their staff or a recruiter to find that. Look closely at the minimum/essential requirements, apply for jobs you're a great fit for, and you'll have much better luck!

Christy Morgan, Resident HR Expert
Step 8: Wrap it up with a cover letter
Phew! Almost done with how to write a resume. Just a little bit of editing and proofreading, picking the right resume template, and you should be able to click send, right?
Not quite, at least we wouldn't recommend you sending it - yet.
The truth is that resumes are often put aside when not accompanied by a cover letter. It would be a shame if this happened to yours, especially after all the time you've spent on creating your resume.
A good cover letter is a way to stand apart from the competition. It's where you can show your hiring manager you mean business. Here are 4 tips you can use while writing your cover letter:
Let them know

what position you're applying

for. Preferably in the opening sentences.

Highlight an accomplishment

you've had in a previous employment.

Show enthusiasm

for the job.

Add keywords

.
When all it's said and done, your cover letter should look something like this:
Cover letter example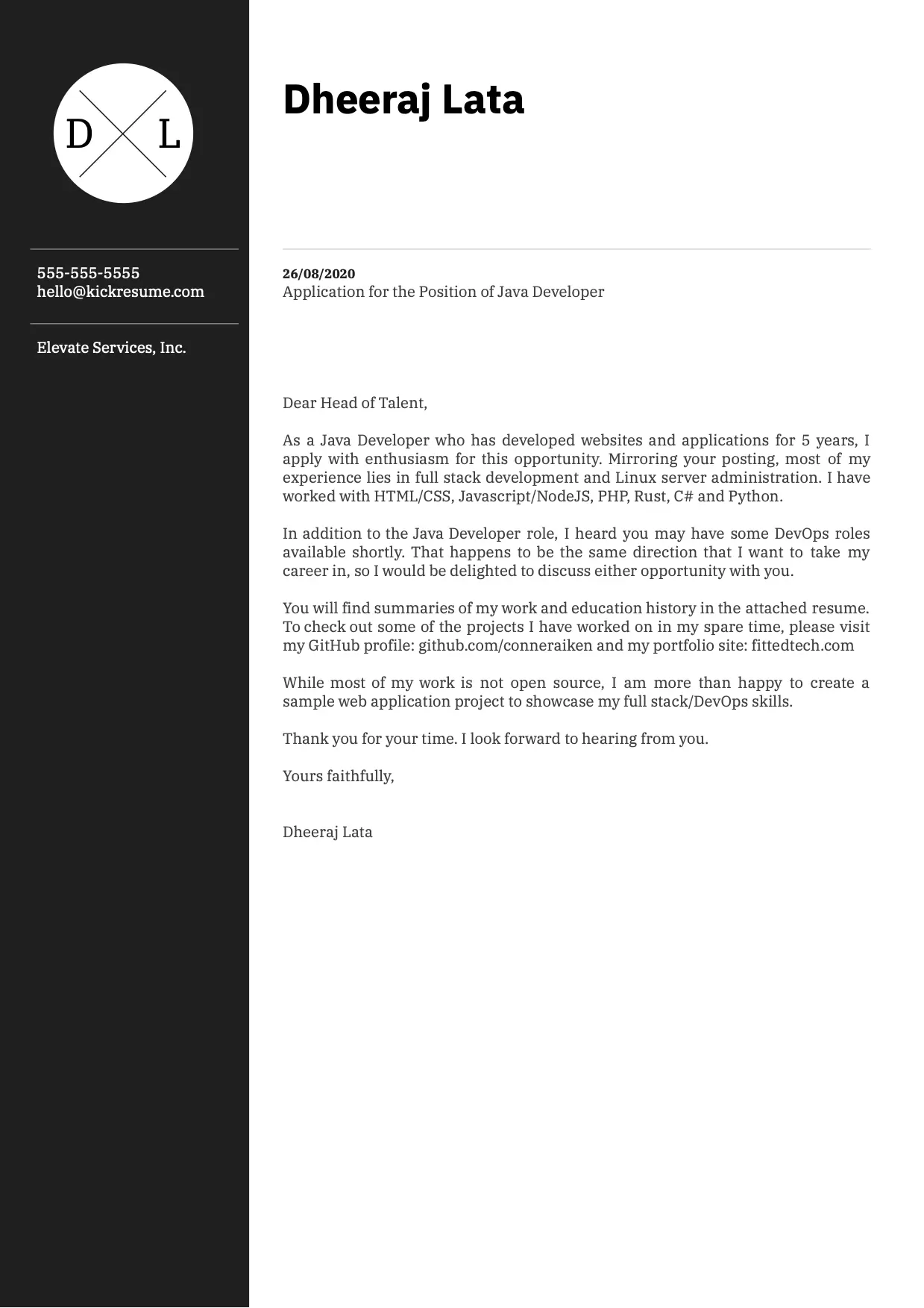 Or browse another 900+ cover letter examples by your profession.
And if you really want a memorable cover letter, we've got you covered. In fact, we're certain it will be the only cover letter guide you'll ever need.

Final tips before you click "Send"
The older the job, the lesser details.

In other words, don't have 13 bullet points on a job from 5 years ago.

Use off-peak hours for maximum attention

, especially if you're reaching out to an employer directly. Hiring managers are busy people and you want them to receive your resume when they have enough time to carefully read through it.

Check your resume for typos.

Fine, English might not be your first language. Because of that, most employers might be inclined to overlook any grammatical mistakes that you make in your resume. Typos, on the other hand, are unforgivable. Your computer's spell check feature can help you fix that.

Customize your resume for each job application.

Every employer is different. Any hiring manager can tell if you've just sent them the same generic resume as to everyone else. Tailor your resume to each individual employer and increase your chances to get hired.

Get the introductory email right.

It doesn't matter that you have the best resume ever if nobody gets to read it. Attach it to an email that catches the employer's attention from the get-go. Pay particular attention to the

subject line

and make them want to read the whole thing.
Good job, you made it! If you still need more information on how to write a resume. You can go further in-depth in our section by section resume guide.
Resident Writer

A documentary photographer and writer. Noel has worked for International publications like Deutsche Welle in Germany to News Deeply in New York. He also co-founded the global multimedia project Women Who Stay and collaborated as a journalist fellow with the University of Southern California. He went from traveling around the world to sitting on a couch thanks to the pandemic, but he got a nice job working for Kickresume thanks to that, so he won't complain.