Thanks to tools like ChatGPT, the once-dreaded task of writing cover letters is becoming more manageable. But do you actually know how to write a cover letter using ChatGPT?
If you're not familiar with this tool and how to use it, your cover letter might become an even bigger mess than it was before.
Furthermore, using a generic prompt, such as "Write a cover letter for a junior accountant," will result in a generic cover letter.
To avoid that, we'll guide you through the essential steps to operate this AI language model effectively and explore the right prompts for writing a cover letter — ensuring your cover letter is personalized, tailored for the job, and professional.
Lastly, we'll also show you an alternative to using ChatGPT for crafting your cover letter.
But first...
What is ChatGPT?
Due to the current hype, you probably already heard about it.
ChatGPT is a state-of-the-art AI language model developed by OpenAI, designed to generate human-like text based on user input.
This tool is useful for a variety of tasks, such as drafting emails, writing articles, providing customer support, or debugging code.
To better understand how ChatGPT can help you with your cover letter writing process, let's explore its key capabilities.
ChatGPT...
understands context and generates relevant content
adapts to different writing styles and tones
responds effectively to user prompts for customized output
is capable of generating creative and engaging text
Hence, in the context of crafting cover letters, this AI tool can be a game changer for job seekers and provide a high-quality draft and/or improve the overall quality of your writing.
How to write a cover letter using ChatGPT in 7 steps
Now that you know the key capabilities of ChatGPT, let's explore step-by-step how to use this powerful AI tool to write a cover letter.
By following these 7 steps, you'll be able to produce an impressive cover letter in minutes.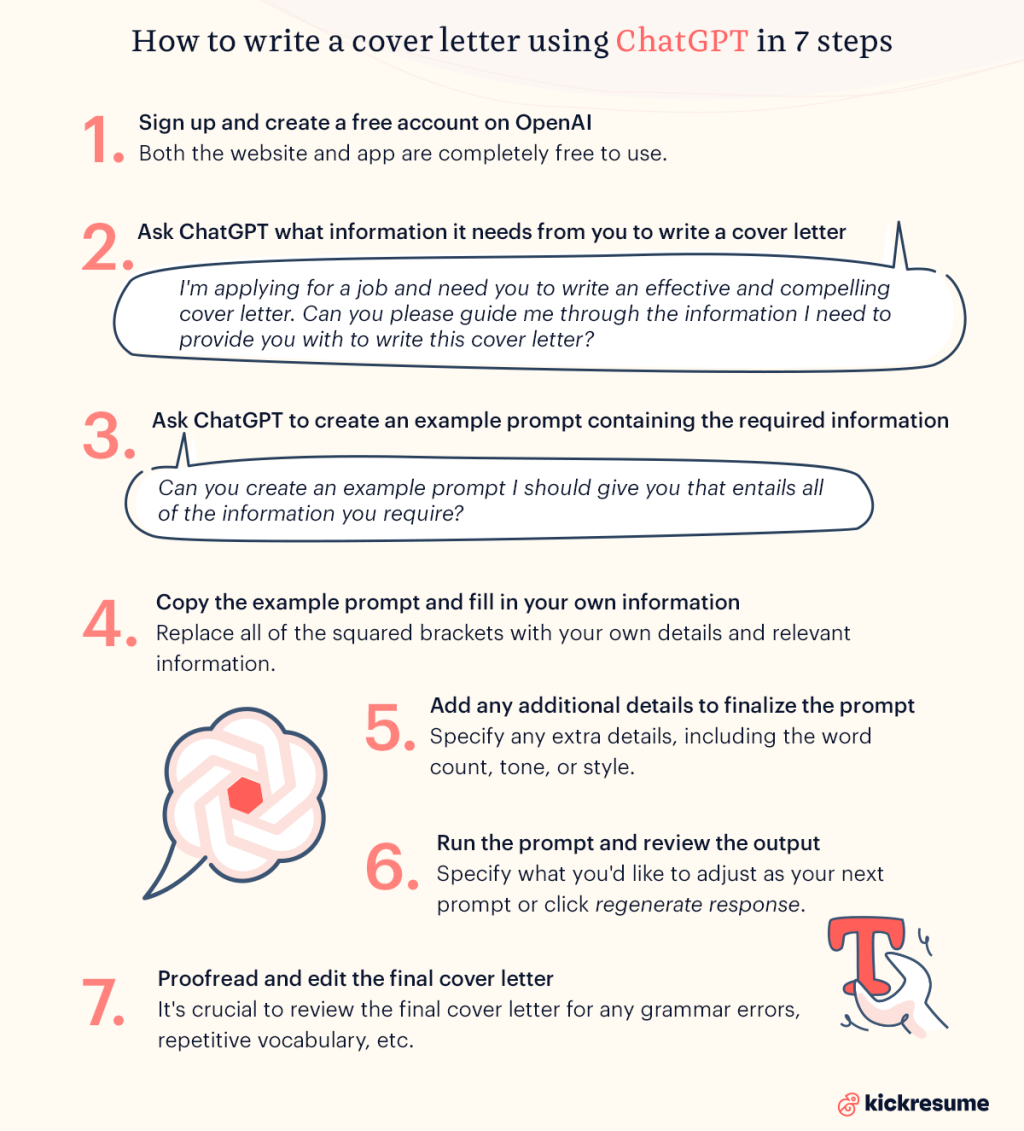 1. Sign up and create a free account on OpenAI
Head over to chat.openai.com and sign up for a free account. It's pretty straightforward — all you need is an email address, Google account, or Microsoft account.
Both the website and app are completely free to use.
Since ChatGPT is extremely popular, you might encounter some delays while signing up. If that happens, just wait a few minutes and try again.
Just FYI, there's also a paid version called ChatGPT Plus, which has a number of advantages, including faster response times. Currently, it's available for $20/month.
2. Ask ChatGPT what information it needs from you to write a cover letter
This tool is, first and foremost, a chatbot. Hence, you can actually ask ChatGPT what information it needs from you in order to create a well-written and personalized cover letter.
So, instead of guessing what information about yourself to include in the prompt, the AI tells you directly.
Use one of the following prompts to inquire about ChatGPT's requirements:
I'm in the process of applying for a job and need your assistance in writing a persuasive and effective cover letter. Could you instruct me on the necessary details I should provide you with to compose such cover letter?
I'm currently in the process of applying for a job and need your help in crafting a cover letter for me. Can you explain what information and details you would need from my end to create the most effective and compelling cover letter for me?
The chatbot will then give a list of information it needs, why it needs them, and some concrete examples.
For instance, here's what ChatGPT churned out after using the second prompt: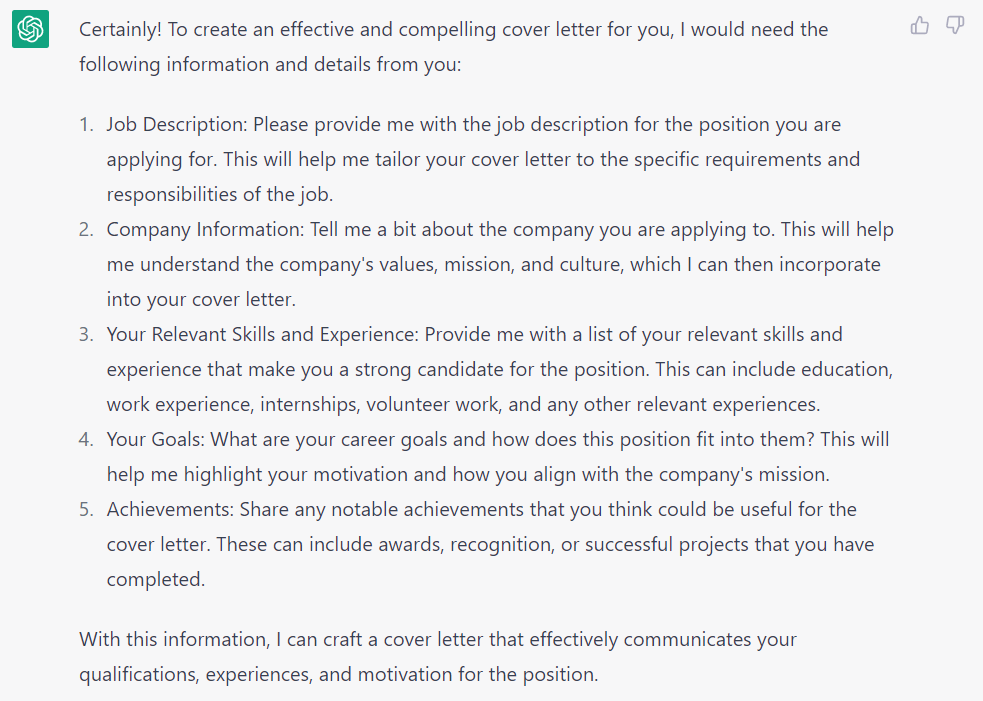 3. Ask ChatGPT to create an example prompt containing the required information
Now that you know what the AI needs from you to create a cover letter, you may need a little help with phrasing the full prompt.
After all, it requires a lot of information and details from you, including a job description. Hence, it may be a little complicated to formulate an effective prompt.
So, here's what to say next to make the chatbot create the full prompt for you:
Can you create an example prompt I should give you that entails all of the information you require?
That's good. Can you give me an example of a prompt that includes all of the information and details you said you need?
Then, GPT does the work for you and creates an example of the final prompt.
Have a look: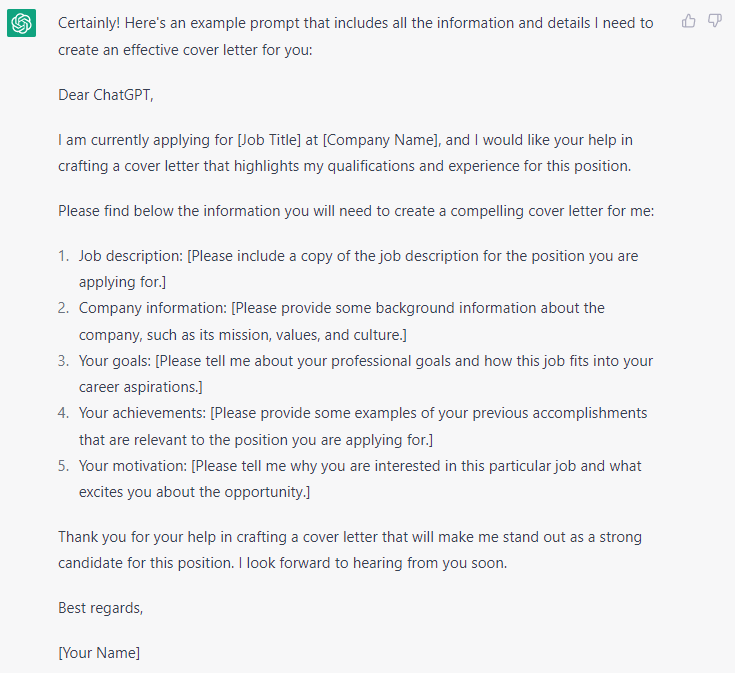 4. Copy the example prompt and fill in with your own information
Now that ChatGPT created an example of the whole prompt for you, copy it.
Paste the example prompt as a prompt. You'll use this as a template/inspiration.
And now comes the harder part. You need to replace all of the squared brackets or "sample details" with your own details and relevant information.
It shouldn't be too complicated since you already have inspiration for what to include and how to write it from GPT.
Pro tip

Rather than attaching the job description, copy it from the job ad and paste it into the prompt where required.
Plus, consider adding any extra specifications in the prompt...
5. Add any additional details to finalize the prompt
Now that you provided ChatGPT with the essential information for your cover letter, you can now specify any extra details.
These can include your desired tone, style, or word count.
Have a look at an example of how to specify any extra details for the prompt:
Additional instructions for ChatGPT
Now your prompt should contain everything to ensure the AI generates a personalized and relevant cover letter.
Here's what the final prompt looks like:
6. Run the prompt and review the output
Finally, run the prompt. It'll take a few minutes at most.
Here's the final cover letter written by ChatGPT: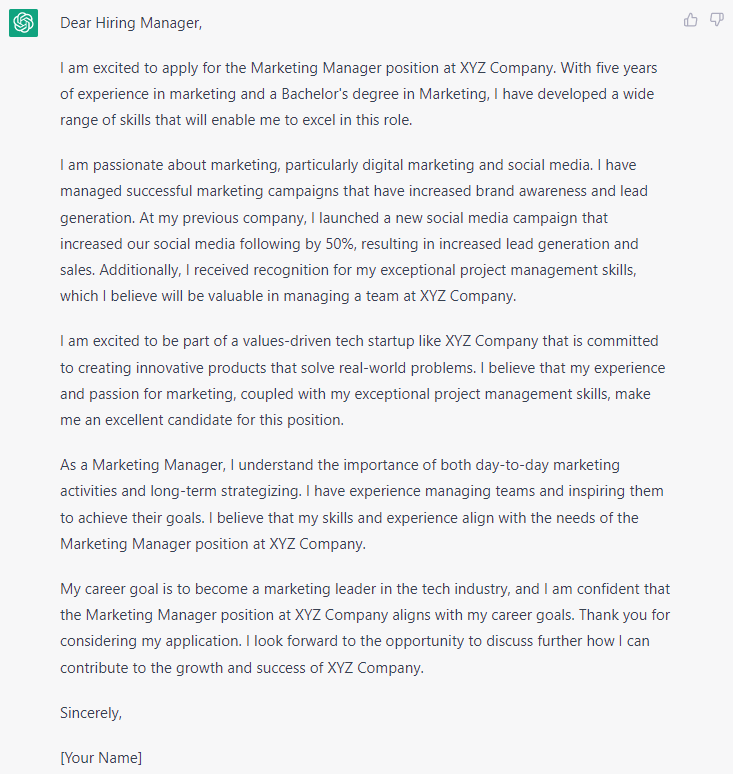 When your cover letter is generated, ask yourself:
Do I like the output?
Does it include everything you wanted?
Is there something specific I don't like?
Is it long enough? Or is it too long?
You want to examine the cover letter to make sure everything is to your liking.
If you find a specific thing you'd like to adjust, feel free to specify this as your next prompt.
For instance:
That's good, but I think it's too long. Can you make it a little shorter?
That's good, but I don't like that every paragraph starts with "I". Can you re-phrase the first sentence of each paragraph?
That's good, but you used too many keywords from the job description. Can you re-phrase it and use the keywords from the job description less?
And, if you like the cover letter but you're not 100% convinced and can't pinpoint why — hit the Regenerate response button. Just make sure to save each output so that you have some options to choose from.
7. Proofread and edit the final cover letter
After the AI generates your cover letters, it's crucial to review them for any misrepresentations, mistakes, or grammar errors.
So, make sure to proofread and carefully edit the content before sending it.
Here are a couple of things that you might need to edit:
Grammar & punctuation. ChatGPT often struggles with commas and inconsistencies in the verb tense in particular.
Repetitive vocabulary. Replace repetitive or vague words with more precise and varied vocabulary to provide clarity and avoid redundancy.
Sentence structure & flow. Rearrange sentences or rephrase them to improve the overall flow of the text. Also, break up long sentences into shorter ones and combine short, choppy sentences.
Fact-checking. Verify any facts, statistics, or claims made within the text to ensure they are accurate and up-to-date.
Consistency in formatting. This mostly includes consistency in abbreviations or capitalization.
Additionally, keep in mind that ChatGPT's homepage warns about the possibility of generating incorrect or biased content — so always fact-check! More on ChatGPT's drawbacks later.
Ideally, you should use the AI-generated cover letters as a starting point for the final version you'll send. Or an inspiration, if you will.
The drawbacks and limitations of ChatGPT
As mentioned before, ChatGPT isn't perfect.
While ChatGPT can be a valuable tool in generating content, you have to be aware of its shortcomings when using this tool to create your cover letter.
Here are some of the potential challenges you may encounter when using ChatGPT to write a cover letter:
Limited understanding of context. ChatGPT might not fully comprehend the complexities of a specific job or industry, and may struggle to understand complex queries. This could lead to generic or less-targeted content in a cover letter.
Inaccurate or nonsensical responses. Since the chatbot doesn't possess human-level understanding, it might generate irrelevant, incorrect, or illogical information — which can decrease the quality of a cover letter.
Sensitivity to input phrasing. The way a prompt is phrased may affect the response generated by ChatGPT. Slight changes in phrasing can lead to different or inconsistent content in the cover letter.
Wordiness. ChatGPT may produce wordy or repetitive responses, which could result in a cover letter that's perceived as unprofessional or difficult to read.
Over-optimization for engagement. This can lead to a cover letter that contains catchy or captivating phrases but lacks the necessary information or professional tone expected in a job application.
If you don't want to use ChatGPT...
As you can probably tell, writing a cover letter with ChatGPT isn't so straightforward. It takes a lot of effort to put together a suitable prompt, adjust all of the details and information to be more personal, and has a couple of limitations overall.
What's more, this chatbot only provides you with raw text, which you then need to design and format yourself. You may also need to add a signature in a different text editor.
So, if you're looking for an alternative AI-powered solution to help you write a cover letter, consider Kickresume — a platform that specializes in creating professional resumes and cover letters (with or without AI).
Their AI cover letter writer tool uses the GPT-4 language model (used by ChatGPT, too) to produce cover letters without the need to create a lengthy prompt. The generated cover letter is well-formatted and designed and ready-for-use immediately.
Here's why you might want to give Kickresume's AI Cover Letter Writer a try:
No complicated prompt is required. Kickresume specializes in resumes and cover letters. Which is why the AI cover letter writer only needs a few basic data from you, and there's no need to generate multiple prompts.
Easy-to-use interactive platform. A user-friendly interface that makes navigating and creating your cover letter a breeze. To create an AI cover letter, you simply fill in a 2-step questionnaire, where you provide your desired job title, the job description, your credentials, and your previous employment. You can then add any details and edit the cover letter.
Cover letter ready to use immediately. You don't need to worry about formatting or designing your cover letter. There's a variety of visually appealing templates available that follow industry-standard formatting. You can customize the design to match your preferred style. Once you pick a template, your letter is ready to be used.
Provides expert tips & guidance. Apart from templates and AI assistance, Kickresume also offers expert guidance on crafting the perfect cover letter. Its Help Center is constantly updated with advice articles to help you make the best impression on potential employers.
Integrated signature feature. You can digitally sign your documents, eliminating the need to add a signature in a separate text editor. This ensures that your cover letter looks polished and professional.
Pre-written content for various industries. If you'd like to add more role-specific content to your cover letter, you also have access to pre-written phrases specific for various industries and job roles.
Here's an example of an AI-generated cover letter created with Kickresume:
AI-generated cover letter created with Kickresume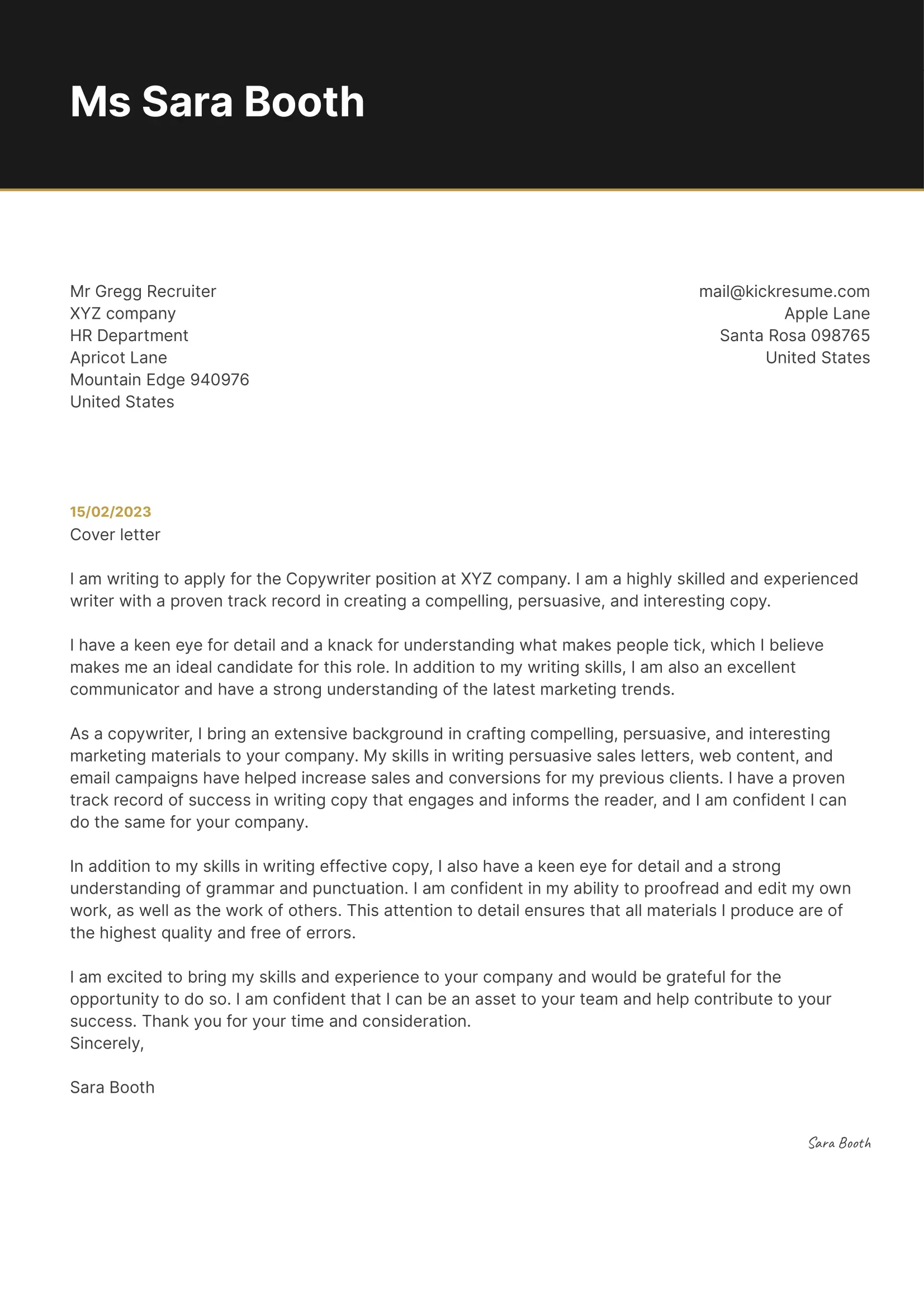 Key takeaways: How to write a cover letter using ChatGPT?
Despite the limitations of this language model, ChatGPT can be a very valuable tool in generating content for a cover letter.
Here's a quick rundown of how to write a cover letter using ChatGPT in 7 steps:
Sign up and create a free account on OpenAI.
Ask ChatGPT what information it needs from you to write a cover letter.
Ask ChatGPT to create an example prompt that contains all the information it required from you in the previous step.
Copy the example prompt and replace all of the "sample" details with your own details.
Add any additional details to finalize the prompt, including the word count, tone, and style.
Run the prompt and review the output. If you want another option, click regenerate response.
Proofread and edit the final cover letter. Is it over-using certain keywords? Is the grammar correct?
Career Writer

Klara recently graduated from the University of St Andrews in Scotland. After having written resumes for many of her fellow students, she got an opportunity to write full-time for Kickresume. Klara is our go-to person for all things related to student or 'no experience resumes'. At the same time, she has written some of the most popular resume advice articles on this blog. When she's not writing, you'll probably find her chasing dogs or people-watching while sipping on a cup of coffee.