The demand for quality assurance (QA) testers is rising steeply. Hence, when you're competing with hundreds of applicants, creating a QA software tester resume that stands out from the rest is crucial.
The truth is, navigating the job market nowadays is difficult in any industry, with only 20% of applicants getting through to an interview round.
And, in a highly competitive industry like QA engineering and testing, it's especially challenging to stand out.
This comprehensive guide to building a QA software tester resume — applicable even if you're a fresh graduate or a QA software tester with more years of experience — will help you increase your chances of getting an interview.
Plus, we'll show you an example of a QA tester resume written by a certified professional resume writer that you can use as your first draft.
1. Let the formatting speak for itself
Imagine yourself as a recruiter filtering through hundreds of QA tester applications, all saying the same thing.
That's why most recruiters only spend 7 seconds scanning your resume for important information.
However, an excellent resume can convey your level of expertise even with just a cursory glance.
Now, this doesn't have to mean crazy graphics or overpromising in your resume summary section.
Instead, it's more about organizing your resume's content in a readable and easily understandable manner, while drawing attention to the right information.
Here's how you can do that: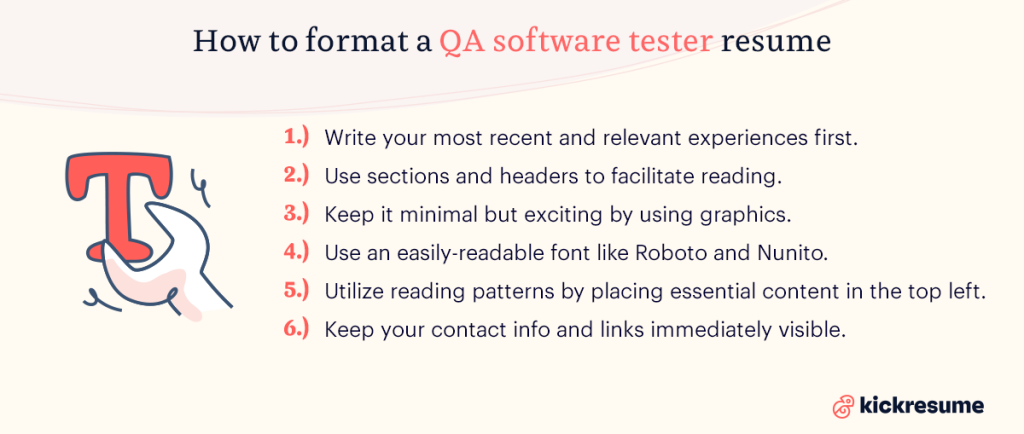 Write your most recent experiences first. Writing in reverse chronological order allows recruiters to see your latest — and often most relevant — work experience before anything else. For example, if you have recently tested a solution for modernizing legacy banking systems, it will be a more impressive experience than your first tests of small apps.
Use sections and headers. You should strategically place headers where they facilitate the natural flow of reading. Don't scatter them randomly, but rather place them in a way that naturally drags down the reader's eyes when they read the content.
Keep it minimal but exciting. The traditional resume format is very simple, with long sentences and basic headings. Your QA tester resume can be much better if it uses graphics (e.g. icons for your contact info or LinkedIn) or strategic color-blocking schemes.
Use a readable font. Fonts like Roboto and Nunito are good options for your resume because they're easy on the eyes and great for reading. If you want to do something more unconventional, use Saira.
Take advantage of reading patterns. Studies have revealed that humans often read in specific patterns (e.g. F-pattern and Z-pattern) depending on how the text is structured. You can take advantage of this in your resume by strategically placing important content where it's most visible, i.e. the top left.
Make a separate contact information section. When creating your resume, you should keep your contact info and links immediately visible. That way, a prospective company can easily contact you instead of putting your resume aside.
When creating and posting your resume, remember the rules of internet safety:
don't publish your personal address on publicly-accessible domains;
link a LinkedIn profile or a business email, rather than a personal one;
finally, we don't recommend registering on sketchy job-posting sites.
2. Start with a strong resume summary
You have limited time to convince recruiters to give you an interview.
And a good resume summary (also referred to as professional summary or profile statement) at the top of your resume is an excellent way to catch the recruiter's attention and let them know what you have to offer.
Ideally, you should place all your most remarkable achievements here, and make sure to add numbers!
This way, the recruiter can quickly determine what makes you worth hiring and how you stand out from the rest.
Example of a QA software tester resume summary:
3. Go beyond just describing your daily tasks
One of the pitfalls for many QA testing applicants is simply describing their daily tasks at work in the work experience section.
The recruiter doesn't need to know that you "Made test plans and did automated or manual testing at XYZ company" — they already know that's what a QA tester does.
Instead, go above and beyond to list your achievements at that particular company and quantify your results.
Did you do anything of note? Did you improve processes? How can you tell your performance is something notable?
Here are some examples to start you off:
Accelerated QA testing by 25%, contributing to an additional $1M in company revenue without increasing headcount.
Executed test plans and scripts to pinpoint a software bug in the collection system, resulting in a stellar audit finding.
Identified key insights that improved team efficiency by 29%.
Needless to say, it's still important to describe what you did at a particular company. However, make sure to illustrate how you excelled in that particular task.

4. Show off your skills
When applying for QA software tester jobs, recruiters seek specific skills. In this industry, these are most often hard skills.
For example, an expertise in a particular programming language or a specific QA testing tool like Selenium or Cucumber.
Furthermore, your skills section is also important because it's easy to place important keywords from the job ad there.
Remember, recruiters receive tons of applications, so one way to sort through them is to hand-pick resumes containing the keywords they're looking for.
Here are examples of good skills for a QA software tester:
Test automation
Jira
Selenium
Testsigma
SQL
Java
Scripting
Quality Assurance Testing
Critical Thinking
Attention to detail
Of course, make sure that you can actually follow through on your promises. Don't list a specific software if you don't know how to use it.
5. Make your education relevant
Depending on where you're in your career, the education section may or may not be as important as your work experience or skills.
Still, in both cases, it does play an excellent supporting role in your overall resume.
Most people will simply list their school, major, and years of attendance. While doing that is fine, you can take it a step further by aligning your education with the job description.
You can add the following in the education section:
The organizations you joined
The groups you led
The projects you excelled at
Commendations by your professors
A really high GPA
Leadership experience
This is especially useful for fresh graduates who may need more years of experience to impress recruiters.
6. Tailor each resume to each job you're applying for
Up to 54% of job applicants don't tailor their resumes to each job their applying for — which can be a negative signal to the recruiter and hurt your chances of getting interviewed.
Why? Well, in the recruiter's eyes, you aren't offering them the best match for what they're looking for.
Hence, you need to take advantage of the opportunity to add job-related keywords to your resume.
In fact, the statistics above also state that 75% of resumes are rejected by the widely-used ATS software — with the likely cause being that those resumes didn't contain relevant information (i.e. no related keywords).
You can easily increase your chances of landing the job by aligning your resume with the job description.
For example, if the job ad calls for expertise in Selenium, make sure to include that in your resume.
If the company wants someone who's an expert in Java, then highlight that in your work experience.
Tailoring each resume is a lot of work but the results are more than worth it.
QA software tester resume example
Finally, to help you tie everything we talked about together:
This resume was crafted by a certified professional resume writer specifically for the role of a QA tester.
There are several things that make this resume noteworthy:
a strong and effective resume summary is right at the top;
there are keywords scattered throughout the resume;
it includes relevant hard skills;
it has a sleek design and includes graphic elements (in moderation).
QA tester resume sample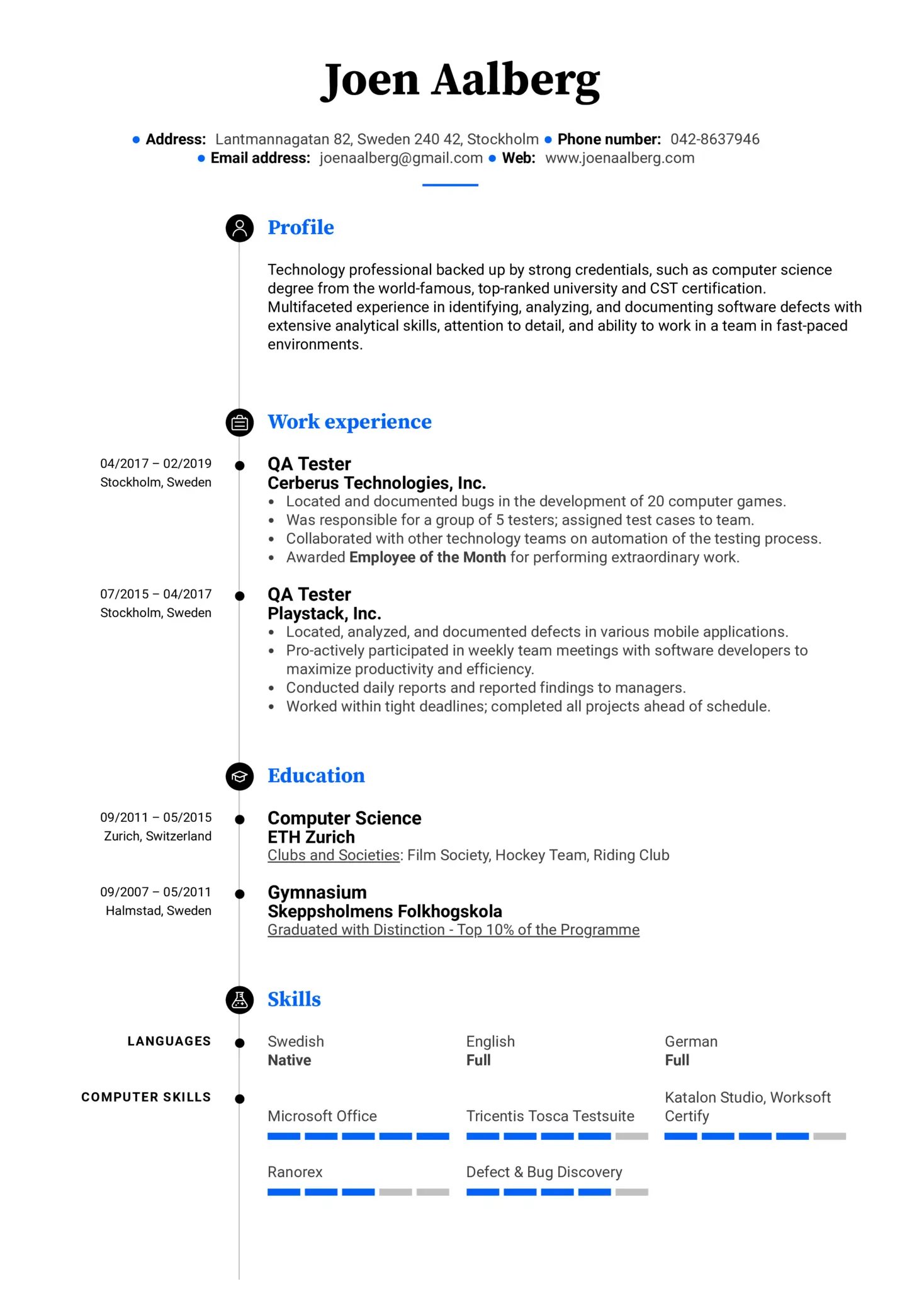 If you're looking for more inspiration, check out our other tester resume samples. Some of them also belong to real people who got hired by companies like TubeBuddy or Aspire Systems.

What to do if you have no experience with QA testing
Much of our discussion focuses on highlighting your work experiences and skills.
But what about fresh graduates who only have brief internships or even no internships at all to speak of? Or, what if you have recently switched careers?
It can be daunting to apply for jobs when you have little related experience — but everybody has to start somewhere.
While lying on your resume may seem like an easy way out, it may come back to bite you in the...future when you least expect it.
Fortunately, you have a few options when you're a fresh graduate but don't want to leave a gaping hole in your work experience section.
Here's what to do if you don't have experience with QA testing yet:
Take advantage of online resources. You can try out dummy projects online to understand the entire testing process — creating and executing test cases, logging defects, and finalizing testing reports. You can then add these projects to your resume to give it a decent boost.
Learn from online courses. Apart from learning a thing or two and gaining an official certificate, the projects you've worked on for the course can be considered QA experience. If you've taken any courses, don't forget to document your process and highlight them on your resume.
Work on side projects. One of the best ways to gain testing experience without actually working for a company is working on your own projects! It can be a project with friends, classmates, or even yourself.
Initiative is never taken for granted, and hiring managers will appreciate your initiative to start your own projects to upskill.
Conclusion
The difference between getting an interview and being ignored by recruiters is often decided by an excellent resume.
Without it, your skills and abilities take the backseat and won't get enough spotlight.
So, if you find yourself having trouble scoring interviews despite your many years of experience in QA testing, it's probably time to update your resume.
It will be worth every bit of your effort.
Author bio

Roy Emmerson is the co-founder of TechTimes.com, a B2B SaaS platform that helps businesses stay up-to-date on the latest technology trends. With over a decade of experience in the tech industry, Roy is a thought leader in the field and is passionate about helping companies embrace new technologies to improve their operations and drive growth.