If you're looking to hire remotely, you need to know how to write remote job posting that will attract top talent. This can, however, be quite tricky if you're not sure what to include.
There are many possible reasons why your job listing isn't gaining the traction you'd like it to have. An unclear job name, not enough information, or the wrong tone can, among other things, be the cause.
To help you avoid these mistakes, we've put together this guide on how to write a remote job posting that will generate the best responses. We also include a remote job posting example to help you get started.
Remote job posting vs. remote job description
Although people often use these two terms interchangeably, you probably shouldn't. But what's the difference?
Here's our simple explanation:
A remote job description is a document that outlines the requirements and responsibilities of a remote position.
A remote job posting is an online listing that includes the remote job description and provides more information about the company and about how to apply for the position.
In essence, you can't finalize a job posting without a job description. Hence, both remote job descriptions and postings are essential for finding qualified candidates for remote positions.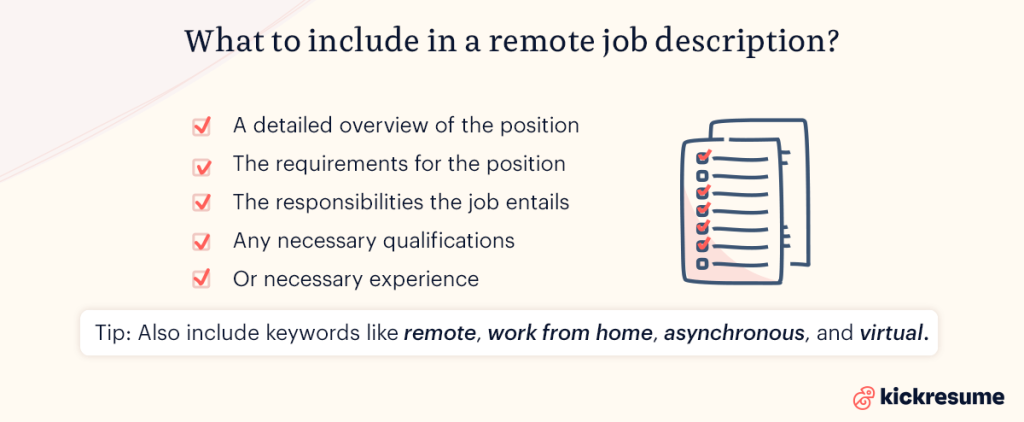 How to write a job description for a remote role
Not sure where to start? Here's what a remote job description should include:
A detailed overview of the position. What's the full name of the position? Is it a junior or senior level? Is the position fully or partially remote?
The requirements for the position. Make sure to present the requirements most important for the job, while leaving out things which aren't a necessity.
The responsibilities the job entails. You should list the day-to-day responsibilities as well as the long-term expectations for the role.
Any necessary qualifications. While you should include your expectations for any courses, or examinations you want candidates to have, try not to overwhelm them.
Necessary experience. Before including a prior experience expectations in the job description, reflect on whether "10+ years of experience" is really necessary.
When creating a remote work job posting from a description, it's essential to remember that candidates will be searching for remote positions worldwide. Hence, always include keywords to help candidates find your posting.
Pro tip

Some examples of keywords that can be used in a remote work job posting include: remote, telecommute, work from home, asynchronous, and virtual.
Once you've written your description, you'll have all the information you need to start writing an exciting job listing.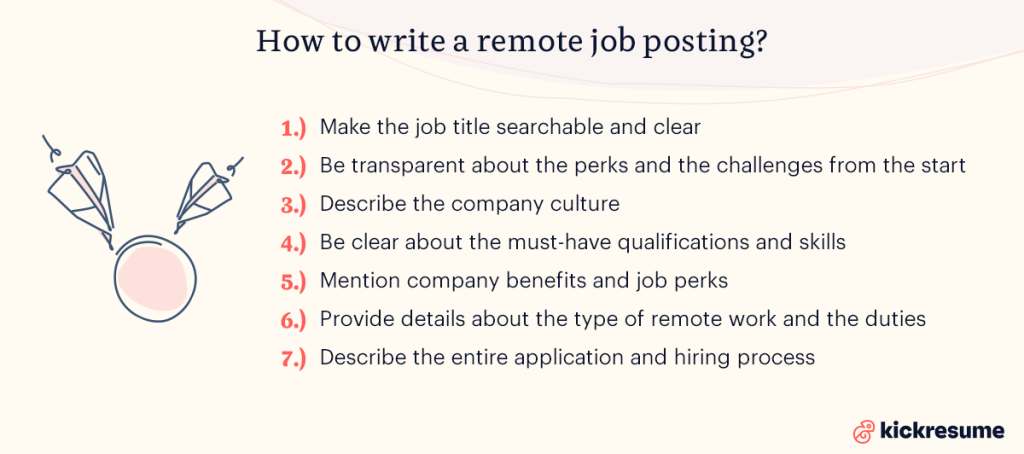 How to write a remote job posting: A step-by-step guide
Have you ever tried to write a job posting that didn't seem to attract the right candidates? You're not alone!
It can be hard to know what to include in your post and how to make it stand out. But we're here to help.
Here are some easy steps for writing a concise and attractive remote job posting:
Make the job title searchable and clear

The job title is the first thing the potential candidates see. Hence, when creating a job listing for a remote position, it's essential to use an accurate job title. This way it can help the candidates determine whether they're a good fit for the role.

Job seekers will also search for standard job titles like "graphic designer" or "logistics manager". Therefore, your posting will more likely appear in search results if you use these titles. Additionally, an accurate job title can help you avoid confusion or misunderstandings during the hiring process. 

Be transparent from the very beginning

From the very start, it's crucial to be transparent about both the good and the bad. On one hand, you want to highlight the positives of the job — the flexibility, the ability to work from anywhere, etc.

On the other hand, however, you don't want to sugar-coat the challenges of working remotely, e.g. the occasional need to shift work hours to collaborate with colleagues in different time zones. 

Being transparent will help you attract suitable people for the job, since candidates who know what they're getting into are more likely to succeed in the role. That's, in turn, beneficial for everyone involved.

Describe the company culture in your remote job listing

This will give potential employees a better sense of what it's like to work for your organization and whether they would be a good fit.

Here are some things to keep in mind when describing your company culture in a remote job listing:

Do employees have a lot of autonomy? Are employees encouraged to be collaborative and innovative, or is there more of a traditional hierarchical structure? Is synchronous or asynchronous communication preferred?

By including this information in your remote job listing, you'll be able to attract candidates who are prepared and genuinely excited about working for your company.

Be clear about the must-have qualifications and skills

Whenever you post a remote job listing, it's important to be clear about the qualifications and skills required for the position. This way, you can ensure that only qualified candidates apply for the job.

Take time to share in the job description what experience and qualifications you expect your ideal candidate to have. While you should be specific about your expectations, you should also show some flexibility.

You don't want to put any potential candidates off by being too specific. Be sure to present the most important criteria, while leaving out those with greater adaptability.

Example: Bachelor's or Master's degree in marketing from XYZ university with GPA 3.8 or higher

Don't forget the best part — company benefits and job perks

To attract the best and brightest to your company, you definitely should include company benefits and job perks in your remote job listing.

Some of the best company benefits and job perks for remote workers include flexible schedules, ability to work from anywhere in the world, and access to high-quality equipment. Other benefits include health, dental, and 401k plans.

No matter what benefits and job perks you offer, including them in your remote job listing is a great way to make your company stand out from the crowd.

Provide details about the type of remote work and the responsibilities

There are many types of remote work, such as remote-friendly, hybrid remote, or telecommuting, each having a different name and a slightly different level of "remoteness" and flexibility.

Be clear from the get-go on what you expect from your candidates. Include the time zones, work hours, and key responsibilities. Doing so will attract the right applicants, ensure transparency and prevent any disputes in the future.

Describe the entire application and hiring process

Explaining the hiring process upfront sets expectations for you and the candidate and helps ensure a smooth and successful onboarding experience.

Include details such as whether you require both a resume and a cover letter, how many rounds of interviews to expect, whether there'll be any assessment, and what other steps there are.

This way, candidates can be prepared for each step of the process and feel confident moving forward. Furthermore, a remote job listing detailing the hiring process is more professional and shows that you're committed to making the remote working experience positive for everyone involved. 
Remote job posting example
Here's an example of a remote job posting containing all of the necessary information and more:
An example of a remote job posting
How to adjust a remote job posting to a specific position and seniority level
When writing a job posting for a remote position, also consider what kinds of things are important to different remote workers. Doing so ensures you're tailoring the posting to the right candidates.
While developers might be interested in the technologies a project uses, someone in customer support might be more interested in the company's culture and values.
And once you've settled on what kinds of things are important to your target audience, you can start adjusting your job posting accordingly.
Consider this:
For junior positions, you can focus on things like training and development opportunities.
For mid-level positions, you might want to highlight the company's growth potential.
For senior positions, you might want to emphasize the autonomy and responsibility that comes with the role.
Editor in Chief

Martin Poduska is a resume expert and career advice writer at Kickresume. He leads Kickresume's team of writers and is the main person responsible for upholding the standards of expertise and quality on the blog. In addition to having written nearly 100 in-depth, painstakingly researched resume advice articles, as chief editor he has also edited and revised every single article on this blog. Tens of thousands of job seekers read Martin's resume advice every month. Martin holds a degree in English from the University of St Andrews and a degree in Comparative Literature from the University of Amsterdam.