It's an exciting time to be looking for a job in India, as the country is set to become the third-largest GDP growth engine for the planet by 2030. But landing your dream job there starts with knowing the Indian resume format by heart.
Did you know that the Indian resume format has some unique features that set it apart from its Western counterparts?
Tailored specifically to appeal to Indian employers, this format highlights your skills and qualifications while placing a strong emphasis on academic achievements, technical skills, personal details, and in some cases, even family background.
As a resume builder that's helped over 2.5 million people create their resumes, many of them coming from India, we're here to share our expertise and guide you through the ins and outs of the Indian resume format.
In this short guide, we'll walk you through the essential components of an Indian resume, share some design and formatting tips, and provide a list of dos and don'ts to help you create a resume that gets noticed by Indian hiring managers. We'll also show you an Indian resume sample from a real person who got hired.
Understanding the Indian resume format
While in many aspects, the Indian resume format mirrors resumes from the rest of the world, there are some significant differences.
Generally speaking, the Indian resume format places greater emphasis on personal details, educational qualifications, and technical skills.
While some aspects of the format may be considered unconventional by Western standards, they serve to showcase the unique strengths of Indian professionals.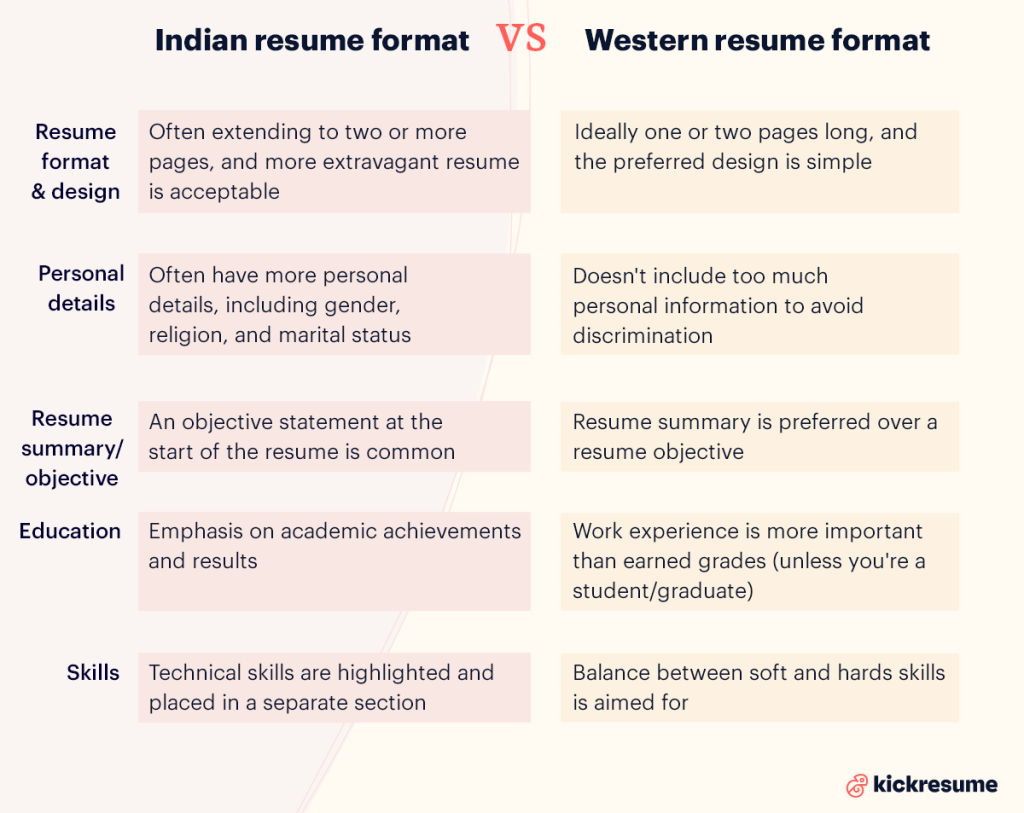 What are the key differences between Indian and Western resume formats? 
Indian resumes can be a bit longer. In the Western parts of the world, the length of your resume is ideally one or two pages. Yet, in India, recruiters and hiring managers often accept resumes as long as three pages. So don't hesitate to include more information on your resume that you'd, for example, in the U.S.
Resume formats are often detailed and elaborated. Compared to Western countries, in India, you can get away with relatively extravagant or creative resume designs. Indian resumes may use more decorative elements, including borders, colors, and different fonts. Western resumes, especially in the US, tend to have a more minimalist and clean design, with limited use of colors and a focus on readability.
More personal details. While Western resumes typically only include the candidate's name, email address, and phone number, Indian resumes often include additional information like date of birth, gender, marital status, religion, and sometimes even the names of the parents. That's because Indian recruiters may be interested in the candidate's family background. However, you should only share what you feel comfortable with.
Objective statement. Indian resumes often begin with an objective statement that outlines the candidate's career goals and aspirations. Western resumes, on the other hand, tend to replace the objective statement with a professional summary that highlights the candidate's key strengths and accomplishments.
Emphasis on academic qualifications and achievements. While Western resumes generally focus more on skills and work experience, the Indian resume format places significant emphasis on educational qualifications by providing detailed information about grades, ranks, and distinctions.
Technical skills and certifications. Indian resumes put an emphasis on certifications and a wide range of technical skills. These are typically listed in a separate section before the work experience section and are clearly divided by areas of expertise. Western resumes, on the other hand, tend to integrate technical skills within the work experience section or list them in a separate skills section without emphasizing certifications as much.
Now that you know the key differences between Indian and Western resumes, let's have a look at a real resume sample from an Indian job seeker. 
Indian resume format sample
So, what does an Indian resume look like?
Take a look at the Indian resume example below. It comes from a real person who got hired as a Junior Business Analyst at American Express.
See how "Corey Graves" emphasized his academic achievements, including earned grades, even though he already has professional experience.
He also cleverly opened his resume with a resume objective and used bullet points to structure his text. Thanks to that, his resume is extremely easy to read.
Junior Business Analyst Resume Example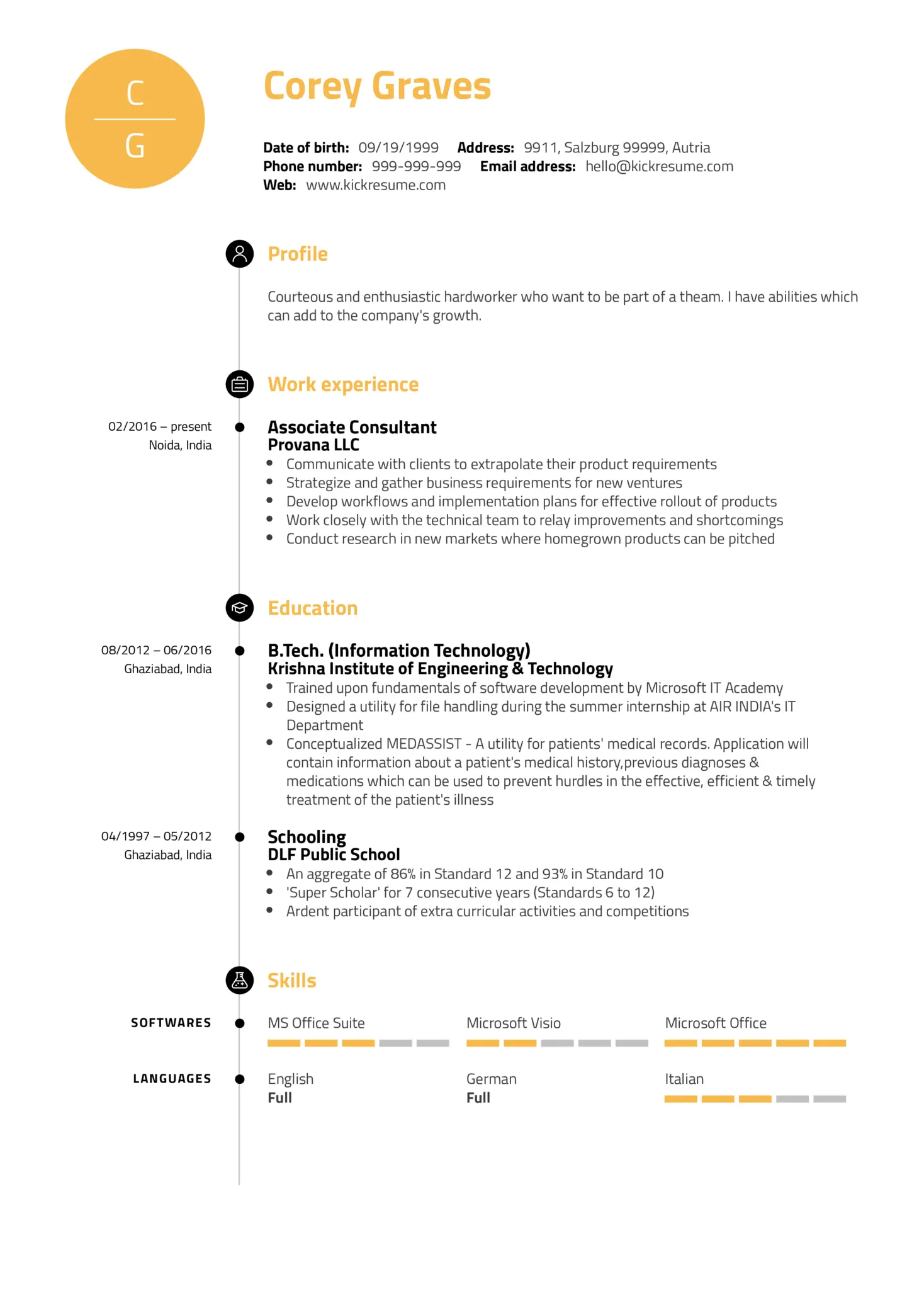 Which resume sections are a must in your Indian resume, then?
Main sections of the Indian resume format
Generally speaking, the Indian resume format follows all the established practices of good resume writing, such as being concise, relevant, and customized for each specific job position.
Yet, as stated above, there are a few formatting differences compared to American or European resumes.
To avoid making any mistakes, take a look at the essential sections that you should include in your Indian resume (and what to write there):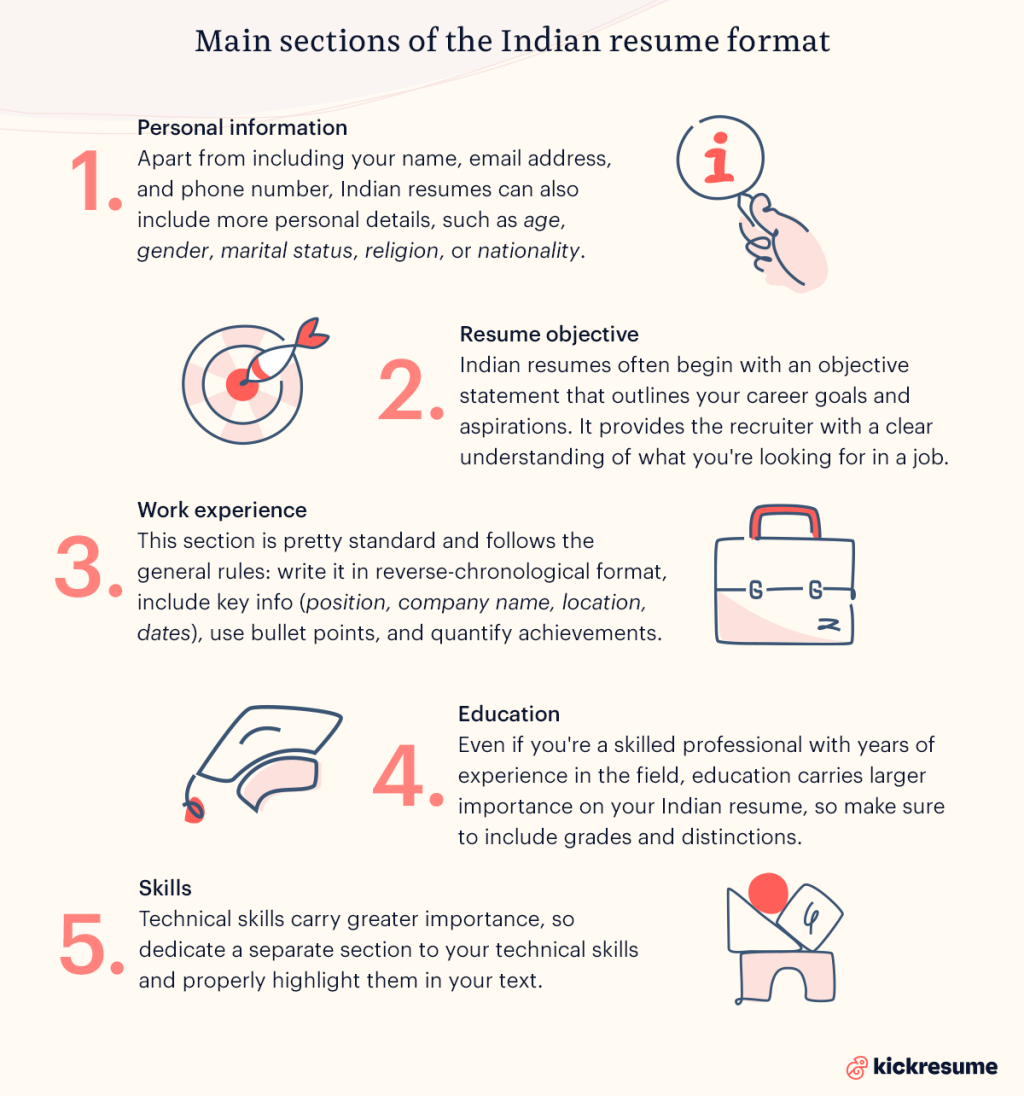 1. Personal information
First of all, just like any other resume in any country around the world, an Indian resume should always include:
candidate's name
email address
phone number
address (especially if you live close to the job you're applying for, be it your home address, student accommodation, or university)
In India, including personal details, like your gender, nationality, or religion, can help a prospective employer get a better mental picture of you as a candidate.
Because of that, on your Indian resume, you can also:
Include more personal details than in most other countries. Information such as age, gender, marital status, and nationality are acceptable.
List your religion, race, or caste if it helps your candidacy (according to the Indian resume writing service Vibranturre).
End the resume with a self-declaration and signature. Something like the following line will suffice, followed by your signature, date, and place: Declaration: The information stated above is true to the best of my knowledge and belief.
However, only include personal details that will help you score the job.
2. Resume objective
While in the Western world, resume summary has slowly but surely replaced the resume objective, in India, it's more common to see an objective statement at the beginning of resumes.
What's the difference between the two?
A resume summary is a brief statement at the beginning of your resume that highlights relevant skills, experience, and accomplishments. It allows recruiters to see the highlights of your professional career.
The resume objective outlines your career goals and aspirations, providing the recruiter with a clear understanding of what you're looking for in a job and where you want to head in the future. In other words, it's future rather than past-oriented.
The best thing you can do is to go with the one that recruiters are the most familiar with in your country. And when it comes to India, a resume objective is still more popular.
Here's an example:
Still, if you choose to instead go with a resume summary, you probably won't make a mistake. 
3. Work experience
The work experience section is pretty standard, and even in India, you should follow the general rules that are also applicable in Western countries.
You should:
Choose the reverse-chronological resume format, as it's the most common resume format in India. Place the most recent relevant work experience first and work backward through your previous roles.
For each of your past work experiences, write the name of the position, the name of the company, the location, and start and end dates.
Use bullet points to structure the work section and make it easy to filter through.
Quantify your accomplishments. When you use numerical data to support your previous achievements, you come across as professional and trustworthy.
Select only those experiences that are relevant to the position that you're applying for.
4. Education
Even if you're a skilled professional with years of experience in the field, unlike in the Western world, education carries larger importance on your resume in India. 
So, how should you go around it, and what should you include?
Just like your experience, list your educational achievements in the reverse-chronological order with the most recent qualification first.
Include essential details such as the name of the institution, the degree obtained, and the year of completion.
Plus, Indian resumes may also include more details about your academic achievements, such as marks or grades, certificates, ranks, and distinctions.
5. Skills
First of all, let's define what resume skills we recognize. Generally speaking, there are two types of skills: 
In the Western resume format, the skills section is often one of the smaller sections on the resume, as job applicants include a lot of the skills directly in their work experience.
However, in India, the "Skills" section tends to take up more space. Especially hard (or technical skills) are a must on the Indian resume, and they're valued more than soft ones. Thus, make sure that you dedicate a separate section to your technical skills and properly highlight them in your text.
6. Other resume sections
Apart from the essential resume sections, there are also other additional sections that you can include on your resume:
Certificates. If you have relevant certificates, put them in a separate section called "Certificates" or "Courses." In India, they're valued a lot.
References. Indian resumes often include a list of references or a statement indicating that references are available upon request. While you don't have to put them on your resume, if you have an extra space in your resume, filling it with a reference creates a sense of professionalism and dependability.
Volunteering. If you've ever done any volunteer work, don't be shy to put it on your resume. It's always a plus. Volunteering shows you're a proactive, motivated, and socially conscious candidate who's not afraid to take the initiative when it's needed.
Languages. With India being a giant, multicultural, and multilingual country, the languages that you can speak make a genuine difference. However, include only those languages that you're fluent in. If you took a German class in high school years ago, it doesn't really count as an asset.
Final tips for the Indian resume format
Consider including a photo. As opposed to resumes in the USA and the UK, the Indian resume format typically encourages a photo of a candidate. And while the resume picture isn't mandatory, it can often add a much-needed layer of authenticity and professionalism to your resume. Just any photo won't do it, though. The photo on the Indian resume needs to be a professional passport-sized picture of your face.
Stay relevant, be selective, and avoid mentioning unrelated facts. Many of the things people customarily put on their resumes (in India but also everywhere else) are often completely irrelevant to potential employers. Remove any information that won't help an employer decide whether you'll fit for this specific position.
Don't get too personal or negative. Never mention your weaknesses, past failures, reasons for leaving your previous job, expected salary, and the like. Also, don't include your father's or mother's occupations.
Be honest. Aim to show yourself in the best possible light but never lie on your resume. If you get hired, your employers will quickly find out, and you'll end up damaging your reputation.
If needed, print your resume. Even though most applications nowadays are digital, some companies may still require a printed resume. If this is your case, when it comes to printing, the Indian resume format uses white A4 size sheets of paper. Print only on one side of the paper, and never fold your resume.
Only include your current address. Many people in India include both their permanent and current mailing addresses. But this practice can only confuse a potential employer.
Email address. When it comes to the email address from which you're sending your resume, make sure it doesn't sound childish or unprofessional. When in doubt, get an email address in the "name.surname@hosting" format.
Junior Writer

Kaja Jurcisinova is a junior copywriter at Kickresume. Kaja completed her undergraduate degree in Art History at the University of St Andrews in 2018 and graduated with a Master's in Arts and Culture from the University of Groningen in 2021. She was an intern at multiple cultural institutions across Europe, including the Dutch Museum Association in Amsterdam, the Matter of Art Biennale in Prague, and the European Cultural Centre in Venice. At the moment, she resides in Visby on the Swedish island of Gotland.