Are you looking for love? You download Tinder. Or is it pizza that you crave? Well, there are delivery apps for that, too. But what about needing a job? No worries, the IT world has got you covered! Now, you can choose from many job search apps that will help you find a job quickly and easily.
Job search apps make it possible to work on your job application from anywhere and at any time.
However, if you're struggling to pick the best one from all the job search apps out there, we've done the hard work for you.
Here's a selection of the top 7 job search apps that are easy to use and they can help you land a new job.
What is a job search app?
A job search app is an app that you can download to your phone (or your desktop for that matter).
Why you'd want to use job search apps?
to let you know about available jobs
to help you to apply to a job offer
some job search apps even help you create a new resume or a cover letter (in other cases, you need to prepare these documents beforehand)
The biggest advantage of job a search app is that it keeps you in the loop even if you're constantly on the move or traveling.
The job search app also lets you set up notifications. Thanks to this you can always stay updated and not miss out on the best and most competitive offers.
What are the best things about using mobile job search apps? Accessibility, automatized options, intuitive use — and they save time.

Types of job search apps
You can find a dedicated job search app for every stage of the job application process. Some will help you create a resume and cover letter, others will let you search for a job, prepare for your interview, or even network.
(Mobile) resume builders
Why would anyone want to use a resume builder app? Well, it makes your life significantly easier.
You don't need a computer to create or edit your resume!
The resume builder app offers resume templates that will make your resume look just perfect.
Your CV will have the perfect structure and you'll never again miss an important section. The resume builder will guide you and suggest where on your resume you should place your experiences, education, and skills.
In other words, a resume builder — even if it's in a form of a mobile app — will ensure your CV is sleek, organized, and professional. You'll stand out from the crowd of applicants.
If you aren't entirely sure how to write a good resume, and what section of your CV is the most important, take a look at this complete resume writing guide — it offers all the information about writing a resume you'll ever need.
Job boards
A job board is a website on which employers post available vacancies for jobseekers to see. It comes as no surprise that you can find job boards in form of mobile apps, too.
Oftentimes, an expected salary and the length of the contract are listed here, too.
The best-known job boards are CareerJet, Glassdoor, or Indeed.
Remote job boards
Remote job boards are similar to classic job boards. The main difference is that the remote job boards post exclusively those job positions, which can be done fully remotely, or from a home office.
This form of employment gained wide popularity in 2020 thanks to the pandemic.
Since then, remote work has proven to be equally — if not more — productive than work from the office.
Interview preparation
Many job seekers would agree that the most stressful part of any job search is the interview preparation and the interview itself.
Nowadays, there are apps that can help you with handling the stress.
There are apps that can help you with everything from evaluation of your interview skills, giving tips on your professional attire, to simulating possible interview scenarios.
Social media sites
The advantage of social media networks, compared to conventional job boards, is that they let you reach out to recruiters or people who already work at your dream company directly.
The best example of such app is probably LinkedIn. It is the golden standard social media that is used by job seekers and HR departments worldwide.
It lets recruiters reach out to you directly. What's more — you can also reach out to a recruiter on LinkedIn yourself!
However, there are also other social media apps where it's possible to look for and find a job.
Until February 2022, Facebook had a separate job search section with vacancies. Sadly, this service is no longer available. But you can still join one of the numerous job search groups. In these groups, vacancies are posted by Facebook users.
Some people also managed to find a job via Instagram or smaller local social media platforms. Just keep your eyes open, especially for ads.
Best job search apps
Here's a selection of the top 7 job search apps. Just scroll down and pick that job search app, which fits your needs the best!
1. Kickresume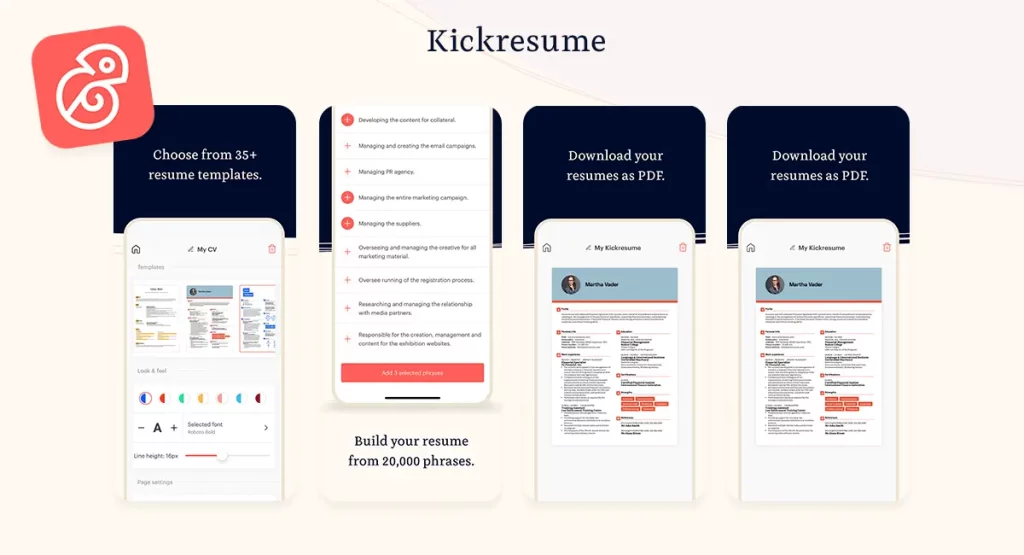 Kickresume is one of the cheapest, yet most accessible and visually attractive resume builders and job search apps out there.
Top features: Kickresume is primarily a resume builder with 35+ customizable resume templates that are both ATS friendly and great-looking. It has more than 1.3 million happy customers worldwide.
Kickresume also lets you create a matching customizable cover letter, offers a proofreading service (in English and in Spanish), and comes with 20,000+ pre-written resume and cover letter phrases.
Finally, it lets you post your documents online and share them with recruiters via a link.
Accessibility in stores: You can find the Kickresume app on the App Store and Google Play.
Pricing: There are 4 basic resume templates which are completely free. If you prefer one of the fancier templates, you can opt for one of the paid prescription programs. But if you subscribe to a yearly plan, then you'll pay only 7€/month!
2. Indeed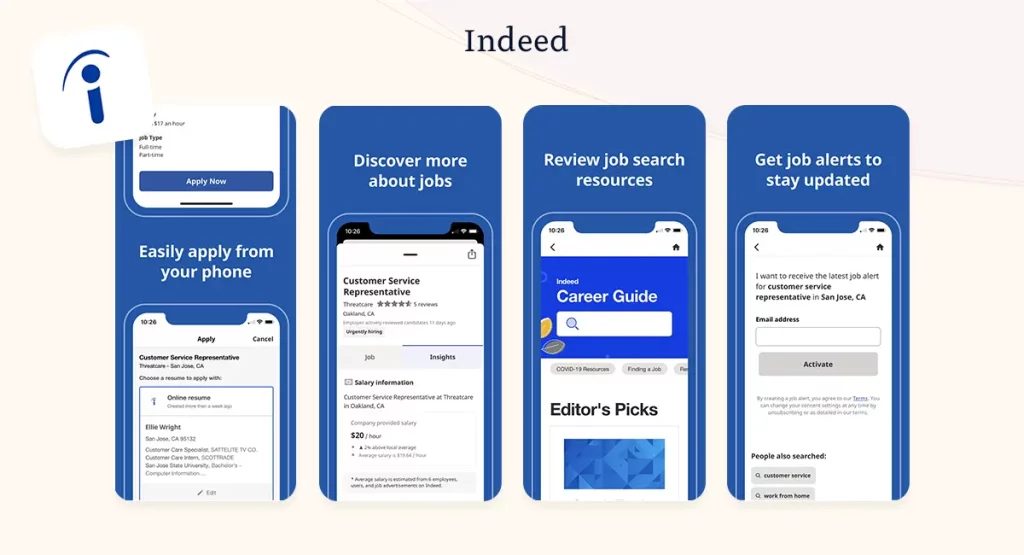 Top features: Indeed is indeed (heh) one of the most popular job portals on the planet and offers a wide variety of vacancies in all industries.
Indeed has also a company review section that gives you a chance to learn about a company and its culture before entering it.
However, bear in mind that there may be a high number of applicants per vacancy — thanks to Indeed's popularity. This means that if you apply through the Indeed app your competition may be quite high.
This is why you should definitely keep the notifications on!
Accessibility in stores: It's available on both App Store and Google Play.
Pricing: The mobile app is free!
3. Monster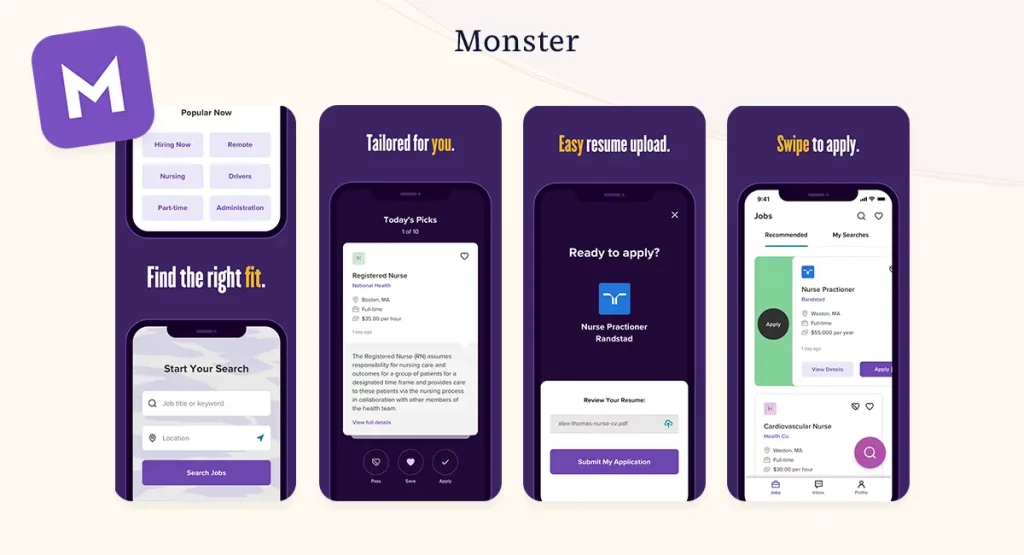 Top features: The biggest advantage of Monster is its easy and intuitive use. Just like Indeed, Monster is another internationally successful job board with millions of job offers, which is one of its biggest advantages.
It also advertises blue-collar offers, not only white collar vacancies. So they get a plus point for the variety. Monster can also send you tailored vacancies.
However, if you're willing to pay for a Monster subscription, you can use their resume writing service. It's on the pricer side but you usually get what you pay for.
Accessibility in stores: You can find it both on App Store and Google Play.
Pricing: The app itself is free! On the other hand, if you want one of the subscription plans that allow you to apply for a higher number of jobs, you'll have to pay between $10 and $25 per day.
4. Glassdoor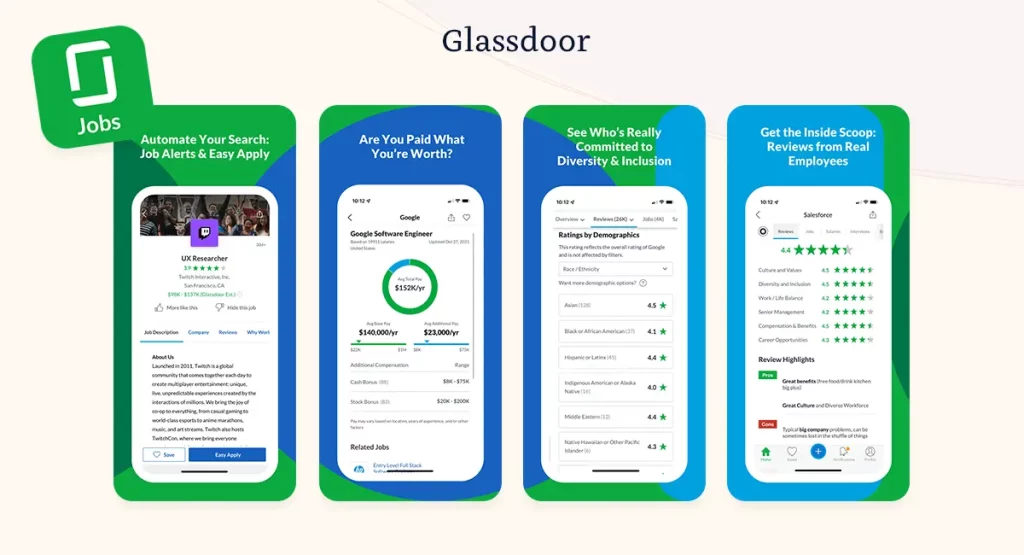 Top features: Glassdoor is the job search platform to use if you're trying to research a company and find out what it's like to work there.
Glassdoor gives potential employees a chance to see what they're getting themselves into; even before actually putting effort into applying.
Glassdoor reviews focus on fair pay and diversity/inclusion policies of hiring companies. So if these values matter to you, Glassdoor may be the ideal job search app for you.
Accessibility in stores: It's available on both Google Play and App Store.
Pricing: Good news, it's completely free!
5. LinkedIn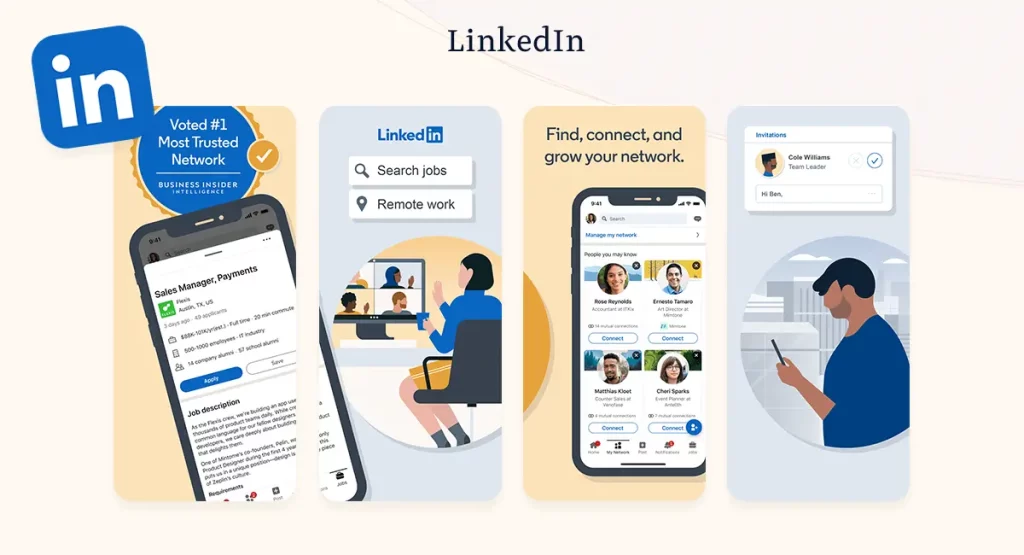 Top features: LinkedIn gives you chance to cultivate an online professional network — and we all know that getting a job is easiest via connections.
One of LinkedIn's top features is that you can clearly show that you're looking for a job by ticking "open to opportunities."
But don't worry, your boss won't see this. This detail is visible only to recruiters!
LinkedIn has really made a name for itself, for better or worse. Over the years it has attracted a large community and apart from everyone showing off, it does help professionals with landing jobs.
And there's a reason why LinkedIn is so popular among job seekers. In fact, 77% of all recruiters use LinkedIn to search for new employees.
Accessibility in stores: App Store and Google Play.
Pricing: The app itself is free. Then you can search for jobs for free, or pay $29.99/month for a LinkedIn Premium Career account.
6. ZipRecruiter Job Search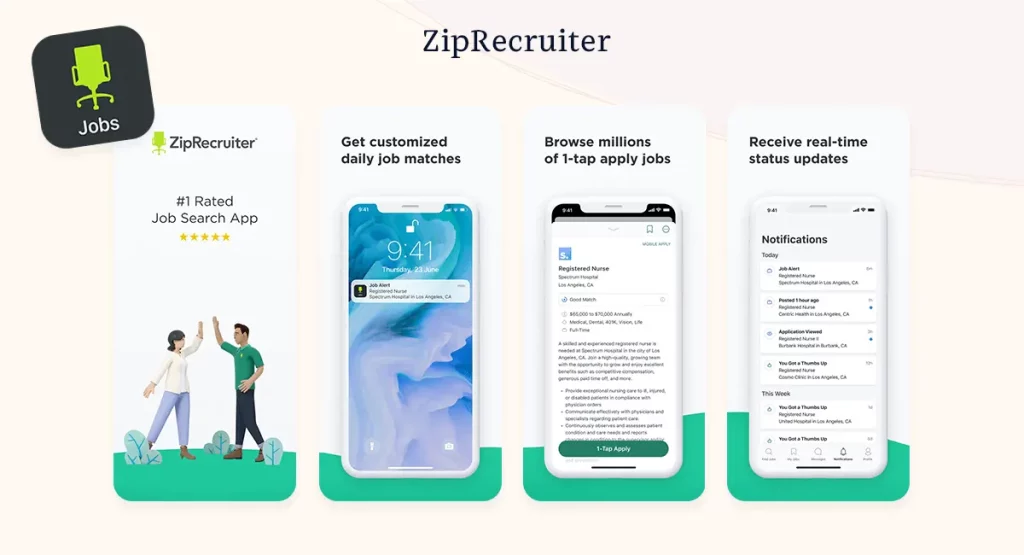 Top features: Their system of notifications. Not only does the user gets notified about the best jobs available on a given day (based on your preferences), but the ZipRecruiter App also informs you about people who viewed your CV.
You also receive application status updates. We all know how helpful this can be when impatiently waiting for a response after an interview.
And just like LinkedIn, the ZipRecruiter app makes you visible to recruiters if you tag yourself as looking for new opportunities.
Accessibility in stores: Here on App Store, and here on Google Play.
Pricing: It's free!
7. My Mock Interview Preparation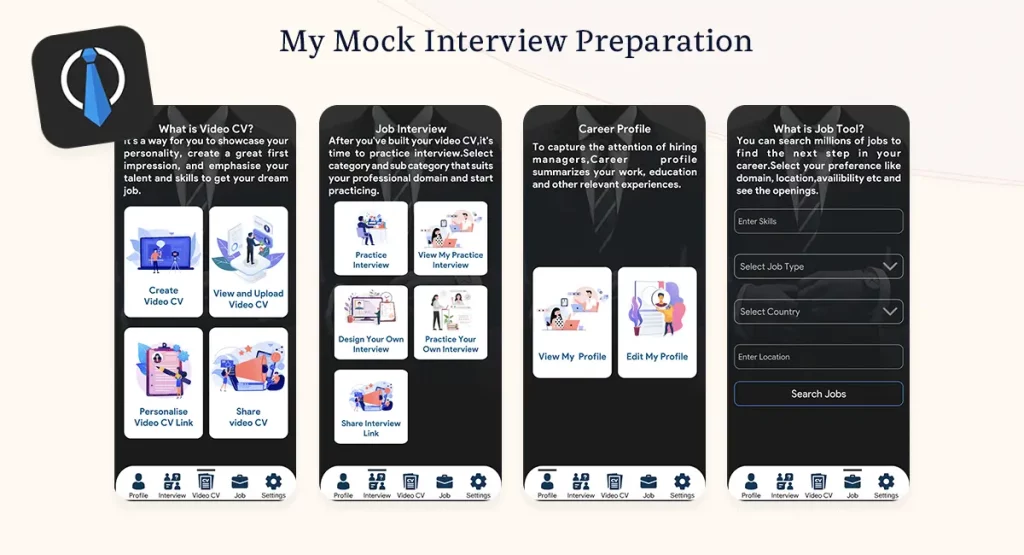 Top features: This popular interview simulator lets you practice various interview scenarios. With it, you can properly prepare for an interview in your chosen industry. It makes face common questions.
With practice, your confidence will grow. And it's often confidence during a job interview that lands you a job.
Additionally, in this app you can also make your own video resume.
We recommend this app especially to starting professionals who don't have much experience with interviews.
Accessibility in stores: Available on App Store and GooglePlay.
Pricing: Free!
How to use these job search apps
When it comes to using the job search apps, naturally, there are some small differences based on the job search app that you're using.
However, generally speaking, the following tips should be universally applicable to most of the popular job search apps.
Fill in your profile. Follow the instructions on the page, but not religiously. Don't forget to customize it. For instance, ask yourself, if adding a photo to your job application is a requirement in the country where you're applying for a job. Is it not? You can skip this part!
Moreover, when you're applying for a position that isn't located in your city or country, it may be a clever move not to mention your stable address. There'll be plenty of time to discuss the details of your relocation once you've got the interview. Don't scare away the recruiter before they have a chance to find out how great you are!
Make updates/changes to your resume based on the specific vacancies. Not a single vacancy is the same. And sending the same resume to every job offer is one of the biggest mistakes that job seekers do (and believe me, they do it often). Therefore, always tailor your resume so it mirrors the vacancy for which you're applying. Leave out the information that isn't relevant, add the one which may be.
Be mindful of autocorrect. We all know how an all-knowing autocorrect on your phone can mess up just any message that you're sending out. While some autocorrect changes may be funny in the private context, in the professional world, a single typo can ruin your otherwise high chances of getting a job. So, before hitting that send button — always double-check, double-check, double-check.
Don't get fooled by the simplicity of the job search app. Job search apps make job search and resume alternation accessible and easy. On the other hand, you're still applying for a job — and that's a serious business. Don't forget that you must remain professional (even if you're typing on your phone) and don't take the process lightly.
Junior Writer

Kaja Jurcisinova is a junior copywriter at Kickresume. Kaja completed her undergraduate degree in Art History at the University of St Andrews in 2018 and graduated with a Master's in Arts and Culture from the University of Groningen in 2021. She was an intern at multiple cultural institutions across Europe, including the Dutch Museum Association in Amsterdam, the Matter of Art Biennale in Prague, and the European Cultural Centre in Venice. At the moment, she resides in Visby on the Swedish island of Gotland.