Did you know you could generate a resume from your LinkedIn profile — within LinkedIn's website?
Yeah, not many people know about this option. It's such a hidden tool, you'd think LinkedIn's resume builder was intentionally hidden in shame.
And perhaps that's the case, as there are a few downsides to using it.
We've tested it and will show you everything you need to know about the LinkedIn resume builder, its strengths and weaknesses, and alternatives.
What is a LinkedIn resume builder?
The LinkedIn resume builder is a free web-tool that allows you to either import an existing resume or generate a new resume from your LinkedIn profile.
It populates a simple resume template which can be easily edited without impacting your profile. You're also able to download the finished resume as a PDF.
So, how can you create a resume there exactly? Let's have a look!
Step-by-step guide to LinkedIn resume builder
Before you can begin using the LinkedIn resume builder, you first need to create and log in into your LinkedIn account. Once you have done that, you can continue with the following steps:
Click the

Me

icon at the upper corner of your LinkedIn profile page.

Click View profile.
Select the More button beneath your name and contact information.
Select Build a resume from the dropdown menu.
Upload or create resume from profile.
Enter job title for keyword: Adding your job title will give you keywords suggestions related to your job.
Click Download as PDF.

That's it, simple right?
I've tried it myself too and here's what it spat out:
Resume from LinkedIn resume builder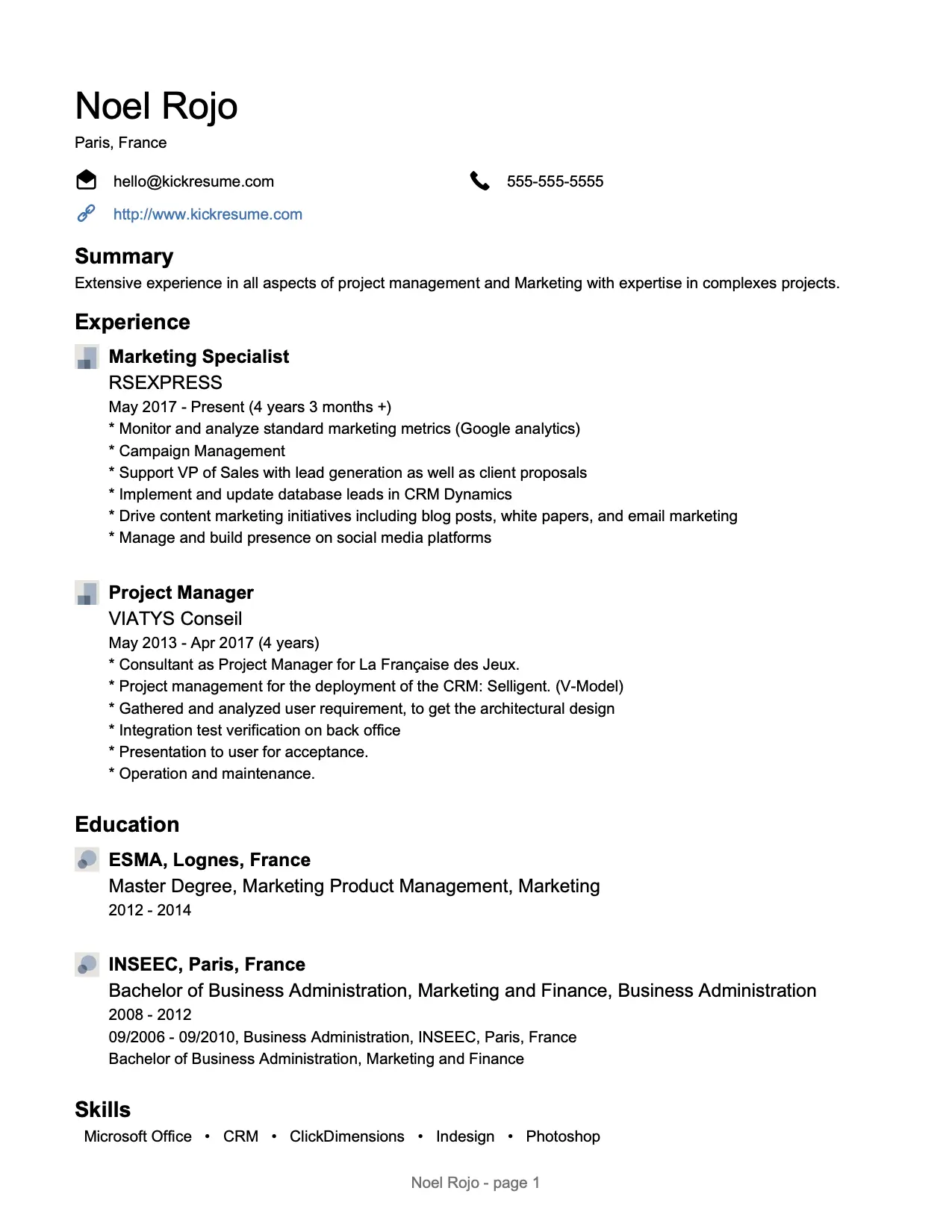 So, what do we think? Is this a resume that will get you hired?
Not quite. There are two main problems that one can spot immediately:
Template. With your resume, you want to stand out. However, the LinkedIn resume template is pretty boring. Plus it contains a lot of white space, forcing you to write sparingly if you don't want to go over one page.
Content. LinkedIn profiles and resumes have different functions. You'll not be getting a great resume by merely clicking the "Create from profile" button.
If you want better results, you're going to have to tweak your LinkedIn resume — heavily.
Believe me, you really don't want to just copy and paste your LinkedIn profile into a resume and call it a go. We'll go over why in the chapters below.
5 ways a LinkedIn profile differs from a resume
Although the LinkedIn's resume builder is a simple and easy to use tool, it comes with many limitations.
For starters, a good LinkedIn profile rarely translates into a good resume. Perhaps because both are meant to perform different roles.
Here are 5 ways in which a LinkedIn profile differs from a resume:
Less formal: Although still professional, your LinkedIn profile should be casual.
Includes a profile picture

:

Including a resume photo

in most western countries is a no-no. However, uploading a professional portrait picture on your LinkedIn profile is advised.

Longer and more descriptive

: For sake of brevity a

resume's length

is kept between one and two pages long. Such limitations are not the norm on a LinkedIn profile.

Not tailored to individual jobs

:

Usually it's recommended to tailor a resume to every job application. On the other hand, this is not something you do with your LinkedIn profile. That one you just keep relevant to your field.

Written in 1st person instead of 3rd

: Unlike a resume, you can

use "I" and other personal pronouns such as "me, my, we, our," etc.
As you can see, these differences are not so small and will definitely complicate things when converting your LinkedIn profile into a LinkedIn resume.

Luckily, there's a better way.
Better alternatives to LinkedIn resume builder
Some resumes can distinguish an applicant at a glance.
They ooze personality, not just because of how they're written, but because of how they're formatted and how they look.
Unfortunately, this is something that is pretty much impossible to pull off with the LinkedIn resume builder. You just don't have the options.
In fact, I believe you would be better off creating a resume via Microsoft Word or Google Docs where you at least have some liberty to personalize it.
But we know how hard and time consuming these programs can be.
This is where dedicated resume builders like Kickresume come in. You can still import your LinkedIn profile into them to get a head start, except you now have the option to choose between 30+ resume templates and millions of possible combinations.
Just follow these steps:
Login/Signup to Kickresume.com
Select Create New and Import from LinkedIn
Follow onscreen instructions
Pick a template and adjust your content
In the end, you don't need to worry about the formatting or whether it looks good or not.
You can instead dedicate your time to writing a great resume and to properly use LinkedIn to get a job.
Christy's word of advice

While I'm a huge fan of LinkedIn, unfortunately I can't say the same about its underwhelming resume builder. If you're in a hurry and just need a PDF copy of your work history, go ahead and use it. But if you want a document that you can extensively format and quickly edit, or that looks attractive, avoid it. Or use a platform that enables you to pull data from your LinkedIn profile and edit it in a separate resume builder (hint, hint — Kickresume 😉 ).

Christy Morgan, Resident HR Expert
What to adjust when creating a resume from your LinkedIn profile
If you decide to create your resume via LinkedIn or with importing your LinkedIn data into a dedicated resume builder, here's how to edit it:
Keep it short: Even though your LinkedIn profile allows you to have a whole career history, on your resume, you typically focus on specific aspects and you're limited by a number of pages. Try to keep it short and relevant, don't go over 2 pages.
Change the tone: A resume is a formal document and your tone should reflect that. Eliminate colloquial phrasings and avoid using first person pronouns — heck, you can even opt to remove all personal pronouns.
Edit your summary: Majority of LinkedIn summaries are far too long for a resume. Keep your profile 2-5 bullet points long, 3 being the sweet spot.
Reduce the skills section: Unlike a LinkedIn profile, a resume doesn't need the 30 skills you added for SEO purposes. Jot down only the most relevant ones. 3-6 should be more then enough.
Change your keyword optimization: While a LinkedIn profile uses keywords that speak the language of a career field, a resume should speak with the language of the prospect job or company.
For more tips, check out this guide: How to Rewrite Your LinkedIn Profile Into a Job-Winning Resume (+Screenshots)
Key takeaway
In conclusion, although the LinkedIn's resume builder can be great way to jump-start the resume writing process, it's really not an ideal way to create an attention grabbing resume.
It lacks options, it's clunky and the template is bland.
Honestly, if you're to spend time on LinkedIn, you're better off spending it perfecting your profile. You'll get noticed on LinkedIn better that way.
Resident Writer

A documentary photographer and writer. Noel has worked for International publications like Deutsche Welle in Germany to News Deeply in New York. He also co-founded the global multimedia project Women Who Stay and collaborated as a journalist fellow with the University of Southern California. He went from traveling around the world to sitting on a couch thanks to the pandemic, but he got a nice job working for Kickresume thanks to that, so he won't complain.