Tobi scored his dream job as a Merchant Success Manager at Shopify. However, it took him seven job applications over four years.
Yes, seven. Some of us would have given up after the second try.
But Tobi didn't. Shopify was his dream company and he didn't want to give up on his dream that easily.
The moral of the story? Job rejections suck but they happen to all of us. Don't be discouraged when things don't work out. It just means you're one step closer.
You've just got to improve and try again.
And you probably wonder what did Tobi do differently the last time he applied. The main game-changer was his new resume (from Kickresume) which had a 80% callback rate.
Pretty crazy, right?
That's actually how we found out about him. Tobi shared his resume on LinkedIn and our colleague Milan noticed it. It made us think "Whoa! Who is this guy? He's cool! We need to meet him."
So, here we are. You'll find the whole story in the interview below (even Tobi's resume — because you just need to see it).
Tobi will tell you:
How he got his dream job at Shopify;
What he changed in his resume;
What else he changed in his approach after the rejections;
What to do if you're down this route too;
How to get insider information from the company where you'd like to work;
What it's like to work as a Merchant Success Manager at Shopify;
How he's helping international students find jobs;
Why networking is super important;
And more.
Who is Tobi Oluwole? (Merchant Success Manager Resume Sample)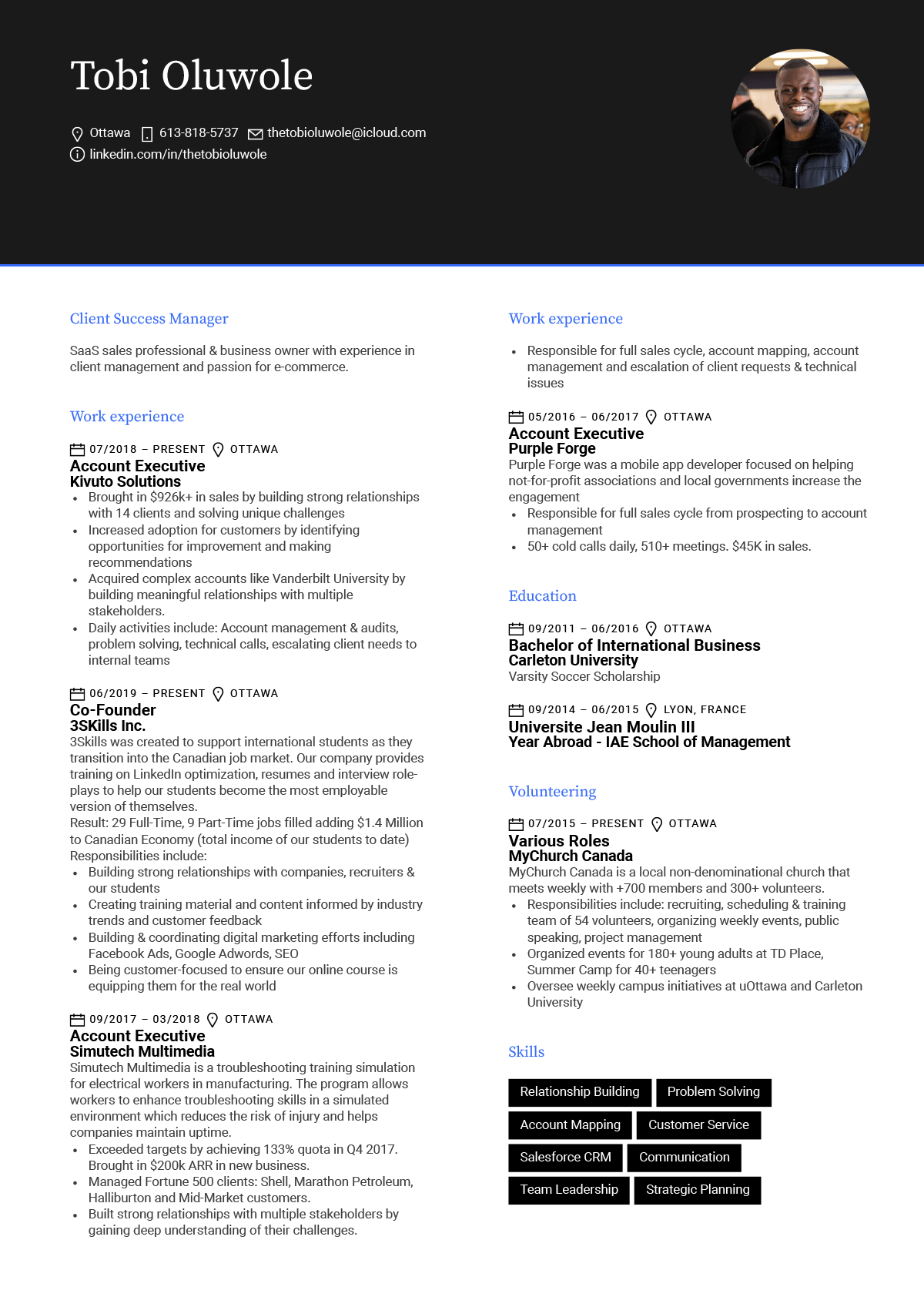 You got your job at Shopify after quite a long journey — seven job applications throughout different years. Can you tell me the story behind it?
Sure. When I was in university, I started selling hoverboards and my friend had told me to set up a store on Shopify so I could sell. That was the first time I discovered Shopify — in 2015.
We made some good money using it so I figured Shopify was the company that I wanted to work for. The only problem was I didn't have any skill set that would allow me to work there.
I got my very first job at school in 2016. And then in 2017, it was the first time I interviewed with Shopify. And then I interviewed five times after that. I applied every year — in 2017, 2018, 2019, 2020... Overall, I applied seven times, I got to an interview five times and I got to the final interview four times. It was very frustrating.
What did you change in your last job application?
In 2019, my friend got a job at Shopify. And she had this really cool resume template from Kickresume. So, I tried to use her resume as a template and re-did my resume with Kickresume, and then I sent it. Literally within eight hours, the recruiter called me back and skipped me past the second stage of the interview, because I've done it like five times. She put me right into the final stage and then I got the job in twelve days.
Wow, that's pretty crazy! Given that Shopify's interview process is usually around two months, sometimes even more.
Exactly! The recruiter hastened it because of how well I communicated my values on the resume and during the interviews. It made me really stand out.
When I joined Shopify, obviously, a lot of my friends and people that knew I have been applying for four years, were really happy.
Then I wanted to help as many people as possible getting in as well. So I shared my resume on LinkedIn. Back then, at least two people used the exact same resume template at Kickresume and landed a job at Shopify too.
Really?
Yes. 😄 And since I joined Shopify, about twelve people got jobs here this way. A lot of them I pushed towards using Kickresume because at Shopify, they actually look at every resume. We don't scan for words with the ATS systems and throw them out. So, it makes it easier to get noticed.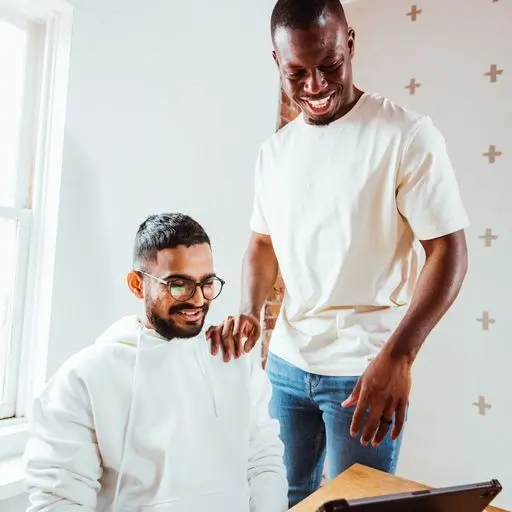 How did you know that Shopify recruiters look at each resume?
I got insider information from a friend that was already working there — as a recruiter. She said that recruiters look at each resume, so I put a big smile on it and I knew that it would feel more personal.
Did you apply for the same positions each time?
I applied for the same Sales rep position five times — from 2017 till 2019. Once, I applied for a different position, something like a Learning Management Specialist. That one, I got rejected right away. I deleted the email and pretended like it didn't happen. 😄
And then in 2020, I applied for the Merchant Success Manager role, which is where I am today. When I look at it now, it feels like I was applying for the wrong role the whole time. This role that I currently have is the role that I really enjoy. It doesn't feel like I'm working. It feels like I just get to have really good relationships with merchants and help them grow.
In sales, I always felt kind of out of place. I was charismatic and someone has interpreted that as being a sales person. But I never really felt like I was a good sales person. But when it comes down to building relationships, building trust and giving the right recommendations, it just feels like the perfect role for me. Or talking to other business owners, as I run my own business too.
I'm curious what made you apply again? Many people get very frustrated after job rejections and they don't want to apply at the same company ever again.
I have a pretty stubborn philosophy. 😄 I think it permeates every part of my life. Like when I wanted to take my wife — I just kept asking her until she said yes. Before saying no like three times. 😄
Growing up I just learned that when it's something you actually want, you just keep going until it happens. It might take years, it might take decades, but if it's truly what you want, you need to be patient.
Every time I got rejected, I cried and it sucked. I swore I'll never apply again. But six months later, I said to myself again "This is where I want to work." So I applied again and again, and got rejected again…
There was one rejection that was particularly bad. I was so sure I got the job. I started cleaning out my desk at my old job. I packed my computer and emptied everything out. 😄 I was waiting for the call, super excited, then I got the call and they said I didn't get it. I was devastated. I said to myself that I'll never apply again.
And then in May 2020 I was on LinkedIn at 1 a.m. sharp. It was pandemic. And I just saw a post from Shopify saying "we're still hiring". I checked if they had any roles for me, found one, applied, and this was the time I got the job. So, if I'd gone to bed at 12 a.m, I might not apply.
I guess that Shopify was your dream company to work for. Why Shopify? Apart from the fact that you liked it as a platform.
There were three major reasons. First, like I said, I'm an entrepreneur. I've owned businesses every year since I was fifteen. I used to flip iPhones, couches, then was selling hoverboards, clothes. I used to do soccer coaching. When I lived in France, I used to sell party tickets. There's like a million things. So, I've always understood the concept of profit.
Second, I always wanted to grow. And at Shopify I knew I would be forced to grow. The company is growing so fast that I would be forced to grow too. I wanted to be in an environment like that.
Third, I knew I would meet some of the smartest people in the world. Because those kinds of people are at Shopify. There are people who work a full-time job and own a million dollar business. And those are to me like heroes.
That's why I kept applying. I knew that if I got in, my life's going to change.
Did it?
Yes! I joined Shopify in May. My wife and I bought a house in June. Our company made $160,000 since I joined till today. I just knew that being exposed to such incredible people would absolutely elevate my life. And it definitely helped my dreams come true.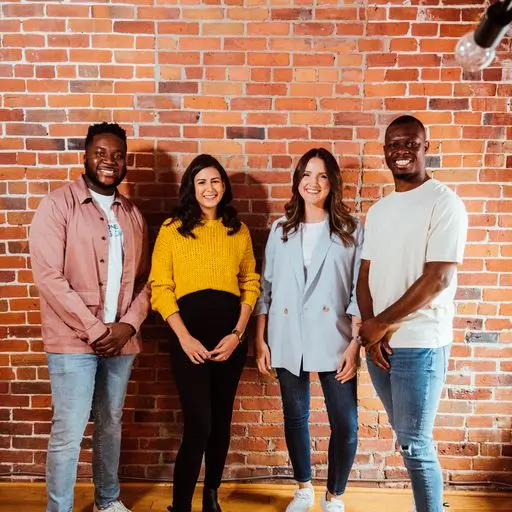 Wow, that's truly inspiring. Can you share some tips for other job seekers who are down this job rejections-route too?
First, you need to process it. When you get rejected, the one thing that I do very well is learn from my mistakes. I would debrief and ask the recruiter what I did wrong or what to improve. And then I'd improve it. If you look at it the right way, each rejection is just one step closer to yes.
Second, if you truly want something, you just keep going until it's right. There is no endpoint for the things that you actually want.
I've been this way for a very long time and that applies to other things too. For instance, I wanted to buy a Tesla in 2017. But I couldn't find a Tesla with what I was making. So I just kept trying literally every year. I've tried it in 2017, 2018, 2019, 2020 and then in 2021, I finally bought it. I was laser-focused. It was the background on my phone screen.
So, the question isn't "Why can't I get this job?". The question is — "How can I get it?" And you just keep going until you get there. Don't be discouraged when things don't work out. It just means you're one step closer.
I'm curious what else have you improved in your job application? Apart from your resume, what do you think helped you finally land the job?
I think the game changer was also my own company. We started a company in 2019 helping people get jobs. By the time I applied for a job at Shopify, we helped about 40 people get jobs. So I knew how to communicate my value to employers because I've been teaching people how to communicate their values.
When I went to apply at Shopify for the final time, I was an expert. I knew how to prepare, how to network, and how to get a job. I leveraged it and put it into my resume and job interview. Actually, the recruiter almost told me on the call that I got the job.
I guess they were also impressed by the fact that you run your own business.
Yes, business also impressed them. It helped me stand out. But we say that a resume is the first step. Nobody cares how amazing you are if you don't communicate it well in the first instance. You need to show you're a good fit.
With my new resume, the recruiter called me back in a few hours. And later in the negotiation part, she offered me about 20K more than I asked for. And that was a testament to that first impression. You don't get a second chance on the first impression.
So, the resume did me a huge favor. But then I also prepared and practiced. I've prepared a few answers to common interview questions. And this practice actually helps you to also answer the questions that you're not prepared for. Because when you practice, you become more confident.
Actually, there was a question that I had no idea how to answer. And I just said, "Honestly, I don't know, and the only reason I know what an API is, is because I Googled it before the call." Which is a great answer if you're confident. If you're not confident, you try to make something up and you look like an idiot.
So, I think I was well prepared and presented myself well on my resume.
Before that, your resume looked completely different? Like it wasn't tailored nor designed?
No, actually I've used the Kickresume template before as well. I just didn't communicate my values very well. So, when I used it the second time, I put my picture on it and focused on the achievements. I've made myself sound more like a human and wasn't using long sentences. That was a game-changer. Every time I use that resume to apply, 80% of the time I get a call back.
Your resume actually includes some things which are advised not to be included on a resume in Canada, like a photo or volunteering at a church. Did you get any reactions to it?
Yeah, I got a job. 😄 But really, it all came from the philosophy that you must stand out. Most people are not putting a photo on their resume in Canada. So I've put mine to make it more human and it worked. I think it's better to be unconventional. There's no point in fitting in. Especially in a pile of hundreds of resumes.
I totally agree. And what was your interview preparation like?
We always tell job seekers they need to close 3 gaps — a knowledge gap, networking gap and confidence gap. For instance, I didn't know this role existed until I applied to it. So as soon as I got the interview, I found 10 people on LinkedIn that were in the same role. I messaged each of them, one by one and only one person responded to me. He put the meeting with me for an hour and told me everything — what they will ask, what I need to know, and so on.
That's actually a great way to go about it!
Yeah, exactly. It helped me to close both the knowledge and networking gap. Then the final thing is, you have to close a confidence gap. You versus hundred or a thousand other applicants — how do you become the top applicant in the pool? You have to be practiced and prepared. And when you close those three gaps, you pivot into any goal.
I think there was no other candidate that was so prepared like you this time. 😄
You know what, I would be surprised if there was. 😄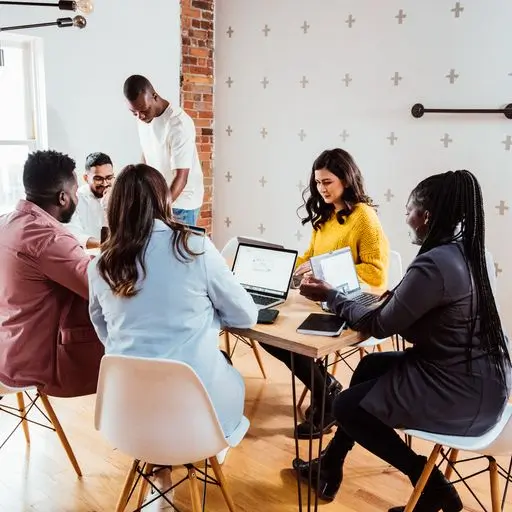 And how do you like it at Shopify so far?
Amazing. I love it every single day. It's such a good thing to wake up every day excited to work and to know that the work you're going to be doing today is so natural that it doesn't even feel like work. It's a blessing.
What do you do there as a Merchant Success Manager?
Essentially, I oversee merchants between the ten to twenty five million dollar revenue range. My job is to help them with making sure they're getting the most out of the platform, platform updates, recommendations. I'm coaching them around their business initiatives and their strategic initiatives. And I'm just making sure that they have someone within Shopify to advocate for them in whatever they feel like they need.
I work for thirty-five to fifty merchants and my whole focus is helping them become better at their goals.
Sounds cool! When you compare it to your previous roles, it's completely different, right?
Hundred percent. My first three roles were in sales. And like I said, I wasn't sure I was in the right roles. There was an anxiety of quotas and the anxiety that I might get fired next month if I don't hit my quota. Whereas now, I get to just have great relationships with my merchants, help them, talk to them, give them recommendations, fight for them. And I get to feel safe in my job because I know I'm good at it.
I think that's something most people don't take into account when navigating their careers is what I call the emotional math. Like, how much does your happiness cost? How much does your peace of mind cost? And is it worth a couple thousand dollars a month? We also teach students that they need to prioritize what really matters.
How can you even manage your own business with a full-time job?
The full-time job that I have is so natural to me that it doesn't feel like work. And because they give us so much autonomy, I can structure my week to get everything done within 20 to 30 hours. I can literally sit down and go. And if I can get all that work done within this time, I don't have to spend a full forty hours on work. I can save ten hours of creative energy for my own projects.
And the other thing is, I'm a nocturnal animal. So, all my best ideas come between 9 p.m. and 1 a.m.
Finally, I love what I do with our company as we help foreign students get jobs. And I have never felt more dopamine hit my head than when we help someone get a job which drastically improves their life.
You also were in their shoes some time ago, right? I've read that you moved to Canada when you were fifteen. Is that what inspired you to do this project?
Actually, I was never in the mindset that after graduating, I needed to get a job to secure my permanent residence in Canada. I always believed in profit over wages. I believe that it's better to make $100 selling things within an hour than to work ten hours for $100. So, when I got to Canada, I sold noodles at a hostel. I bought a pack of 30 noodles for 10 bucks and then I'd sell each noodle for 1 buck, make twenty bucks and then I'd do it again and again.
Then in university, I played varsity soccer in my first year. And there were a lot of people that wanted to play. So, I created a boot camp to help people get ready to play varsity soccer next year.
Super resourceful!
Yes, exactly. So, I think my first job was like a soccer referee. But this also didn't feel like work. I got to watch soccer and kick around in the middle of the game. 😄
And I kept saying to myself that all I can do is talk. And who hires people to talk? I was lucky enough to get a sales job.
So how did you get this idea of helping international students getting jobs then?
I saw a lot of my friends struggle. And in 2018, my sister struggled and she was one of the smartest people I've ever met, honestly. She self-taught Korean, how to do art, how to draw, how to play the piano, or whatever she wants to learn. She couldn't find a job and it didn't make any sense to me. One day, we were talking and she was really sad about it and that day I said I'll help her get a job in a week.
I started reaching out to my contacts and I got her a job. And then I helped my friend get a job. And then I helped another person get a job. And then I was like, "I'm pretty good at this!" 😄
And then my friend told me how she's paid a company $2,000 to help her with what I do and she still didn't get a job anyway.
So, I called my best friend that afternoon and said we should start a company where we help international students get jobs. One girl who I helped get a job even told me that when I start a company like that, she wants to be a part of it. 😄
Then I posted on Instagram how many people I helped to find a job this year and literally 50 other people messaged me. So, we did a free bootcamp and then our company started. During the pandemic, we started doing courses online. I also started posting on my LinkedIn profile every day and it just went boom.
I've seen you already have 26K followers which is wow! Do you think your profile helped you in your job search process too? As recruiters check social media profiles.
I think it might have. I always tell my students to put together their LinkedIn profile. It's the first source of truth for recruiters. They want to see that you're a real person.
Can you share some other tips that you have for students who are searching for a job?
My major tip is to network. 70 to 80% of jobs are never advertised online. So, the only thing that will change your life is to promise yourself that you will meet one new person for at least twenty minutes every week for the rest of your life. You will have more opportunities because people have access to jobs that you don't have access to. And when you build a good relationship with someone, they might think of you when a job comes up.
For instance, when I helped my sister, my mom and three friends get a job through someone, the job wasn't even advertised online. So, that's one big tip.
I 100% agree. I also got my job at Kickresume thanks to my friend who told me about this job. In fact, most of my colleagues got jobs through referrals.
That's cool. It shows how essential networking is.
The thing is, you can learn everything else. You can learn how to use Kickresume to create your resume. You can learn stuff on LinkedIn. You can learn how to ace an interview.
But the access to those seventy to eighty percent of jobs? You just got to meet people.
Content Manager & Resume Expert

A journalist by trade, a writer by fate. Nikoleta went from writing for media outlets to exploring the world of content creation with Kickresume and helping people get closer to the job of their dreams. Her insights and career guides have been published by The Female Lead, College Recruiter, and ISIC, among others. Nikoleta holds a Master's degree in Journalism from the Comenius University in Bratislava. When she's not writing or (enthusiastically) pestering people with questions, you can find her traveling or sipping on a cup of coffee.