Crafting a standout Microsoft resume is no easy feat. The competition is fierce and the talent pool is starting to feel more like an overcrowded jacuzzi, rather than the Olympic-size swimming pool we were used to.
What's more, a series of tech layoffs are creating even more obstacles for job seekers.
Fortunately, we've discovered an extraordinary resume from one of our users that successfully landed them a job at Microsoft as a Cloud Program Manager — and we're here to analyze their resume to see what set them apart from the rest.
With a detailed analysis of each resume section, we'll provide insight into:
what works and what doesn't;
what made it effective;
how you can apply similar strategies to your own resume.
Ultimately, our goal is to help you improve your own resume and increase your chances of landing your dream job.
Disclaimer: This resume example was published with the consent of its creator. It was made using Kickresume's templates. The resume was anonymized.
Microsoft resume: Cloud Program Manager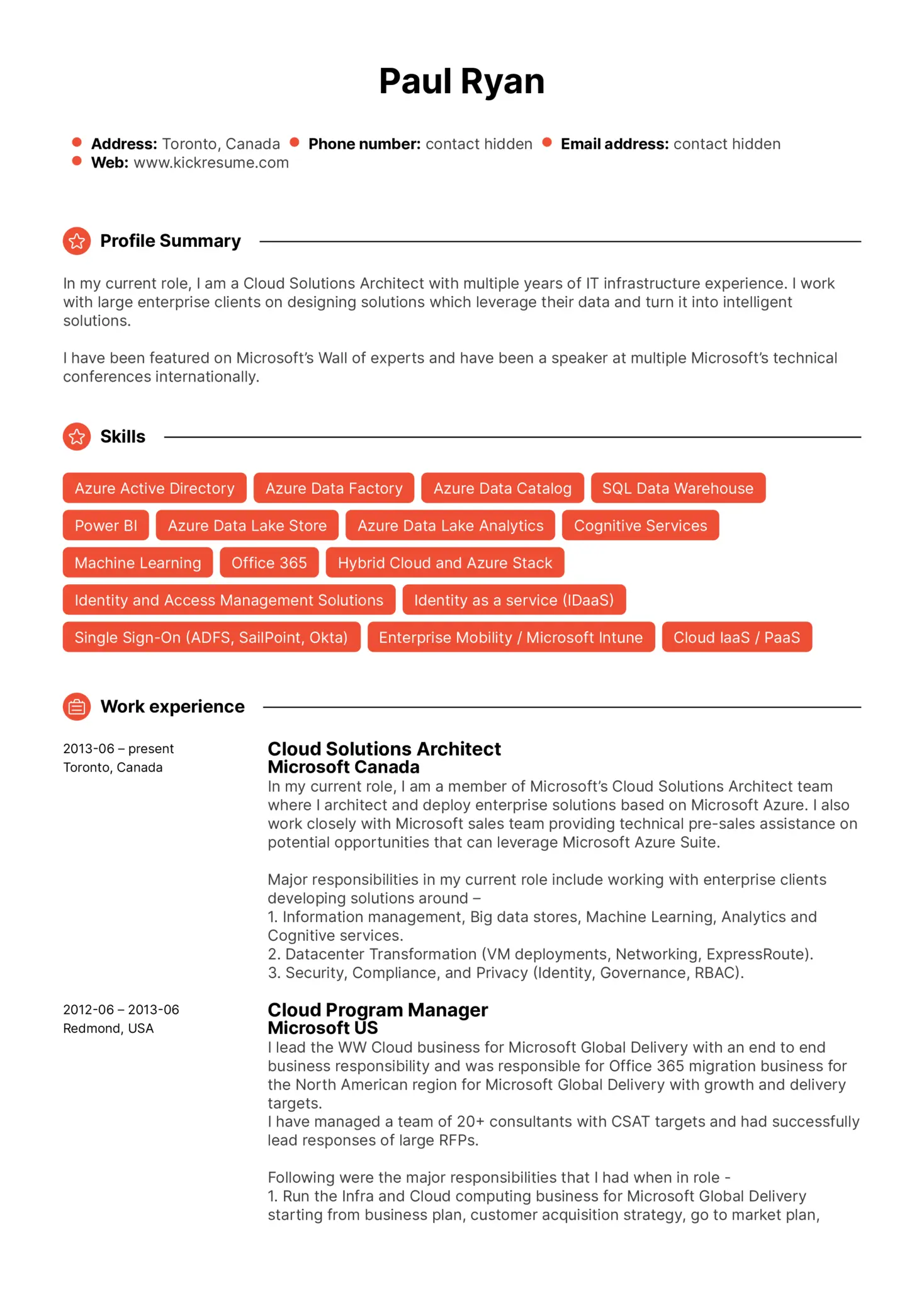 To see the full, two-page version of the resume, click directly on the image.
Contact information

Overall, this section is concise and straightforward, providing essential information about the job seeker: address, phone number, email, and web handle. All that's needed.
Paul also made a good decision not to include a resume photo. Why? Because including a photo on a resume has a lot to do with your location. And, in English-speaking countries — where Paul is based — adding a picture to your resume isn't a good move.
One improvement that could be made is the addition of a LinkedIn profile. Doing so would provide a comprehensive look at his professional identity. Although we can see that Paul provided a Web handle, which was, however, changed in order to retain his identity. The original resume included a link to an online version of his resume.
Profile summary

Paul's profile summary starts with his current role as a Cloud Solutions Architect, along with his IT experience. This efficiently communicates his level of experience and skill set in the field right off the bat.
Also, Paul includes a concrete example of his success. He highlights his work with large enterprise clients to design solutions leveraging data and turning it into intelligent solutions.
Mentioning that he was featured on Microsoft's wall of experts and speaking at multiple technical conferences helps to reinforce his credibility and expertise in cloud solutions and infrastructure.
What could be improved is using "I" less throughout the summary and potentially reworking a few sentences for readability and flow.
Overall, this section does an excellent job of summarizing the job seeker's skills and experience in a concise, easy-to-read format.
Skills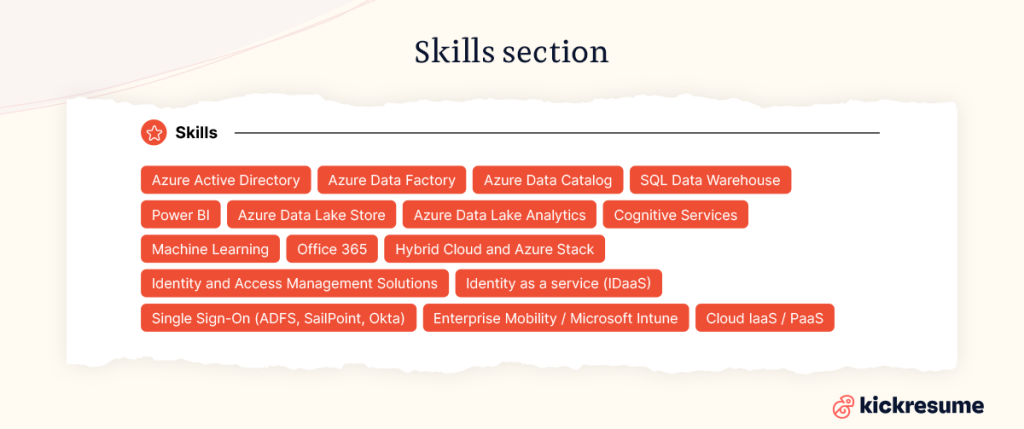 Okay, this section is likely what won Paul the job at Microsoft. Here's why:
Functional resume format. Paul placed the Skills section at the beginning of the resume, before work experience. This resume format allowed him to draw attention precisely to his skills, which are critical in the cloud computing and IT infrastructure fields.
Visual formatting. Big. Red. Blocks. That's bound to draw your attention right away. That's why this resume template (called "Red") is a great choice for functional resumes. So, kudos to Paul's strategy to ensure his expertise isn't overlooked.
Impressive length. The length of the skills section is also notable. It provides clear evidence of his diverse skills and makes a strong case for his suitability for the role of Cloud Program Manager at Microsoft.
As for the concrete skills listed, Paul lists various important tools and technologies like Azure Active Directory, Azure Data Factory, SQL Data Warehouse, and others. Possessing an in-depth knowledge of these tools and having hands-on experience is critical for a Cloud Program Manager.
Additionally, the mention of specific cloud technologies like Hybrid Cloud, Azure Stack, and Cloud IaaS / PaaS, as well as management solutions like Identity and Access Management, and Enterprise Mobility, also showcases his expertise.
Furthermore, expertise in Machine Learning, Office 365, and PowerBI demonstrates that Paul is knowledgeable in both technical and practical aspects of the role.
This extensive list of skills is clearly tailored to the requirements and expectations of Microsoft.
Work experience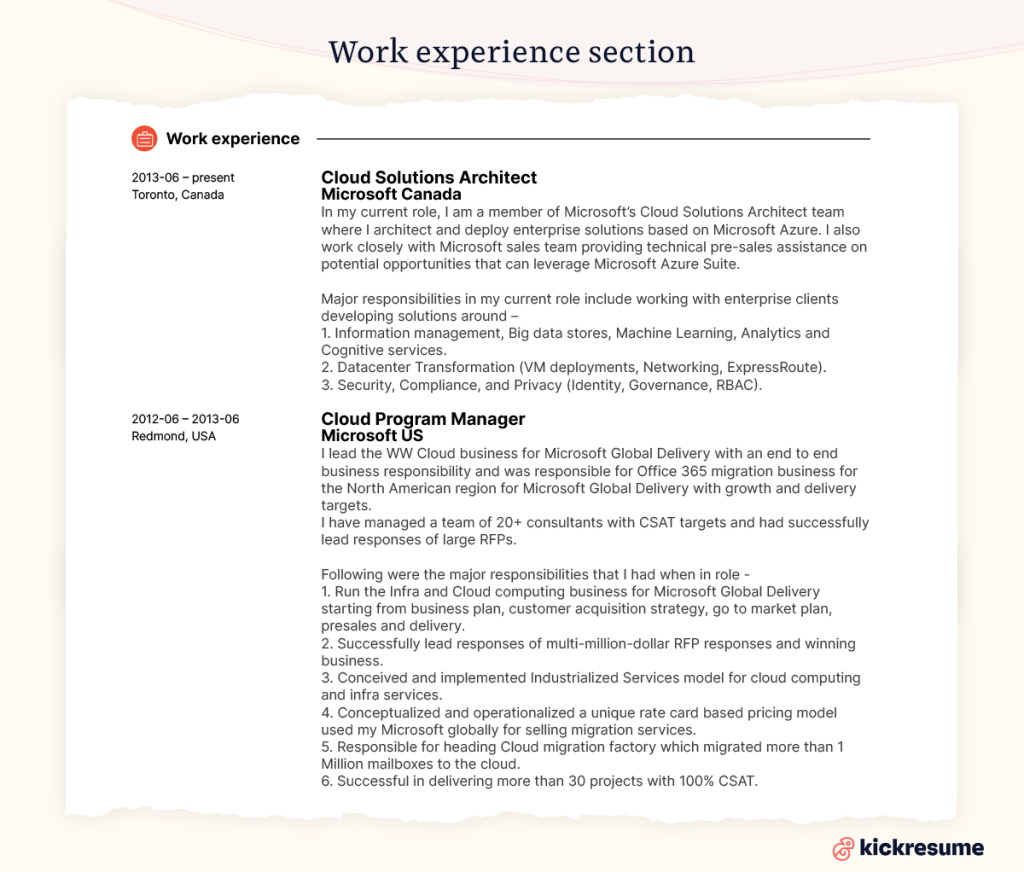 The work experience section of this resume does a lot of things right.
Paul clearly specifies the duration and location of each role. He highlights his professional history and showcases his experience with reputable companies like Microsoft Canada and Microsoft US.
The use of a brief description for each role, along with a bullet point list of major responsibilities, makes the resume more scannable and reader-friendly. It also provides a clear understanding of his involvement and achievements within each role.
However, there's some room for improvement:
Adding more measurable achievements to show the impact he made in each role. For instance, mentioning the growth percentage in the Office 365 migration business or the number of successful RFP responses would give more weight to his experience.
Rearranging the bullet points to highlight the most impressive or relevant points first would help grab the reader's attention better, making it easier for the hiring manager to spot his key contributions and achievements.
Using bold text to highlight keywords or important phrases. This technique can help emphasize critical skills or achievements, making them stand out and ensuring the hiring manager notices them.
Education

In the education section, both academic experiences are presented in a clear and concise way, listing the dates, degrees, and institutions.
It's not at all an issue that this section is so brief. In the IT field, skills and experience often carry greater significance than formal education. What's more, as a rule, the more experience you have, the less detail you should include in the education section.
Employers in this industry value candidates who can demonstrate real-world experience and concrete skills that they can leverage within their role.
Certifications

The certifications section in this resume is a valuable addition, as it showcases Paul's commitment to continuous learning and staying current in his field.
The inclusion of Microsoft certifications, specifically Office 365 Solutions Architect and Azure Solutions Architect, directly relates to the Cloud Program Manager role and highlights his expertise in industry-relevant technologies.
One potential improvement could be to add the certifying organization for the ITIL certification. Just as he did with the Microsoft certifications.
Key takeaways: Microsoft resume
This resume analysis has shown that Paul has done quite an impressive job in showcasing his skills and experience to secure the Cloud Program Manager role at Microsoft.
To wrap things up, let's highlight the top 3 standout features of this resume:
Functional resume format. Placing skills before experience emphasizes Paul's wide range of abilities, making it a smart choice for this field.
Eye-catching skills section. The attention-grabbing and detailed list of cloud technology and tech skills clearly demonstrates Paul's expertise.
Relevant certifications. By adding industry-specific certifications, the job seeker shows his commitment to continued learning and staying current in his field.
All in all, the job seeker managed to display his abilities, experience, and qualifications effectively within this resume.
If you're an aspiring Cloud Program Manager, consider using this example as a template to craft your own resume, raising your chances of grabbing your dream position.
Career Writer

Klara recently graduated from the University of St Andrews in Scotland. After having written resumes for many of her fellow students, she got an opportunity to write full-time for Kickresume. Klara is our go-to person for all things related to student or 'no experience resumes'. At the same time, she has written some of the most popular resume advice articles on this blog. When she's not writing, you'll probably find her chasing dogs or people-watching while sipping on a cup of coffee.